When it comes to POV cameras, the GoPro brand tends to come to mind. Sony's Action Cam line are not as well-regarded as their HandyCam among camcorder products. However, Sony hopes to offer a good alternative to GoPros with their flagship FDR-X3000 4K Action Cam.
A key highlight of the FDR-X3000, which was first announced in September 2016 together with the HDR-AS300R Full HD model, is an advanced image stabilisation technology. Sony calls this Balanced Optical SteadyShot (or B.O.SS), where both the camera's lens and sensor are joined and moved together to compensate for camera shake caused by excessive motion..
Briefly, the FDR-X3000 is a 4K 30 fps POV camera with Wi-Fi and GPS capabilities. It has the familiar Action Cam form factor, measuring about 29.4 x 47.0 x 83.0 mm and weighing in at 114 grams including the removable battery. It's very compact, and definitely both convenient to carry around and easy enough to use.
The camera's ZEISS Tessar f/2.8 lens is paired with a 9.2 megapixels 1/2.5-inch back-illuminated Exmor R CMOS Sensor. The minimum focus distance is 50 mm, shutter speed between 1/30 and 1/10,000, and minimum illumination of 6 lux (1/30 shutter speed).
The FDR-X3000 has several recording modes, including HD (720p) resolution at 240 fps, Full HD (1080p) at 120 fps, and 4K resolution at 30 fps. The maximum recording bitrate is 100 Mbps with XAVC S. The camera also supports MP4 format up to 28 Mbps bitrate.
Officially, the FDR-X3000 is only splash-proof without the Underwater Housing (MPK-UWH1). All doors around the camera looked to be well-sealed with rubber gaskets. The underside cover conceals the microSD card slot.
The removable 1,240 mAh battery is on the left side of the camera. Sony claims the battery is good for up to 60 minutes of 4K XAVC S video recording, or 50 minutes with Wi-Fi live-streaming. In actual use, the batteries run out somewhat far sooner than that.
If you're happy with Full HD MP4 recordings, Sony claims continuous recording time of up to 135 minutes, or 125 minutes with Wi-Fi live-streaming. However, if you get a 4K camera, I'd expect you mostly want to shoot 4K videos.
On the back, you'll find a Micro HDMI port, Micro-USB port, and a stereo minijack. A pair of stereo microphones are located below the lens on the front of the camera.
There are a couple of buttons around the camera, as well as a mono-LCD on the right side to display status and navigating menu controls.
The Underwater Housing (MPK-UWH1) protects the FDR-X3000 up to 60 metres underwater.
Tthe FDR-X3000 comes in a variant SKU, FDR-X3000R. The latter comes with the Live-View Remote.
The Live-View Remote clips onto a wrist strap so you can wear it conveniently on your wrist. The remote connects to the FDR-X3000 over Wi-Fi, and it has a few essential buttons to enable you to turn on and off the camera, and you start and stop recording. The colour display on the remote is quite low-resolution, but it suffices for checking your recording in realtime.
The FDR-X3000 has a standard camera mount. You can also fit it with a finger grip, available as an optional accessory, which also provides a mount for the Live-View Remote. In this way, you can conveniently use the FDR-X3000 with live-view, making up for the lack of a built-in live-view on the camera itself.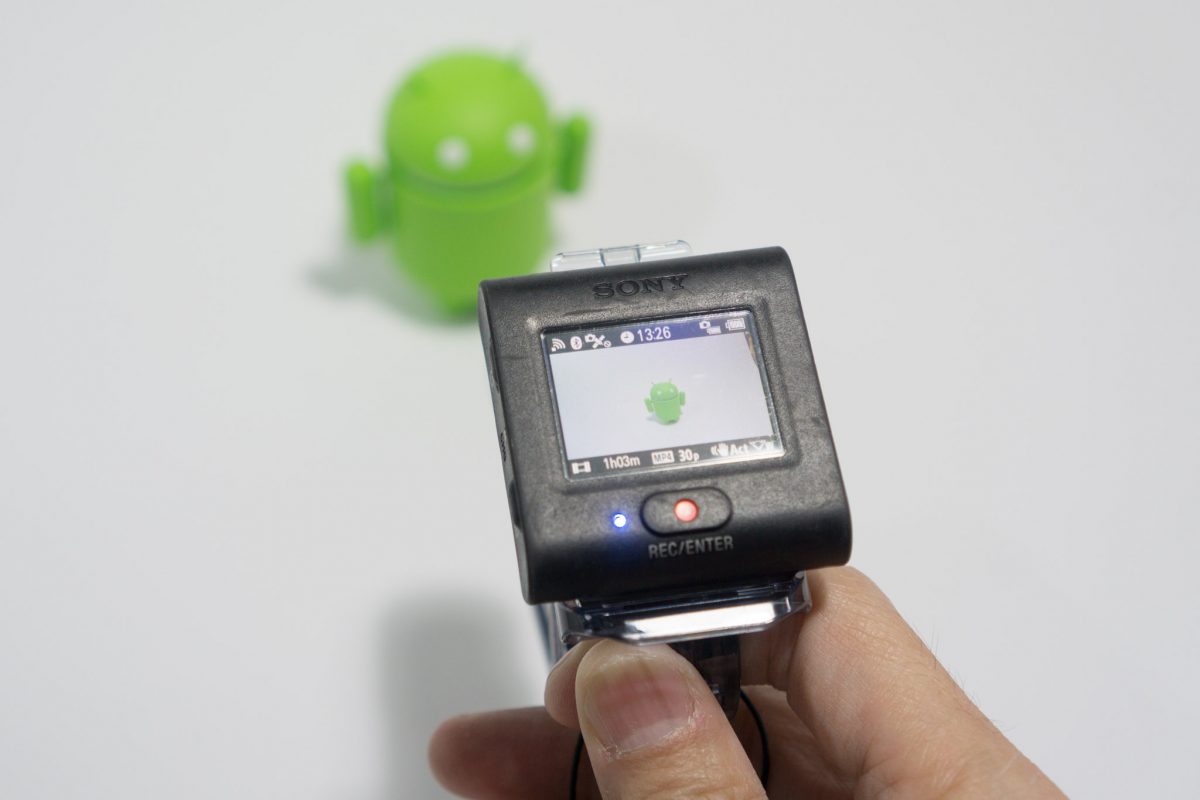 Apart from the short battery life with 4K recordings, the FDR-X3000 otherwise performs very well. In particular, Sony's new B.O.SS stabilisation technology works spectacularly. Video quality is excellent. For advanced users, the camera offers manual controls and adjustments including white balance and auto-exposure shifting.
The FDR-X3000 can be paired with a smartphone or notebook computer to create movies using the Sony Action Cam Creator app. A unique Time-Lapse Capture feature shoots stills at preset intervals which can be transformed into really cool 4K time-lapse movies.
Other features include built-in GPS which allows location tracking and speedometer to be added to the video when using the Sony Action Cam Creator app.
The Sony FDR-X3000 Action Cam is available from S$699.
Conclusion
The Sony FDR-X3000 Action Cam is an excellent, compact, and feature-packed POV camera. The Live-View Remote has some useful applications.
Pros:
Excellent video quality
Excellent image stabilisation
Underwater housing is included
Useful live-view remote (optional accessory)
Cons: