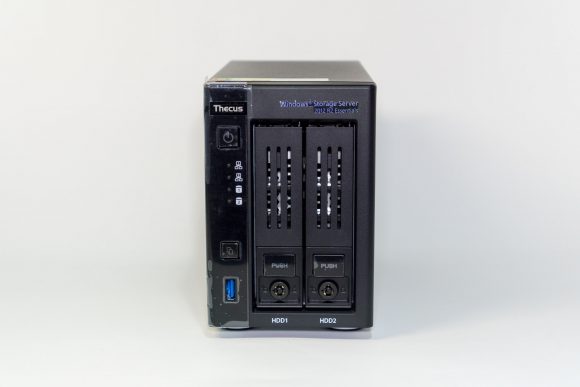 When I was first invited to review the Thecus W2810PRO NAS, I didn't quite understand how a Windows NAS would be different from a Linux NAS. Most NAS devices are built on Linux, like the N4810 I had recently reviewed. The W2810PRO, however, is built on Windows. But a NAS is just a NAS, no? I was so wrong.
First, a bit of background on Thecus. They are a Taiwan-based manufacturer of NAS, Direct Attached Storage (DAS) and Network Video Recorder. They don't do much marketing, so their brand isn't well-recognised, but their products are available in Singapore thanks to their official distributor NETDC, so you can find their product line available through several retailers such as First Tel. NETDC provided the W2810PRO for this review.
The Thecus W2810PRO is an entry-level two-bay NAS that runs on Windows Storage Server 2012 R2 Essentials (WSSE), the edition of Windows Storage Server designed for small businesses and SOHO environments. Windows Storage Server is mostly just a special version of Windows Server licensed to OEMs for use in NAS appliances. Using WSSE, the W2810PRO can easily integrate storage in an existing Windows infrastructure, while also providing Windows Servers features to the environment.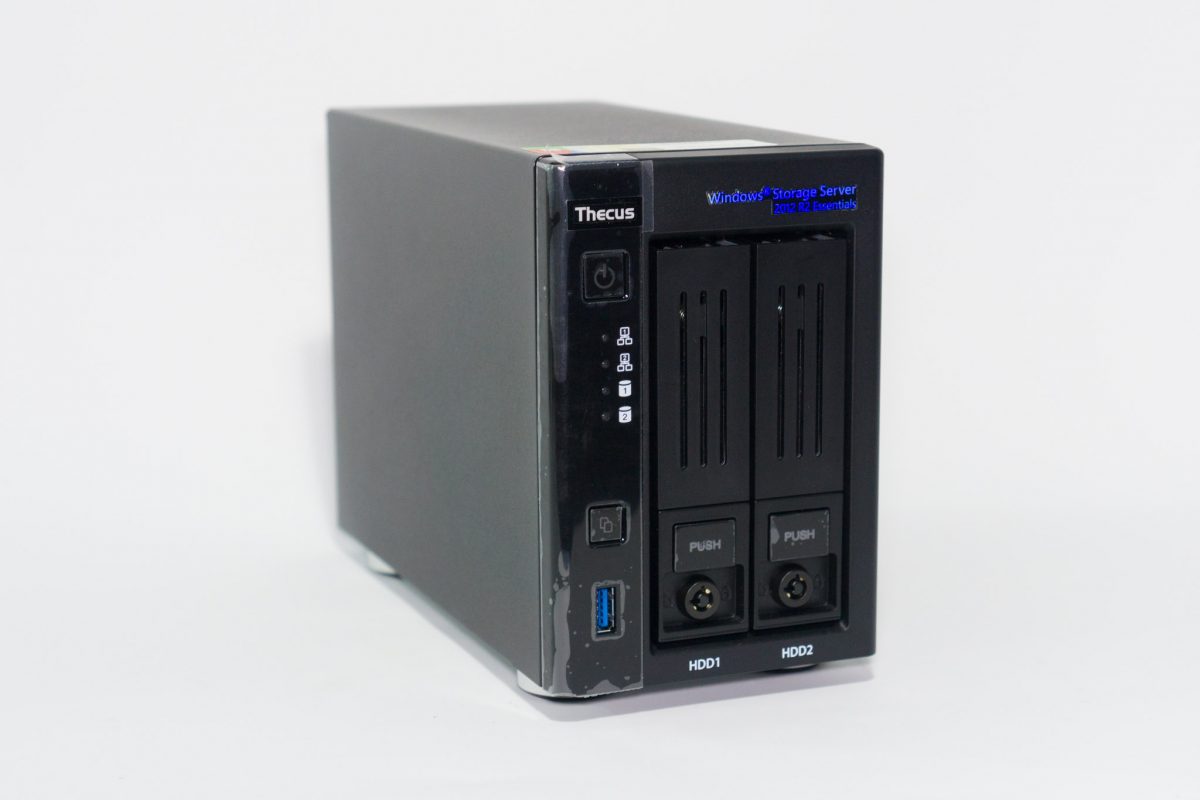 Physically, the Thecus W2810PRO is similar to the N2810PRO Linux NAS. Thecus uses the same hardware between the equivalent Windows and Linux NAS models. This is a two-bay NAS. There's a power switch near the top left, followed by a column of LED status indicators beneath it, and one USB 3.0 port at the bottom. This entry-level model doesn't have an LCD display or navigation input buttons like the higher-end models.
The W2810PRO uses the same hot-swap hard disk trays like in the N4810. They aren't the easiest to use, and I did previously take some time to figure out how to install hard disk drives into them.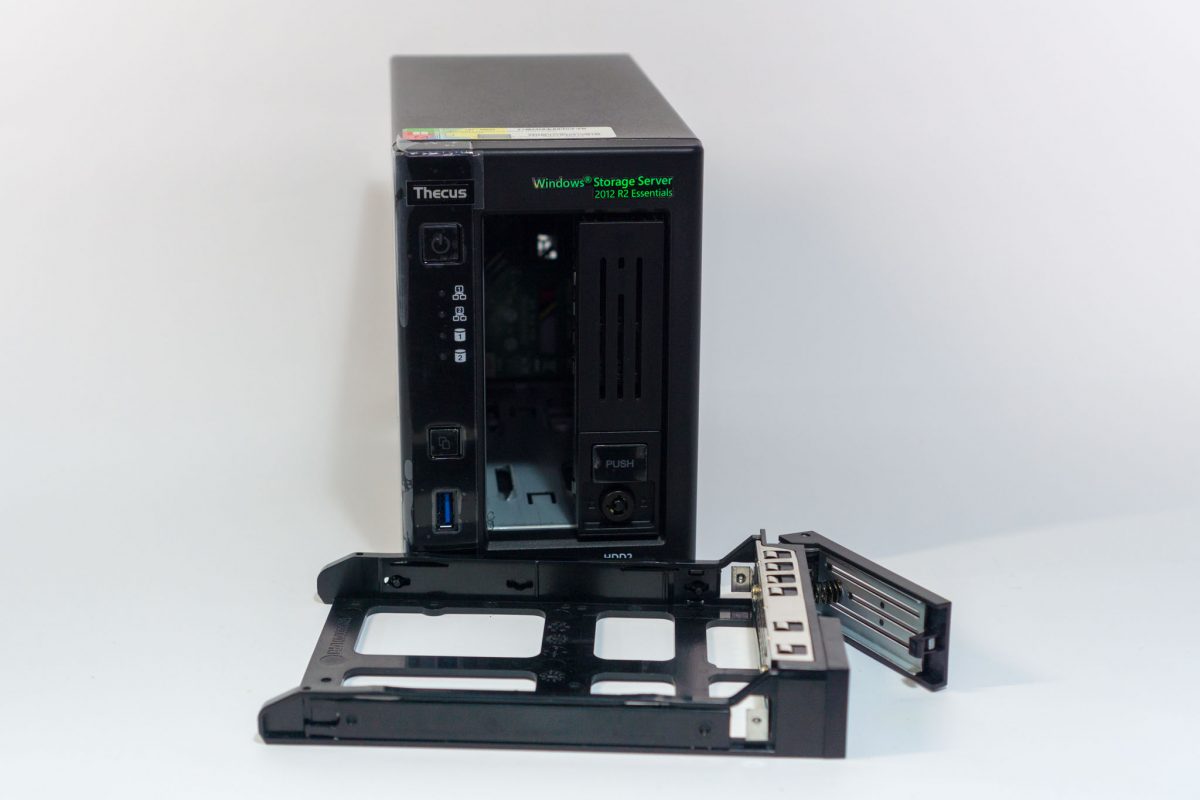 On the back, you'll find two Gigabit Ethernet LAN ports, one HDMI port, two USB 3.0 Type-A ports, a S/PDIF digital audio port, one DisplayPort, a DC power input jack, and a reset button. There's also a Kensington lock you can use to physically secure the W2810PRO, a nice feature to have considering the device is small enough to be easily carried away.
The two Gigabit Ethernet LAN ports can be teamed for additional bandwidth, or redundancy, a feature that's plenty useful in a work environment.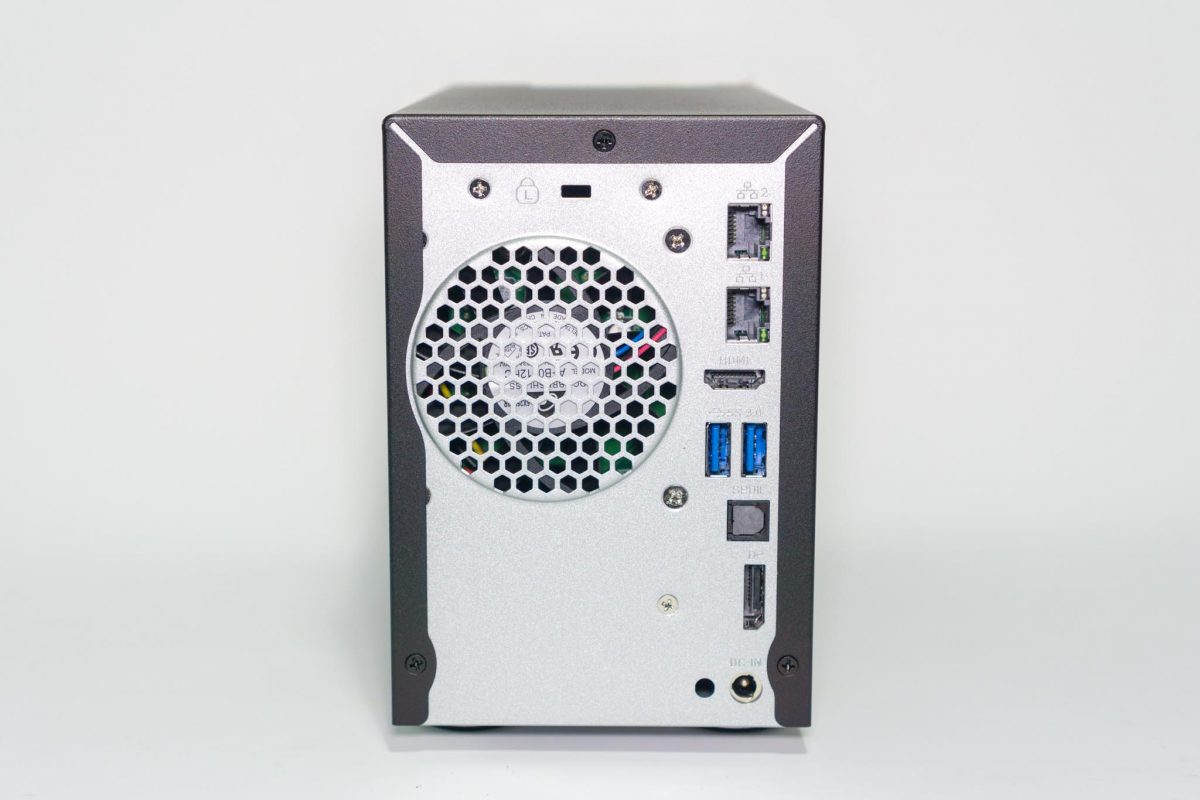 Under the hood, the W2810PRO is powered by a quad-core Intel Celeron N3160 processor clocked at 1.6 GHz, and 4 GB of DDR3 SDRAM. The RAM is not meant to be upgradeable, but you can try at your own risk to swap out the 4 GB module with an 8 GB one.
The W2810PRO also has an embedded 60 GB SSD. It is used for the WSSE operating system installation itself. This means you can easily replace all the hard disk drives in the W2810PRO without worrying about having to reinstall the WSSE operating system itself.
Running WSSE means the Thecus W2810PRO is essentially a small PC server. That's true for most NAS appliances too, but this is even more so with the W2810PRO. You see, the initial setup of the W2810PRO requires you to plug in a monitor, keyboard and mouse in order to interact with the Windows UI. This a new experience for me, though I'm sure seasoned Windows administrators will feel perfectly comfortable setting up WSSE.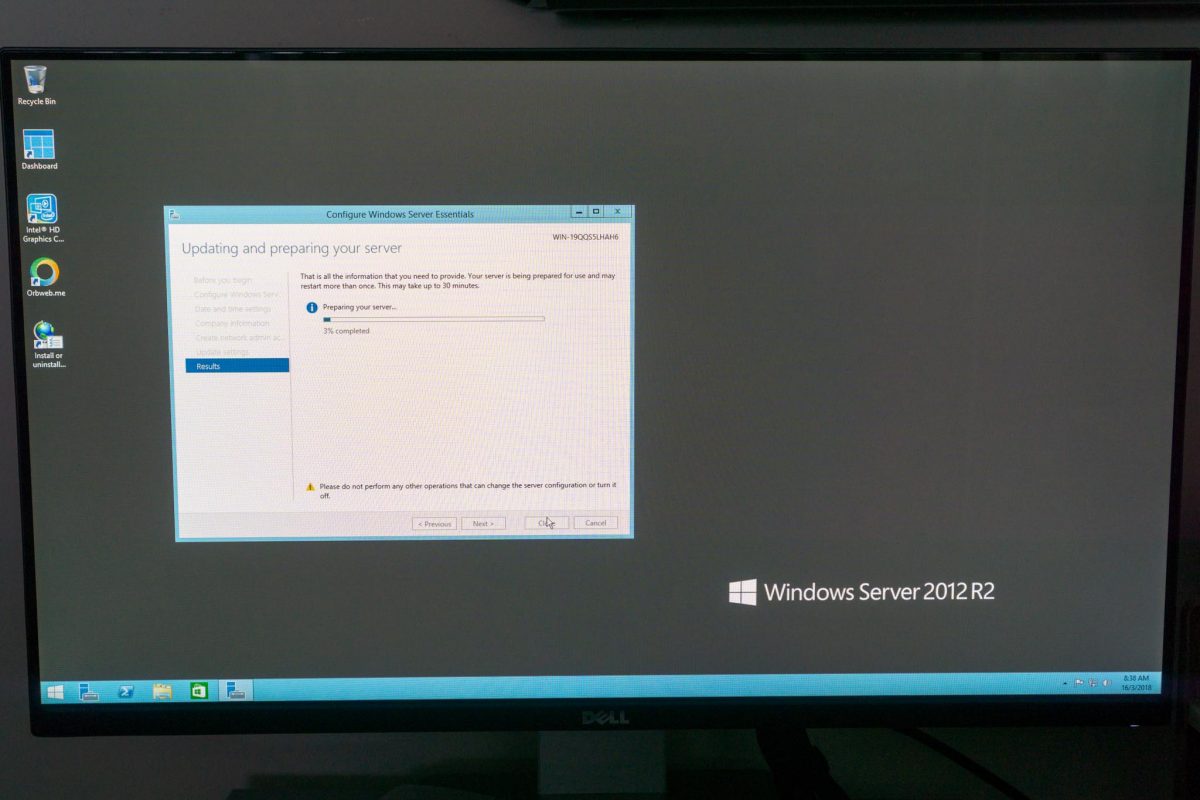 Luckily, even for a Windows Server novice like me, the W2810PRO initial setup is relatively straight-forward. You'd just need a bit of patience, because like setting up any other Windows system, you need to wait for the OS to go do its thing.
However, after the Windows setup is complete, all you'll get is a brand new WSSE installation, with a nice clean desktop. Unlike traditional NAS appliances that I'm familiar with, there's no wizard automatically popping up to guide me through the storage and file sharing setup.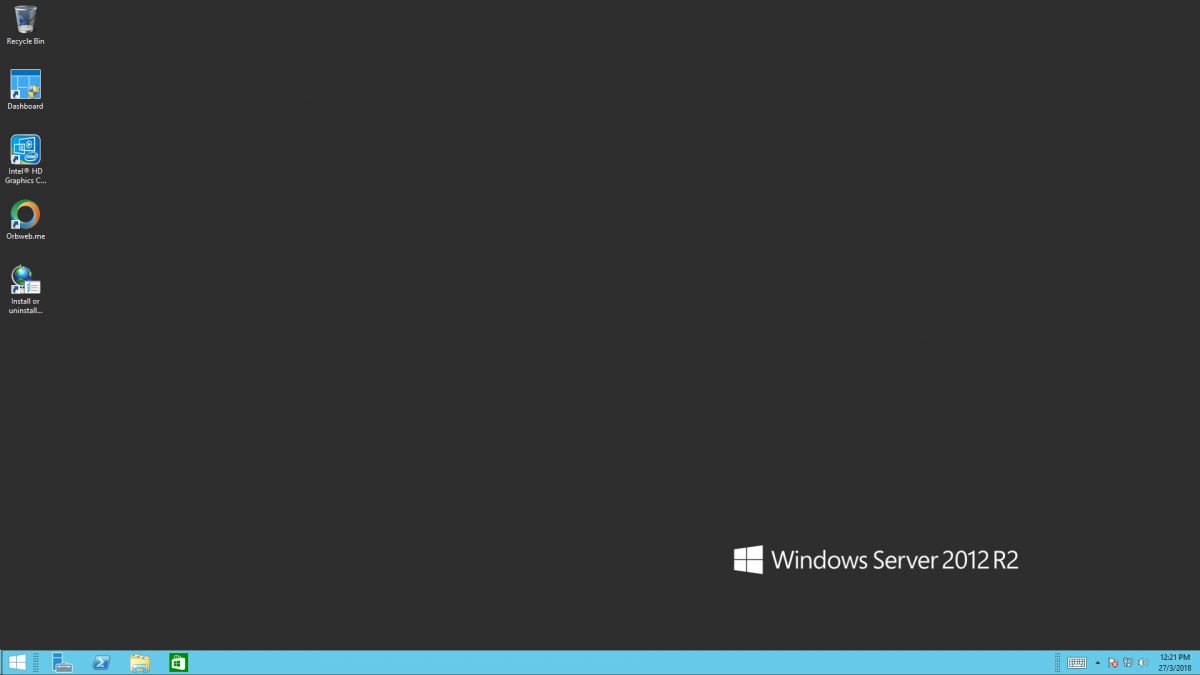 I felt a little lost. Fortunately, if you're already familiar with storage and file sharing concepts in general, it's not difficult to understand how to manage WSSE. Launch the Server Manager app. Briefly, you'll need to create a Storage Pool, a Virtual Disk, a Volume, and then a Share.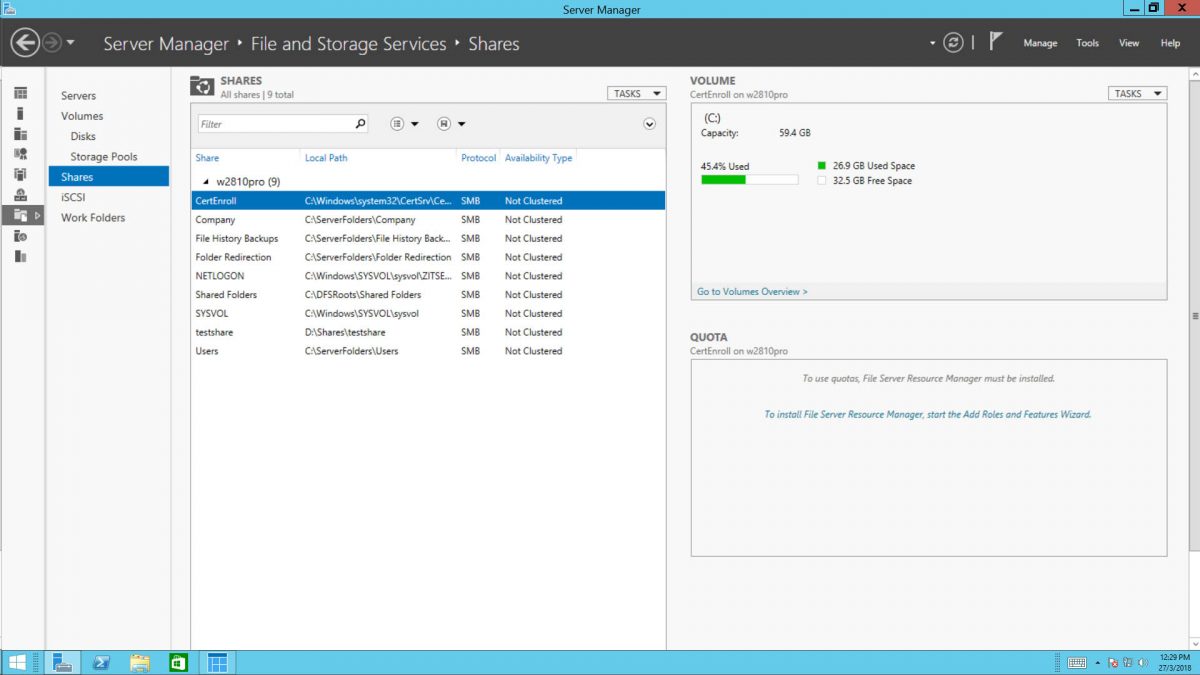 WSSE provides plenty of configuration options. Since the W2810PRO is a two-bay NAS, your storage layout can only be either simple or mirror, since a parity disk is not applicable with just two drives. You have the choice to choose thin provisioning, which allows you to allocate more space than you actually physically have. Of course, space won't be created out of thin air, so you can only consume space up to the amount you physically have.
A nice feature available in WSSE is Data Deduplication, not common in consumer NAS appliances. Data Deduplication saves disk space by storing a single copy of identical data. For example, if you make a copy of a file, the second copy doesn't actually consume additional storage space.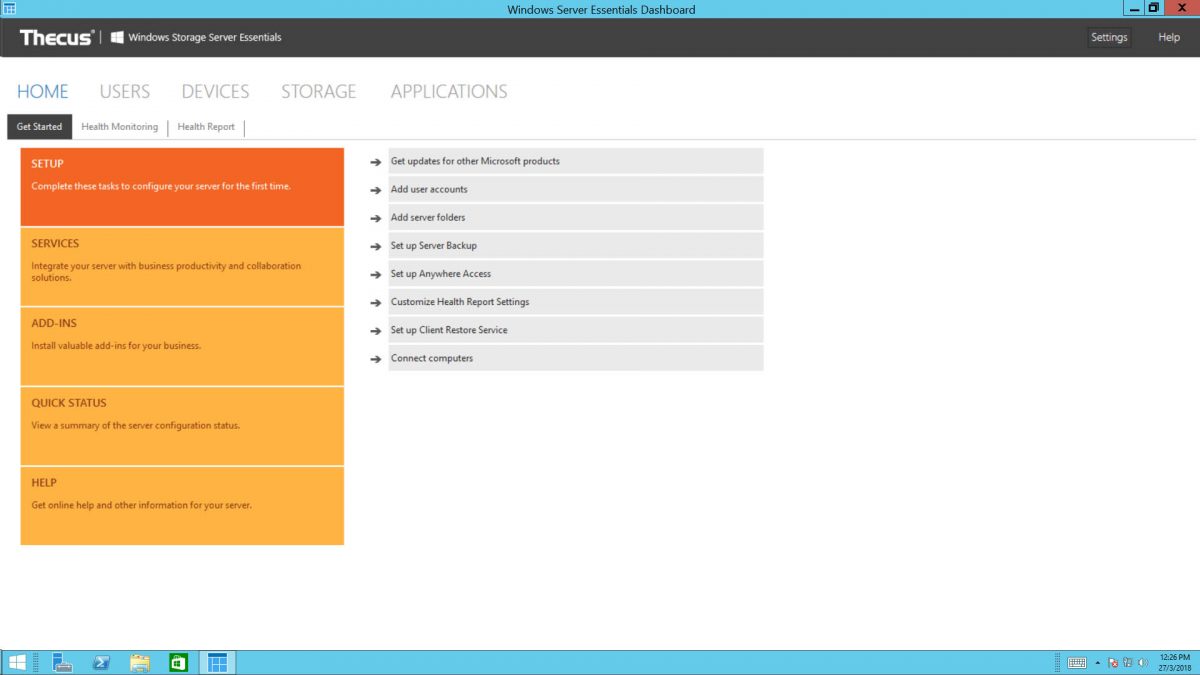 WSSE has a Dashboard app that helps you with a bunch of server administration functions, including setting up users, remote access, and backups.
Once setup is complete, you can disconnect the monitor, keyboard, and mouse. There is still no remote web access, but for subsequent server management, you can connect to it remotely using Microsoft Remote Desktop.
Unlike traditional NAS appliances which have an app-store with one-click installation to run add-on apps, the W2810PRO has none. It doesn't need that. The W2810PRO, being a full Windows PC running on a standard Intel processor, lets you install and run any application or program the same way you do on your own Windows PC.
Instead of being wholly a dedicated NAS, you can use the W2810PRO for many other applications. In fact, if you needed a Windows Server in your environment, the W2810PRO can be it. This makes it a very useful multipurpose appliance.
On top of the usual SMB (Windows File Sharing) and NFS, the W2810PRO also supports iSCSI target. Most users will only need to use SMB, which supports both Windows and Mac clients just fine. Unfortunately, there is no integrated solution for cloud access from mobile devices.
The W2810PRO performed very well in my large file copy benchmarks, with reads and writes easily crossing 100 MB/s. I have a Western Digital EX4100 around for comparison, and you can see below that the W2810PRO compares very favourably in this test.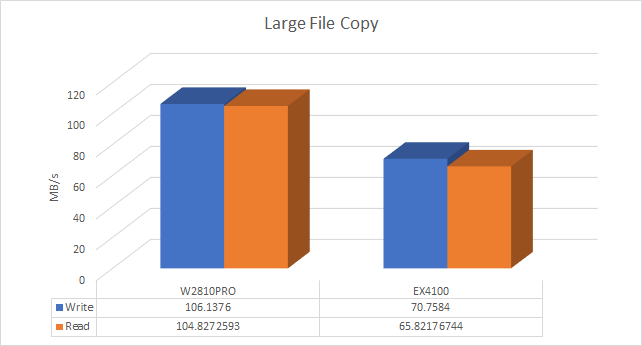 Small file copies are quite a different ball game, and they are understandably slower. My test involves 9.6K files totalling about 7.6 GB. The W2810PRO performs quite closely to the EX4100 in this respect.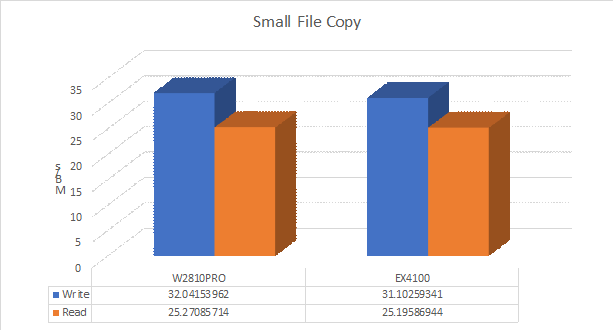 I must admit that copying 9.6K files is not a thing you'd do regularly. You're not supposed to use a NAS as an active storage for a very busy application. Instead, you use it for sharing work documents, backups, and archival, and these types of workload are generally not very demanding.
The W2810PRO may be targeted at work environments, and if your work place needs a media centre of some sort, this box can do that too. With HDMI and DisplayPort outputs, as well as S/PDIF support for clean good digital audio, you can have WSSE serve up movies during break times or other company socials.
In the box, the Thecus W2810PRO comes with a DC power supply adapter, keys for locking the drive trays, screws for mounting 2.5-inch drives into the drive trays which are designed for 3.5-inch hard disk drives, warranty card and installation guide.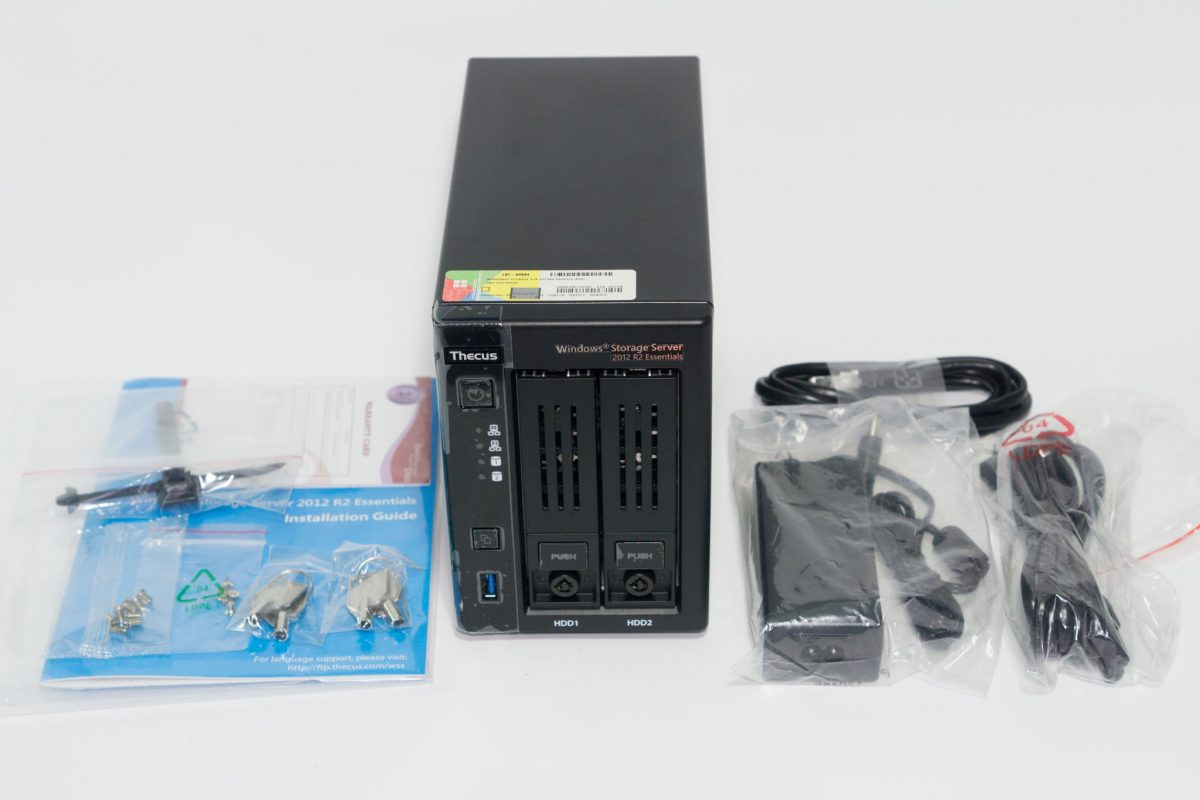 Cloud storage solutions are very popular, but some users still prefer to keep their data in their own premises. The Thecus W2810PRO makes an excellent entry-level solution for on-premise storage, with the added advantage of integration with an existing Windows infrastructure, and offers bonus features for connecting to Office 365 and Microsoft Azure.
The Thecus W2810PRO retails at S$786 before GST (or S$841 after). This includes Windows Storage Server Essentials with 50 user client license.
NETDC, Thecus' official distributor in Singapore, offered
Conclusion
The Thecus W2810PRO Windows-based NAS is an excellent entry-level storage solution for small businesses that work around a Windows infrastructure.
Pros:
Great for a Windows work environment
Can run any Windows applications
Great performance
Cons:
Windows administration may be hard to master
No mobile app