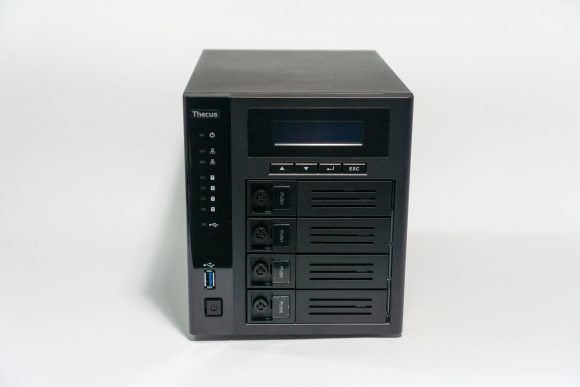 Network Attached Storage (NAS) is getting popular in the home in recent years. There are quite a few familiar brands in the market, but perhaps Thecus isn't one of those that come to mind in Singapore. This review is of their N4810 Linux-based NAS which originally launched in late 2016.
Thecus is a Taiwan-based manufacturer of NAS, Direct Attached Storage (DAS) and Network Video Recorder. They were founded in 2004, but they don't do much marketing, so their brand isn't well-recognised. Thecus' products are, however, brought into Singapore through their official distributor NETDC, so you can find their product line available through several retailers such as Fuwell. NETDC provided the N4810 for this review.
The N4810 is a four-bay NAS appliance. Like competing NAS appliances targeted at home users, the N4810 offers quite a few more features beyond just network storage, such as VPN capabilities and direct full 4K media playback from built-in DisplayPort. The latter can possibly allow you to do away with a standalone media centre device.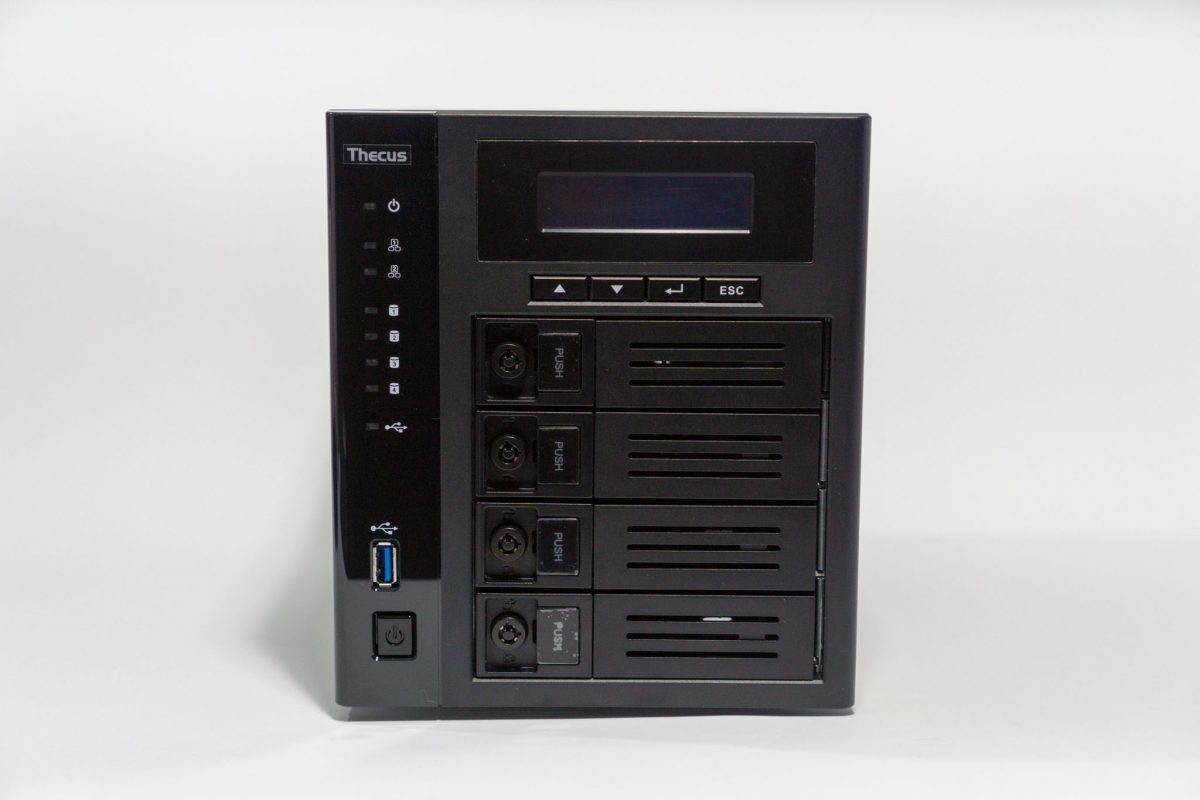 On the front of the mostly plastic built tower-style N4810 basis, you'll find the four drive bays stacked vertically, each with individually lockable drive trays. There's a LCD panel at the top, and four control buttons beneath. These let you perform basic setup tasks right from the N4810 itself.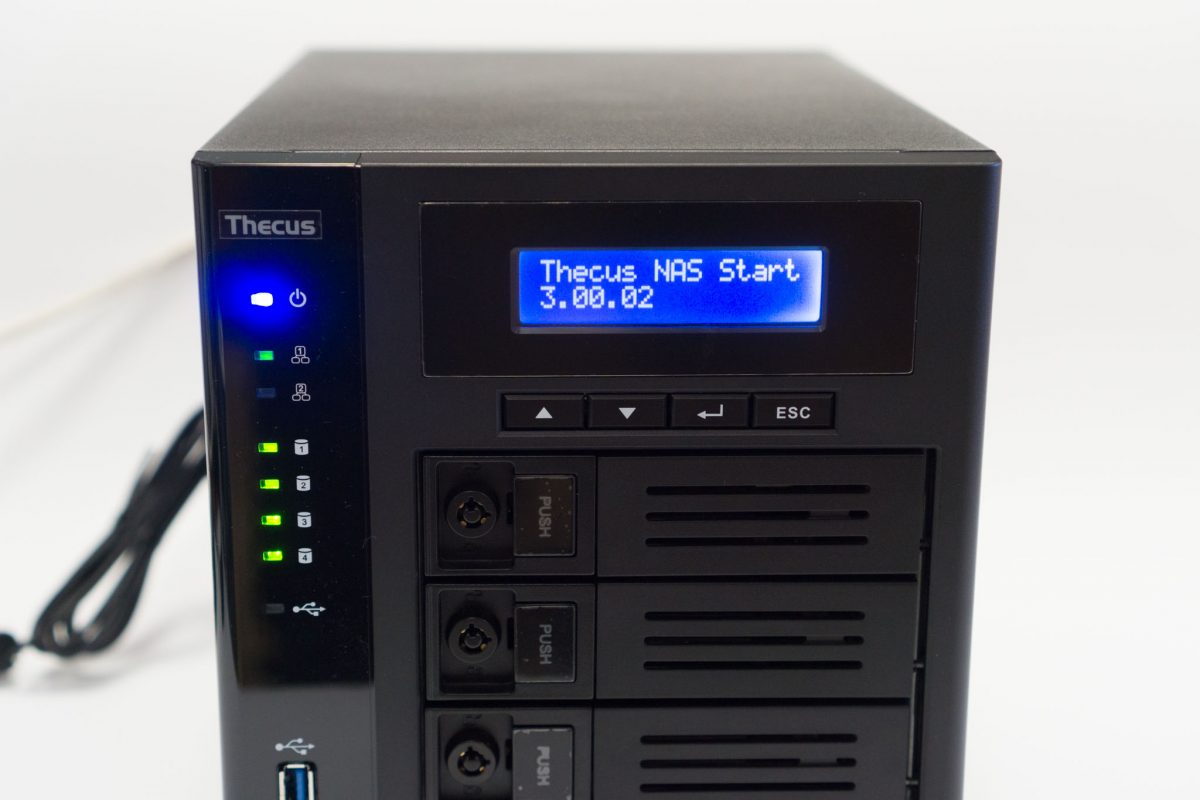 There's a column of status indicators on the left, and a USB 3.0 port below that. Right at the bottom, there's a physical power button, a good thing to have conveniently accessible from the front.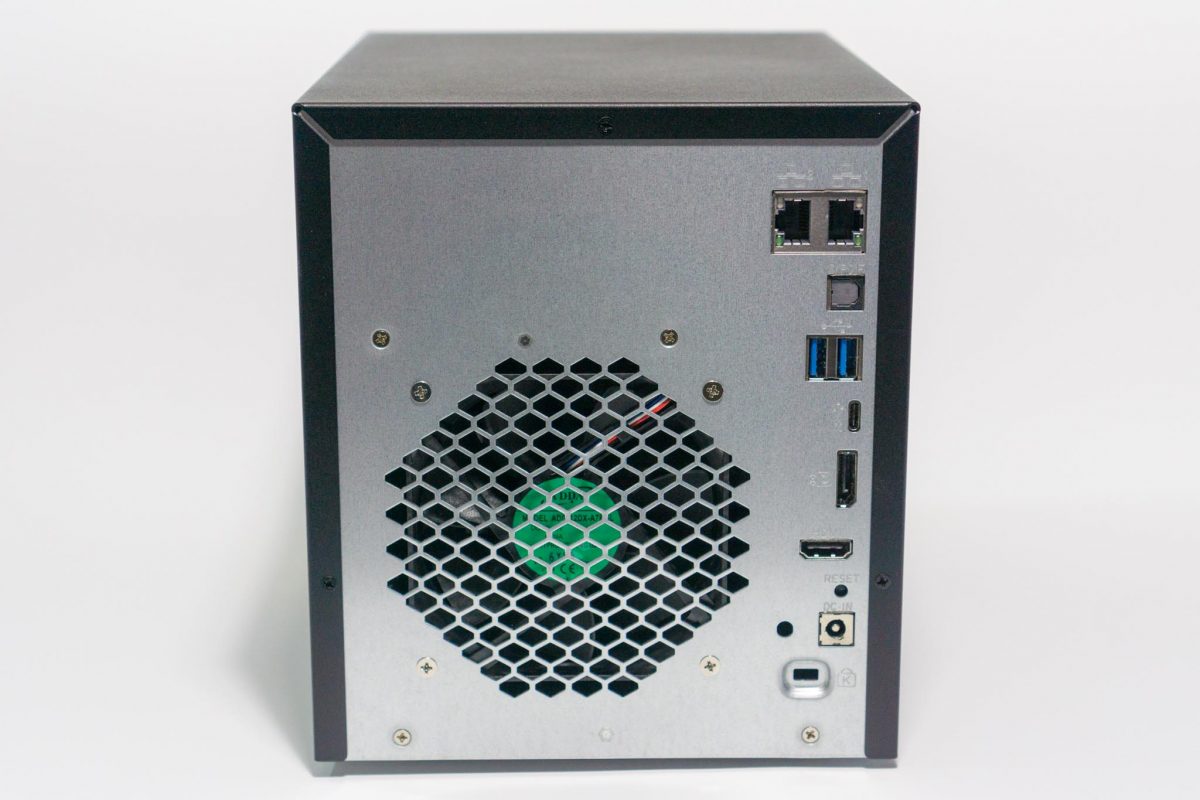 Around the back, you'll find from top to button: two Gigabit Ethernet ports, a S/PDIF digital audio port, two USB 3.0 Type-A ports, one USB 3.0 Type-C port, one DisplayPort, one HDMI port, a reset button, DC power input jack, and a Kensington lock. A single 92 mm fan is positioned on the back to cool the hard disk drives. It's low-noise design stays under 25 dB, so you the N4810 won't be a noise distraction in a quiet room.
This is my first time using a Thecus NAS, and I've to admit it took me some time to figure out the mechanism on the drive trays to lock in the hard disk drives. I struggled for a while, even resorting to Google search. It would have been helpful for Thecus to provide more helpful directions in this regard. It's great that there are no screws needed, at least not if you use regular 3.5-inch hard disk drives, but I think the tray could have been better designed.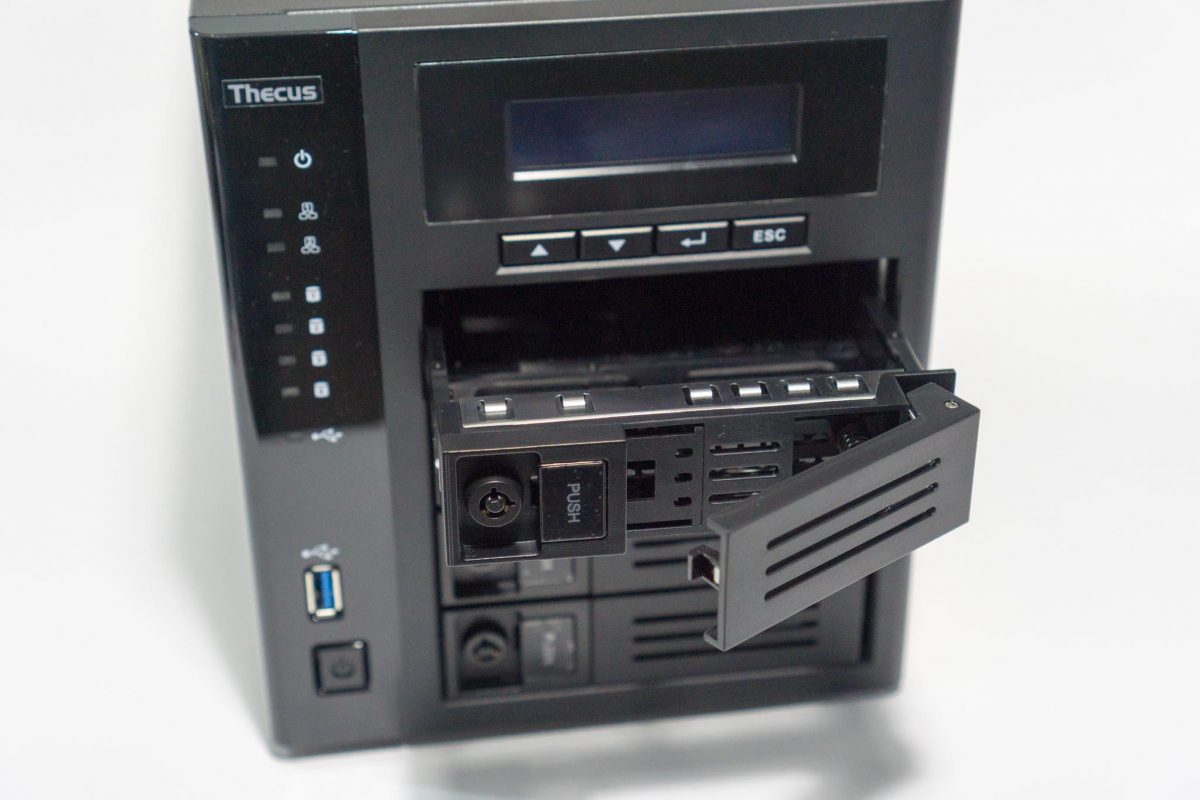 Under the hood, the N4810 is powered by a very capable quad-core Intel Celeron N3160 processor clocked at 1.6 GHz with turbo up to 2.24 GHz. The NAS comes with 4 GB of DDR3 RAM, which you can upgrade to 8 GB on your own. The extra RAM is useful if you run extra services out of the N4810.
The four drive interfaces support SATA III, and the two RJ45 Gigabit Ethernet ports support Wake-on-LAN. The latter means you can power up the N4810 remotely if you can access another device on the same LAN (e.g. your broadband router) that is capable of transmitting Wake-on-LAN commands.
Setting up the N4810 is relatively straight-forward. Connect it to the network, and access it's web-based configuration on the N4810's default IP of 192.168.1.100. The web UI is easy to understand and use, though I'm not particularly fond of the dated Windows-like design style.

You'll have to decide how you want the drives configured. The N4810 supports RAID0, RAID1, RAID5, RAID6 and RAID10. A comparison of the different RAID configurations is beyond the scope of this review. If you are unfamiliar, you should take your time to understand the differences between them, and the pros and cons of each one. There are some limited options to switch RAID levels, but such operations carry some risks.
The N4810 provides all the usual file sharing services such as:
CIFS/SMB (Windows file sharing)
AFP (Apple, including Time Machine support)
NFS
WebDAV
FTP
TFTP
Rsync
Most home users will just use the CIFS/SMB service, the native file sharing protocol used by Windows. The others may come in handy too, and particularly for Mac users, AFP is needed to enable networked Time Machine support.
Advanced users will be happy to see that iSCSI is available, a common protocol used to export block volumes to remote servers that appear like attached storage disks to them.
You can also choose how to format the storage volumes that you've created in the NAS. This is not so common on other consumer NAS, but the N4810 supports formats like Ext4, XFS and Btrfs. I'm sure there will be advanced users with very strong views about their preferred filesystem formats. If you choose to use Btrfs, then you can make use of Btrfs snapshot features.
The N4810 supports plugin applications which you can easily install from their App Center. There's quite a good variety to choose from. If you wanted, for example, to run a WordPress blog off your N4810 NAS, you can simply find the app, and then just click to install from there.

For the non-technical users, the App Center is certainly a very easy way to install server applications. To install WordPress, for example, you pretty much don't need to know anything about Linux or the LAMP stack. It's just like using a hosting control panel from a shared web hosting service provider. In fact, I think it would good to run these apps on the N4810 to get extra value out of it, since its Celeron N3160 processor is all good for the extra work.
The two Gigabit Ethernet ports can either be used separately, to connect two different networks, or bonded together (i.e. link aggregation) to get more bandwidth or provide for link redundancy.
The N4810 performs well in terms of I/O throughput. I can easily get about 100 MB/s sequential reads and writes. There are no issues with multiple HD video playback and recording.
I mentioned earlier how the N4810 can replace a media centre. The DisplayPort and HDMI port on the back of the N4810 supports up to 4K UltraHD resolution, and with the S/PDIF output for digital audio, you get the best picture and sound for your home theatre experience. You do need to install an app like Kodi through the aforementioned App Center to provide the media centre software functions.
There are several more pro features that advanced users will probably like about the N4810. This NAS can serve as a VPN server or a VPN client. It can authenticate users against external LDAP server or AD server. It can perform remote backups to Amazon S3, and using plugin modules, to DropBox and Elephant Drive.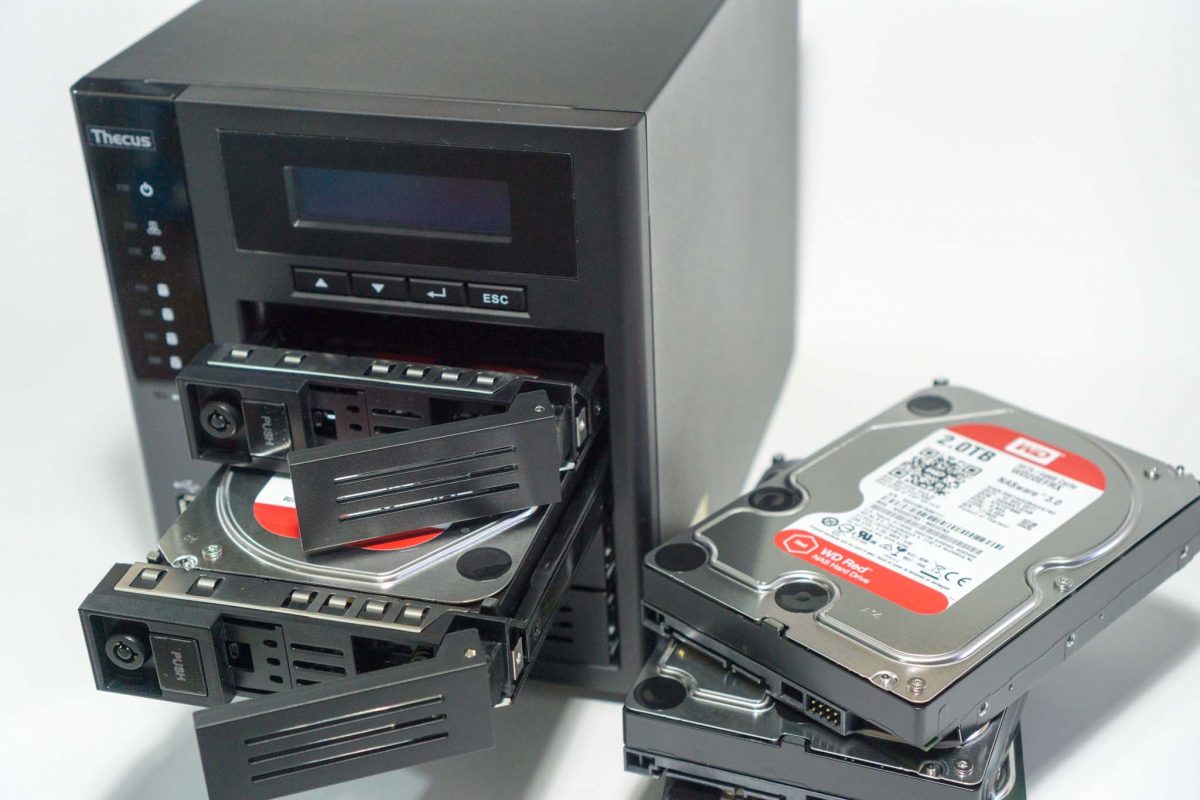 A good thing for users who are planning on future drive capacity expansion, the N4810 allows you to progressively replace drives with larger ones, and when finally the last one in a RAID set is replaced, the RAID volume can be resized, without losing any data or having to recreate the volume.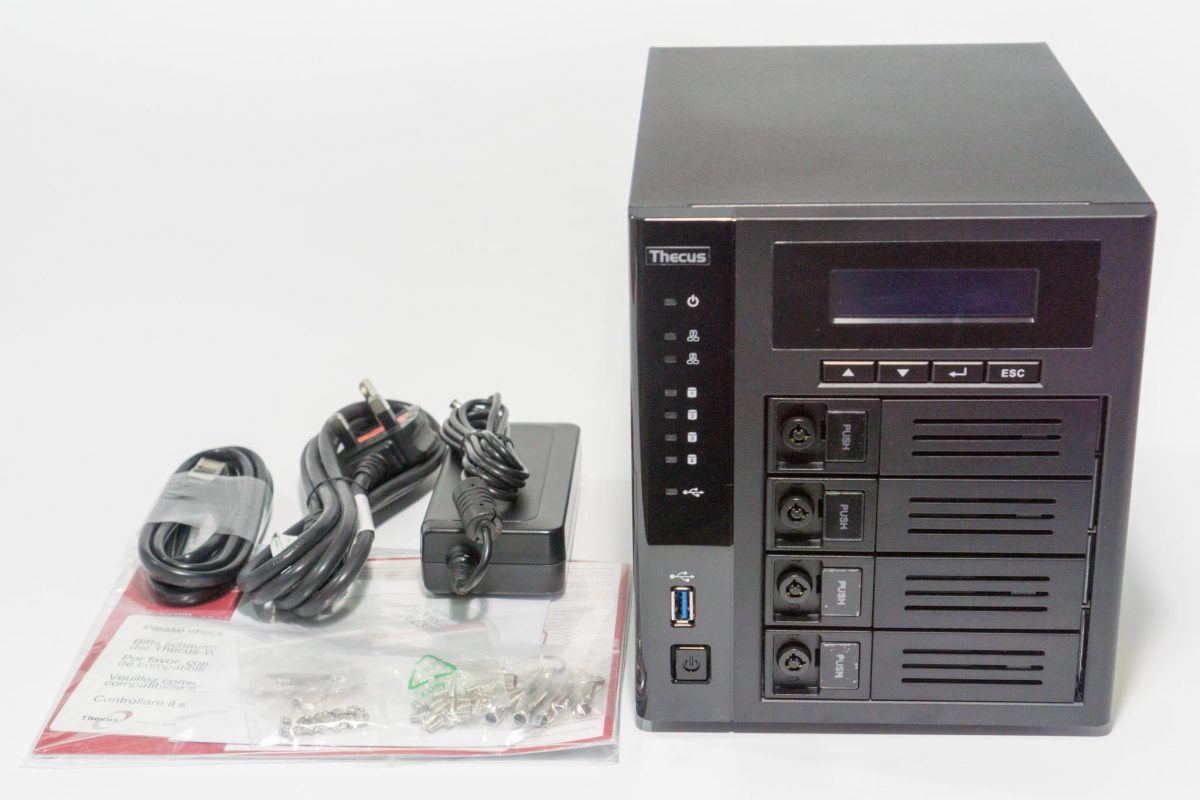 The N4810 comes with an external power supply and 4 pairs of keys for the drive trays. They're all the same, so the total eight numbers seem, well, too many. Screws are also provided for securing 2.5-inch disks to the drive trays.
The Thecus N4810 retails for S$793.
Conclusion
The Thecus N4810 is a very capable NAS that has many added features which home users will appreciate.
Pros:
Pro features
USB Type-C Port
DisplayPort and HDMI enables use as media centre
Good performance
Useful App Center
Cons:
Drive trays aren't easy to handle