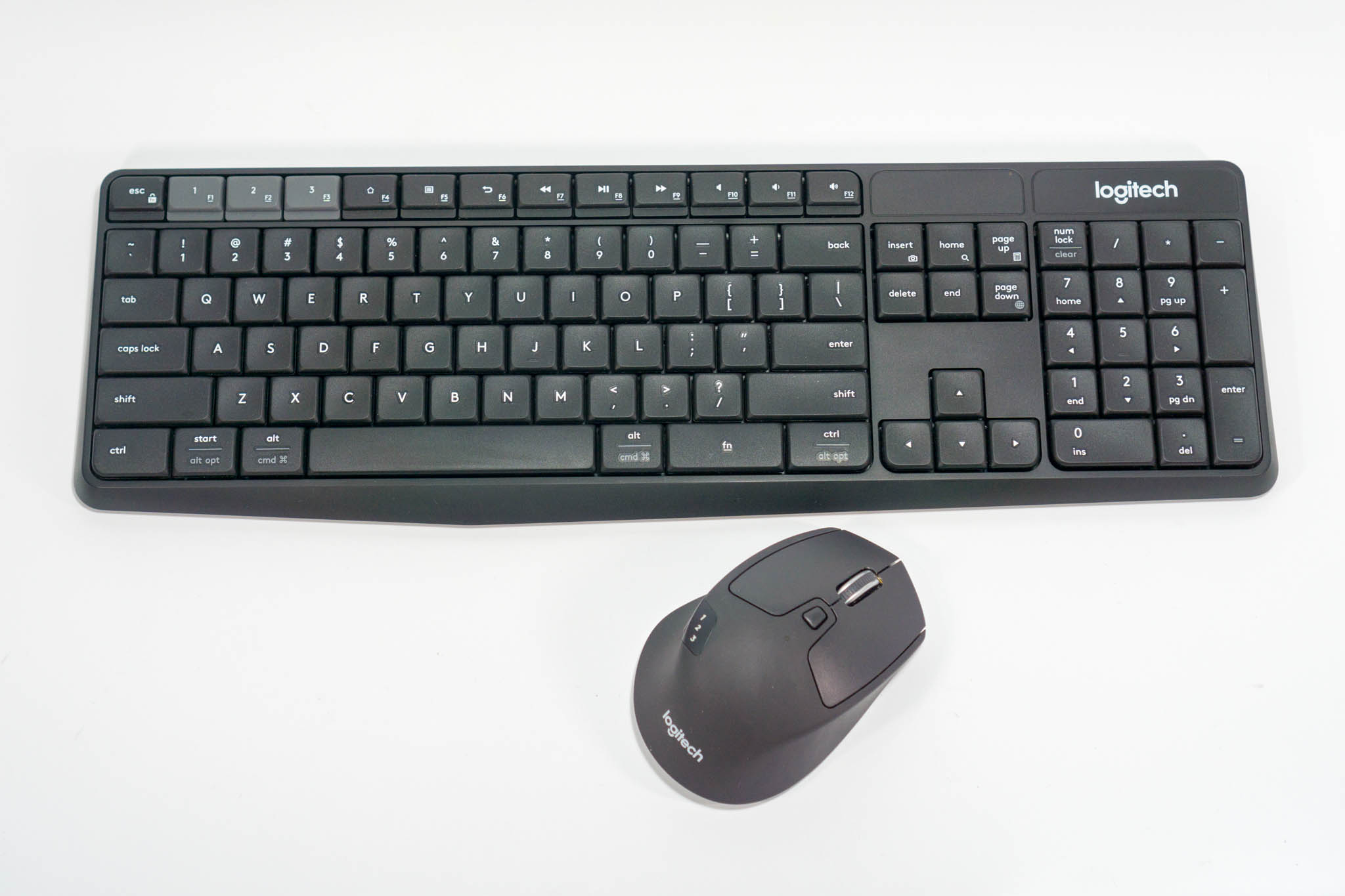 At work, I regularly use more than one computer at my desk. I've been wanting to have a single keyboard and mouse to switch between all of them. This review is of the Logitech K375s keyboard and M720 mouse which I'm currently trying to see if they will work out for me.
I reviewed the Logitech K480 multi-device keyboard some years ago. It was designed for mobile gadgets, and while they would work with any Bluetooth device, the keys aren't shaped like what you'd expect on regular full-sized desktop keyboards. I need a completely proper and functional keyboard good enough for heavy volume of touch-typing. The K480 doesn't work for me.
My short search led me to the Logitech K375s keyboard and M720 mouse. The search was short not because these were excellent candidates that come as strongly recommended, but that there simply weren't many options to choose from. It seems there isn't a great demand for keyboards and mice that one can easily switch between multiple computers. Oh no, I don't want a full Keyboard-Video-Mouse (KVM) solution. I just want a Bluetooth wireless keyboard and mouse.
Both the Logitech K375s and M720 fit my basic requirement:
They look and feel like regular keyboard and mouse, respectively
They support both Bluetooth and Logitech's unifying receiver
They easily switch between three computers
Let's talk about the K375s keyboard first.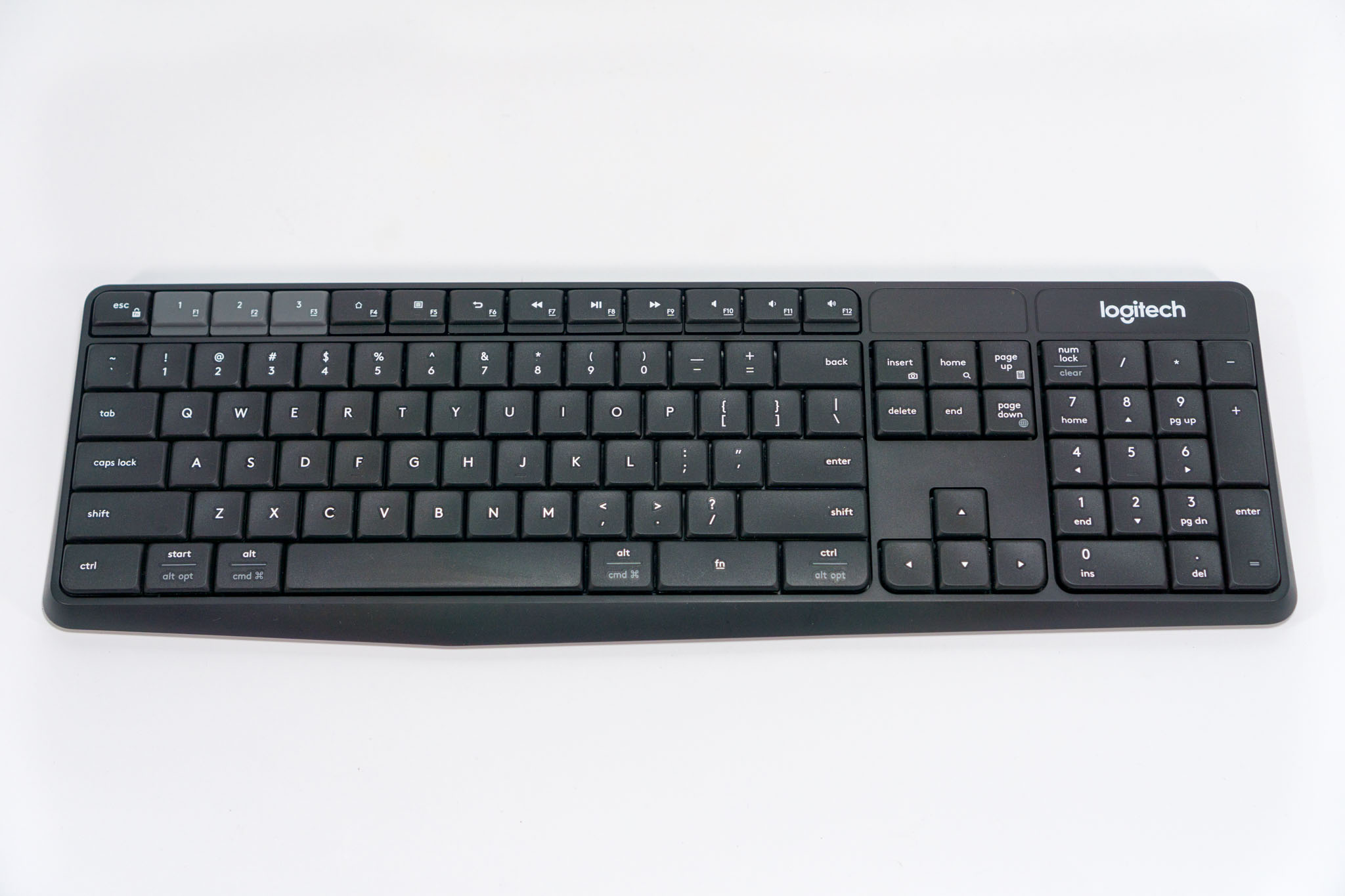 The K375s looks like a very regular full-sized desktop keyboard. The only thing that suggests something different about it is the lighter coloured F1, F2, and F3 keys. You might also notice that the keys in the bottom row are a bit different.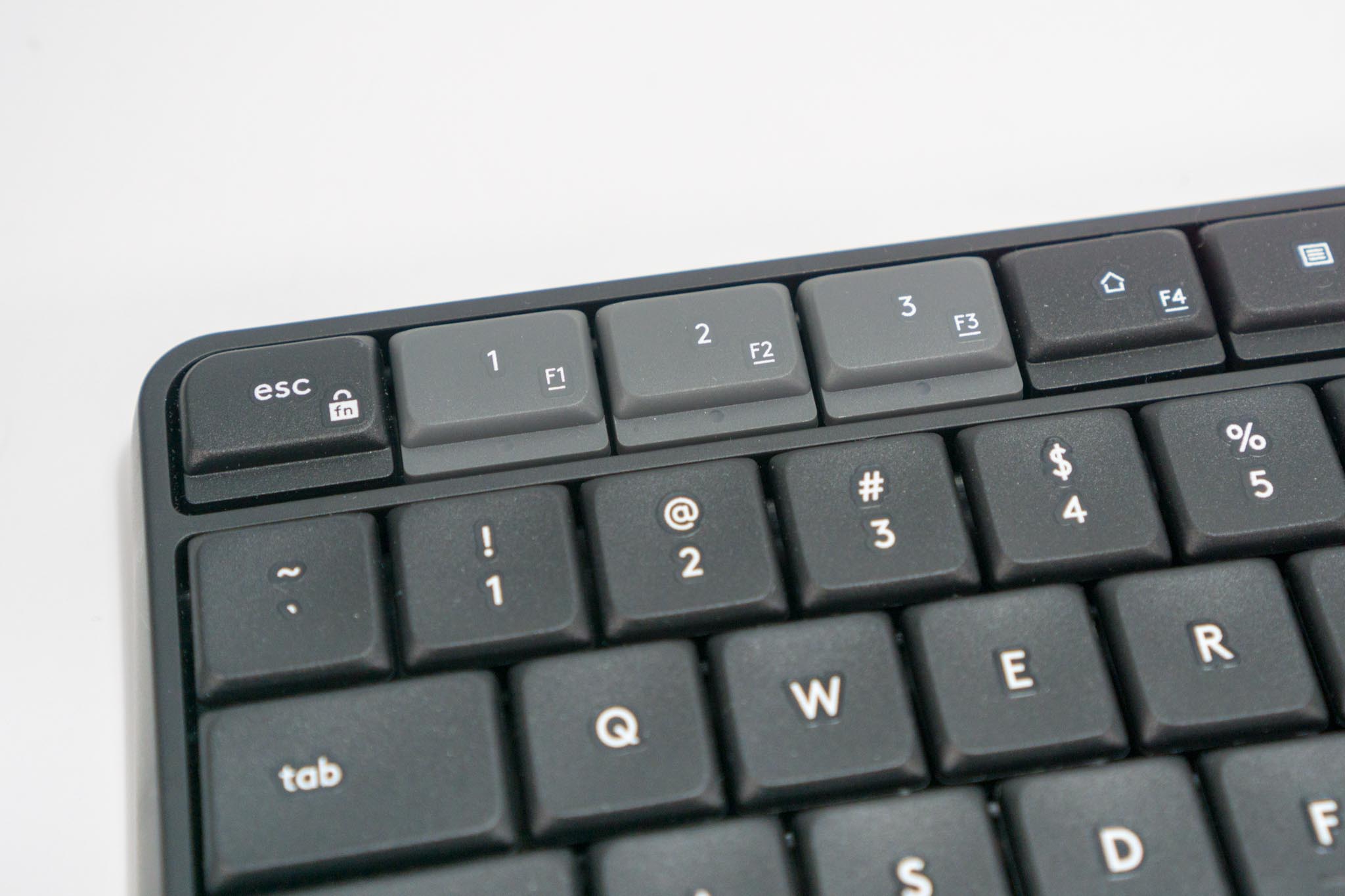 You can pair three devices with the K375s. Any one of them can be either Bluetooth or use Logitech's unifying receiver. The F1, F2, and F3 keys are used to switch between the three paired devices. An LED indicator beneath lights up for while when you switch devices.
This keyboard adapts to both Windows and Mac computers. It does better than simply supporting the Mac's Cmd and Opt keys. The K375s has the Mac's Cmd and Opt keys are in the correct spots.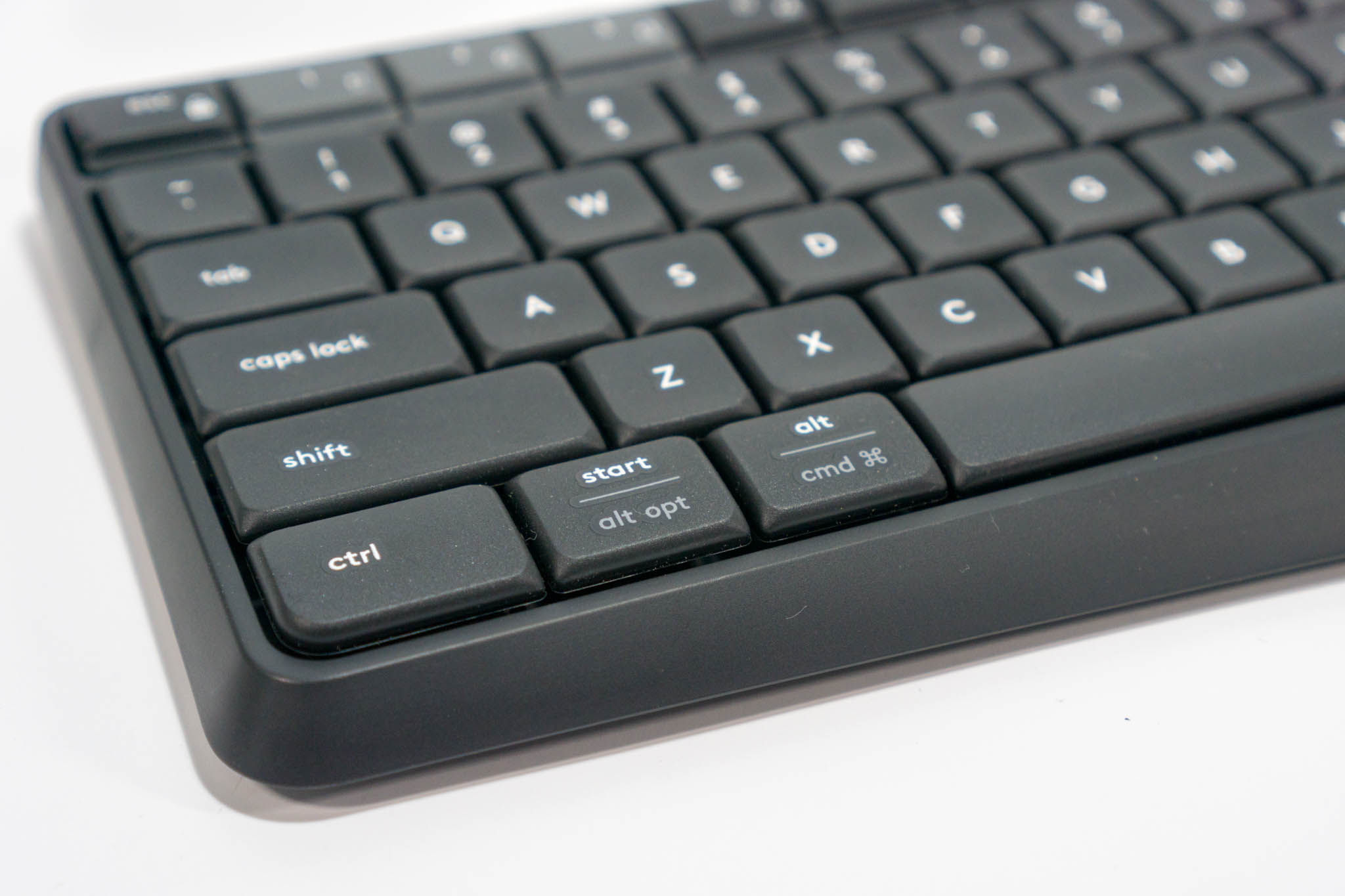 You see, most other Windows/Mac keyboards will use the physical key nearer the spacebar for the Windows' Alt and Mac's Opt inputs, and the key to the left will be for Windows' Start key and Mac's Cmd inputs. This is the correct order for Windows, but it is wrong for the Mac. The K375s gets this correct. This is a very important thing for Mac users. I find it so hard to use keyboards that put the Mac's Cmd key in the wrong place.
The K375s keys are spaced like regular full-sized keyboards, and comfortable in that regard. The keys themselves aren't so great. They feel just like any ordinary budget keyboard. I don't necessary mean that in a bad way. There are definitely worse keyboards. The K375s feels just a regular keyboard, using ordinary key switches. The keys are a little wobbly and soft. They could work for regular users though, at least those who aren't very picky about they keyboards. I should state that I'm extremely fussy about my keyboards.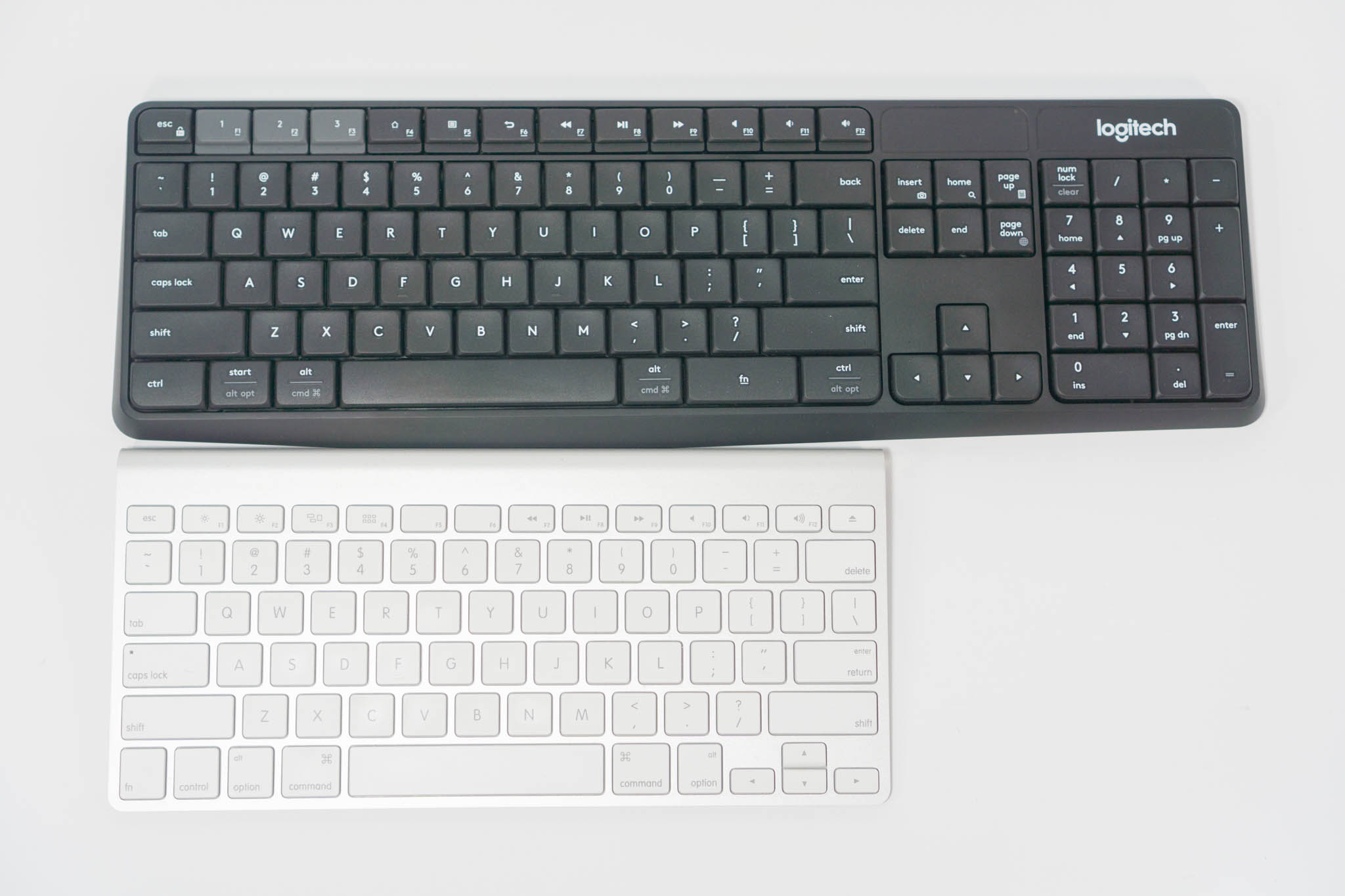 A small troublesome thing about the K375s is how you switch between different devices, or rather, which keys you'd use to do that. Basically, the row of function keys (F1, F2, F3, etc) also double up as special keys. The F1, F2, and F3 are also used to switch devices, with other special keys for Android navigation and media controls.
By default, the special keys are active, so the ones labeled 1, 2, and 3 (which also correspond to F1, F2, and F3) will switch to the corresponding paired device. This is fine on the Mac which won't normally use the function keys (i.e. F1, F2, and F3). The problem is when you use Windows, the function keys are often needed. You can press the Fn-shift and Fn-lock keys to toggle between special keys and function keys. It's troublesome.
The K375s requires two AAA batteries which are included in the box.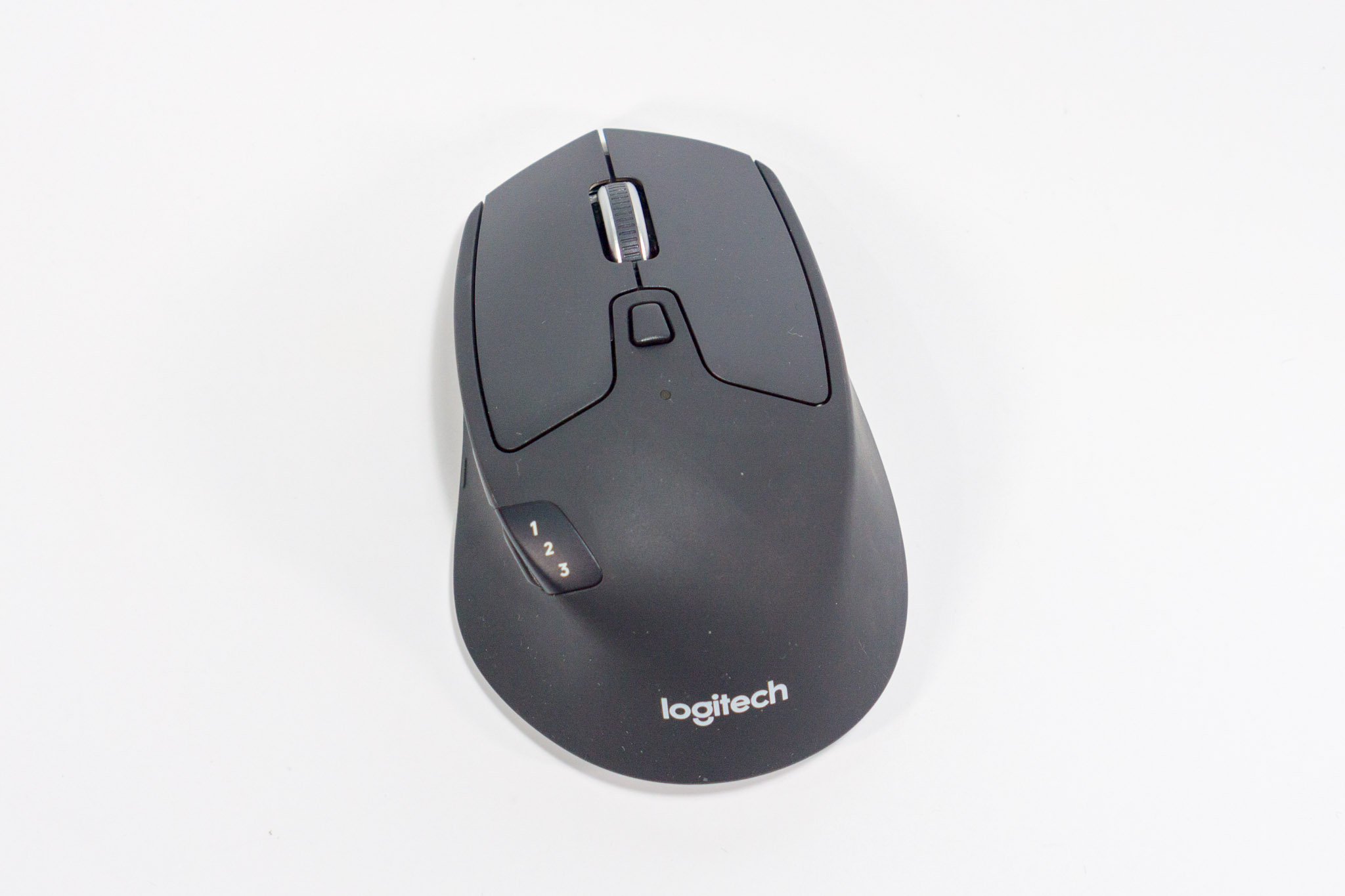 The Logitech M720 Triathlon mouse is quite a decent pointing device on its own. It has a left button, right button, clickable and tilt-able fast-scrolling wheel, two buttons (designated forward and backward) on the side, and a thumb squeezable bottom edge on the left side of the mouse.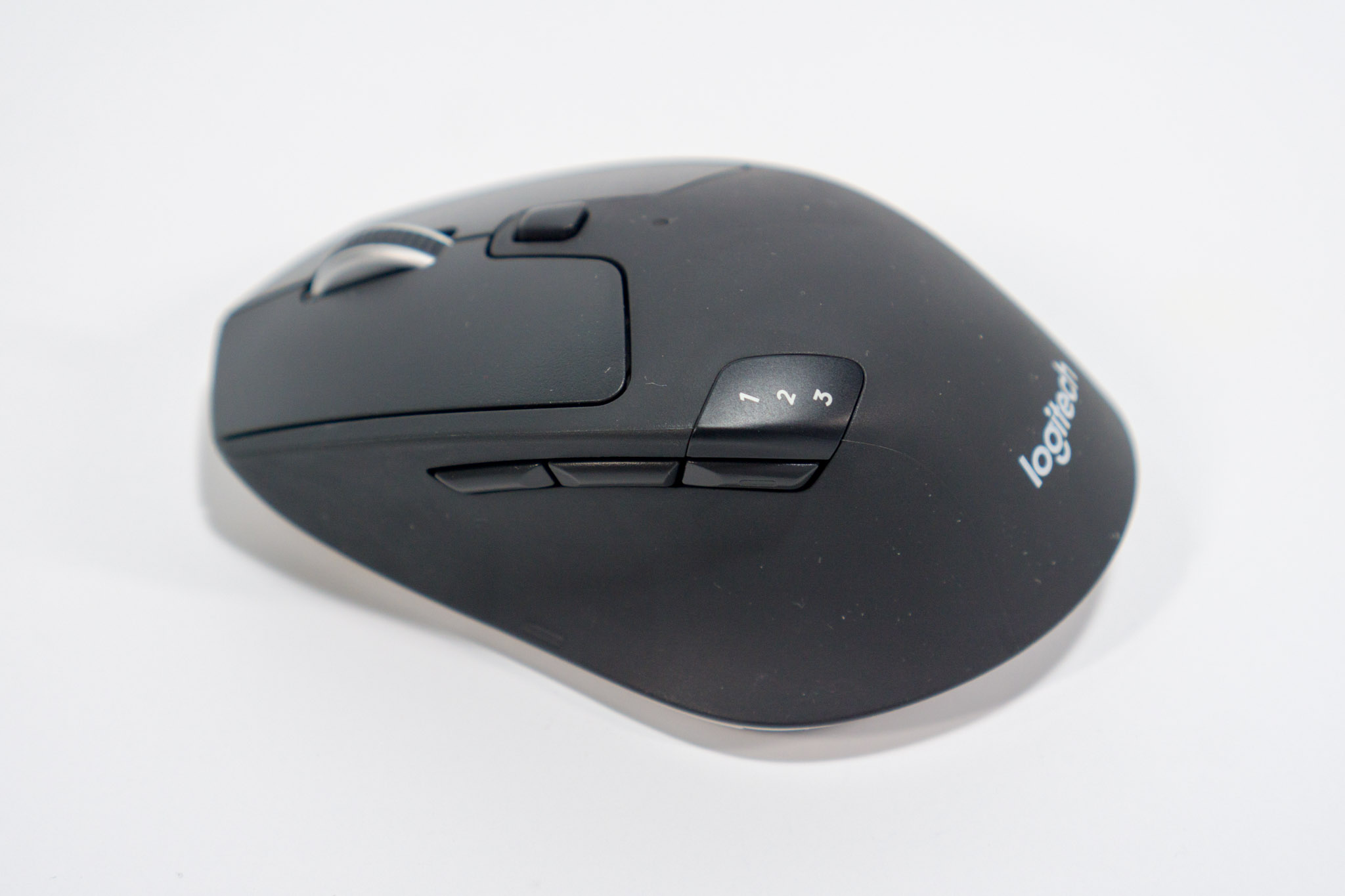 Like the K375s keyboard, the M720 also pairs with three devices. Each one of them can either be Bluetooth or a Logitech unifying receiver. Beside the two side buttons for the forward and backward actions, there's a third button that triggers the device switch. This button cycles through the three devices in sequence, with an LED indicator on the top showing which device has been selected.
The sequential device selection, I think, is a little inconvenient. I can appreciate having three dedicated buttons for direct device selection could mean having too many buttons on a tiny mouse surface. However, I'm sure there could be some sort of compromise that can still let us have more convenient, direct, device selection. As it is now, I have to look down at the LED indicators on the mouse to make sure that I have the correct device selected.
Aside from that, I'm quite pleased with the M720. I particularly like how the scroll wheel can spin.  A button below the wheel can unlock the wheel so it can free-spin. But even when locked, you can still flick the wheel, and it will continue to spin a little bit after your finger has left the wheel's surface. In free-spin mode, the wheel can really go on and on for many seconds. This is a quick way to move through several pages of a document or webpage at once, or even to the start or end in a pinch.
The thumb squeezable side is a bonus over a standard basic mouse. For a Mac user like myself, by default that calls up Exposé.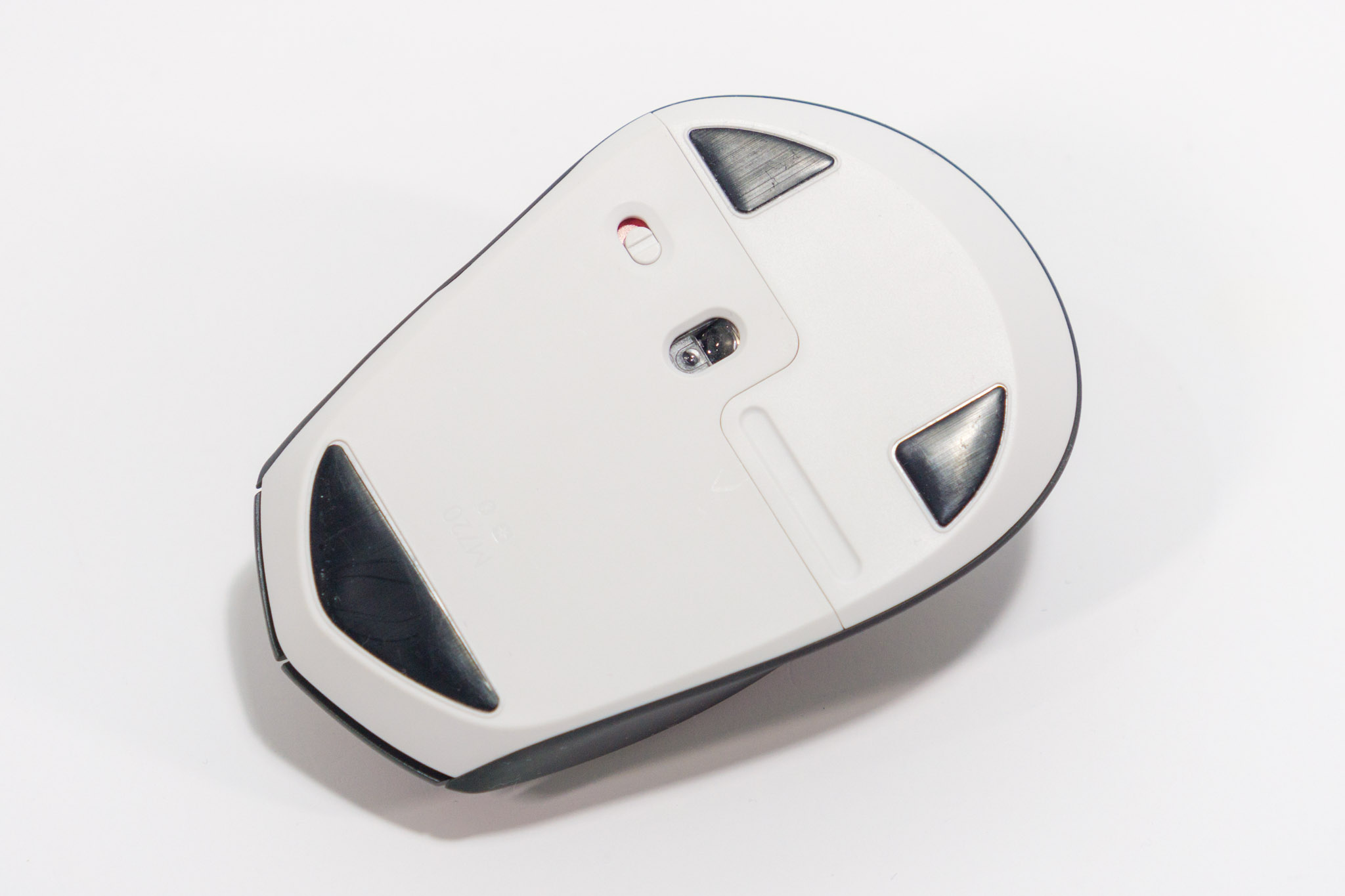 The M720 has a 1000 dpi laser sensor, and it requires a single AA battery which is pre-installed.
Both the K375s and M720 comes with a unifying receiver. Do note that they both use Bluetooth Smart. Legacy Bluetooth 2.0 devices will not work the K375s and M720. The Logitech Options software is available on both Windows and Mac to enable configuration and customisation of these devices.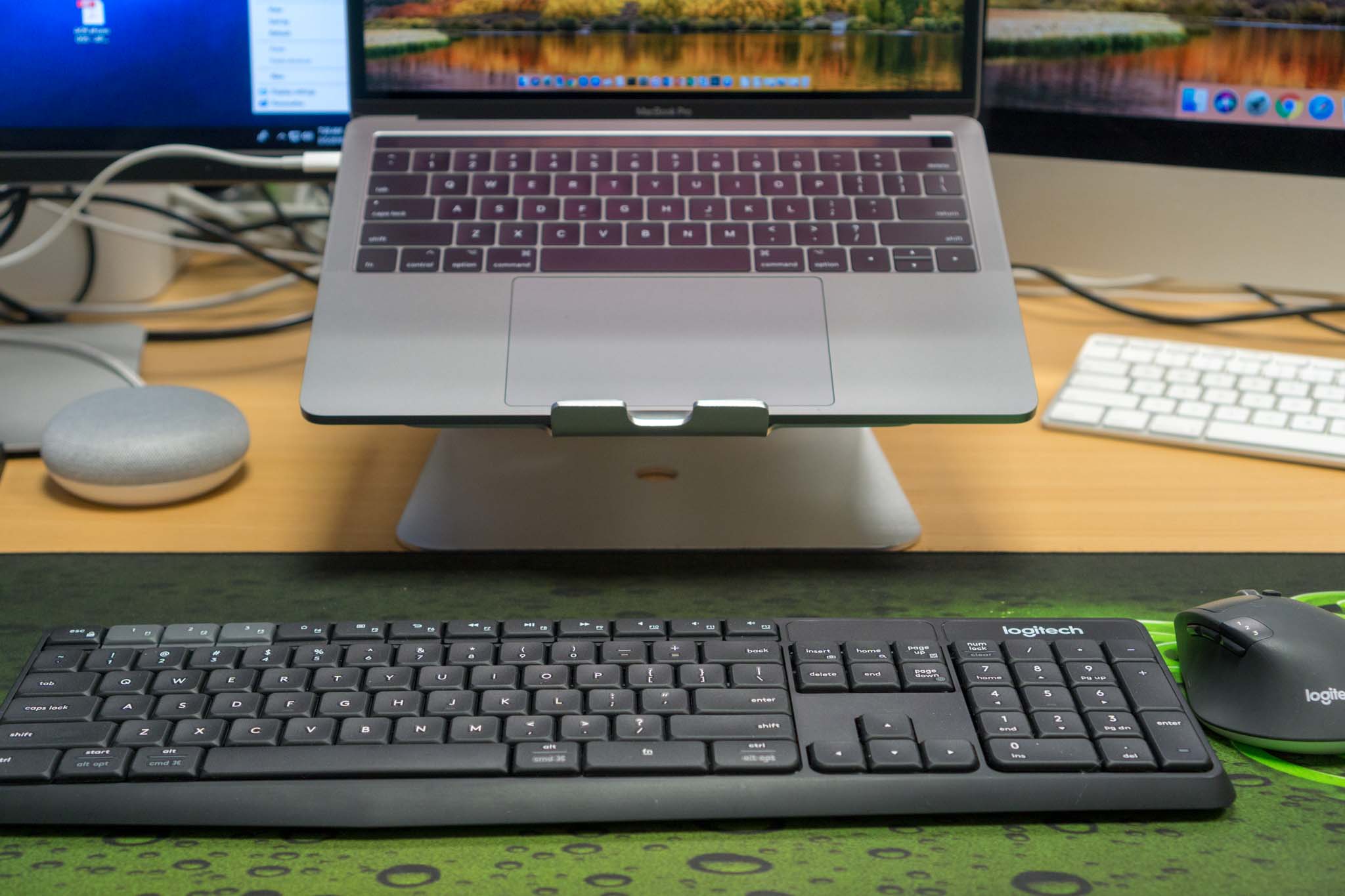 The combination of K375s keyboard and M720 mouse works well. I do wish they could be more tightly integrated so that activating the switch from either keyboard or mouse will switch the other one along with it.
The Logitech K375s and M720 from Lazada at S$39 (affiliate link) and S$89 (affiliate link) respectively.
Conclusion
If you need to switch between multiple Mac and Windows computers, the combination of Logitech's K375s keyboard and M720 mouse works well.
Pros:
K375s keyboard has the correct Mac keys positions
M720 mouse has fast scrolling and extra buttons
Cons:
K375s keyboard type experience isn't great