First, we had Bluetooth keyboards for desktop use. Then we have compact Bluetooth keyboards for on-the-go use with mobile gadgets. Now, we have hefty Bluetooth keyboards for mobile gadgets. Meet the Logitech K480 multi-device Bluetooth keyboard. It's a keyboard docking station for your smartphones and tablets.
Among the key highlights of the K480 is that it's designed to hold up a smartphone or tablet in a suitable viewing position while you use it with the keyboard. A groove at the top of the keyboard allows you to easily hold up any sort of gadget.
I was quite surprised by the weight of the K480 when I first picked it up. Keyboards are usually light, mobile gadgets are light, and we'd assume accessories designed for mobile gadgets should also be light.
The K480, however, has to be hefty, so that it won't topple while holding up your mobile gadgets. Some tablets can be quite heavy, especially if we're talking about those with display sizes larger than 8-inch. So, it makes sense that the K480 needs to be heavy.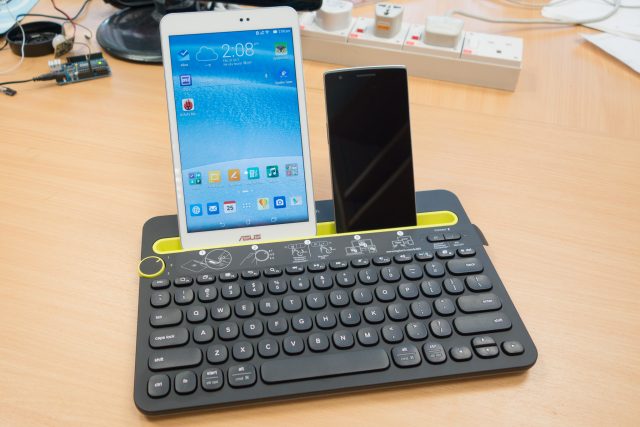 The groove on the K480 can very comfortably accommodate one tablet and one smartphone in portrait orientation. It's heavy and stable enough that there's no worry it will topple. It also won't slide around easily on your desk. The build of the keyboard seems to be pretty robust too.
The K480 connects to the mobile gadgets via Bluetooth. It will pair with up to three gadgets, and you can select between which of those three gadgets you want to connect to via a rotary dial on the left.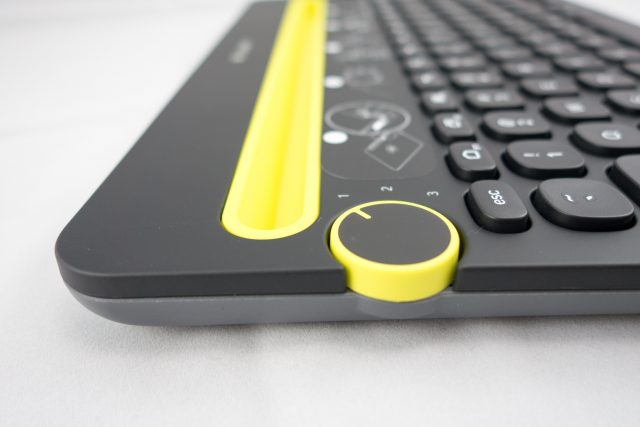 Pairing with the K480 is straight-forward. Turn the rotary dial to the number you want to assign the pairing to. Then, press and hold the mode connect button on the right. The mode button allows you to set the keyboard up for different type of operating systems. One mode is for Android, Windows and Chrome OS, and the other is for iOS and Mac OS X.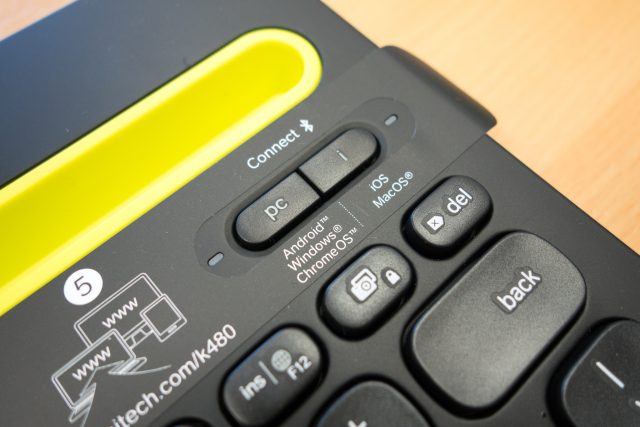 The various special keys are properly supported on their respective operating systems. When I tested with Android devices, for example, the Home Key (F1) and Recent Tasks Key (F2) behave as they should.
The support for pairing up to three devices to the K480 is really convenient. You can use the keyboard with your PC (or notebook), tablet, and smartphone, and easily switch between any of them at any time. The rotary dial, unfortunately, is not so convenient to rapidly switch between devices. A button or key switch might have been a lot easier in this case, particularly if you frequently use multiple devices simultaneously. That said, I'm still really happy about the ability to switch connection to different devices simply by turning the dial. It sure beats having to use multiple keyboards.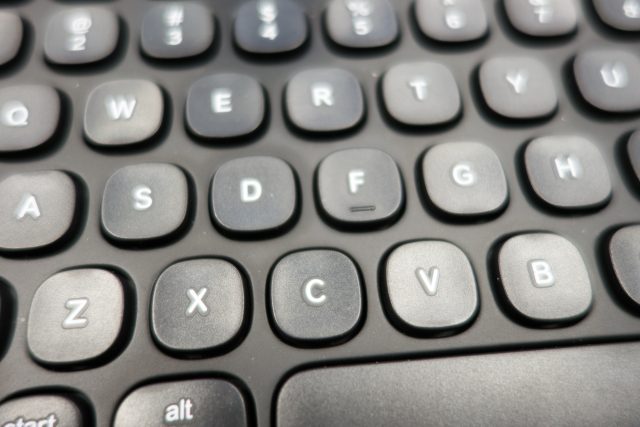 The K480 is large and spacious. It is infinitely better than using onscreen keyboards, and it's certainly an upgrade from tiny, compact, bluetooth keyboards. However, I found the typing experience on the K480 was somewhat substandard. The tactile feedback wasn't satisfactory. You could get by long enough to type an extended email, but this isn't something you'd want to use for the whole day.
It's a real pity, because the K480 could have replaced your primary keyboard, giving you access to your computer, tablet and smartphone from a single device.
The K480 is powered by two AAA batteries, included in the box. Logitech says they'll last 2 years based on 2 million keystrokes per year. There's a physical on-off switch so you can completely shutoff the keyboard when it's not in use.
The Logitech K480 multi-device Bluetooth keyboard retails for S$59. It's quite good value for money, considering that typical Bluetooth keyboards can sell for more than that.
Conclusion
The Logitech K480 multi-device Bluetooth keyboard is a versatile keyboard dock for your various mobile gadgets.
Pros:
Spacious "dock" for two gadgets in the groove
Pairs with up to three devices
Supports Android, iOS, Windows and Mac computers
Good robust build
Cons:
Typing experience isn't good
Rotary dial not convenient for switching Bluetooth connection