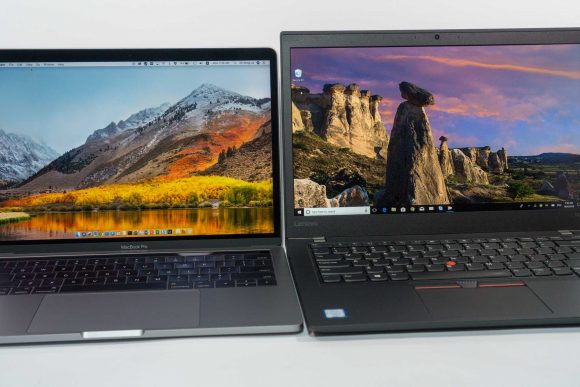 I've reviewed many notebooks on my blog, but thus far I've mostly not included any PC benchmarks in my write-up. With my new direction getting more in-depth with Wintel computers, this is going to change. I'm adding PC benchmarks results, starting with PCMark 10, PCMark 8, and Geekbench 4.
My recent review of the Lenovo Yoga 920 has incorporated PC benchmarks results.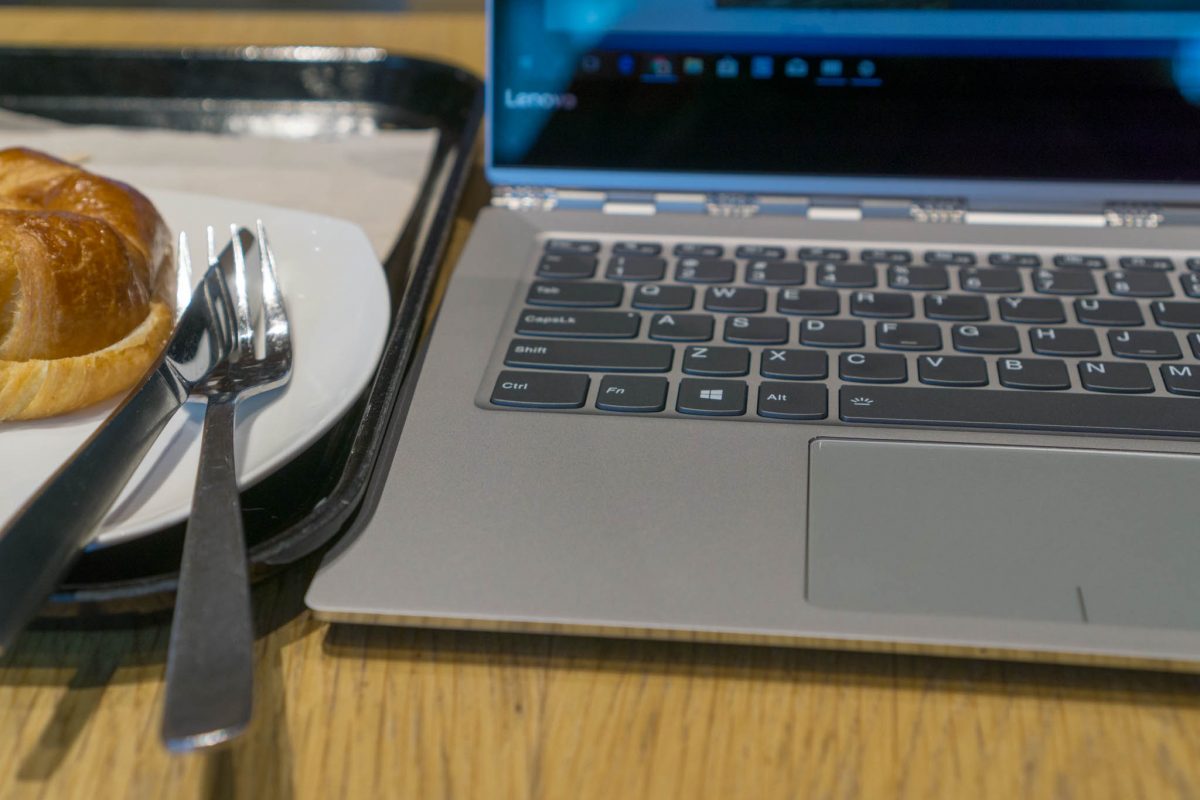 PCMark 10 from Futuremark, now rebranded to its parent company's name UL, is the latest iteration of their popular full system benchmarking software. PCMark 10 runs three types of benchmarks, the express, baseline and extended. The extended is the most comprehensive, and it includes all the benchmark components from express and baseline types. The comprehensive tests benchmarks the following types of workload categories:
Essentials: applications start-up, web browsing, and video conferencing
Productivity: writing and spreadsheets
Digital Content Creation: photo editing, video editing, rendering and visualisation
Gaming: Fire Strike
The Essentials and Productivity scores are probably the most relevant for most casual day-to-day computer usage, for most people. The results below are of some notebooks I happen to have on-hand currently.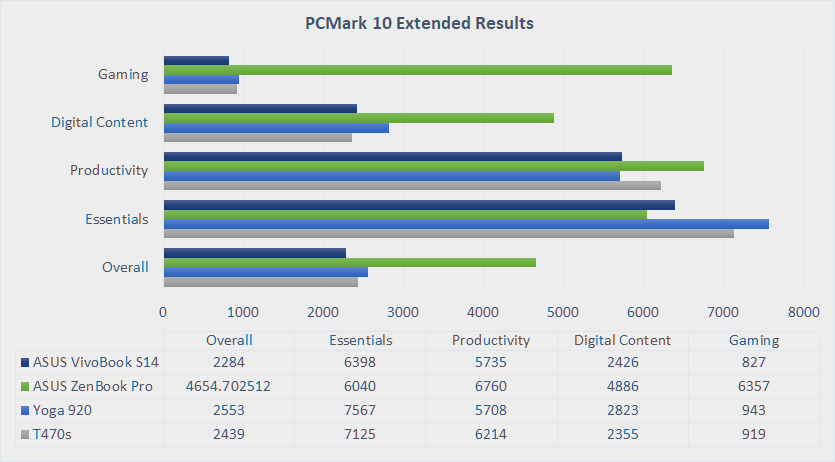 When reviewing notebooks, battery longevity is always something of particular interest. As I don't have any automated test scripts to run through casual workloads, I've decided to adopt the battery test from PCMark 8. I am unable use PCMark 10 because it doesn't include a battery test mode. PCMark 8 is used to simply provide the battery runtime when running the Home conventional benchmark. To be clear, one shouldn't take that runtime to be representative of how long the notebook will last. Whole the Home conventional benchmark may not be very intensive, the issue is that PCMark 8 will perform the tests continuously, non-stop, with no idle time, which isn't representative of how most people use their notebooks. The battery runtime result, therefore, should mainly be used to compare different devices.
Geekbench 4 is used to offer additional performance scores. This is also a popular benchmarking suite. Geekbench 4 focuses on processor and GPU performance, so it doesn't cover as broad a spectrum of workload like PCMark 10 does. However, Geekbench 4 has one advantage in offering cross-platform testing. Its benchmark is available on both Windows and macOS, so you can get a sense of how a Wintel computer stacks up against another Mac computer. In fact, Geekbench 4 also runs on Android and iOS, though I doubt it's that meaningful to compare between a computer, even of a notebook type, and a smartphone. However, it can be useful to use Geekbench 4 to compare between smartphones.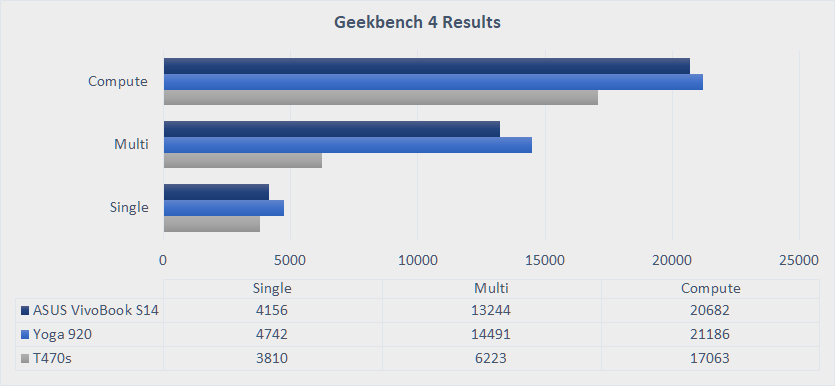 The Geekbench 4 results above are for the same set of notebooks, except the ZenBook Pro which I have not finished running the tests.
In the past, I've avoided including benchmark results because these are easily available from numerous other reviews. The purpose of my review has been about my own opinions, my own thoughts. However, in order to write a complete review, including to share my thoughts on performance data, particularly about battery longevity for notebooks, it seems to make sense to run and report on my own benchmarks. Different reviewers may test notebooks slightly differently, so it is useful to have my own set of data for comparison.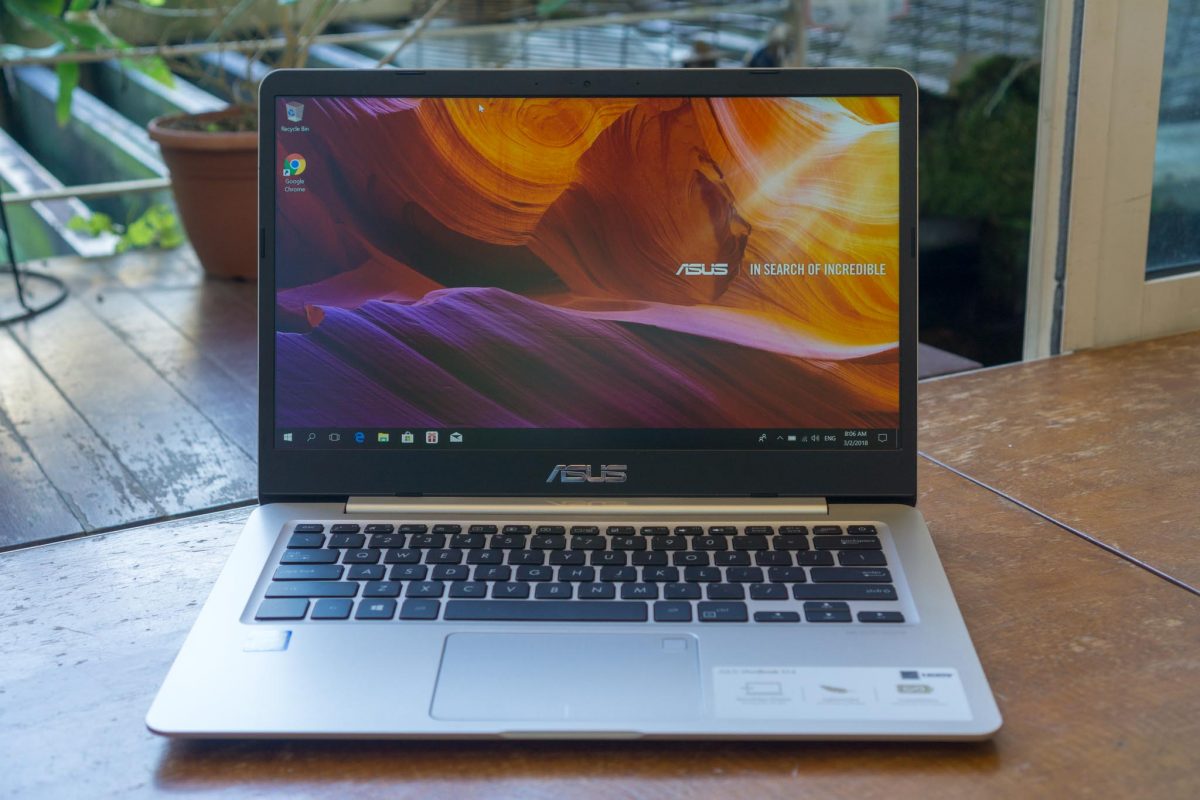 My Windows 10 testing will all be done with the power mode set to Best Performance, except when performing battery runtime tests, I'll use the Better Battery power mode. This approach should tell you how much performance the device is capable of when they're maxed out. However, when running on battery, we don't look at maxing out performance since it's battery longevity that we're more concerned about.
Look out for my future notebook reviews. The next one coming will be the ASUS ZenBook Pro powerhouse.