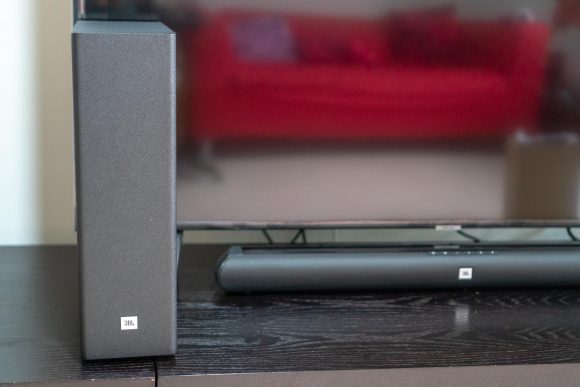 Built-in TV speakers are generally good enough for casual TV entertainment. However, if you want to truly enjoy movies on a large screen TV, you'll find an investment in a dedicated sound system goes a long way to improve your experience. For my recent TV upgrade, I decided to get the JBL Cinema SB150 soundbar.
The JBL Cinema SB150 is an entry-level soundbar, but it does come with a separate subwoofer system for a full 150 Watts of 2.1 stereo sound. It's light on features, but gets the job done good enough. It's also very budget friendly.
The soundbar itself is relatively compact, with dimensions measuring 80 x 8.9 x 6.4 cm (WxDxH). It fits under my Samsung 55-inch Ultra HD 4K Series 7 Smart TV.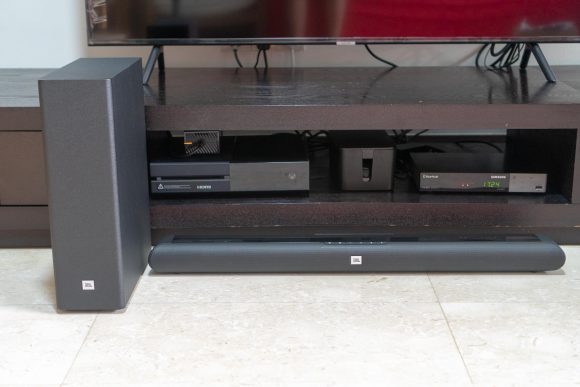 The subwoofer is a relatively slim unit that measures 40.9 x 8.9 x 80 cm (HxWxD). A nice feature of the subwoofer unit is that it connects wirelessly to the soundbar, so no cable connections are required between the two of them. You can easily place the subwoofer anywhere in your TV room, as long as there is a power supply available to power it.
The SB150 soundbar supports audio input via optical S/PDIF, 3.5 mm aux, and Bluetooth. There is no HDMI ARC support, and the USB port on the back is only for software updates.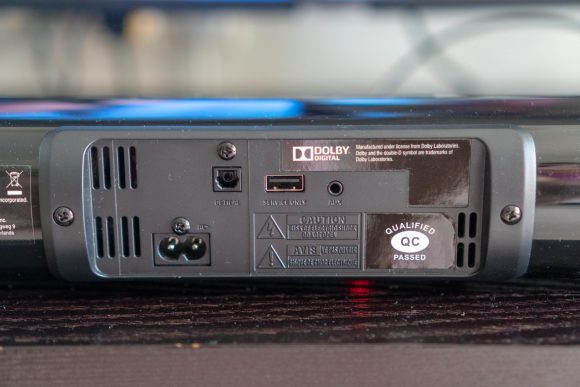 The physical controls on the SB150 soundbar are all located on the top-front edge. The buttons have a nice soft-touch rubber material.
There's also a LED light below, hidden behind the front grills for status indication. The LED is quite subtle, should not distract from your movie enjoyment.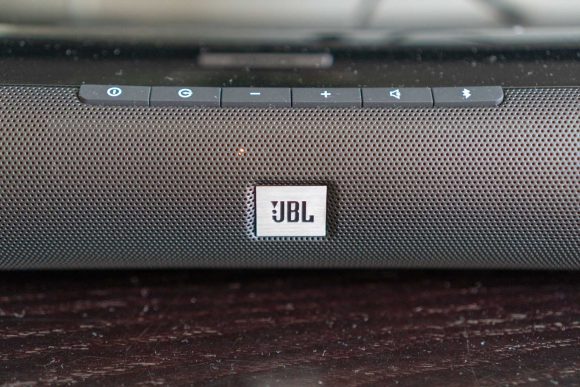 Sound quality from the SB150 is reasonably good. Home movie experience is definitely improved with the SB150. The subwoofer produces powerful deep bass that you can easily feel. You can independently adjust its volume separately from the main soundbar, but only via the remote control.
There are three fixed equaliser settings, News, Music, and Movie, to choose from. These also can only be selected from the remote control.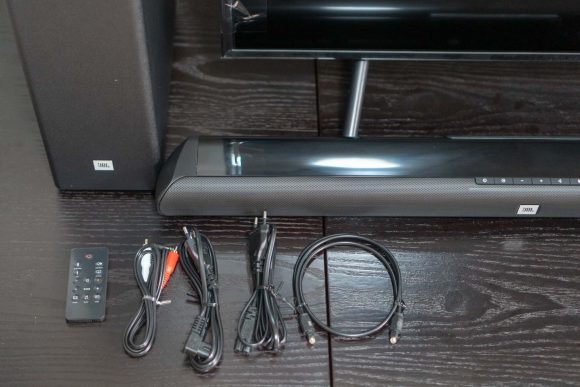 Both a 3.5 mm audio cable and optical S/PDIF cable are included in the retail packaging, so you can readily hook up the SB150 to your TV.
Note: The SB150 manual refers to a surround button, and the ability to program the soundbar to recognise your TV remote's buttons for power and volume control. Unfortunately, the surround button doesn't exist, and that programming capability doesn't exist. I'm surprised that JBL could get these errors into their manual.
The JBL Cinema SB150 soundbar has a list retail price of S$299, although you can easily find discounts. I bought mine for just S$178 during a recent promotion.