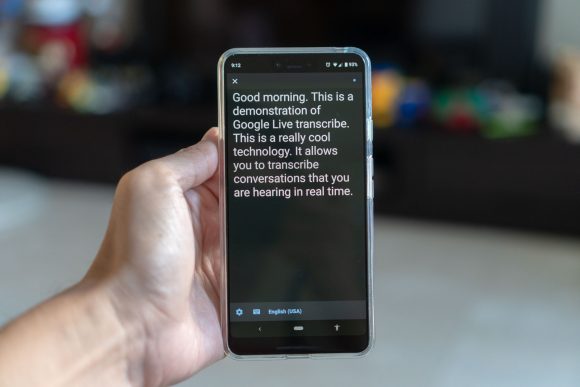 Google has a new feature coming on Android. It's called Live Transcribe, and a beta is now available for you to join. This is an accessibility-focused feature which transcribes speech into text in real time, and it's especially helpful for people with hearing difficulties.
I tested Live Transcribe, and I'm very impressed with the speed and accuracy of the transcription. The technology is really cool.
The live transcription uses Google's speech recognition technology, and requires a live Internet connection to work. However, Google says they don't store any conversations or transcripts on their servers, so in theory your communications ought to be secure.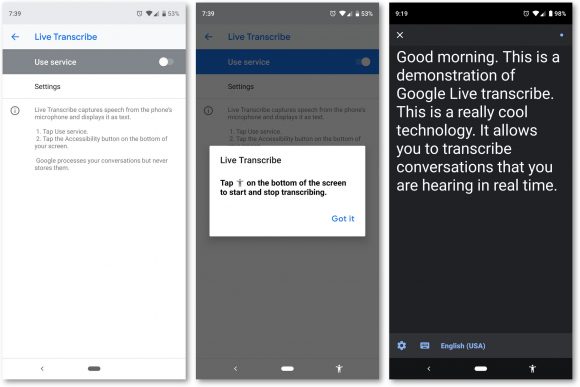 Live Transcribe supports over 70 languages and dialects, so even non-English speakers may find the language they need may be supported.
Google worked with Gallaudet University, the world's premier university for deaf and hard of hearing people, to design and validate that Live Transcribe meets the needs of people with hearing difficulties.
Once setup, it's easy to activate Live Transcribe just by tapping the accessibility icon in the bottom right of the navigation bar, next to the home button.
Live Transcribe beta is immediately available on Pixel 3 smartphones. For others, you have to sign up to join the beta programme.
Also launching alongside Live Transcribe beta is another accessibility feature called Sound Amplifier. By wearing a wired headphones, Sound Amplifier will help improve hearing of sounds around you. This feature works by making weak sounds louder without making powerful sounds too loud.
Sound Amplifier is available in the Play Store now.