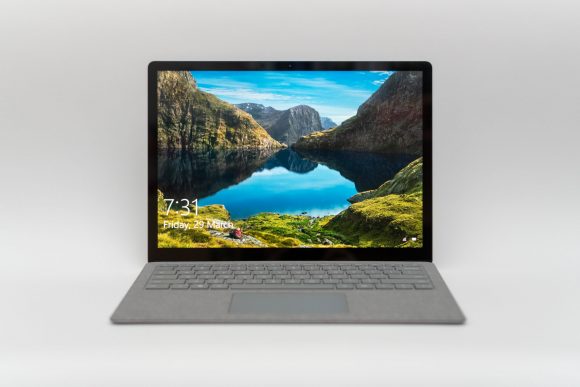 Microsoft's Surface Pro 6, which I just reviewed, is excellent in many ways. Tablets, however, even convertible ones, aren't the right thing for everyone. Some Windows users just want a real notebook. For these people, Microsoft has the Surface Laptop 2.
Before Microsoft launched the Surface Laptop line, they had another convertible device, the Surface Book, which launched in late 2015. It's also a detachable keyboard tablet, but distinctly different in style from the Surface tablet, and worked more like a notebook. Some people, myself included, didn't quite like that and still longed for Microsoft to offer a real notebook.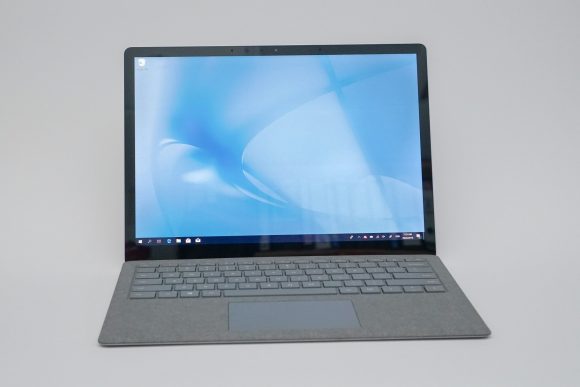 That notebook finally arrived with the first Surface Laptop in 2017. The new Surface Laptop 2 launched in October 2018, alongside the Surface Pro 6. It is mostly a spec refresh of its predecessor.
This is perhaps the most conventional device of the entire Surface lineup. Yet, this notebook sports a sufficiently unique design that makes it easily recognisable. The aluminium body is extremely well-built. The lid lifts smoothly, one-handed, without fuss. This, along with other Surface devices, is testimony to Microsoft's ability to make great Windows hardware. At least as good as Apple does with their Mac, if not better.
The new Surface Laptop 2 is pretty much visually identical to its predecessor. They are the same size, and have all the same ports in the same places. Unless you choose the new black colour that is only available with the Surface Laptop 2, it'll be hard to tell which generation of the Surface Laptop you have. As said earlier, this 2nd generation Surface Laptop is just a spec refresh.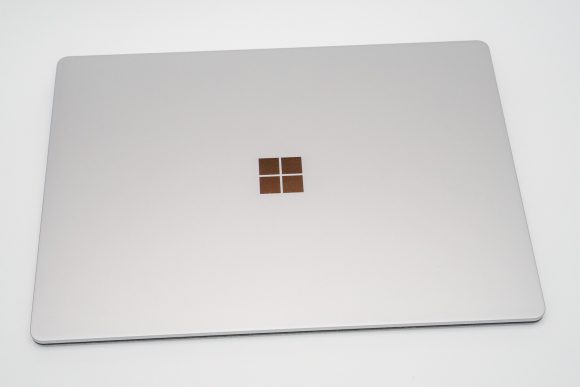 The Surface Laptop 2, with a 13.5-inch display, measures 308.1 x 223.27 x 14.48 mm, and weighs 1.25 kg. This still falls within the ultra-thin notebook category. It is light, and easy to carry around.
The 13.5-inch PixelSense display on the Surface Laptop 2 has 2256 x 1504 pixel resolution. This resolution is good and sharp enough for most purposes. Full HD is not enough, but most of the time Ultra HD isn't necessary. I do wish more manufacturers would offer an in-between resolution, like QHD that was once more popularly available.
Colour gamut, as measured with Spyder5PRO, comes in at 95% sRGB, 68% NTSC, and 73% AdodeRGB coverage. This is decent, and similar to the Surface Pro 6.
The Surface Laptop 2 supports pen and 10-point multi-touch. The stylus is not included. The Surface Pen works very well, in case you do want to get one; but if you're going to be doing a lot of pen writing, the Surface Pro 6 might be a more suitable device.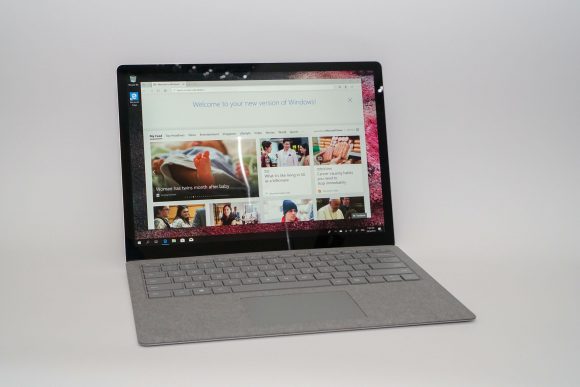 Since the Surface Pro 3, Microsoft has opted for displays with 3:2 aspect ratio on all their Surface devices. This might not be great for watching movies, but it works better for getting work done on smaller screen devices. I personally do appreciate the extra vertical space offered by the 3:2 aspect ratio on a notebook.
The 720p HD webcam above the display can do Windows Hello logins. The video quality, otherwise, is nothing exceptional, not unlike most other notebooks.
The keyboard on the Surface Laptop 2 is excellent. The Alcantara deck is beautiful and unique, although one might get concerned about its long-term cleanliness. The full-sized chicklet keys have 1.5 mm of travel, a little bit more than on the otherwise similar looking Surface Type Cover. I could be in the minority, but I do prefer typing on the Type Cover. This keyboard, however, is very closely as good.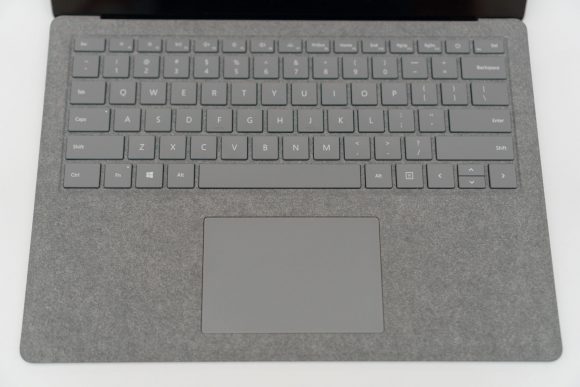 The Windows Precision trackpad below the keyboard has a smooth glass finish. It feels good and works very well. The trackpad is also reasonably large at 105 x 70 mm, and has a more regular aspect ratio than the somewhat elongated one on the Type Cover.
There is no fingerprint reader on this keyboard. While facial recognition works fine, I find fingerprint readers are quicker rand more reliable.
The Surface Laptop 2 offers a few basic built-in ports. On the left side, you'll find a USB 3.0 Type A port, a mini-DisplayPort, and a combo audio jack.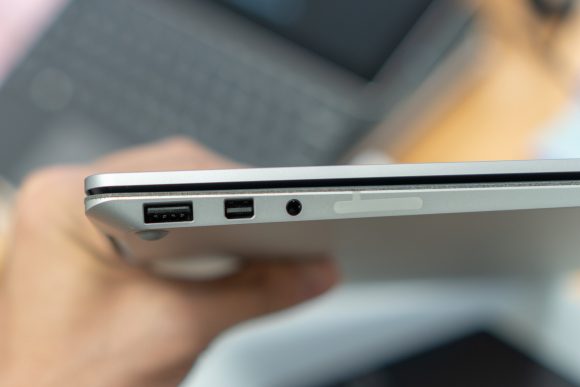 The only remaining port, on the right side, is the Surface Connect port. This port is the reason for my biggest complaint about the Surface Laptop 2, and indeed, the rest of the Surface devices too. The Surface Connect port, in principle, would be an excellent idea if it were five years ago. It attaches magnetically, and more capable than Apple's MagSafe and MagSafe 2, since it delivers both power and data. The Surface Connect can be used with a Surface Dock to get plenty other ports.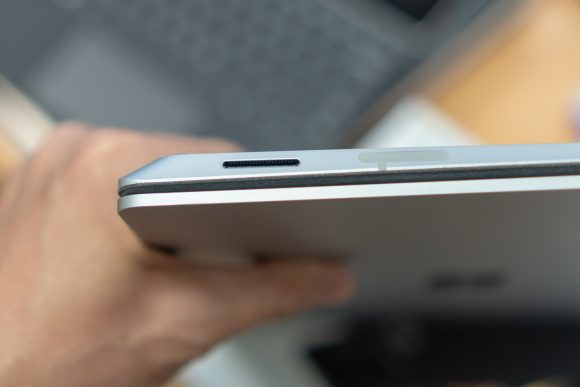 The problem is that it's 2019 now. Even when the Surface Laptop 2 launched in 2018, Thunderbolt 3 has been around some time, and already adopted by many flagship notebooks. The Surface Go, at least, offers USB Type C with Power Delivery, but not actual Thunderbolt 3 support. For the Surface Laptop 2 to not support Thunderbolt 3 is quite disappointing.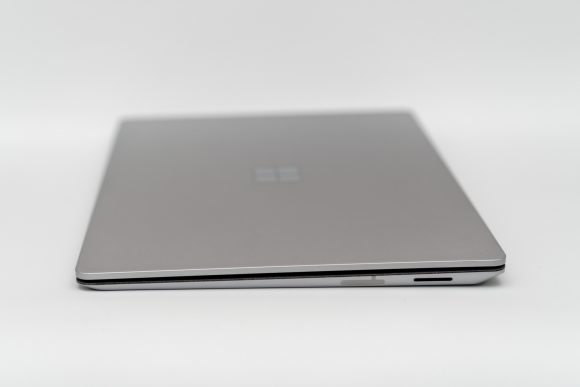 My Surface Laptop 2 review unit was configured with an Intel i5-8250U, 8 GB of RAM, and 256 GB of storage. Performance is decent, though it oddly enough came in below the Surface Pro 6 that had similar specifications. On PCMark 10 Extended, this review unit scored 2278 (overall), 6404 (essentials), 4489 (productivity), 2641 (digital content creation) and 960 (gaming). The Geekbench 4 single and multi-core scores are 3702 and 12054 respectively, and 36156 for the compute score.
Battery life on the Surface Laptop 2 is outstanding. On PCMark 8 Home Conventional battery test, this notebook ran for 6 hours 23 minutes. This is the 2nd best of any notebook I've ever tested, losing only to the LG gram.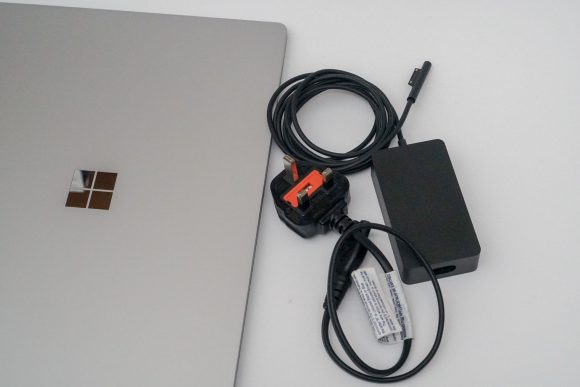 The Surface Laptop 2 doesn't come with much accessories in the box. You'll just get a Surface Connect power adapter.
Microsoft has a really good lineup of Surface devices which give you the flexibility to pick the right one to suit your primary use case. While the Surface Pro 6 is a very nice convertible, people who just prefer to use a notebook will find the Surface Laptop 2 to be a better option.
My experience with the Surface Laptop 2 has been very enjoyable. This notebook is very well-built. My only complaint about it is with the lack of Thunderbolt 3 support. I hope Microsoft will get around to putting Thunderbolt 3 in all their 2019 Surface devices.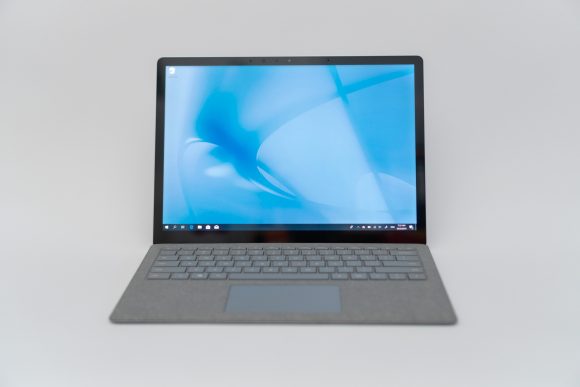 The Surface Laptop 2 retails from S$1,528. My review unit, configured with an i5-8250U, 8 GB RAM and 256 GB of storage, is priced at S$1,898.
Conclusion
Microsoft's Surface Laptop 2 is a small spec refresh from their previous generation notebook. It's an excellent Windows notebook, well-built, but glaringly missing Thunderbolt 3 support.
Pros:
Very well-built
Excellent keyboard
Amazing battery life
Cons:
No Thunderbolt 3 / USB Type-C