Microsoft launched the Surface Go convertible tablet in August 2018. It's basically a miniaturised Surface Pro, great for people who find the latter still too big to take everywhere they go. The Surface Go is cheaper, and also less powerful, but it might suffice for people with basic Windows needs.
The Surface Go is like an iPad, except that it runs Windows. It's also a whole lot more like a computer, because it actually is a real Windows computer. This is a tablet that can do real desktop work.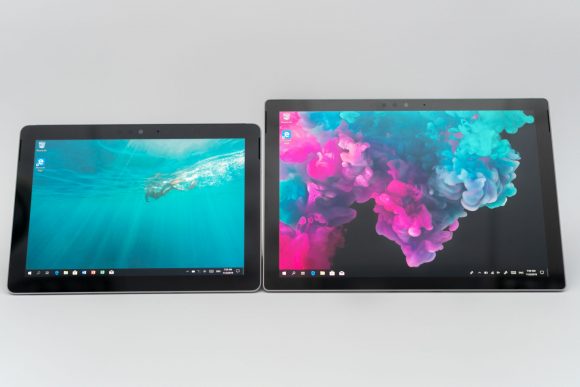 With a 10-inch display, the Surface Go is quite a bit smaller than the Surface Pro. The photos above and below show the Surface Go in comparison with the Surface Pro 6.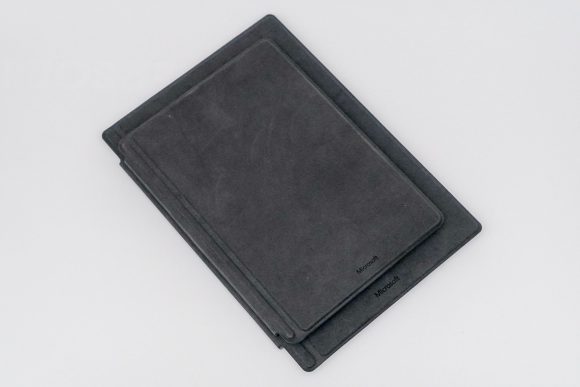 The Surface Go measures 245 x 175 x 8.3 mm, and weighs 522 grams. That's almost 250 grams lighter than the Surface Pro 6. Even after adding a Type Cover to the Surface Go, it'll still be lighter than the Surface Pro 6 on its own. The 9.7-inch iPad is still going to be lighter, and just a little bit smaller, but I'm sure you cannot complain about the Surface Go being clunky and inconvenient to carry around.
The physical design of the Surface Go has a little more rounded corners and edges compared with the Surface Pro 6. Apart from that, the Surface Go doesn't look very different from its larger "pro" sibling. There are more similarities between the two than there are differences, apart from the obvious size difference.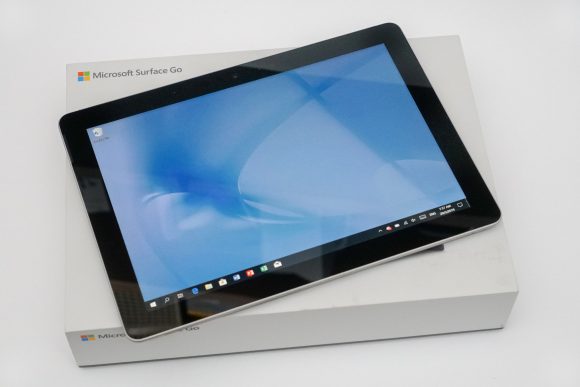 The 10-inch PixelSense display on the Surface Go gets you 1800 x 1200 resolution, which is sharp enough at 217 ppi pixel density. The aspect ratio is 3:2, something that Microsoft has gone with since the Surface Pro 3. This might not be great for watching movies, but it is very functional for getting work done.
The Surface Go has pen and multi-touch support. It uses the same Surface Pen as other Surface devices. That pen is excellent, one of the best there is of any styli out there. Unfortunately, just like it is with other Surface devices, the Surface Pen is not included with the Surface Go.
Apart from a 5 MP front camera which supports Windows Hello logins, the Surface Go has second 8 MP camera on the rear.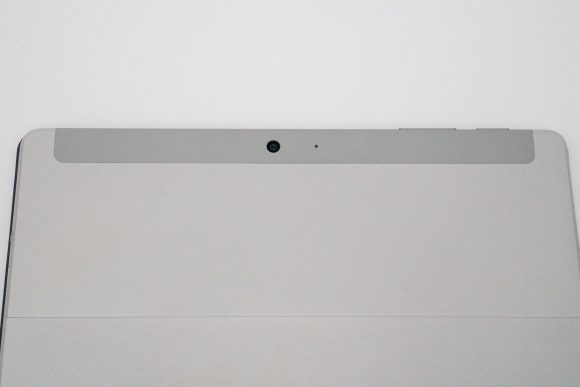 The Surface Go has a Type Cover, a keyboard cum cover that attaches magnetically to the tablet. This, unfortunately, is also a separate purchase. It is a smaller version of the one used with the Surface Pro 6. The Type Cover gives you a legitimate notebook experience, albeit one that is slightly more crammed. There is less key travel, at 0.9 mm. You still get back-lit keys on the Type Cover.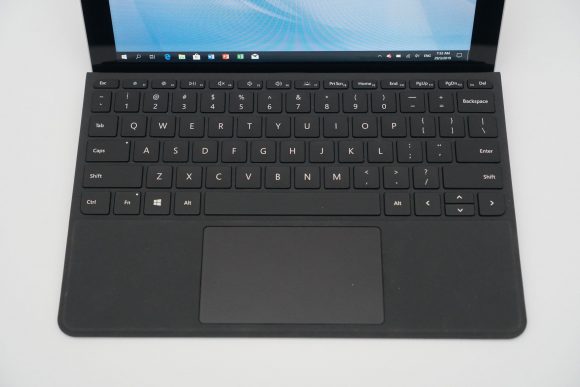 Surprisingly, the typing experience is not as bad as it might look. Granted, the Surface Pro 6's Type Cover works much better, but this smaller version isn't half as bad. If you want something as compact as the Surface Go, hopefully you don't need to do much typing.
Despite the smaller size, this Type Cover still sports a Windows Precision trackpad. This trackpad works well, just like the one of the larger Type Cover for the Surface Pro 6, and even has a nice satisfying click when you press on it.
The Surface Go has a combo audio jack and Surface Connect port on the side, and a microSD slot on the back. There is no dedicated video port, unlike the Surface Pro 6 which has a mini-DisplayPort.
However, the Surface Go has one big advantage: it has a USB 3.1 Type-C port. The Surface Pro 6 is, by order of launch, slightly newer, but its only USB port is a USB 3.1 Type-A one.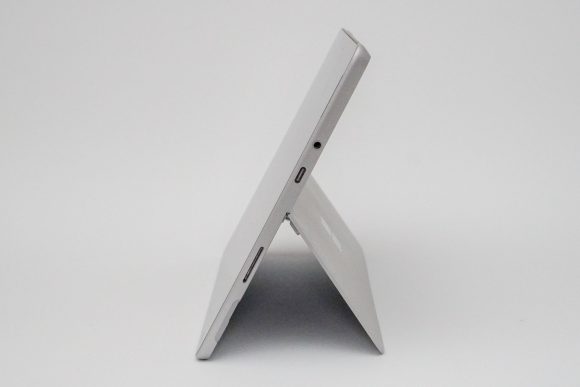 Microsoft somehow saw fit to bless the Surface Go with a USB Type-C port. This is not Thunderbolt 3, however, though we probably don't expect to need that on a device such as the Surface Go. This USB Type-C port does support Power Delivery, so you can use it to charge the Surface Go instead of using the Surface Connect port. Furthermore, you can use this USB Type-C with adapters to get HDMI or DisplayPort output.
Under the hood, the Surface Go is powered by an Intel Pentium Gold 4415Y processor. My review unit came with 8 GB of RAM and 128 GB of storage. A lower-end configuration with 4 GB of RAM and 64 GB of storage is available.
Performance, understandably, isn't great. On PCMark 10 Extended, my review unit scored 2458 (overall), 4515 (essentials), 2920 (productivity), 1366 (digital content creation) and 680 (gaming). The Geekbench 4 single and multi-core scores are 1501 and 3751 respectively, and 24265 for the compute score.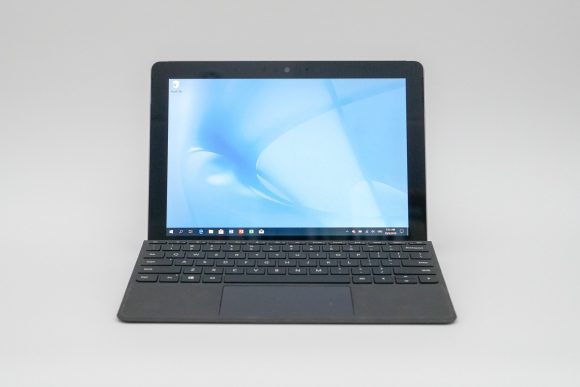 Web browsing and office applications work fine, though you may need just a tad bit of patience. The experience is not anywhere as crippling as in those days of Atom-based netbooks.
Battery life is actually quite good, depending on how you look at it. On PCMark 8 Home Conventional battery test, the Surface Go scored 5 hours and 19 minutes. This is worse than the Surface Pro 6, but overall still better than most notebooks. You should not try to compare this to an iPad or Android tablet because the Surface Go is more of a real computer than a true tablet.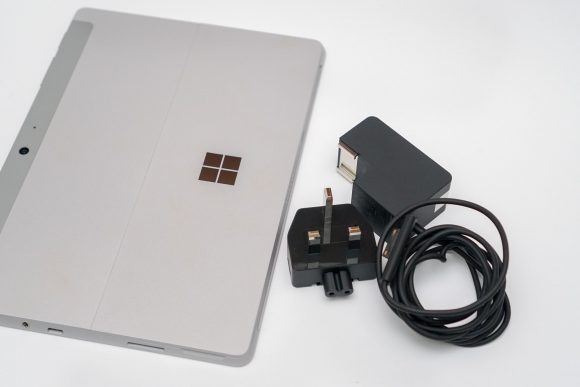 The only accessory in the box is the Surface Connect power adapter.
The Surface Go manages to offer a full Windows 10 experience in a tiny convertible tablet. With the Type Cover, you can turn this tablet into a legitimate notebook. Although performance isn't as great, people who need something more portable than the Surface Pro 6 will find this worth considering.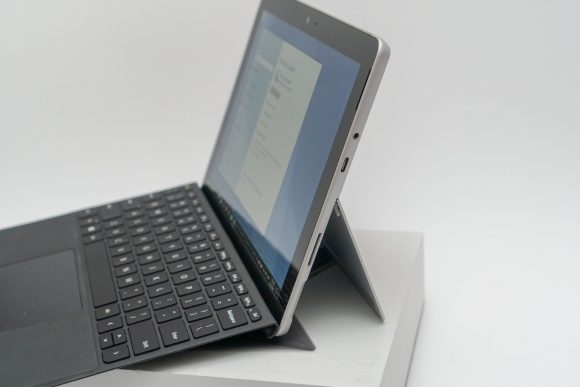 The Microsoft Surface Go retails from S$618. My review unit, configured with 8 GB or RAM and 128 GB of storage, is ptriced at S$828.
Conclusion
If you like the Surface Pro 6, but need something smaller, then the Surface Go is for you.
Pros:
The most portable Surface device
Type Cover is small but pleasant to work with
Has USB Type-C Power Delivery
Cons:
Surface Pen and Type Cover are extras