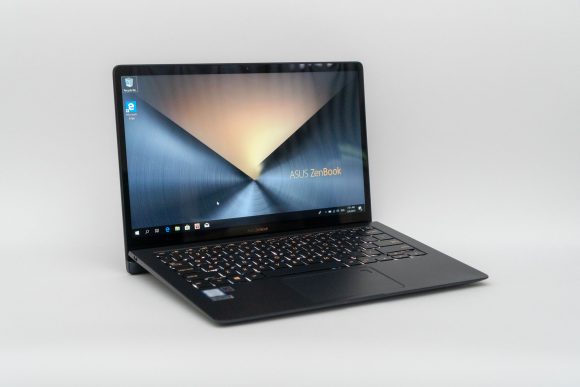 The ASUS' line of ZenBook notebooks are always very recognisable due to their elegant and beautiful designs. The ZenBook S UX391 is likewise the same, but makes tweaks for better ergonomics, while still offering all round great functionality and performance.
The ZenBook S UX391 is a premium ultra-thin notebook. The aluminium unibody chassis has a dark blue finish, along with the iconic concentric circle design seen on other ZenBooks for many years.
For those new to the ZenBook line, this pattern is both unique and intriguing. However, for those already starting to feel a little bored with this look, ASUS manages to keep the ZenBook S UX391 interesting in other ways, such as the rose gold trimmings around the edges, and the gold ASUS logo centred on the lid.
The smooth lid has a sort of dull shine to it, which unfortunately doesn't do enough to mask fingerprints. It is better than a full gloss finish though.
The ZenBook S UX391 sits very comfortably in ultra-thin notebook category, having dimensions measuring 311 x 213 x 12.9 mm, and weighing a very light 1.05 kg. It's easy to pick up this notebook and bring it anywhere with you.
The ergonomic highlight of the ZenBook S UX391 is how the lid opens to lift up the rear of the main body. The ErgoLift hinge, as ASUS calls this feature, has several benefits. First, the keyboard gets sloped at a nice angle which improves your typing comfort. Lifting the main body also has the effect to improving air circulation around the notebook. While using ZenBook S UX391 on your lap, there'll be less surface contact, so you don't feel much heat from the notebook.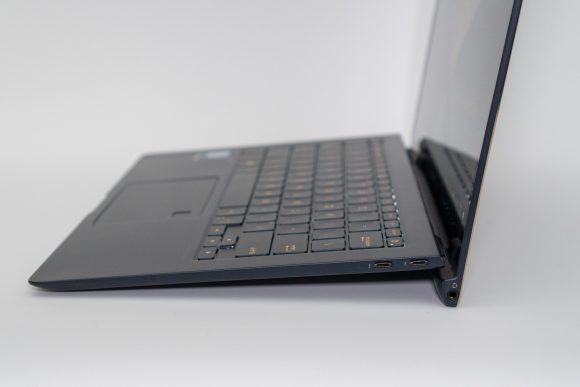 This design affords ASUS a bit of extra space on the lid, so they've put the 3.5 mm combo jack there, right at the end along the right side.
There are two Thunderbolt 3 ports on the right side of the ZenBook S UX391. They support Power Delivery, so you can charge the notebook with these ports.
The last remaining port on the ZenBook S UX391 is on the left side, and it is a USB 3.1 Gen 1 Type-C port. While it is not Thunderbolt 3, it does support Power Delivery for charging, and USB Type-C alternate mode for HDMI display connectivity.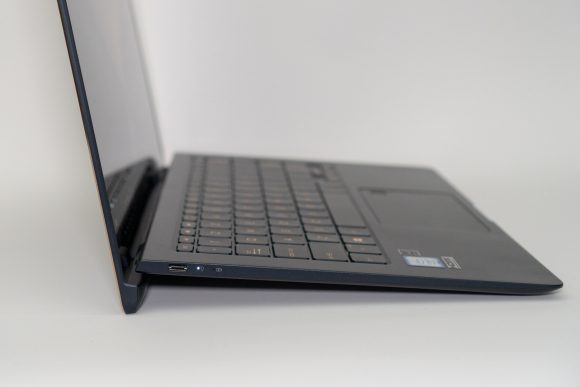 The ZenBook S UX391 has a full-sized keyboard with standard key layout. The keys are back-lit, and the inscriptions on them are in gold, nicely matching the gold ASUS logo on the lid. The keys have 1.2 mm of key travel, good clicky feel to them, and overall nice to type on.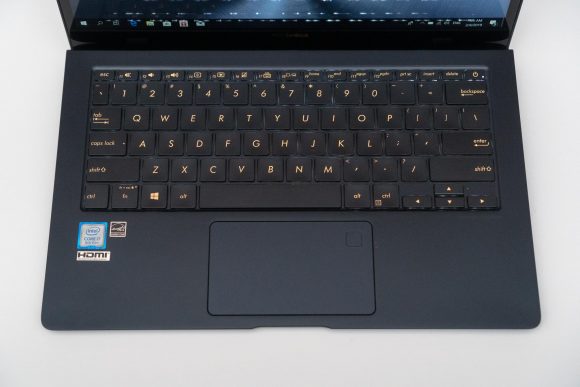 The touchpad is fairly standard size, glass-covered, and works well.. It supports Windows Precision. The fingerprint sensor is integrated into the touchpad, and works with Windows Hello for sign in support. I would have preferred a standalone fingerprint sensor, or one integrated into the power button.
The ZenBook S UX391 has a 13.3-inch glossy display. My review unit is configured with a Full HD 1920×1080 resolution IPS panel without touch support. There is another configuration available that comes with a 4K UHD display with touchscreen support.
The 4K display will likely look nicer, but with battery life in consideration, the Full HD version might suffice for most people. I do wish the Full HD model was offered with touchscreen support. As it is, you have to go with the 4K display if you want touchscreen.
The Full HD display on my review unit looks good, though nothing spectacular. Testing with Spyder5PRO, it measured 95% sRGB, 69% NTSC, and 74% AdobeRGB colour gamut coverage. Brightness level reaches about 270 nits, which suffices for indoor use, and maybe a little outdoors if it is not too sunny. The glossy screen makes viewing conditions in bright environments challenging..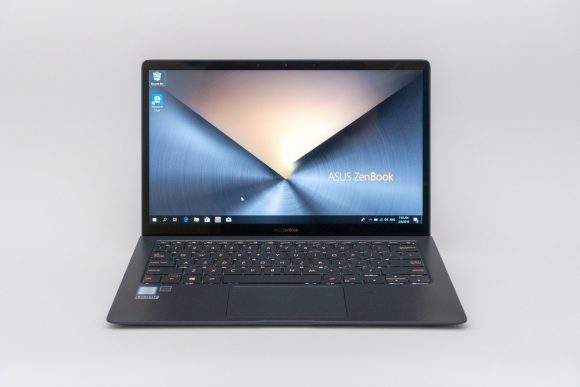 The bezels around the screen are not ultra-thin, but small enough that you won't find the look dated. There is a standard HD webcam above the screen that seems to capture relatively good videos for Skype calls and video chats.
The speakers are on the underside, near the front edge. They sound good, but just not terribly loud. It's good enough for personal listening.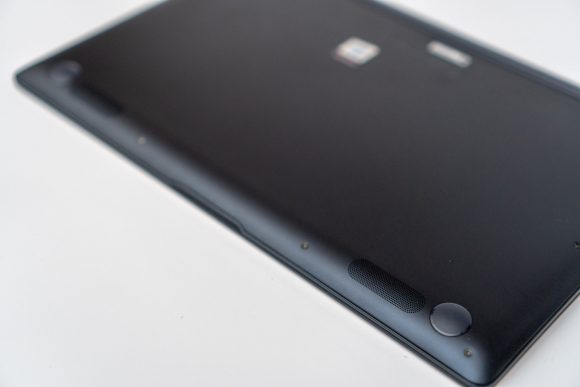 The ZenBook S UX391 is powered by 8th generation Intel Core processors. My review unit is configured with an i7-8550U with 16 GB of 2133 MHz LPDDR3 RAM and 512 GB of PCIe storage.
Performance is on par with similarly configured notebooks. In PCMark 10 benchmarks, the ZenBook S UX391 scored 2441 (overall), 7205 (essentials), 5961 (productivity), 2609 (digital content creation) and 857 (gaming). The Geekbench 4 single and multi-core scores are 4730 and 14190 respectively, and 20834 for the compute score.
For connectivity, the ZenBook S UX391 has dual-band 802.11ac Wi-Fi, and Bluetooth 4.2.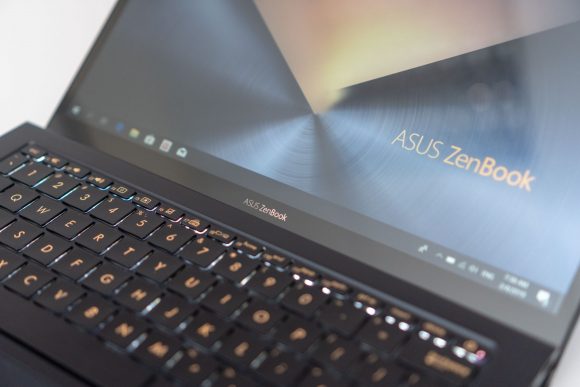 The ZenBook S UX391 is fitted with a 50 Wh lithium-polymer battery. In my testing with PCMark 8 Home Conventional battery benchmark, this notebook ran for 3 hours and 22 minutes. This is a middling performance, not uncommon in other similar small and light notebooks.
In a real world usage, you might get 7 hours out of the ZenBook S UX390. This is a little short of what I'd like for a full work day out.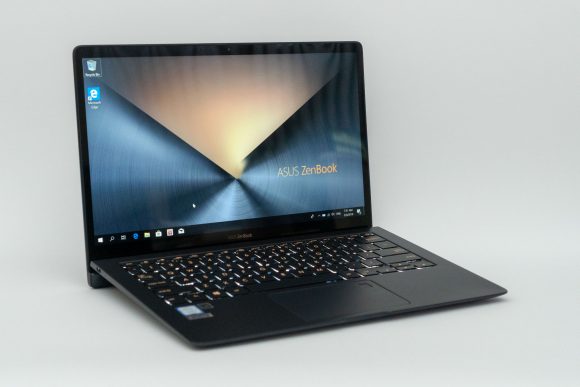 There are many things to like about the ASUS ZenBook S UX391. Apart from the elegant design, small size, and light weight, I like the ErgoLift feature, and the keyboard is nice to type on. The notebook also feels robust and very well-made.
The ASUS ZenBook S UX391 as configured in this review, with an i7-8550U, 16 GB RAM and 512 GB storage, retails at S$2,398. Street price can be as low as S$2,098.
Conclusion
The ASUS ZenBook S UX391 is a premium, ultra-thin, notebook with some new ergonomic tweaks.
Pros:
Very portable, nice design
Elegant design, great build quality
ErgoLift improves ergonomics
Two Thunderbolt 3 ports
Cons:
No touchscreen
Average battery life