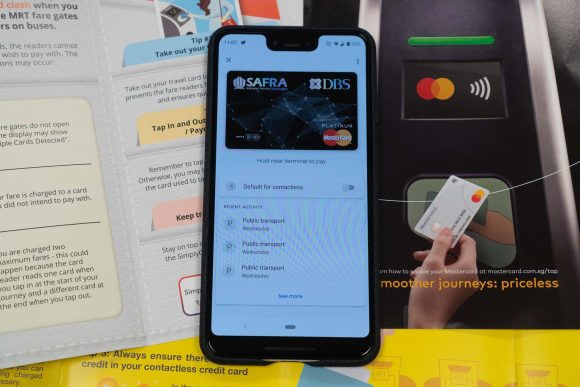 Since last week, you can pay for your commuter fares using your Android or iOS mobile phone. You can use your contactless credit cards too. This is TransitLInk's new SimplyGo, the successor to the Account-Based Ticketing (ABT) that begain trials about two years ago.
I have been an ABT user. I like to not carry too many things in my wallet, and any opportunity to remove unnecessary cards is something I very much welcome. There are, of course, other options to merge the transit cards into some other existing cards, but the ideal solution, for me, is to simply just use my smartphone.
TransitLink introduced ABT in March 2017. You could only use certain contactless credit cards then. A year later, support for Google Pay and Apply Pay mobile payment modes were added. The mobile payment was officially a pilot for invited users, but in practice anyone could get themselves signed up.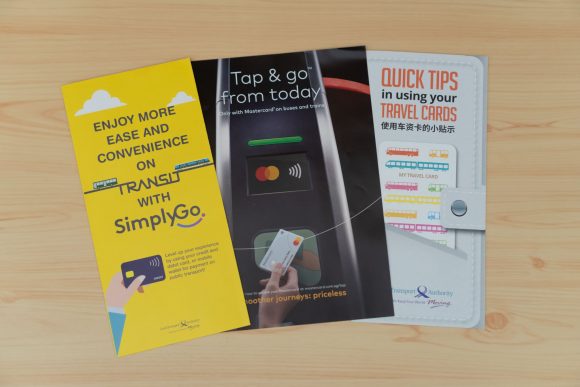 SimplyGo officially launched on 4th April 2019. With it, you can use your contactless Martercard cards to pay for public transport rides. You'll first need to register for an account and link your compatible bank cards at the SimplyGo websiteor via the TL SimplyGo mobile app. Thereafter, to use, simply tap your linked bank card, or with use Google Pay or Apple Pay with that linked bank card.
When using this payment mode, the fare readers will only display "Bank Card Usage" at both entry and exit. You won't know the actual fare on the spot. However, you can check on the SImplyGo website or use the TL SimplyGo mobile app.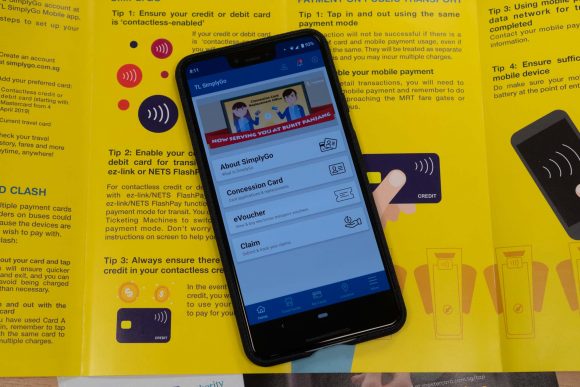 Among other public transport related information, you can instantly check your fare history through the TL SimplyGo mobile app while on the go. While the app should show updated fare details as you use public transport, the actual posting of charges to your linked bank card may happen at a later time. At present, for Mastercard, fare charges are accumulated for up to 5 days, or after a total of $15 is spent on transit fares, whichever happens earlier.
SimplyGo expects to extend support for VISA cards later this year, with trials currently underway.
Although all contactless Mastercards are presently supported by SimplyGo, there may be some limitations with which ones are supported by your mobile payment platform. Google Pay, for example, does not support Citibank-issued Mastercards. Hence, you may have to figure out which are the card you own that will work with both SimplyGo and your mobile payment platform, before you can use your smartphone to pay for public transport rides.
For users who had used mobile payment on the ABT trial, the new SImplyGo setup does not require a separate mobile phone registration. Once you link your compatible bank card on SimplyGo, you can immediately pay via Google Pay or Android Pay.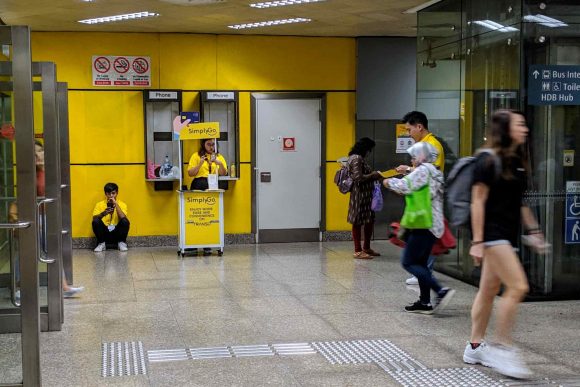 Side note: Despite being an ABT trial user, I did not get any direct update from TransitLink. Interestingly, I first heard about SimplyGo from a post by AndroidPolice. It goes to show how little local media is reaching out to people like me. On TransitLink's part, I think their outreach efforts are not effective. The photo above shows what I saw of the booth they set up at an MRT station to promote SimplyGo. Not only were no commuters paying any attention to them, but the staff were also not actively trying to engage commuters.
With the use of smartphones becoming increasingly common as a mode of cashless payment, SimplyGo will help add to the convenience of not having to carry extra cash or cards. You only need to leave home with your smartphone.