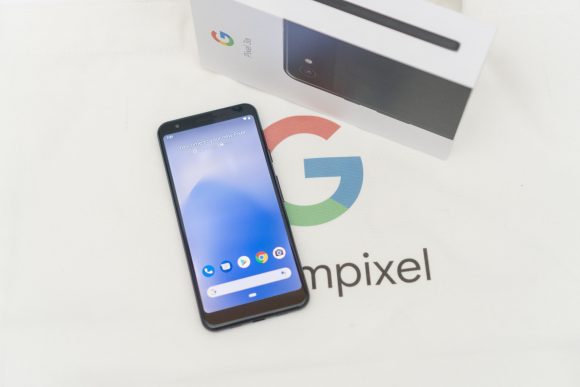 Google launched their new Pixel 3a and 3a XL on the opening day of their annual developer event earlier this week. I've the smaller Pixel 3a to use for a days now. This is the Android smartphone to get at under S$800.
The Pixel 3a and 3a XL are designed to be more affordable devices with mid-range specifications. At S$659 and S$779 for the Pixel 3a and 3a XL respectively, the new smartphones are almost half as expensive as last year's Pixel 3 devices.
More affordable though they may be, these new Pixel 3a devices are still excellent. They don't feel cheap at all. They shouldn't, anyway, S$659 and S$779 don't fall in the budget category. My point, however, is that if you didn't know what these new Pixel 3a devices were, your first impressions could easily be that these smartphones cost much more.
Unlike their competition, Google's strategy with their affordable mid-range Pixel 3a devices is quite different. They have kept the best features of their premium flagship devices, and trimmed out features that don't matter as much. For example, the Pixel 3a gets the exact same rear camera as the Pixel 3 has. You don't get worse photos when you opt for the more affordable Pixel 3a.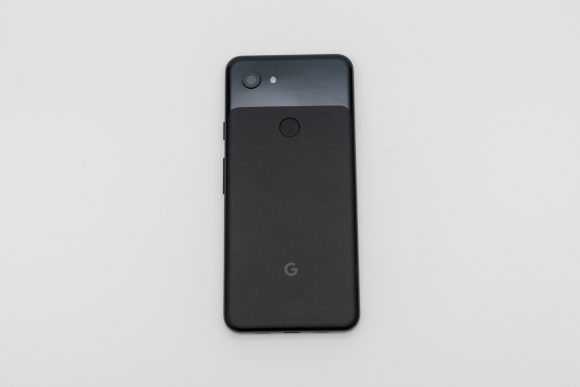 Most people want to take great photos on their smartphones. Google is quite right, this is not the area to sacrifice. Reducing screen resolution from 1440p to 1080p is far more tolerable. We don't need totally bezel-less displays. In fact, the more mid-range Qualcomm Snapdragon 670 processor doesn't even matter at all for most casual smartphone users.
I feel Google has made excellent choices in deciding which corners to cut when they designed the Pixel 3a. They made the Pixel 3a more affordable without making it feel cheap.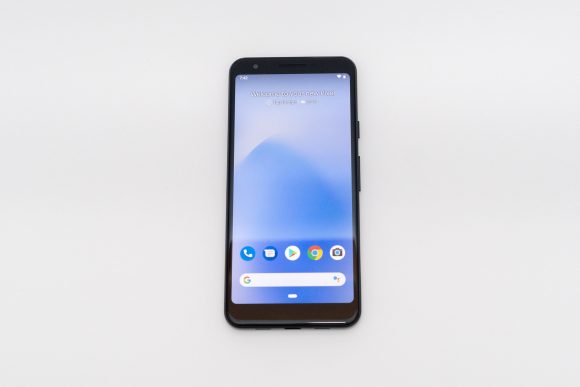 Overall, the new Pixel 3a devices sport the same design as their Pixel 3 counterparts. Instead of the more expensive glass, however, the Pixel 3a devices have a plastic unibody shell. Although plastic often has a less premium feel, the Pixel 3a feels surprisingly very well built. In fact, that two-part gloss and textured matt panels on the back feels similar to the glass on the Pixel 3.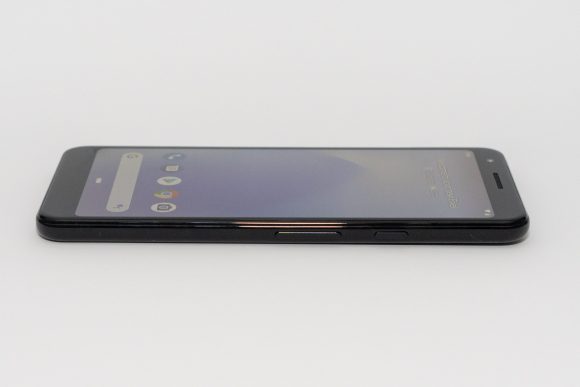 With dimensions of 151.3 x 70.1 x 8.2 mm, and weighing 147 grams, the Pixel 3a feels petite and lightweight. It is a bit elongated, because its 5.6-inch display has a 18.5:9 aspect ratio, plus the thick bezel on the forehead and chin.
The 2220×1080 resolution display looks excellent, thanks to the use of an OLED panel. Google didn't compromise on the display technology. There are now no front-facing stereo speakers. You still get stereo speakers, only that now only one side fires from the front via the earpiece, and the other fires downward.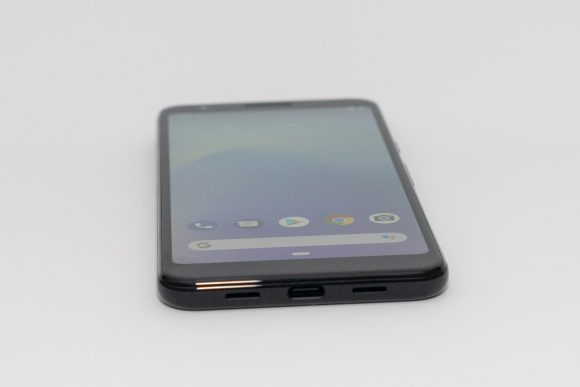 The USB Type-C port at the bottom supports 18 Watt fast charging. There is no wireless charging in the Pixel 3a.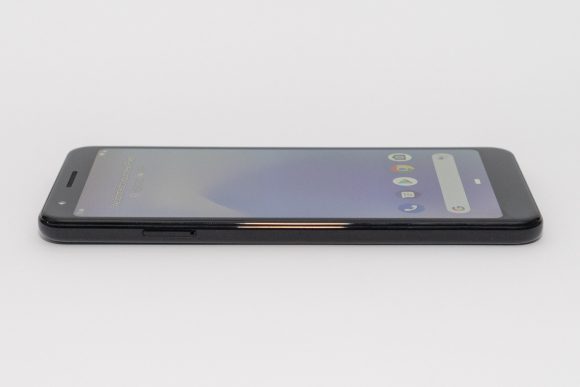 Although the Pixel 3a has the same 12.2 MP rear camera as the Pixel 3, it loses one of the front facing camera. There is just a single 8 MP f/2.0 front facing camera for standard selfies.
There is something the Pixel 3a has that the Pixel 3 and many premium flagship smartphones don't: that 3.5 mm audio jack.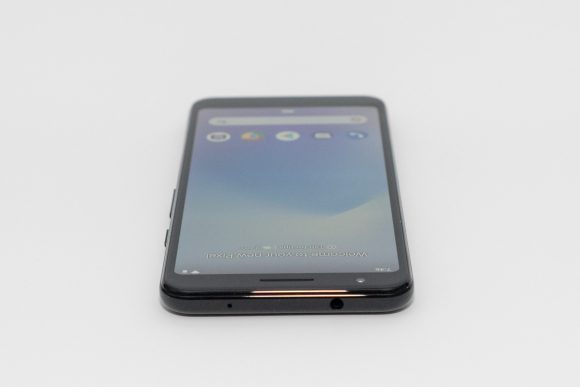 Under the hood, the Qualcomm Snapdragon 670 processor is paired with 4 GB of RAM and 64 GB of storage. There is NFC, dual-band Wi-Fi 802.11 a/b/g/n/ac, Bluetooth 5.0, and GPS positioning (with A-GPS, GLONASS, GALILEO).
The 3,000 mAh battery will last all day.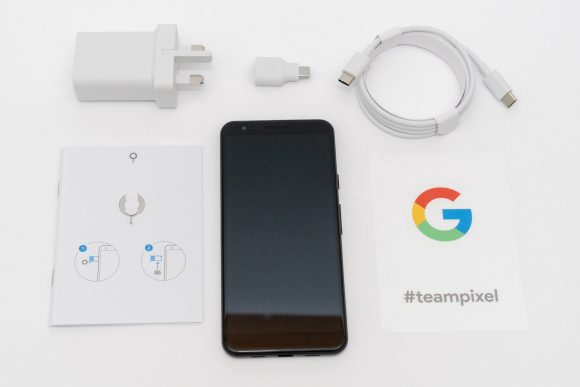 In the box, the Pixel 3a comes with a 18 Watt fast charger, USB-C cable, SIM eject tool, and the USB Quick Switch Adapter.
There is one thing that I feel quite disappointed about: Google won't be offering unlimited original quality photo storage with the Pixel 3a devices. You get unlimited high quality photo storage, which is the same as what any Google account enjoys.
The Pixel 3a XL is largely identical to the 3a in every way. The main difference is due to size:
Dimensions and Weight: 160.1 x 76.1 x 8.2 mm and 167 grams
Display: 6-inch, 1080×2160 (18:9 aspect ratio)
Battery: 3,700 mAh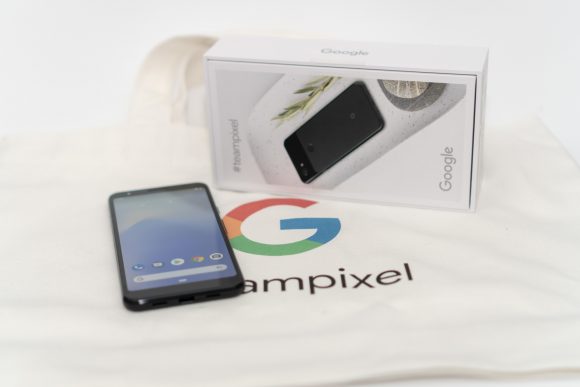 The Pixel 3a has a lot to offer. You get the same rear camera, a great OLED screen, and a very well-built device that feels great in your hands. Compared with the Pixel 3, you lose the wide front camera, wireless charging, and higher resolution display. It's not much to give up, in my opinion. That forehead and chin bezels are probably no big deal. The 3.5 mm audio jack is a nice bonus.
With the Pixel 3a devices, Google has successfully demonstrated how an affordable smartphone variant of a premium flagship should be designed. The Pixel 3a is much more affordable, but it sacrifices very little.
The Google Pixel 3a sells at S$659. You can purchase direct from the Google Store, Challenger, Courts, and SingTel.
Conclusion
Google has managed to make an affordable mid-range smartphone that doesn't feel mid-range.
Pros:
Same great rear camera
Excellent OLED screen
Excellent build quality
3.5 mm audio jack
Cons:
No unlimited original photo storage