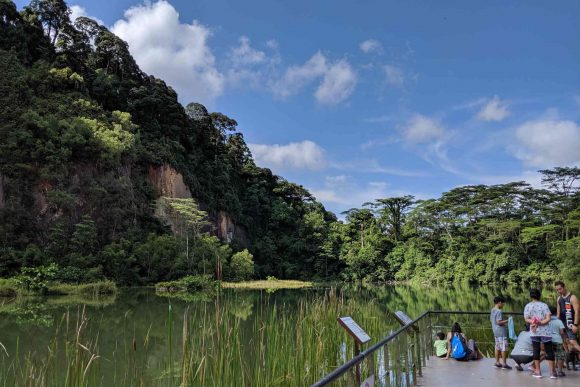 It's funny when sometimes you live to so near to a place of interest, and yet you've never gone there in all that time. The Singapore Quarry is just a short distance away from my home. After procrastinating about going there many times, I finally got there.
The Singapore Quarry is in close proximity to two other quarries. These two others I've been to on a few occasions. The most famous amongst these three quarries is probably the Little Guilin located along Bukit Batok East Avenue 5, part of Bukit Batok Town Park. The last quarry is located at the end of Bukit Batok Nature Park.
Both the other two quarries are relatively easy to get to, at least by walking from the main road. The Singapore Quarry is a bit of a longer walk, although there's a short-cut to get there. The main walking trail starts from the carpark at the corner of Upper Bukit Timah Road and Dairy Farm Road.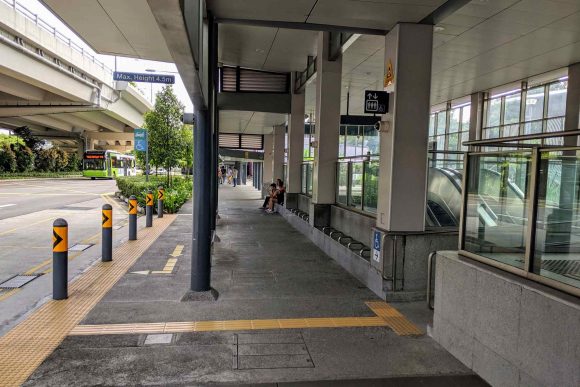 If you come by train. you should get out from Exit A of Hillview Station on the Downtown Line. Walk towards the junction of Upper Bukit Timah Road and Dairy Farm road, and look for the path leading into the carpark.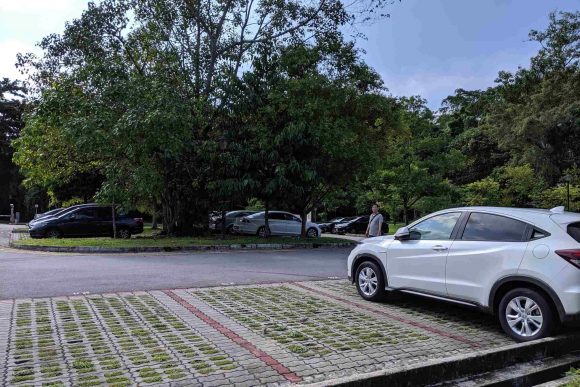 Head to the opposite end of the carpark to find the path to the walking trail. Walk a little in and you should see MOE's Dairy Farm Outdoor Adventure Learning Centre. Turn right.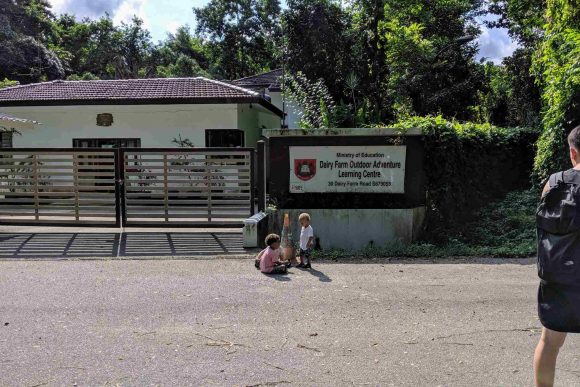 It's easy from here on. Just follow the road a little more than a kilometre. You'll find many people walking or jogging along this road.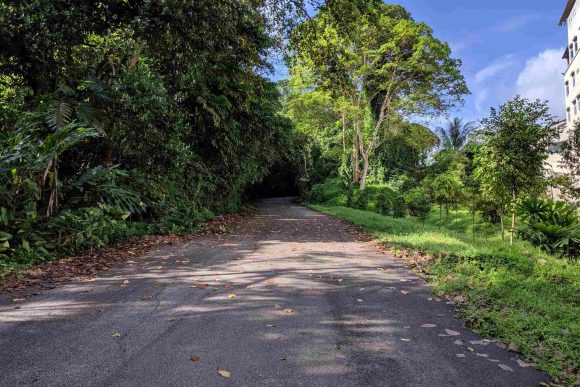 At the start, you'll find yourself walking behind the back of various buildings that line Upper Bukit Timah Road. The path is mostly a properly paved road, so it's relatively easy to walk. There are no dirt tracks to tread on.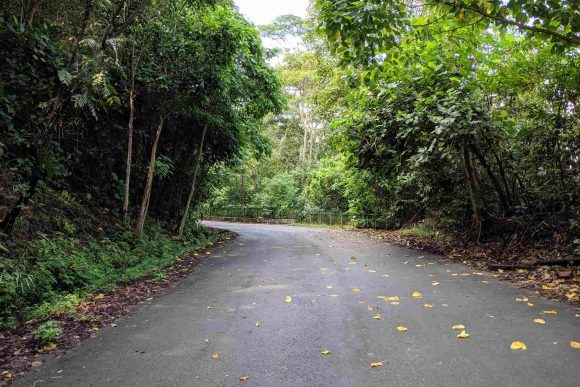 Singapore's humid weather can sometimes make even a simple walk tiring. Fortunately, this path is mostly shady with large mature trees providing good shelter.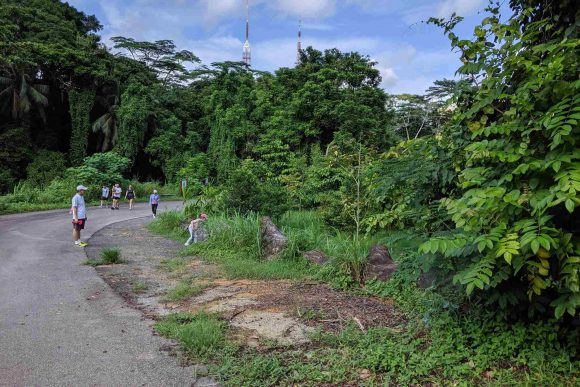 You can see some interesting flora along the way.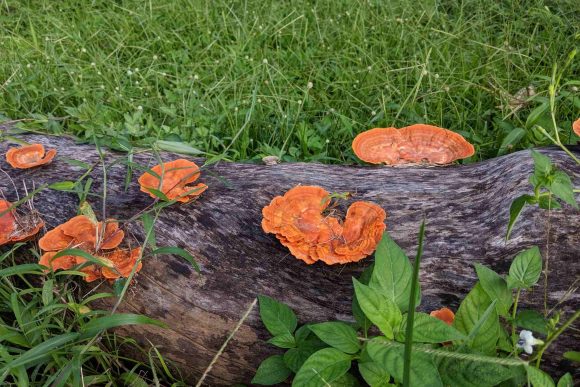 If you really want to minimise any walking at all, here's a short-cut. You can park at Rail Mall, walk toward the south end of Rail Mall, go into Fuyong Interim Park, and find the path joining the main trail to the Singapore Quarry.
Somewhere ahead in the trail, you'll see a signpost to a mountain biking track. Do take note that hiking is prohibited on this mountain biking track. Stick to the main paved road.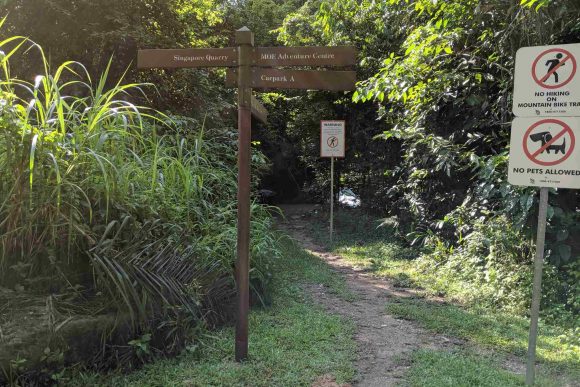 The paved road gets a bit rough towards the end. Don't worry. It's still a road, after all. You're near your destination.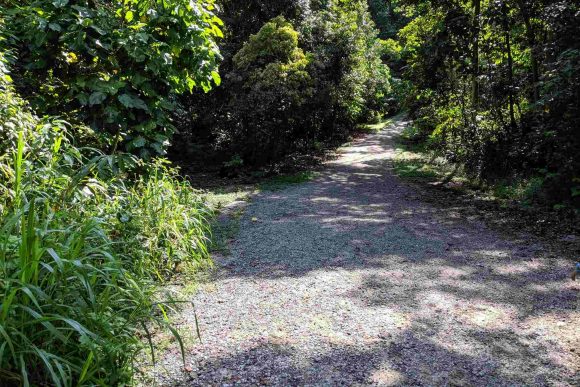 Once you see the gates, the Singapore Quarry is just beyond. I don't know if the gates are actually locked, but NParks say the official opening hours are from 7 am to 7 pm. So, try to stick to those times.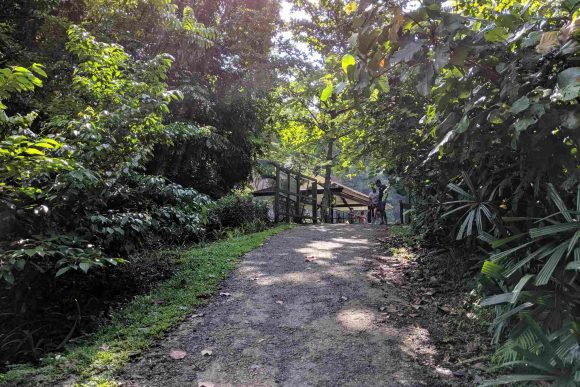 There's a nice viewing platform with some sheltered rest areas built over the lake at the Singapore Quarry.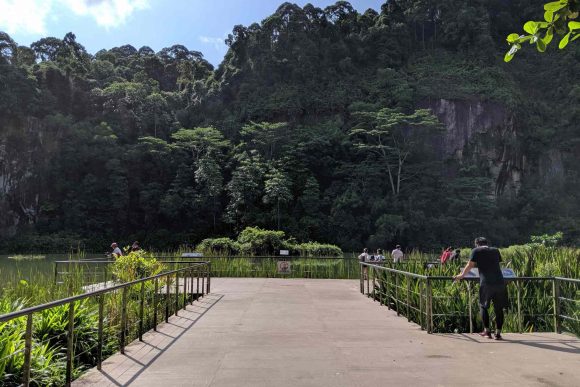 If this is your first time seeing any quarry in Singapore, the views here are pretty fascinating.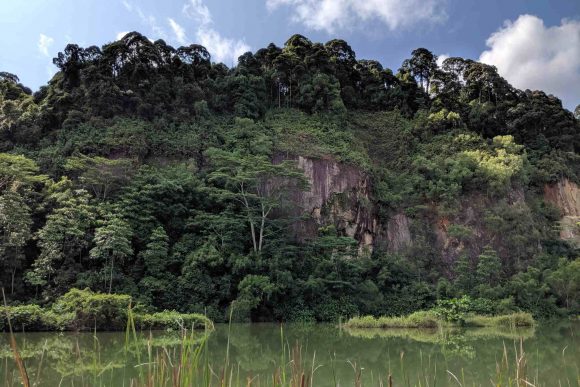 It feels like you'e been transported to some place that's not at all like Singapore. You're surrounded by a forest, and the granite cliffs are a truly imposing sight.

A very leisurely stroll, including stops to admire the flora, from Hillview MRT Station to the Singapore Quarry will only take about 20 minutes. Total distance one-way is about 1.3 km. You can follow the walk through Street View on Google Maps too.
Now, I said about three quarries at the start. Technically, there are two more and closer ones to the Singapore Quarry: Dairy Farm Quarry and Hindhede Quarry. The former has been filled with earth and grassland you can walk over now. Up for another adventure walk?
PS: All photos in this post were taken with a Google Pixel 3a. They are unedited, except for cropping and downsized for web use.