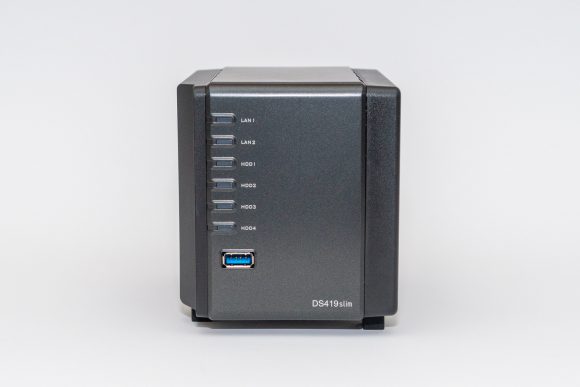 If you need file space on a network storage box, but don't have physical space for it. then Synology has something for you. Their new DS419slim Network-Attached Storage (NAS) is a 4-bay box not unlike other solutions, but uses smaller 2.5-inch drives instead of typical full-sized 3.5-inch ones.
While it may be small in stature, the DS419slim is as feature complete as its bigger-sized brethren. It runs the same DiskStation Manager (DSM), which serves as the operating system that Synology uses across their DiskStation and RackStation devices.
The DS419slim comes with 2x USB 3.0 ports and 2x Gigabit Ethernet LAN ports (with link aggregation support). The smallish device measures 120 x 105 x 142 mm, and weighs just 660 grams.
One of the USB 3.0 ports is located on the front of the device. This is accompanied by a half dozen LED indicators, four for the disks, and two for the LAN ports.
The power button is on the left side of the DS419slim's enclosure, along with a power LED indicator and status LED indicator.
On the back, you'll find the other USB 3.0 port, the two Gigabit Ethernet LAN ports, the power input jack, a reset button, and a hole for attaching a security lock.
The four hot-swappable drive bays are accessed from the back. The DS419slim uses simple plastic trays, and 2.5-inch disks are attached to them with screws. It's a tad inconvenient but I suppose it's fine when you don't have to change disks all that often.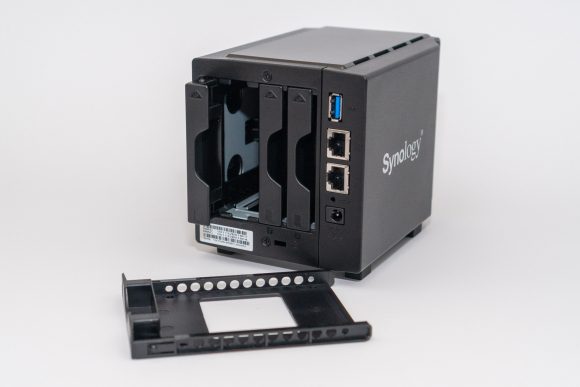 If you've used any Synology DiskStation products, you're already familiar with most of the DS419slim's features. For network file sharing services, the DS419slim supports everything from SMB (Windows file sharing), AFP, NFS, FTP, WebDAV, CalDAV and iSCSI.
Apart from the usual JBOD, RAID 0, RAID 1, RAID 5, RAID 6, and RAID 10 modes, Synology's own Hybrid RAID (SHR) is supported. SHR is Synology's own RAID system that makes it easy to operate with disks of unequal capacities. You don't need to understand the intricacies of traditional RAID mechanisms. You can easily increase total storage capacities by incrementally swapping out physical disks for new ones of higher capacities. SHR can support 1 or 2 disk redundancy modes, i.e. it can tolerate 1 or 2 disk failures without losing data. SHR makes it very easy to deploy and manage storage.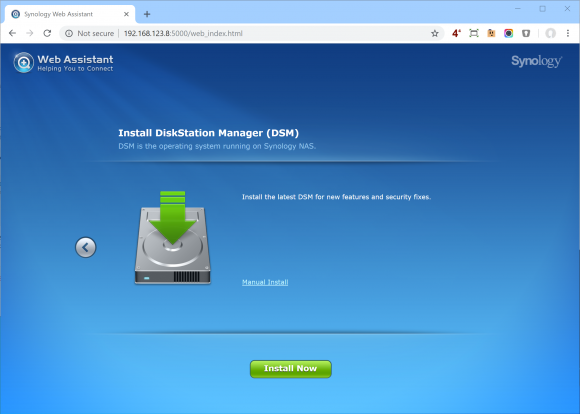 Setting up the DS419slim is easy. The DSM operating system has been around for a while, and it has gained somewhat more capabilities than simply being a NAS management software. Apart from being able to do neat things like making your NAS accessible from the cloud and supporting VPN connections, you can also install other software in the system.
DSM is, after all, a Linux-based system. Synology has built up a repository of software packages that you can simply and easily install into the DS419slim.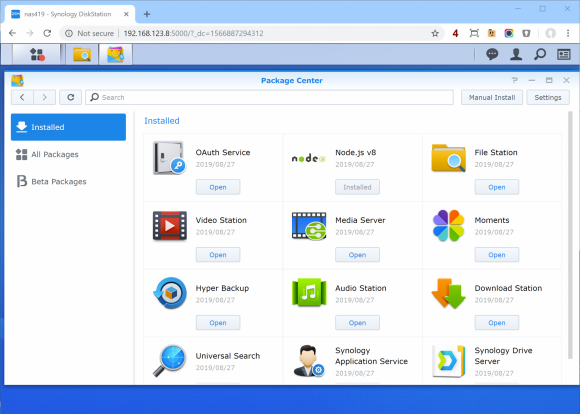 These packages don't all have to be related to storage, media, or backup. For example, there are packages for virtual machine management and content management systems. Thinking of running a WordPress blog out of your NAS? There's a WordPress package in there.
Under the hood, the DS419slim has a Marvell Armada 385 dual-core processor clocked at 1.33 GHz, and 512 MB of DDR3L RAM. A built-in fan helps keep the drives cool.
In terms of performance, I get about 85 MBps reads and writes in simple SMB file transfer tests. Synology themselves claims over 233 MBps reads and 94 Mbps writes. There are of course many variables involved in any performance benchmarks, such as the file sharing protocol, the types of disks, the RAID modes, etc. StorageReview has a more extensive performance report on the DS419slim which you can refer to.
The DS419slim is simple to use. The SHR storage mode makes it easy for anyone to deploy, manage, and grow their storage volumes. The enclosure's diminutive size makes it easy to accommodate anywhere on your desk. Overall, the DS419slim is a very capable NAS.
In the box, the DS419slim includes a power adapter, 2 RJ45 LAN cables, and enough screws to secure drives in all four trays.
The Synology DS419slim retails at S$519 (without disks).
Conclusion
The Synology DS419slim is a very capable small-footprint network-attached storage that is easy for anyone to work with.
Pros:
Small footprint
Synology Hybrid RAID is easy to deploy, manage, and grow
Capable software
Extensible with software packages
Cons:
Works only with 2.5-inch drives