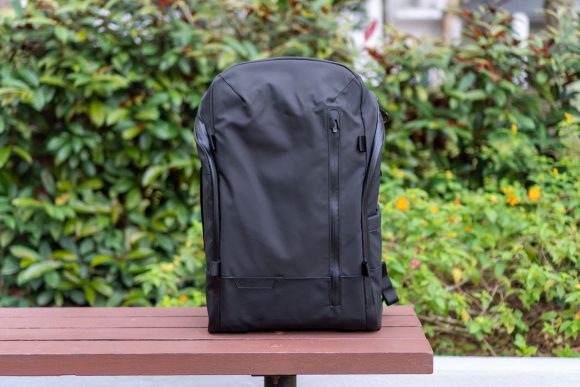 WANDRD is a bag company that was born out of Kickstarter. They've successfully launched several styles of backpacks and other bags, mostly targeted at photographers, though even non-photographers may like ththemeir bags. The DUO Daypack everyday carry backpack is their latest product.
I've reviewed the PRVKE 21 previously. The standout feature that makes it a backpack loved by photographers is the easy access side-door that allows one to reach in for a camera or other gear. Without needing to set the backpack down or even take it off your shoulders entirely, you can still reach for anything buried deep within it.
The DUO Daypack takes that idea one step further. Instead of just a side-pocket, the entire side can be opened. You're now not constrained by the size of that side-door, which wasn't small on the PRVKE 21 to begin with, but have the entire side of the bag accessible.
That's only just the beginning. You can fully open both sides of the DUO Daypack. In fact, you can also fully open up the DUO, like clamshell style, and lay it completely flat.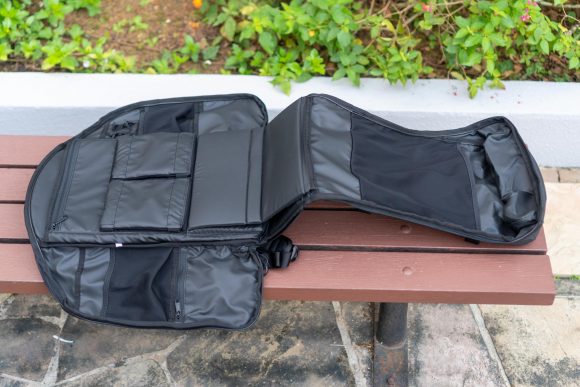 WANDRD pioneered a technology used in the DUO Daypack that they call the InfiniteZip system. It comprises four zip sliders which you can move anywhere along a zipper opening that starts from the left bottom edge of the backpack, up the side, over the top, and then down to the right bottom edge. You can move the zippers and park them in any position you think makes most sense as to how you want to access the DUO Daypack.
I find the zippers a little stiff, and it's a tad difficult to navigate around corners. I'm hoping these will become smoother over some time of use. As it is right now I sometimes struggle a little with one-handed opening and closing of the side panel.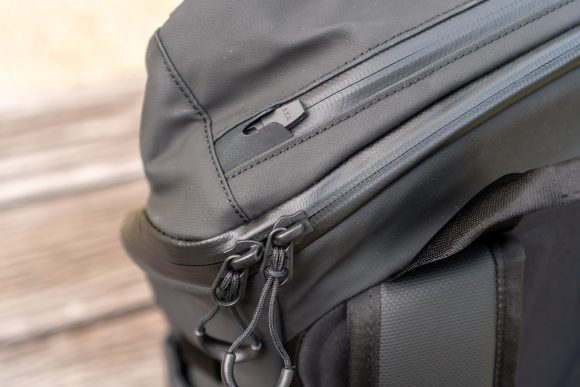 The InfiniteZip system makes the DUO Daypack infinitely accessible. Whether you're packing the bag at home, or trying to dig out something while out walking on the street, nothing is hard to get at.
This feature of the DUO Daypack, of course, is just one of the many features that make it an all-round well-made, durable, and very functional everyday carry backpack.
The DUO Daypack sports a simple, minimalist design. It is all black, the only colour offered. The main material covering the DUO Daypack is a waterproof 840D junior ballistic nylon, a lightweight ballistic nylon fabric often sued in camping and sporting products, with 5pm coating. This material has a slight hint of softness to the touch, and it feels very premium. For extra durability, the bottom cap is made with 1680D ballistic nylon with WR army coating, offering greater resistance to abrasions and tears.
Weather-resistant YKK zippers around the DUO Daypack help keep rain out of the backpack. The backpack isn't waterproof, but it will be quite capable of keeping the interior dry even when out in a downpour.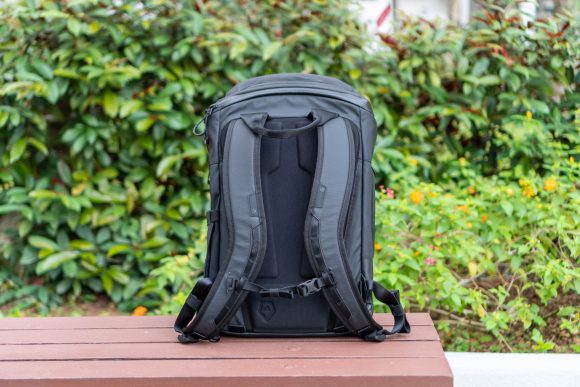 The back panel is made with moulded EVA foam that is stiff enough to offer fairly good support. Embedded air-flow channels in the EVA foam help to keep your back cool.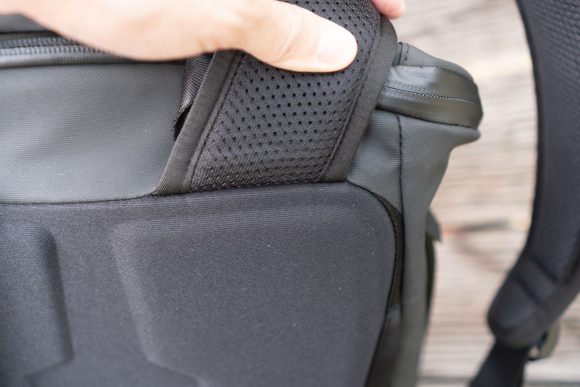 The shoulder straps look to be very securely stitched to the backpack. This is often one of the weak points of many backpacks that I worry about. The straps have multiple attachment points to adjust the position of the sternum straps, or for you to attach other gear.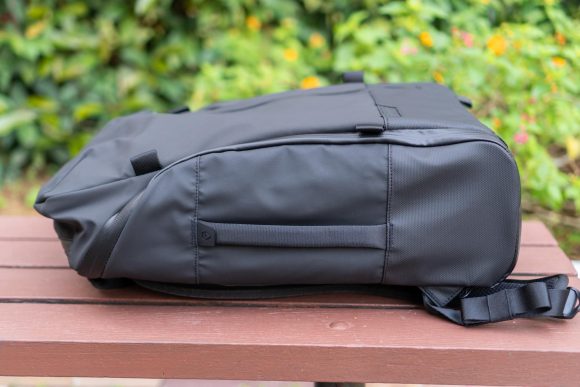 There are also two grab handles to offer alternative carry styles: one on the top of the backpack, and the other on the left side.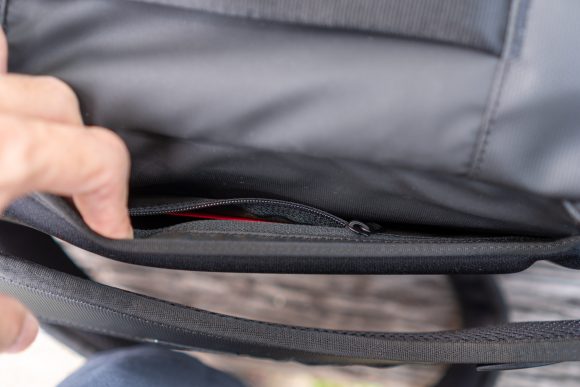 A slot in the back panel allows you to secure the DUO Daypack to a luggage handle bar. There's also a cleverly hidden zippered security pocket in this slot. You can keep your passport and extra cash in this pocket. I would have preferred this pocket to be deeper.
(The hidden security pocket is so well-hidden that I couldn't find it on my own; I knew the pocket exists, but had forgotten where it was located, and I ended up having to refer to WANDRD's Kickstarter campaign page to find out where they had hidden it!)
There are a bunch of attachment loops around the DUO Daypack, eight of them to be exact: four on the front, and four under. These are for attaching straps, and you can use the same ones from WANDRD's other bags. These are handy for attaching other gear, such as tripods, jackets or sleeping bags.
A large front zippered pocket on the DUO Daypack allows you to easily keep a book or some stuff you want easy access to, and smaller fleece lined zippered pocket at the top good for storing sunglasses or a smartphone. That last pocket also has a key attachment strap for your keys if you decide to keep them there. I would have preferred this pocket to be slightly larger.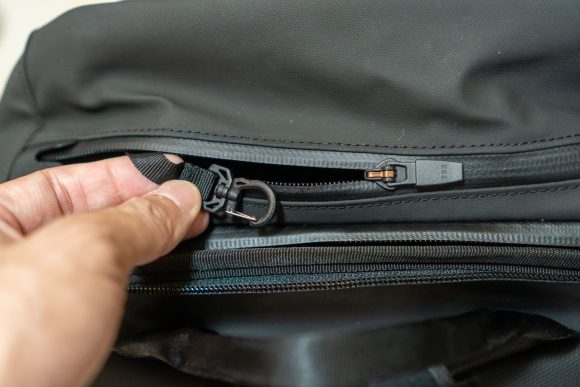 You can carry up to a 32-ounce water bottle in the expandable pocket on the right side of the DUO Daypack. There's an attachment loop above this pocket which you can use to help secure larger items, such as if you wanted to stick a smallish tripod or other long object into this pocket.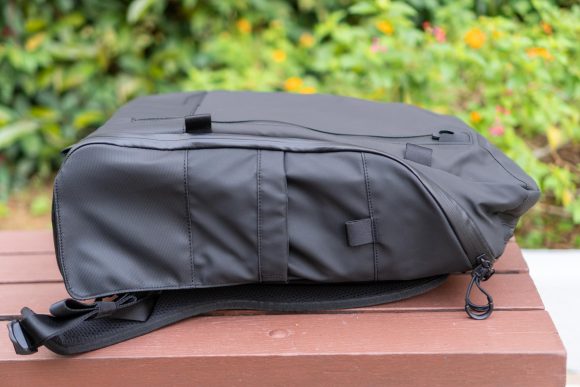 Inside the DUO Daypack, you have a plethora of storage compartments. Starting from the back panel, there is a deep pocket designed to accommodate a notebook with display sizes up to 15-inch, as well as a separate compartment for a tablet.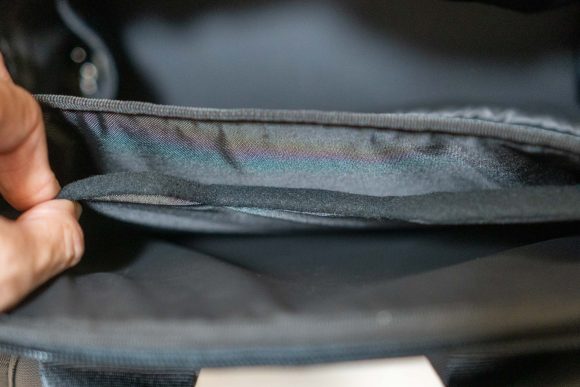 Below the opening for the notebook/tablet is a zippered pocket. This is useful for storing loose items like pens and styluses. This is starting to become a pattern: this is yet another pocket I wished could be larger.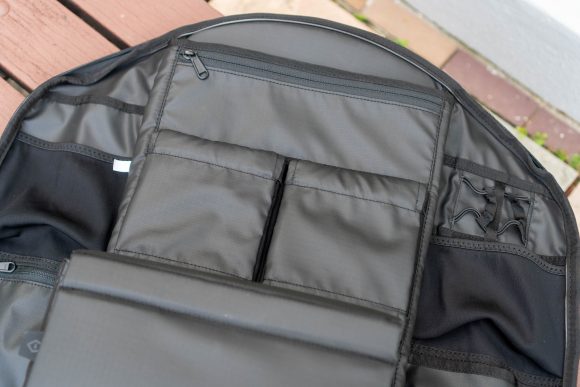 Below that zippered pocket, there are two expandable well-padded pockets which work well for storing lenses and other fragile gadgets.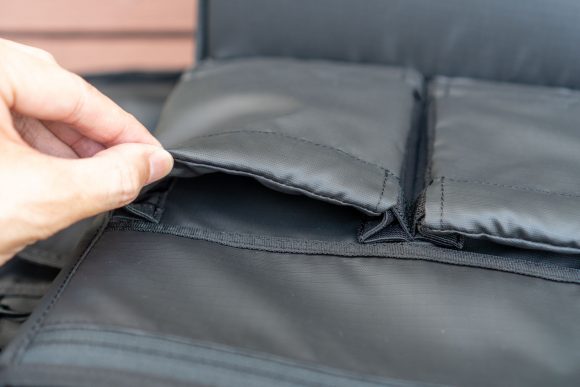 On the left side panel, you'll find a zippered pocket at the bottom, a mesh pocket in the middle, and a regular pocket at the top.
The right side panel starts with elastic bans at the top for organising cables. Below that, you get another mesh pocket, and finally another regular pocket at the bottom.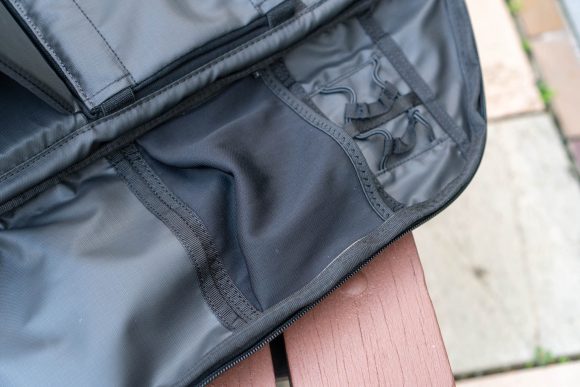 All the pockets on the side panels are reasonably loose so it's easy to accommodate batteries, computer mouse, power adapters, or other bulky items. The downside is that if you put tiny items in these pockets (aside from the zippered one), they may fall out should the bag tumble upside down.
There are still more pockets to go. There's still one large pocket on the front cover of the backpack, great for storing larger items.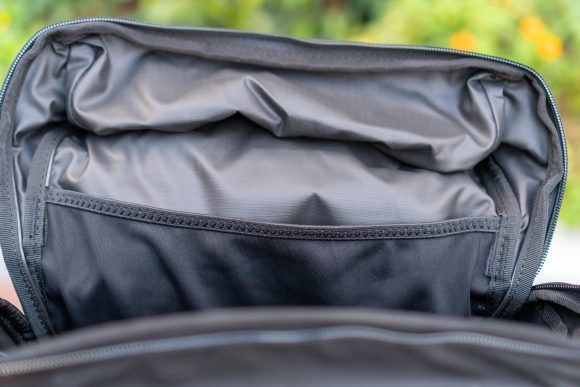 Then, there's this other interesting feature found at the inside bottom of the DUO Daypack. WANDRD calls it the Pop Cube. You can pop it up to store camera gear, a drone, or other gadgets that need some degree of extra protection. There are fold out flaps on both sides to provide side protection, as well as to give the Pop Cube more rigidity.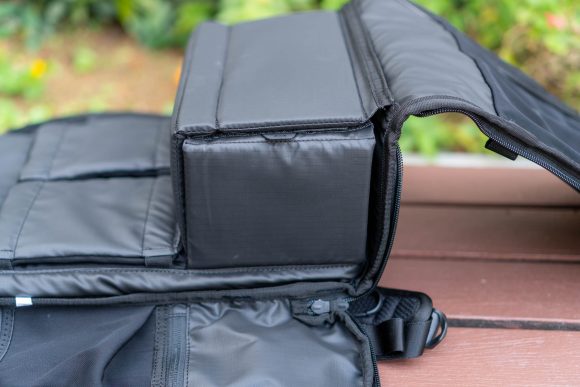 You can simply use the Pop Cube to divide space within the DUO Daypack if you don't have fragile gear to take care of.
If you choose not to use the Pop Cube, the side flaps can fold in, and the Pop Cube itself folds down. It's easy to convert from one configuration to another in no time. Furthermore, it's convenient that you don't have to get a separate camera cube.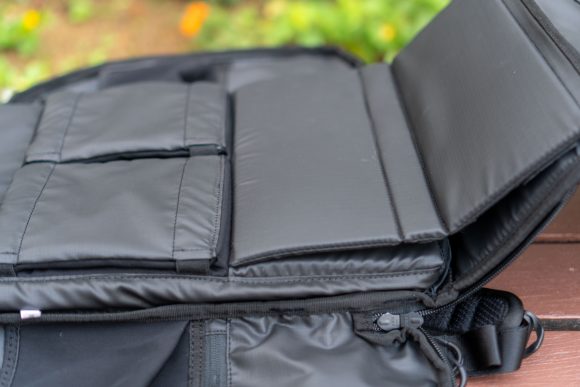 If you need to divide the space inside the Pop Cube further, you can use the included EVA foam divider. It's really sturdy too, so it can also give the Pop Cube extra rigidity.
All those compartments and pockets aside, the DUO Daypack can still accommodate a decent amount of stuff in its main interior. Trying to hold everything in place when the bag is laid flat could be a challenge though; there are no straps provided for use internally.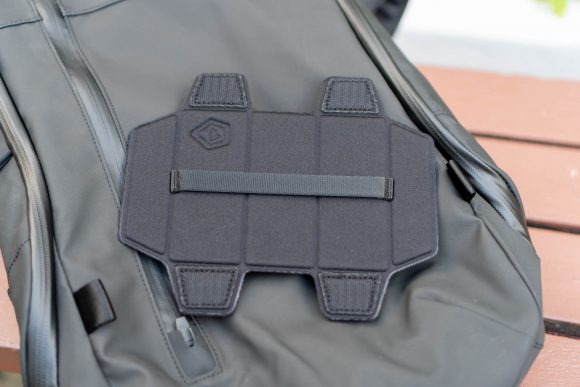 The DUO Daypack weighs just 1.2 kg. It measures 49.5 cm tall, 29 cm wide, and 16.5 cm deep. This is just the right size for an everyday carry backpack. It's compact enough to easily manoeuvre through busy commute, though it may be a tad small for travelling.
There are many things to like about the DUO Daypack. The InfiniteZip system and Pop Cubes are unique features that make this an especially functional everyday carry backpack. Although these may be primarily targeted at photographers, I'm sure they will also be appreciated by many other people.
I also like the durability and quality of the DUO Daypack's construction. Its minimalist design is good looking, and the material is really good. Its simple elegance doesn't draw attention. The numerous storage compartments are nice to have.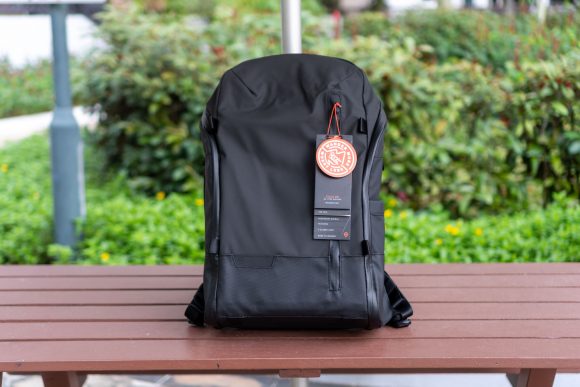 WANDRD's Kickstarter campaign for the DUO Daypack has concluded some time ago, with over 3,500 backers pledging over $655K. Shipping to backers has already begun. The expected retail price is US$219; orders have not yet begun, but you can watch WANDRD's website for updates.
Conclusion
WANDRD's DUO Daypack is a very well-made, durable, minimalist everyday carry backpack for photographers with extremely convenient full-side and clamshell access configurations.
Pros:
InfiniteZip convenient full-side, clamshell, and lay flat access
Pop Cube to hold camera gear, pops down when not needed
Weather-proof, well-made, and durable material
Lots of storage compartments
Hidden storage pocket
Cons: