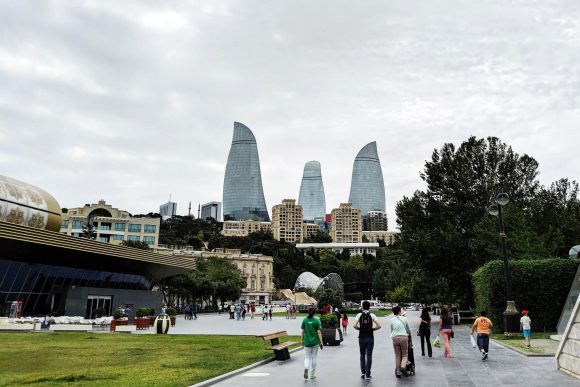 Earlier this year, I travelled to a rather unusual destination. It was for work, and the city, or even the country, isn't somewhere I'd likely go if I had to pick a holiday destination on my own. It turned out to be a very nice place.
I went to Azerbaijan, the country known as the Land of Fire, and spent close to two weeks in Baku, which is known as the City of Winds. The first time I heard that I was going to Azerbaijan, I had to look up Google Maps to figure out where exactly the country was located. I've certainly heard of the country, just never knew exactly where it was.
Here it is in Google Maps, in case you're wondering.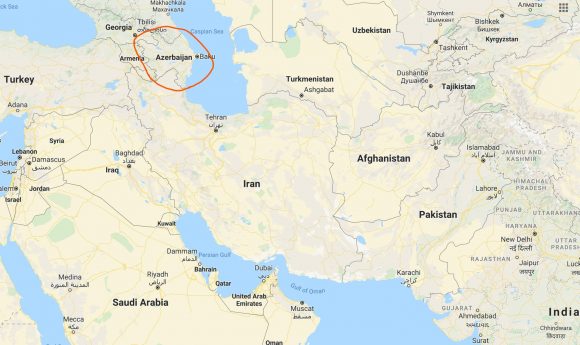 Azerbaijan is on the west of the Caspian Sea. It borders with Iran in the south, Armenia in the west, Russia to the north, and Georgia in the north-east.
Although it is an inland body of water, the Caspian Sea is considered a legit sea. It covers a huge area of about 86,400 km2. (Singapore's land area is 721.5 km2, in case you're wondering.)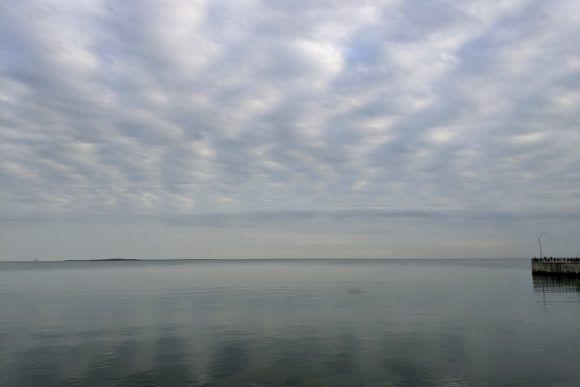 There are more than one reasons why Azerbaijan is known as the Land of Fire. The one easiest to understand is the rather unusual phenomena of "burning hillsides" which is caused by gas seeping through fissures in the earth. One of the popular tourist attraction is at Yanar Dag, a place where a fire fed by natural gas blazes continuously on a hillside.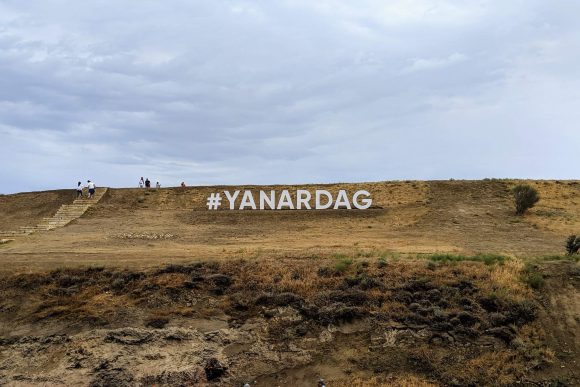 The sight of fire emanating from the earth is quite stunning. The flames can reach several metres high at times. You can really feel the scorching heat of the flames from several metres away. I'm thinking one could like have barbecues over these flames.
You can apparently light the surface streams near Yanar Dag with a match. I suppose one has got to be extra careful in those areas.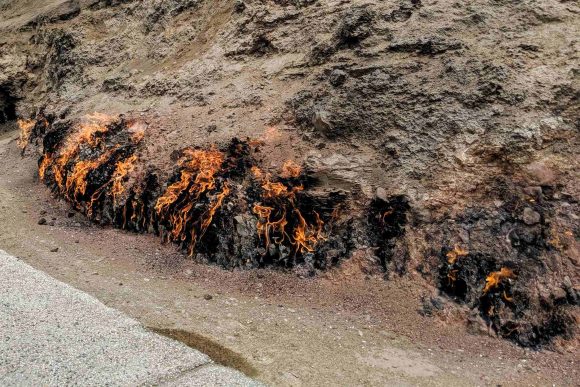 Baku is the capital city of Azerbaijan. It is known as the City of Winds because it's very windy all year around. Average wind gusts can reach 40 km/h. The pounding wind is strong enough to make walking straight a little difficult at times.
Speaking of the weather, the temperatures around July/August isn't too far different from Singapore. It's maybe just a little bit cooler with average daily temperatures ranging from 22°C to 31°C. It's also a little drier, but very much more windy, and so feels more comfortable than in Singapore. These are their summer months. In January/February, average daily temperatures range from 2°C to 8°C.
Baku is a fascinating city with many unusual and beautiful architecture. There are many beautiful old buildings, but at the same time, plenty of new, unique, and stunning ones dotting the city. I should emphasize that the new buildings are not just new, but truly impressive and spectacular.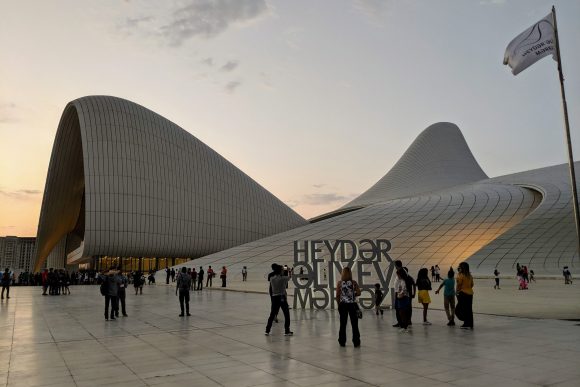 Take, for example, the Heydar Aliyev Center. Named after the first secretary of Soviet Azerbaijan from 1969 to 1982, and president of Azerbaijan Republic from October 1993 to October 2003, the Heydar Aliyev Center has a very distinctive curved, flowing, style that looks gorgeous. The building houses an auditorium, a gallery hall, and a museum. The curved, flowing, style of the building is very distinctive.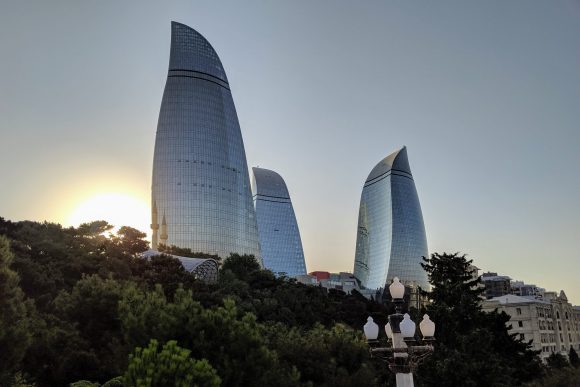 Another stunning building is the Flame Towers. The three towers resemble flames of a fire, and sitting atop a hill, they are the tallest buildings in Azerbaijan and an icon of Baku.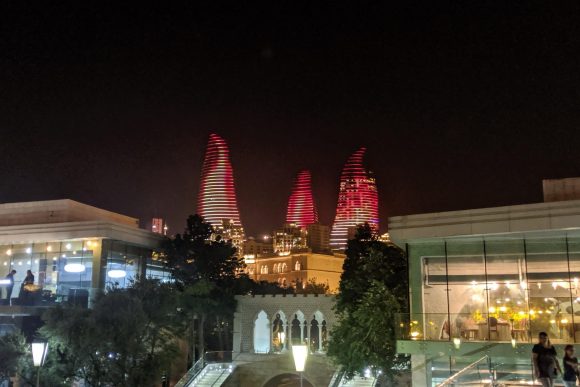 Baku loves LED lights. Once night falls, the Flame Towers is lit up in an animated colour display. Pretty lights are seen in other many other buildings too, like this one, also with an animated colour display, on the perimeter of the National Gymnastic Arena.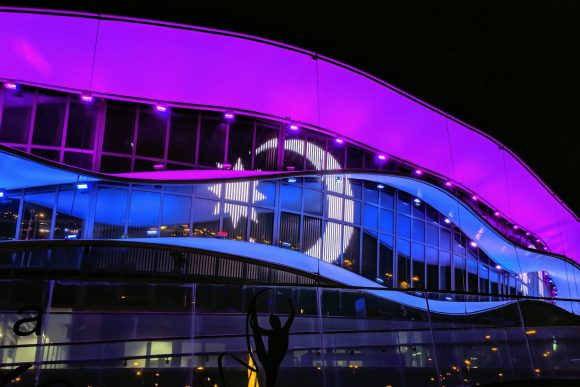 Among the iconic contemporary buildings in Baku, you'll also find lovely old buildings from medieval inner city, the lavish styles from the first oil exploitation, and others of Soviet heritage.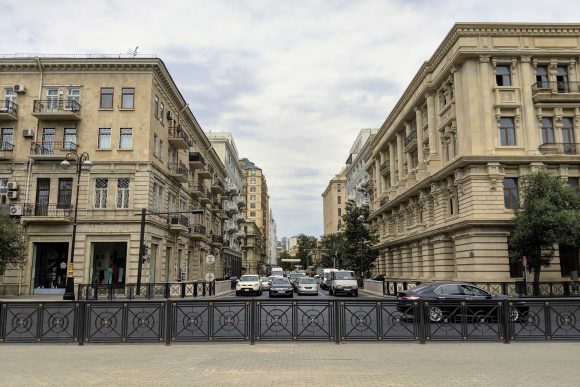 Private transportation using ride-hailing apps in Baku is cheap. Oddly enough, the regular Uber app doesn't work in Baku; you'll need an Azerbaijani version of Uber, but Google users from other countries aren't able to access that app. I ended up using Bolt, another ride-hailing app that used in many European cities.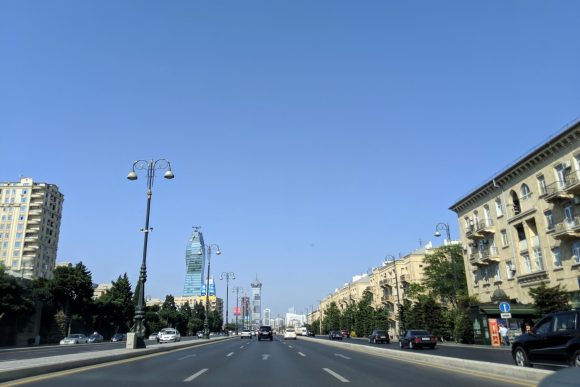 There's also a small metro system in Baku, covering about 36 km of tracks on three lines with 25 stations. Commuters pay a very affordable flat-rate fare. If you plan to use public transport, get the BakuCard, a Smart Card that you can use on both the metro and intercity buses.
Baku is home to a UNESCO World Heritage Site, Icheri Sheher. This site, also known as is the Old City or Inner City, is the most ancient part of Baku and it is surrounded by high walls.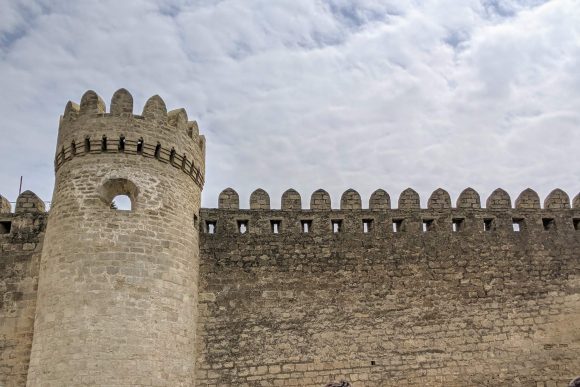 The Old City dates back to at least the 12th century, if not older. Many monuments in the Old City were built during the medieval period of Baku.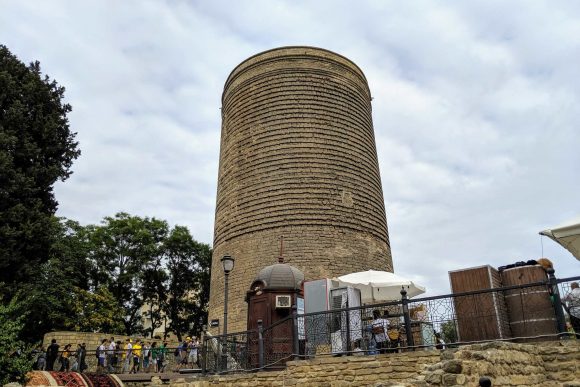 One of the monuments, the Maiden Tower, presently houses a museum that tells about the historic evolution of Baku city. The tower is 29.5 metres high, and from the roof top, one can get a panoramic view of the city below.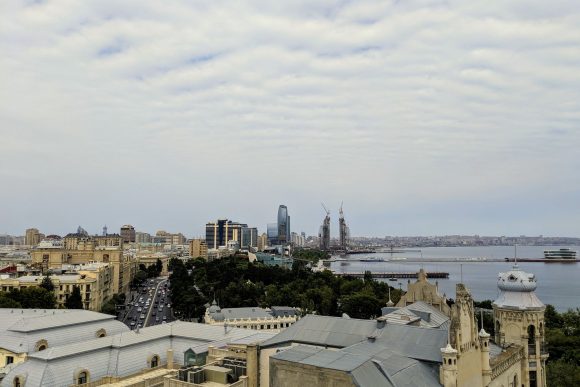 The Old City makes for a fascinating walkabout. You'll see lots of old architecture, including mosques and bath houses. There is also the Palace of the Shirvanshahs.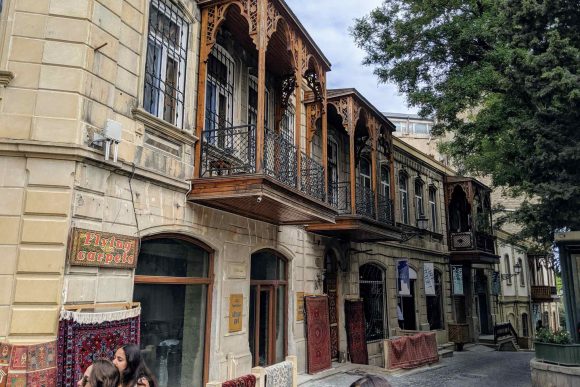 The streets are lined with vendors selling traditional Azerbaijani carpets and souvenirs.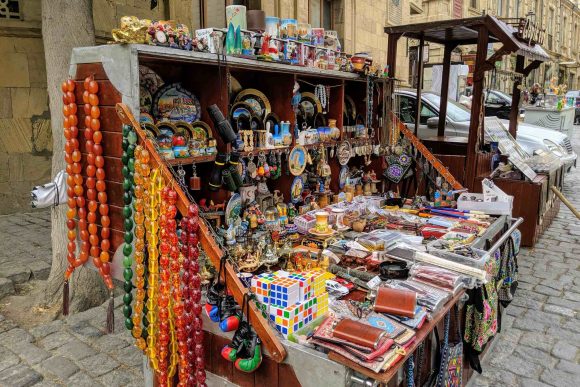 There's quite a bit of souvenir shopping you can get done here.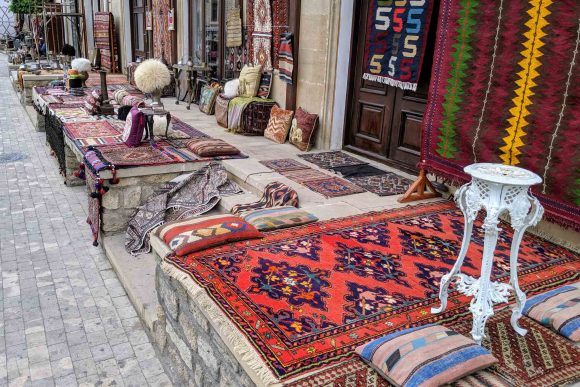 Especially carpets, if you're prepared to carry back something bulkier than your typical souvenir. There are smaller pieces available too, of course, that might serve as (presumably decorative) place mats or coasters.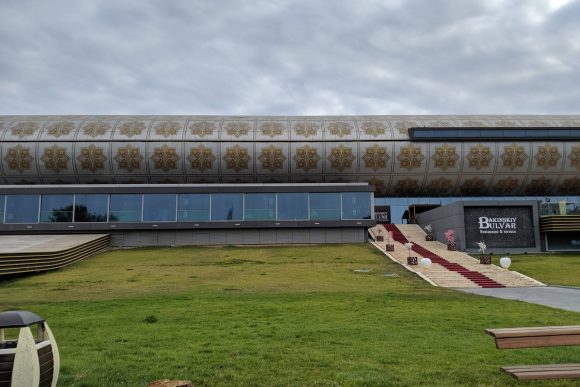 Carpets, incidentally, are a big thing in Azerbaijan. Their carpets are very well-known around the world for the quality and artistic value. They have an entire museum dedicated to carpets. It's the Azerbaijan National Carpet Museum, and, the building is even designed to look like a rolled carpet.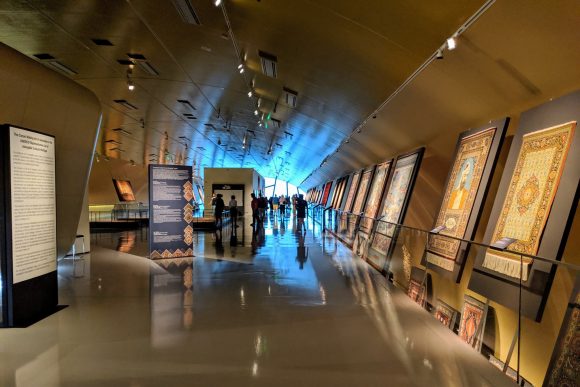 The museum also operates as a research centre for traditional carpet weaving art.
Baku has a vibrant night life, not unlike Singapore. There are plenty of restaurants, pubs, nightclubs, etc. Many of them are centred around streets outside the Old City. Traffic can get quite congested, especially on Friday nights, and you'll find people everywhere.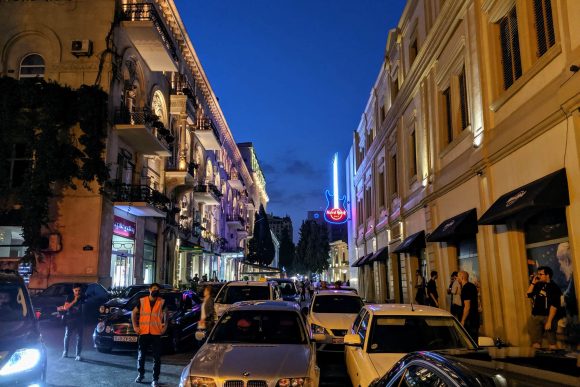 It's not hard to find cuisines from any part of the world, although understandably there is more of local and Mediterranean fare. Restaurant prices are generally lower than those in Singapore. Oddly enough, a meal at McDonald's or drink at Starbucks is quite close to Singapore prices. On the other hand, food prices at supermarkets are much lower.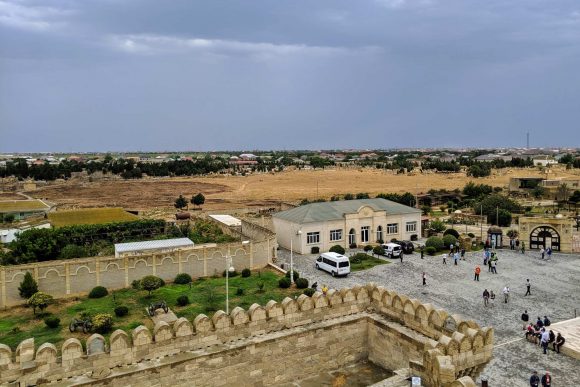 On the outskirts of Baku, the Gala State Historical Ethnographic Reserve shows visitors the history and culture of Azerbaijan in ancient times to the middle ages. The site covers about 2 hectares of area, and you'll see exhibits such as cave paintings, ceramics, household items, weapons, and coins. There are also the conserved ruins of an ancient settlement that dates back to the period from the 3rd to 2nd millennium BC.
The currency of Azerbaijan is the Manat (symbol: ₼, code: AZN). You probably can't change any Manat in Singapore; your best bet is to bring US dollars to change in Azerbaijan. There are money changers in the airport, but you can probably get better rates in Baku city itself. The exchange rate is presently about 1 AZN to S$0.80.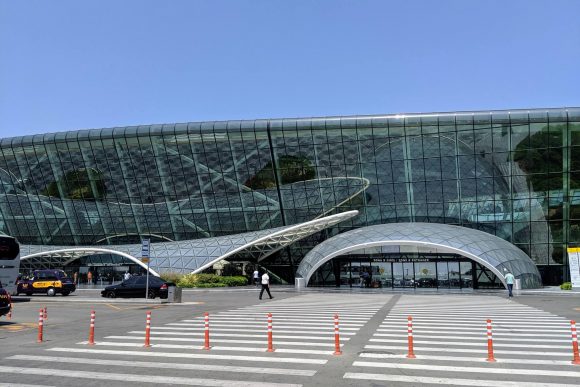 If you're planning to get a prepaid SIM card, and you can wait till you get into the city, it's best to avoid buying at the airport. Prices at the airport SIM card sellers are very high.
I was fortunate to be travelling with friends who had been to Baku previously, so they knew exactly where to get the SIM card, and to change currency, in the city. The SIM card I got was from an Azercell shop in the basement of Ganglik mall.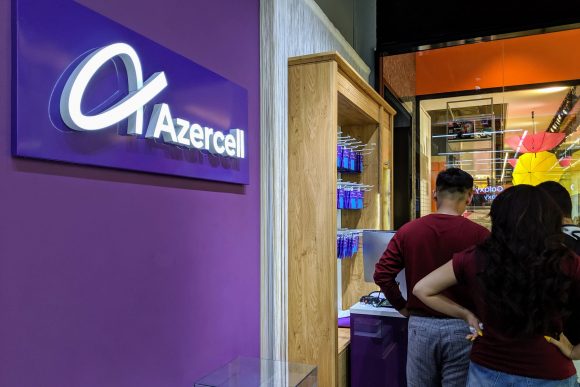 The main languages spoken in Baku is Azerbaijani and Russian, though it's not too hard to get by with English. The city is easy to get around, and as it is anywhere these days, Google is a great travelling companion.
For Formula One fans, you might already know that Baku hosts a Formula One race on the 6.003 km Baku City Circuit. They have been on the Formula One race calendar since 2016. Baku also hosts many sporting events. Some of the city scenes may look familiar if you've been watching the Formula One races closely.
Baku isn't likely a vacation travel destination that most people will think about. However, if you're interested in history and culture of the region, Baku has a lot to offer. If you have to be there for work, Baku is as modern a city as any other developed country, so it's actually a nice place to go to, especially if you like visiting new cities or countries.