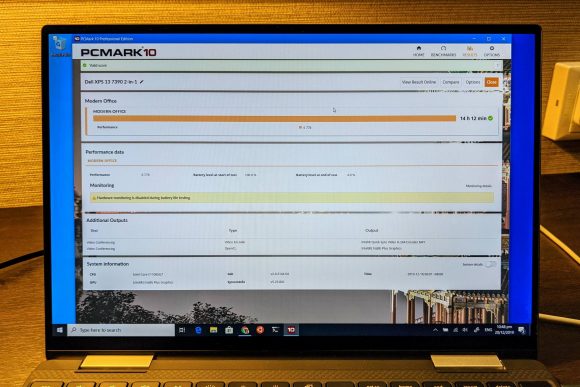 I run my own benchmark tests whenever I write my notebook reviews. Apart from performance, one of the important characteristics about notebooks is the battery runtime. After all, a notebook that needs to be tethered to a power socket isn't going to be terribly useful.
For quite a while, I've been using PCMark 8 for battery test scores. I also use PCMark 10 for other performance metrics. Notably, I share PCMark 10 Extended benchmark scores, which also include sub-scores for various workloads: Essentials, Productivity, Digital Content Creation, and Gaming.
Prior to May this year, PCMark 10 did not include battery testing. Instead of developing my own battery testing methodology, I chose to fall back on PCMark 8. However, with PCMark 10's introduction of battery life testing, I'll update my test suite to use that from now on.
Unlike PCMark 8, which simply performed battery tests while running their regular performance benchmarks PCMark 10's battery testing is designed specifically to simulate more realistic types of workload. PCMark 10's battery testing supports the following kinds of workloads:
Modern Office
Applications
Video
Gaming
Idle
For my blog review purposes, I'll mainly be reporting on the Modern Office scenario for battery life testing. This workload measures typical work activities such as writing, web browsing, and video conferencing. I'm sure this isn't going to describe the kind of workload for everyone, and in fact, I don't even consider "video conferencing" typical for me, but I think it's the best fit for the most general use cases.
The battery life scores from PCMark 10 are generally better than those I got with PCMark 8. The table below compares battery life (in minutes) of several notebooks I've tested thus far.
| | | |
| --- | --- | --- |
| Notebook | PCMark 8 Home Conventional Battery | PCMark 10 Modern Office Battery |
| Dell XPS 13 7390 2-in-1 | 244 | 852 |
| ASUS ROG Mothership | 162 | 258 |
| Lenovo Yoga 920 | 314 | 331 |
The Dell convertible device seems to fare awfully good. In fact, it's PCMark 10 battery test sees a very significant improvement over that in PCMark 8, far more so than the other two devices I currently have for my tests. The 852 minutes (i.e. 14 hours and 12 minutes) is absolutely excellent, so good that I was getting impatient at completing the tests.
I don't work so long in a single stretch at my notebook. I reckon that I should get 10 hours of real world usage on the Dell XPS 13 7390 2-in-1, but I'll have an update on that when I post my proper review of it.
PCMark, along with other benchmarks like 3DMark, are benchmarking software from UL. PCMark 10 battery tests is available only in the Professional subscription.