ASUS launched their new ZenWiFi whole-home mesh routers late last year. There are two versions available: ZenWiFi AC and ZenWiFi AX (just available this month). I have the ZenWiFi AC for this review. It is identical to the ZenWiFi AX in most ways, except for the obvious speed difference.
The ZenWiFi AC (CT8) is a tri-band router, meaning it can provide dual-band Wi-Fi connectivity to Wi-Fi devices on 2.4 GHz and 5 GHz, while dedicating back-haul communications on a separate 5 GHz radio. This ensures that Wi-Fi bandwidth to devices are not compromised. ZenWiFI can also use a wired Ethernet connection for its back-haul commnications.
Since both units are identical, either one can serve as the main router connecting to your broadband provider. The back of the router has three Ethernet LAN ports, and one for WAN connectivity. This gives you the flexibility to connect to other wired devices, such as a desktop PC or NAS appliance.
There's also a USB 3.1 port on the back for connecting external shared storage or a shared printer.
The internal 6 antennas support 2×2 2.4 GHz band, 2×2 5 GHz band (for devices), and 4×4 5 GHz band (for back-haul). You can get a maximum theoretical speed of 400 Mbps on the 2.4 GHz band, 867 Mbps on the 1st 5 GHz band, and 1733 Mbps on the 2nd 5 GHz band.
The software inside the ZenWiFi AC is the same as any other modern ASUS router. If you already own one, the ZenWiFi AC's setup and configuration should be very familiar. Setting up the ZenWiFi AC mesh is easy. It uses the same AiMesh, the ASUS mesh feature that allows you to use any of their supported routers as a mesh device.
The ZenWiFi AC offers all the typical features you'd expect from any modern Wi-Fi broadband router. This includes setting up separate Wi-Fi settings for 2.4 GHz and 5 GHz band, guest Wi-Fi, firewall, parental controls, and QoS configuration.
You can configure multiple guest Wi-Fi settings. You can have them expire automatically too. A long time limitation of AiMesh, which is still present in the ZenWiFi AC, is that guest Wi-Fi is only broadcast on the main router device, not on the remote mesh device. This makes it a little convenient if you need to place your main router node somewhere far away from where you expect your guests to be.
Power users will be happy to note that the ZenWiFi AC can operate in wireless router mode, range extender mode, access point mode, and media bridge mode. The ZenWiFi AC can also operate as a OpenVPN client or server, as well as connect to L2TP and PPTP VPN servers.
The physical ZenWiFi AC device is a reasonably plain looking rectangular block which shouldn't be too jarring wherever you put in your home. ASUS rates the ZenWiFi AC for up to 5400 square feet of coverage, which in practical terms should work well for most apartments in Singapore.
If you need more or better coverage, and you have an existing supported ASUS router, you can simply link it up with AiMesh to gain an extra mesh node.
In the box, the ZenWiFi AC comes with two power adapters (with various plug heads), an Ethernet cable, and some documentation.
The two-pack ASUS ZenWiFi AC retails at S$499. The ZenWiFi AX is also presently available at a retail price of S$899.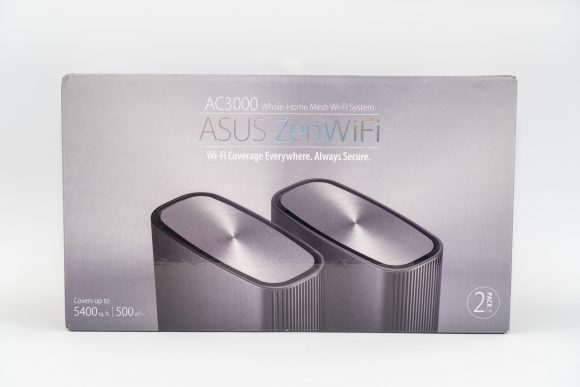 Conclusion
The ASUS ZenWiFi AC is an easy way to add whole-home mesh Wi-Fi coverage to rid your home of any dead spots.
Pros:
Easy to setup
Comprehensive software features
Tri-band with dedicated back-haul
Cons:
Guest Wi-Fi not broadcast at mesh node