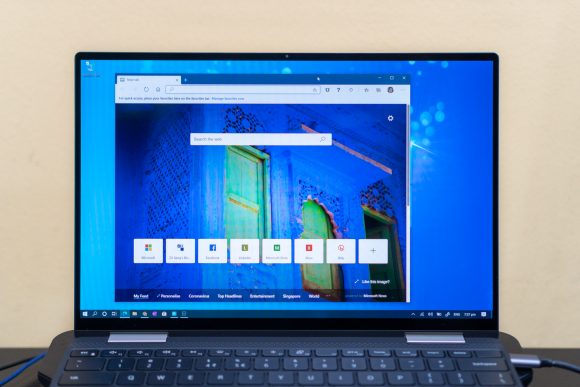 This is the year that Microsoft's new Edge browser finally takes off. After a major shift in its code-base in September last year, then coming out of beta January this year, Microsoft Edge is now arriving on Windows 10 computers via Windows Update.
Microsoft started development on the Edge browser in 2015. It was the company's attempt to regain browser market share. Internet Explorer had fallen out of favour. However, Edge struggled for many years. Chrome was away ahead, and Firefox, though far behind, was firmly in second place.
A wise decision at the end of 2018 saw Microsoft ditching their own HTML rendering engine, EdgeHTML, in favour of Chromium, the open-source project that is the basis of Google's Chrome browser. The even newer, new, Edge with the Chromium engine arrived as a beta in September last year. I think it really started to gain traction then. The final, official release, in January 2020 saw a fast, snappy, and modern Edge browser that is arguably a better Chrome than Chrome itself. Since March 2020, the new Edge has overtaken Firefox as the number two browser on the desktop/laptop platform. The latest May 2020 figures from NetMarketShare show Edge at 7.86%, vs 7.23% for Firefox.
Being built on Chromium, the new Edge feels very much like Chrome. Every website will look and work the same way in Edge as it would in Chrome. They use the same rendering engine, after all.
Also quite importantly, for many people, is that the new Edge runs all the same Chrome extensions that you have installed in Chrome. You can even browse and directly install them from the Chrome Web Store.
Even though Microsoft makes Bing the default search engine, a Chrometana extension can redirect your searches to Google or other search engines of your choice. A nice benefit of this is that it'll even handle Cortana searches.
Microsoft Edge appears to run faster and feel lighter than Chrome, but I don't know if this is just a subjective good feeling about something new. I tried to do some testing and run some benchmarks. I can say that Edge does appear to consistently use slightly less RAM than Chrome.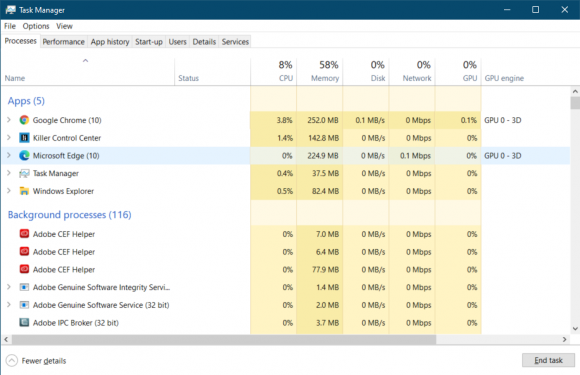 Just launching Chrome and Edge on their own, and waiting a minute after startup, I see that Chrome consumes about 12% more memory than Edge. After opening many more websites in many tabs, including some "heavy" sites that were Javascript-intensive, Chrome still stands about 10% more memory-hungry than Edge.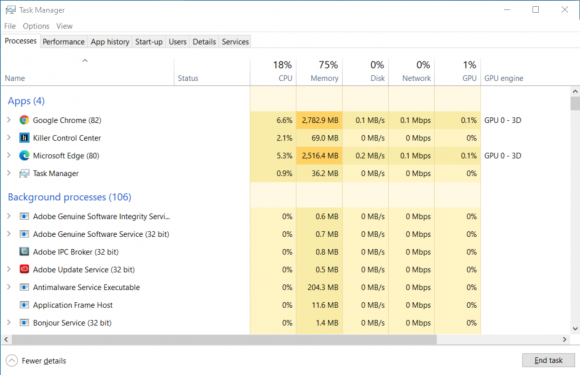 The difference in memory footprint isn't huge, but 10% isn't insignificant either. CPU consumption between the two browsers seem to be roughly the same. Browser benchmark using speed-battle.net show that Edge run slightly faster, though by less than a 5% margin.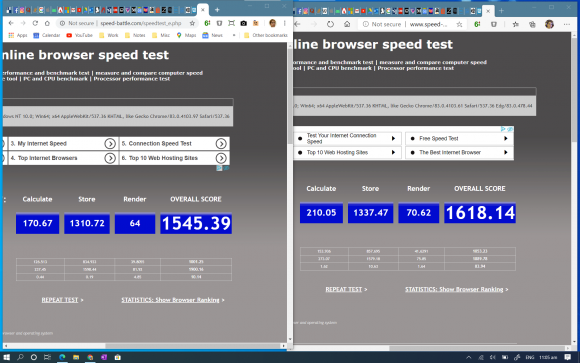 I hadn't expected browser benchmarks to differ much since both ran the same Chromium engine. But it does seem like Edge has a, shall we say, slight edge over Chrome.
After many years of using Chrome, some users may find it hard to migrate to a new browser. Microsoft Edge is a different browser from Chrome, and naturally you should expect that some things will work differently.
For example, Microsoft Edge has its own way of storing passwords. These won't sync with Chrome. Your browsing history won't sync between the two browsers too.
However, if it helps, the new Edge is available for all versions of Windows since Windows 7, as well as on macOS, iPhone, iPad, and Android. Microsoft will also release a Linux version of Edge in future. So at some point in the future, you might consider Edge as your browser of choice to unite your browsing experience across all devices!