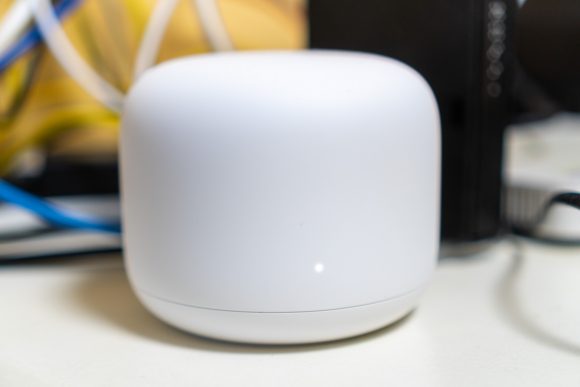 Having great Wi-Fi at home has become quite an important need, what with work-from-home and home-based learning now more prevalent than ever. Google's Nest Wifi makes it easy to upgrade your home Wi-Fi coverage, and it's especially useful if you're invested in the Google Home and Google Assistant experience.
The cute marshmallow-shaped Nest Wifi launched in October last year. This is Google's second whole-home mesh Wi-Fi system, the first being the popular Google Wifi which launched in 2016. The new Nest Wifi is, not surprisingly, more powerful, more capable, and interestingly, has mesh nodes that double as Nest Mini smart speakers and voice assistants.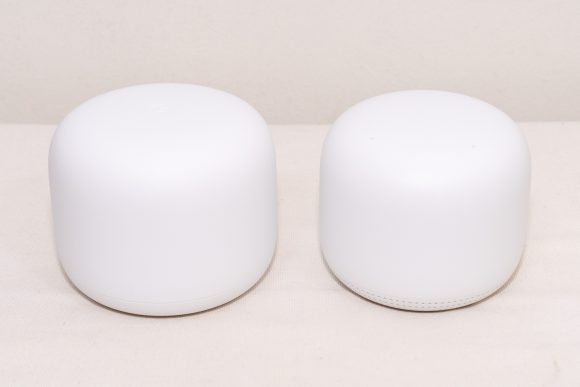 Google says the new Nest Wifi has double the processing power and 25% greater coverage. It's great to see the Nest Wifi support WPA3, a fairly new Wi-Fi encryption standard, and improving upon WPA2 which has been in use since 2004. Unfortunately, there isn't Wi-Fi 6, or 802.11ax, the new, faster, successor to 802.11ac. However, the fastest possible speed may perhaps not be the most important thing for most users.
The Nest Wifi system comprises one router unit, the Nest Wifi Router, and one or more Nest Wifi Points, the extension nodes which you place around your home. Both units have the same minimalist marshmallow-shaped form, and they look good enough to blend into your home decor so there's no need to hide them in some corner. There are some physical differences between the Nest Wifi Router and Nest Wifi Point that makes it easy to tell the two part.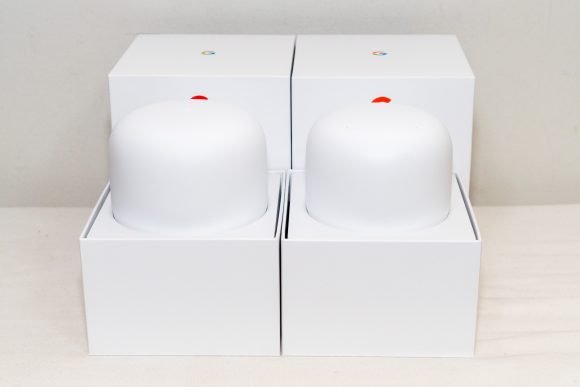 The Nest Wifi Router is the larger of the two devices. There's just one LED light on its front. On the underside, you'll find the two Ethernet ports, one for the Internet connection to your ISP and other for a wired LAN connection. The power jack sits between the two ports.
The LAN connection is often used to connect a Network-Attached Storage (NAS), if you have one, or other bandwidth-heavy device that benefits from a wired connection. This may be all that is needed for many home users. However, this single LAN connection could be somewhat limiting for more power users.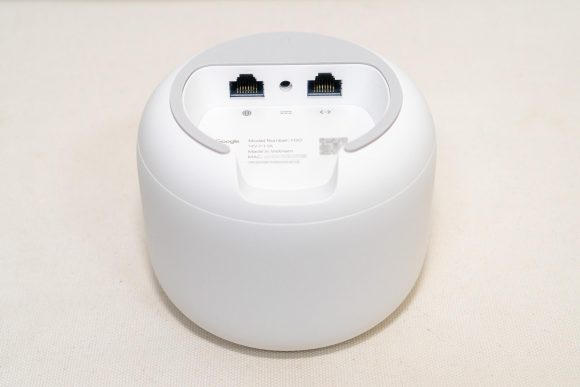 The smaller Nest Wifi Point, as mentioned earlier, doubles as a smart speaker cum voice assistant. The 1.6-inch speaker is powered by a 4.8-watt amplifier, and it radiates sound 360 degrees through grills at the bottom edge of the unit. The sound quality is great for voice interaction, and pretty decent too for music.
There's a LED ring at the bottom which glows to indicate various status. The LED ring has a nice futuristic vibe when it lights up in response to a "Hey Google" activation.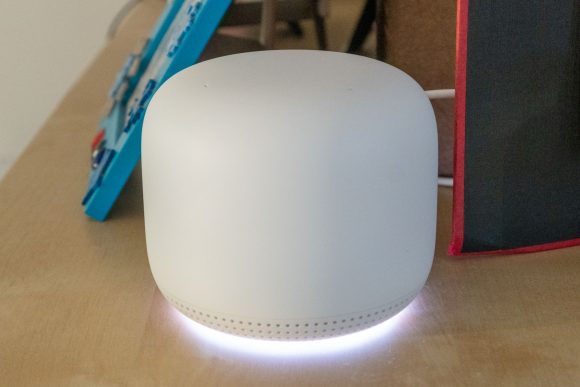 The far-field microphone array in the Nest Wifi picks up voice commands from up to 4. metres away, allowing you to speak naturally from where you are without
A microphone mute switch is located on the back of the device. When muted, the LED glows in orange.
There are also small LED lights at the top that light up automatically when your hand reaches toward them to show you where the touch areas are. Like on the Nest Mini, these buttons are hidden from plain sight, so the LED takes some guesswork out of figuring out where they are.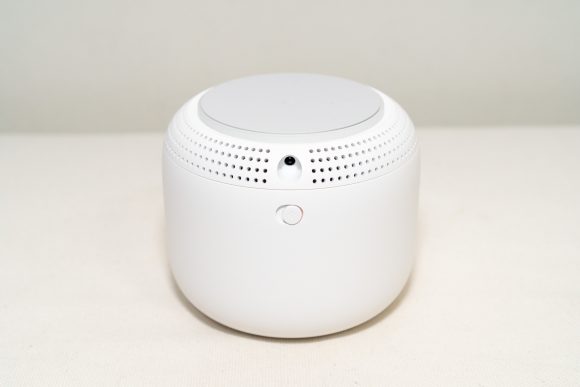 The Nest Wifi Point has no Ethernet ports, so you can neither connect other wired devices to it, or use a wired backhaul connection to the Nest Wifi Router.
Setting up the Nest Wifi is not much different from any other Google devices. You use the Google Home app on your phone and follow the guided steps.
As simple as the Nest Wifi may be, it is quite powerful under the hood. The Nest Wifi Router has 4×4 antennas for the 5 GHz band and 2×2 antennas for the 2.4 GHz, with up to 1,733 Mbps at 802.11ac and 450 Mbps at 802.11n speeds. This gives the Nest Wifi Router an AC220 rating. The Net Wifi Point uses 2×2 antennas for both the 5 GHz and 2.4 GHz bands, with up to 867 Mbps 802.11ac and 300 Mbps 802.11 speeds.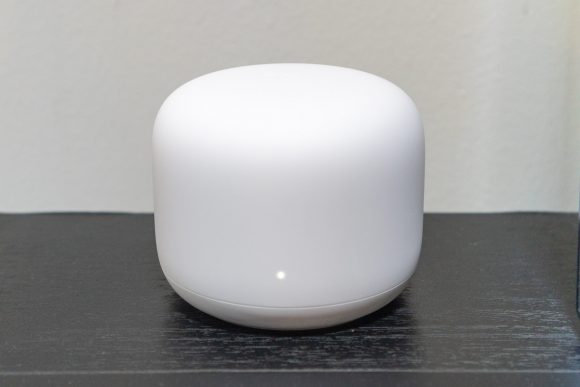 Unfortunately, there is no dedicated radio backhaul in the Nest Wifi. Instead, the Nest Wifi uses both the 2.4 GHz and 5 GHz radios for mesh communications. It also does proactive band steering to move data on the less congested channel. In my testing, I did not find significant speed difference between my notebook connect to either the Nest Wifi Router or Nest Wifi Point.
Google states that the Nest Wifi Router is good for 120 sqm of coverage, while the Nest Wifi Point will provide 90 sqm of coverage. Both together can support more than 200 devices, which should be more than sufficient to include all your smart home devices. If you have a larger property, you can easily add more Nest Wifi Points. Google recommends up to 5 Nest Wifi Points.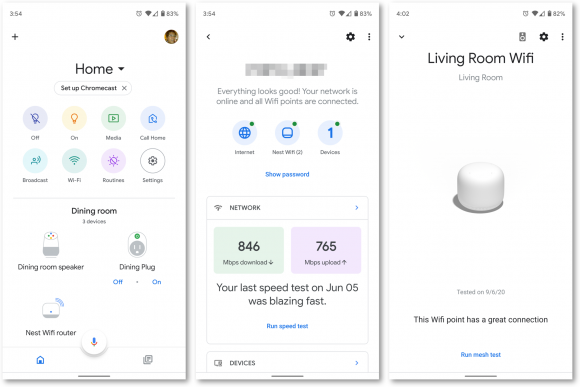 The Google Home app primarily where you setup and manage the Nest Wifi. This includes creating/managing guest network, managing family use of Wifi, run speed test and mesh connectivity test.
Guest Wifi support in the Nest Wifi allows you to choose which devices in your home network are visible to guests. This enables you to share your speakers or printer with them.
Family Wi-Fi is a nice way of referring to parental controls, though it's rather simple, allowing only to limit Wi-Fi access times and to turn SafeSearch on or off. However, with Google Assistant, you can do cool tricks like saying "Hey Google, pause Wi-Fi for the kids!"
The "Advanced Networking Controls" will require you to use the Google Wifi app, the older app that had been used with the original Google Wifi mesh system.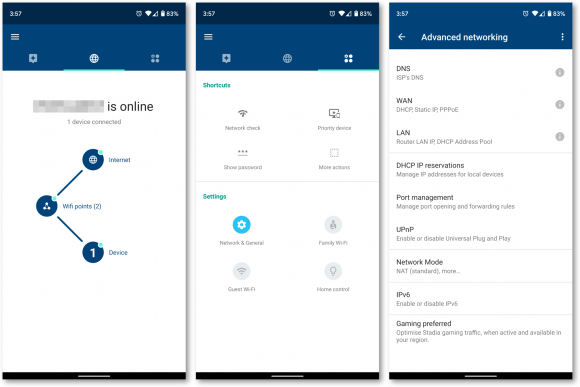 This is where you can manage DHCP IP reservation, port forwarding, IPv6, etc. There is some overlap with the functionality in Google Home, which is not a problem per se. Hopefully Google will just move everything into the Google Home app.
There isn't much else you can control with the Nest Wifi. It's designed to be simple. Power users with advanced networking requirements may be a little disappointed.
The Nest Wifi Router can operate in bridge mode, i.e. as an access point. However, it has to be standalone. To use as a mesh system, you cannot configure it to operate in bridge mode.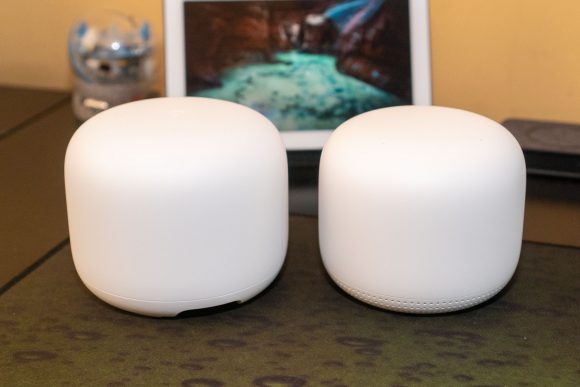 The Nest Wifi makes a great addition to Google home, i.e. a home that has lots of Google devices. It's a no-brainer Wi-Fi upgrade. Its integration into the Google ecosystem makes it seamless to use, and helps you enjoy Google services more.
I love the smart speaker capability embedded into the Nest Wifi Point. It's a great way to extend both Wi-Fi coverage and Google Assistant's hearing coverage at the same time, in the same device. It is slightly unfortunate that the smart speaker capability isn't also built into the Nest Wifi Router.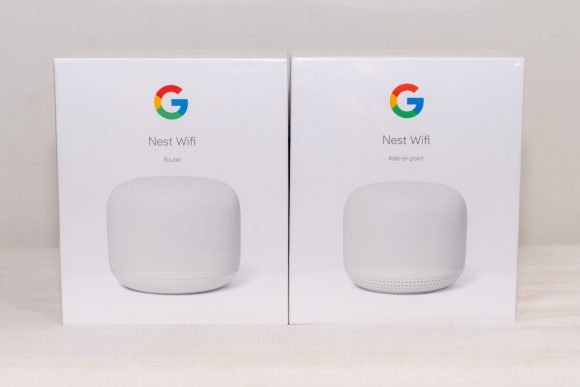 The Nest Wifi can be purchased from the Google Store at S$229 for the Nest Wifi Router and S$199 for the Nest Wifi Point.
Conclusion
The Google Nest Wifi is a no-brainer upgrade to your home Wi-Fi if you have a Google home. Easy to setup and use, it's a great whole-home mesh Wi-Fi system.
Pros:
Easy to setup and use
Latest WPA3 security standard
Quality sound from smart speaker
Integrated into Google ecosystem
Cons:
No Wi-Fi 6 (802.11ax)
Simple parental controls