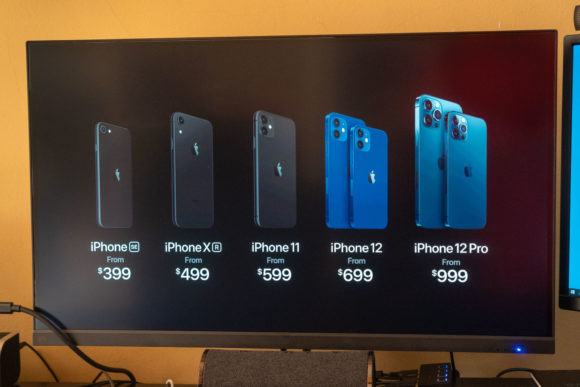 Apple just launched four models of the iPhone 12 earlier this week. A startling news that emerged, like how they abandoned the 3.5 mm audio jack in 2016, is that the new smartphones will not ship with a charger. Why, when you already have plenty of chargers. It's about being eco-friendly, Apple says.
Omitting the charger will reduce waste. There'll be less raw materials required for manufacturing. The retail box will be smaller, which apart from requiring less packing materials that simply gets discarded, also takes up less space and weight in transportation. These result in lower carbon emissions in both production and shipping of the new iPhones.
Apple is a company in a unique position where they can make bold moves that lead the market with changes. This company helped kill the floppy disk drive, for example. The omission of a charger with this year's iPhones could be the next thing to come to smartphones from other manufacturers.
Such a bold move will certainly be met with disbelief, indignation, and mockery, at least at the start. Over time, people might come to accept that these changes are for the better.
Or not. I'm happy that floppy disks are gone. But I'm still missing the 3.5 mm audio jack. I want it back.
It is true that most of us already have a charger. We don't absolutely require a new charger for a new phone. It seems to make sense to omit the charger, and instead make it an optional accessory that can be purchased separately if one finds them necessary.
Except that, even though I really do already have many chargers at home, they're not too many that I couldn't use another. Not including the charger is like selling battery-operated gadgets without batteries included. It's not the end of the world, but it is certainly annoying.
I get the part about being eco-friendly. There are many ways to do that. Maybe, for example, the iPhone 12 could have adopted the use of USB Type-C ports? Apple has seen fit for MacBooks to embrace USB Type-C Power Delivery. The iPad Pros also have USB Type-C. Why is it the iPhone 12 cannot have it?
Apple will include a USB Type-C to Lightning cable in the box. I'm not sure if this is reversible. It is presently meant to connect to the Lightning port on the iPhone 12 to a USB Type-C power supply. Could this be reversed, so that by putting a USB Type-C port on the iPhone 12 itself, previous iPhone owners with older Lightning power adapters could use this cable for the new phone?
What I'm driving at is that Apple could just as well make things easier by simply putting a USB Type-C port on their new phones. Just be done with the Lightning port already. But no. The Lightning port stays there.
Not unexpectedly, while ditching the charger saves Apple costs, the savings aren't passed on to customers. In fact, arguably, the new iPhone 12 costs more. The flagship iPhone 11 from last year sold at US$699. The equivalent this year, technically, is the iPhone 12, which starts at US$799. There is a new US$699 option this year, but it is for a smaller iPhone 12 mini.
To make things worse. That new cable that you thought Apple so kindly included so you could use last year's charger… unless you had last year's iPhone 11 Pro or iPhone 11 Pro Max, you should know the new cable won't work with your old charger. iPhones other than the iPhone 11 Pro and iPhone 11 Pro Max came with USB Type-A chargers. So, this cable is useless. You'll need a new charger.
Apple is, of course, very happy to sell you a separate charger that will now cost US$19. It will come with a complimentary box, adding more wasted packing materials, requiring transportation, and increasing carbon emissions. Or, you'll pick up a new charger from some place else.
The USB Type-C charger that shipped with last year's iPhone 11 Pro and iPhone 11 Pro Max is listed as 18 Watt. The new ones are 20 Watt. While 2 Watt is probably not significant, it does seem to imply that even last year's chargers which came with the most expensive iPhone 11 models, are at least different from this year's, if not quite as good.
Why, Apple, why?
Keeping the Lightning port around is obviously very important to Apple. There is an ecosystem of accessories built around the Lightning port. Apple has a certification program for Lightning-compatible accessories. The new MagSafe feature on the iPhone 12 seems to me like the next step towards another market of accessories.
I don't know if one year from now we'll look back and think that the omission of a charger was a really good thing after all. There are better things that Apple could have done if they were really concerned about saving the environment, this much is certain.
Here's a thought for Apple to consider. How about not shipping the phone itself in next year's iPhone update? Just let the upgrade be shipped OTA (over the air) as a software upgrade. No need for raw materials, transportation, no e-waste, etc. It's definitely the ultimate in eco-friendliness!