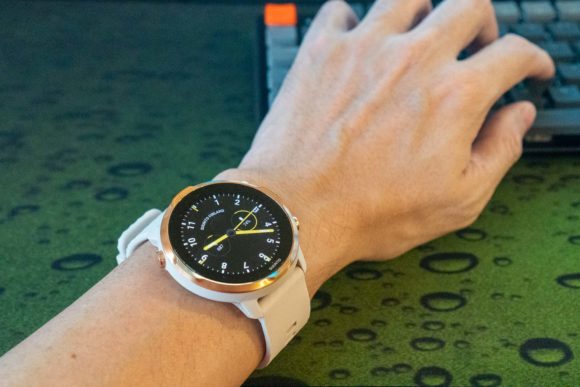 Finnish fitness company Suunto, better known for their dedicated running watches, launched their first Wear OS smartwatch, the Suunto 7, earlier this year. With claims of two day battery life, and drawing on the brand's fitness speciality, the Suunto 7 could bring interesting competition to the Wear OS smartwatch market.
The Suunto 7 has a beautiful premium design that looks like how you'd expect a sports watch to be. The gold colour trim on my review device adds a touch of elegance. The bezel is made of stainless steel, but the rest of the case is a glass fibre reinforced polyamide, which is basically a kind of plastic.
With a 50 mm diameter and 15.3 mm thickness, the Suunto 7 feels a little large, especially on smaller sized wrists. At 70 grams in weight, the heft might also be quite noticeable.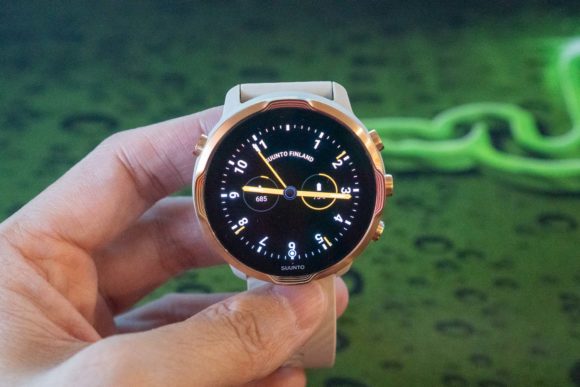 The large 1.39 inch AMOLED display is bright and vibrant. The average brightness is 300 nits, but it can reach 1,000 nits peak, making it clearly visible even under bright glaring sunlight. The 454×454 pixel resolution is very sharp and crisp. This is overall a great display. The Corning Gorilla Glass atop will offer some protection against accidents, though it is not clear exactly what type of Gorilla Glass Suunto has used.
The included strap is made of soft silicon. It may not look premium, but it is comfortable and fits snugly. It's also suited for sports. You can easily swap out the strap for something else if you so prefer, including several other options available from Suunto.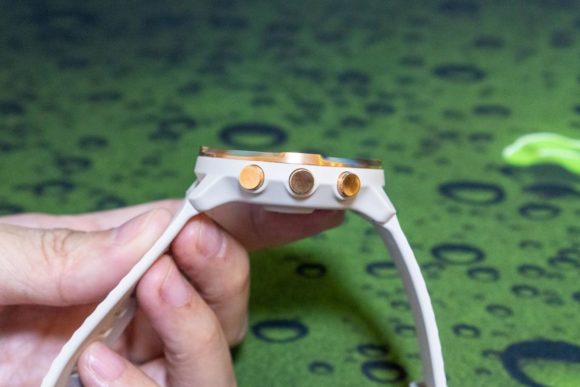 There are four physical buttons on the Suunto 7: three on the right side, and one on the left. All of the buttons are large, very tactile, and easy to find. These buttons are easy to use in a pinch, unlike some buttons on other smartwatches which are sometimes difficult to locate.
The Suunto 7 is powered by the Qualcomm Snapdragon 3100. It's actually a small tweak from the rather dated Snapdraon 2100 released in 2016, sharing the same main processor, but adds a low-power co-processor. This is paired with 1GB of RAM and about 4.5 GB of storage available to the user. Wear OS generally runs well, with fluid and responsive UI experience.
For sports tracking, the Suunto has GPS and continuous 24×7 heart rate tracking. Both are reasonably accurate, at least for casual fitness use. Running enthusiasts may have higher expectations. Apart from GPS itself, the Suunto 7 also supports GLONASS, QZSS, and Beidou positioning systems.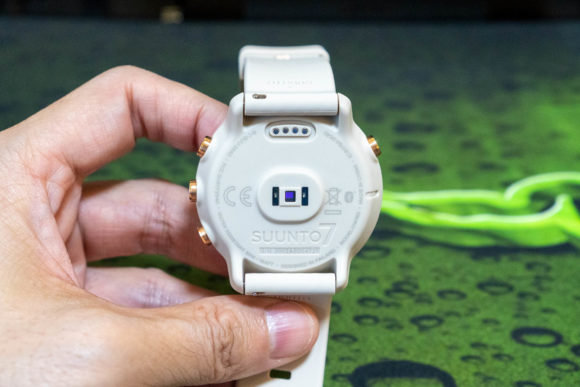 Once we get into fitness, the Suunto 7 starts to get complicated. It is as if this smartwatch has a split personality.
First, you'll need to use two apps, Google Fit and Suunto's own fitness app. Both are preinstalled. The complication is how each app gets different kinds of data. For example, after tracking a workout with Suunto's app, you can see cool details, as you'd expect, like heart rate, pace, cadence, etc, but steps and calories are not available. You'll need to see them in Google Fit.
Basically, workout data goes to the Suunto app, while continuous daily activity data goes to Google Fit. This seems to be simply a matter of software sync, which Suunto is said to be working on for an update later.
The Suunto app is said to track 70+ different activities. I did not explore them all that much, but I imagine if you are somewhat adventurous in your fitness activities, that's a good chance you'll find what you want in there.
I was particularly intrigued by the claim of two day battery life. Battery longevity has been one of the big bugbears with Wear OS smartwatches, with most of them struggling to last at least one day, without turning on aggressive battery saving modes.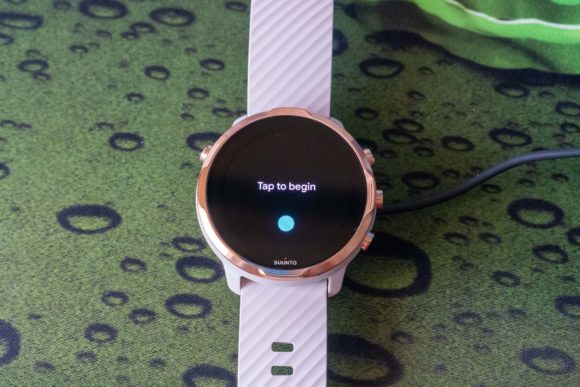 The good news is that the Suunto 7 does live up to the two day battery life claim. The Snapdragon 3100 processor, though not the latest Qualcomm wearable processor, with larger battery has allowed the Suunto 7 to push battery longevity to new levels. In my own daily "normal" use, over 24 hour period, I ran the battery down from 100% to 50%. This includes continuous heart rate monitoring, no sports tracking, and the default always-on display not on. Even with heavy use, the Suunto 7 will easily last more than one entire day. It's probably alright to forget the charge the Suunto 7 for a day, as long as you have the opportunity to get to it before the next day is over.
For extended workouts, the Suunto 7 has a dedicated Sports experience mode that promises up to 12 hours of continuous GPS tracking. This will accompany you on marathon runs.
You can definitely swim, snorkel, and do some diving with the Suunto 7. It is good for 50 m water resistance, and has 5 ATM water and dust resistance.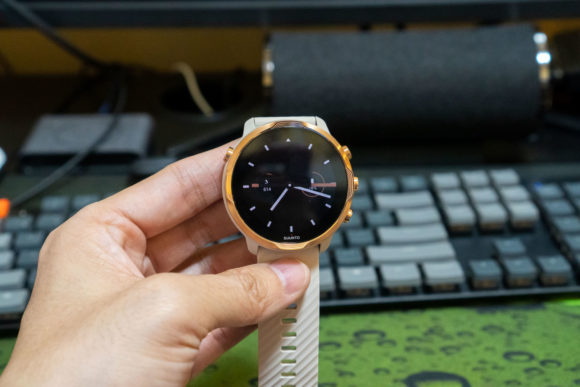 The Suunto 7 is great for fitness enthusiasts. The disjoint experience between Google Fit and Suunto's own app aside, this smartwatch is a capable sports tracker. The large display makes reading and touch interaction with Wear OS easy, though the smartwatch may feel a little clunky on smaller wrists.
The battery longevity is particularly impressive to see amongst Wear OS smartwatches. The Suunto 7 achieves this with the older Snapdragon 3100 processor, so it would be interesting to see what Suunto can bring in a future product that uses the newer 4100+ processor.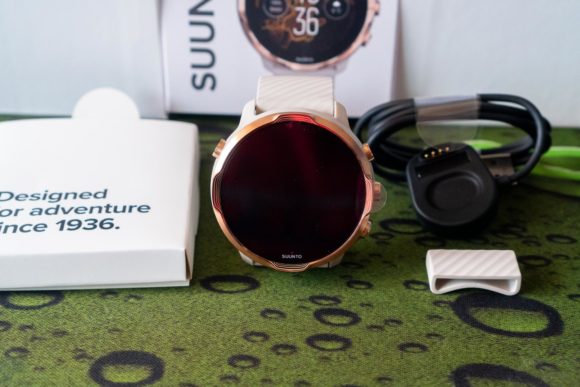 Included in the retail box, the Suunto 7 comes with a charging cable and an extra strap loop.
The Suunto 7 retail price is S$749. It is available in Sandstone Rosegold (as reviewed here), Black Lime, All Black, Graphite Copper, and White Burgundy.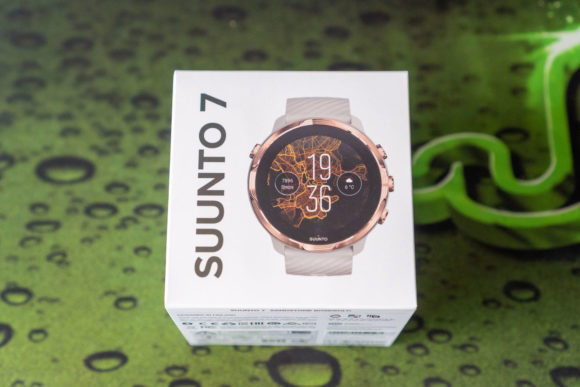 Summary
The Suunto 7 is a capable sports tracking smartwatch with good two day battery life.
Highlights:
Large, bright, vibrant display
Two day battery life, 12 hour GPS tracking in dedicated sports mode
Supports tracking many sports activities