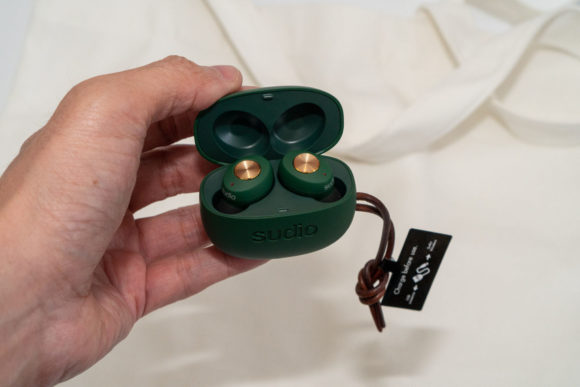 The Sudio Tolv true wireless earphones isn't new at all. I haven't reviewed this before, and since the Swedish headphones manufacturer sent one my way in conjunction with their upcoming 11.11 promotion, I thought it's never too late to share my thoughts about it.
Truly wire-free headphones are not uncommon nowadays. Every major headphone manufacturer has at least one, often many more, of these in their product line-up. This is also the case with Sudio, and I've reviewed several of them on this blog (e.g. Nivå, Fem).
The Sudio Tolv hit the market around mid 2019. It's a simple, functional, true wireless earphones that exudes the Scandinavian design sense of elegance in minimalism. This is a relatively entry-level earphones, but does support Bluetooth 5.0 and can be used to take calls.
The earpieces themselves bear some visual resemblance to the Nivå. They are small, with each one weighing just 4.5 grams, so you almost don't feel them in your ears. You can listen for long hours without discomfort.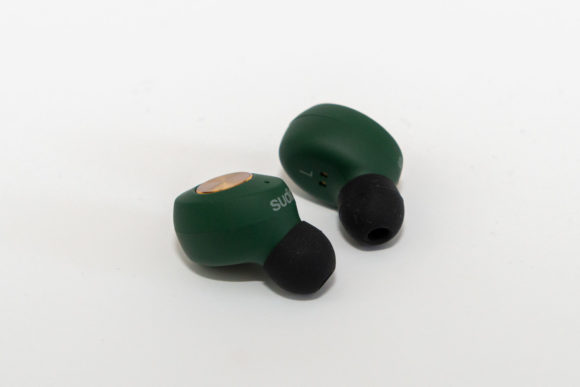 I did find the earpieces small enough that it is a tad hard to keep them from falling off, unless you ensure that the silicon tips fit tight enough to secure the earpiece in the ear. Of course, you do need to find the right size silicon tip for the best sound quality. So perhaps this is a good problem to remind you to find the right-sized silicon tip.
There's just one button on each earpiece. It's the physical kind that needs to be pressed, rather than merely touched, and herein lies a little problem. The buttons are rigid enough to require sufficient force that using them pushes the earpieces into your ear canal. This isn't uncomfortable per se, may need some getting used to. I'm not sure if over time the buttons will become "softer".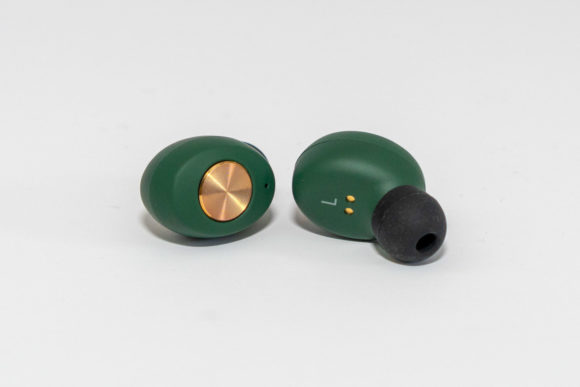 The buttons allow you all the basic controls: single press on either earpiece to pause/resume; double press to skip track backward or forward (depending on the left/right earpiece); and triple press to lower or increase volume (again depending on the left/right earpiece). You can also hold either side for about a second to activate your phone assistant.
There's a microphone on each earpiece to support phone calls. These aren't the best. My voice tends to sound "far and hollow" to the other end. But these will certainly work in a pinch.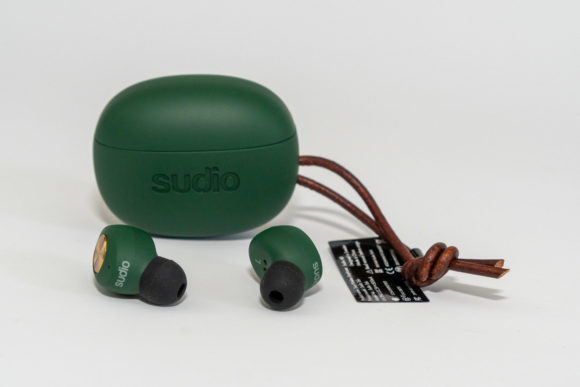 The Sudio Tolv uses a graphene driver to produce sound. This carbon nano tech is supposed to deliver the most immersive listening experience. How do they fare?
Music from the Sudio Tolv is indeed quite immersive. It's overall sound is warm and engaging. The bass is powerful, though I found it too boomy. Now, I do like my bass to be punchy, but the Tolv's is overdone in my books.
Fortunately, the mids and highs do manage to shine through the powerful bass. Mids are clear, warm and energetic. Highs are bright and fairly detailed. but could do with a bit more extension.
These are not audiophile grade of course, but the Sudio Tolv does sound excellent in its price category.
The Sudio Tolv supports Bluetooth 5.0, which means each side of the earpiece has its own connection to your phone or computer. There is no aptX support.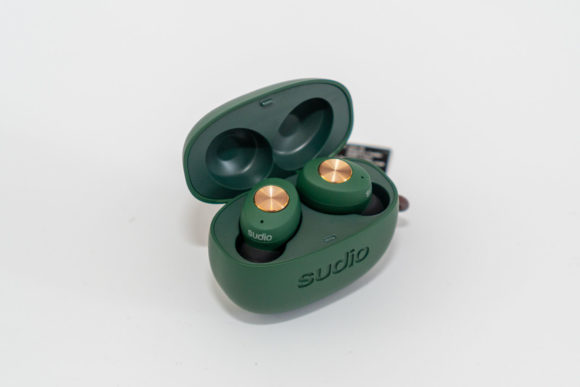 The accompanying charging case is quite small, with clamp shell opening that reveals the pods where the earpieces are parked in. The case is charged via a Micro-USB port on the back. I would have hoped for USB Type-C, but I think this being released back in mid 2019, Micro-USB could not be considered dated then.
The Sudio Tolv earpieces have 7 hours of continuous listening time no their own. With the charging case capable of topping up the earpieces 4 times over, you have up to 35 hours of listening time on the go, which is pretty good.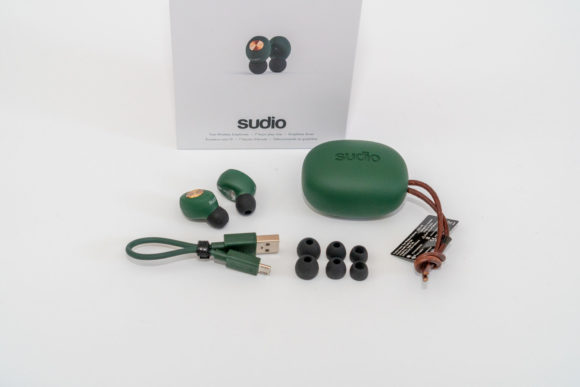 In the retail box, the Sudio Tolv ships with the earpieces themselves, USB charging cable, 4 sets of silicon tips (one set already on the earpieces), and the charging case.
The Sudio Tolv retails at S$149, and you can buy them online directly from Sudio. You'll get three years of international warranty, and free worldwide shipping. There are many colour options available: green (as reviewed here), white, black, pastel blue, pink, and anthracite.
Sudio is presently running a 11.11 promotion where you can get everything at 25% off. On top of that, with my discount code zitseng, you can get an additional 10% off. This Sudio Tolv, for example, is now just $99.23. This discount code will be valid during both the 11.11 campaign from 4 to 11 November, and Black Friday promotion from 23 to 30 November.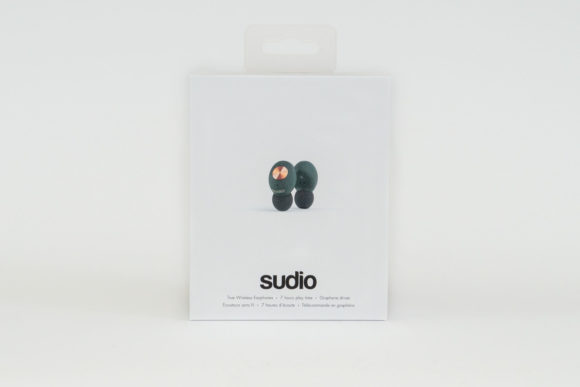 Summary
The Sudio Tolv true wireless earphones is simple, elegant, and sounds great.
Pros:
Simple, elegant design
Generally great sound quality, especially if you like bass
Long battery life
Cons:
Bass may be too boomy for some