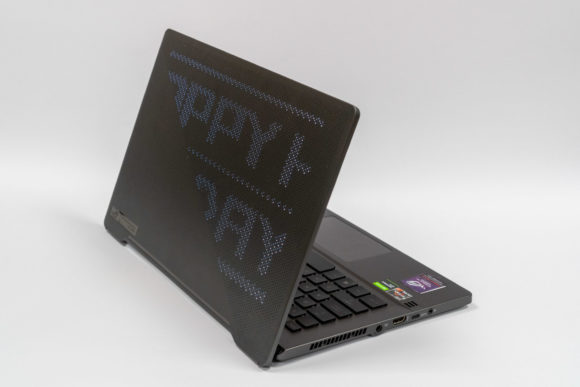 The ASUS ROG Zephyrus G14 gaming laptop is quite exciting on a few levels. I think it's something that will appeal to gaming enthusiasts who need something easy to carry around while still being par for the game, and yet won't break the bank.
The first thing about the ROG Zephyrus G14, model GA401II-GTX1650T1, is that it is powered by Team Red. For those unfamiliar, this means that it has an AMD processor, rather than Intel (Team Blue) that we most often see. AMD has, of late, made great headway with their Ryzen processors in many areas. They work great for gaming, and we'll find out how the ROG Zephyrus G14 fares going with Team Red.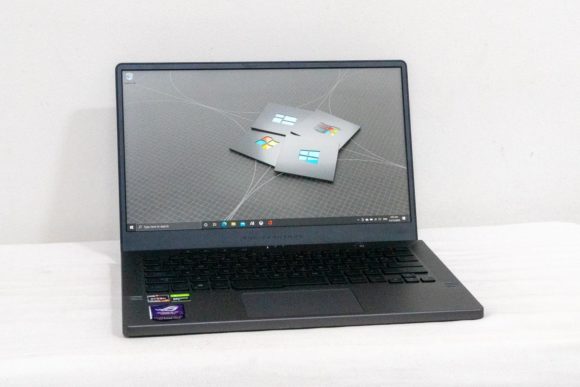 An unmistakable highlight of the ASUS ROG Zephyrus G14 is its eye-catching LED matrix feature on the lid. ASUS calls this the AniMe Matrix, and it gives users a unique way to personalise their laptop with graphics, text, or various capabilities. It can be a cool conversation starter too.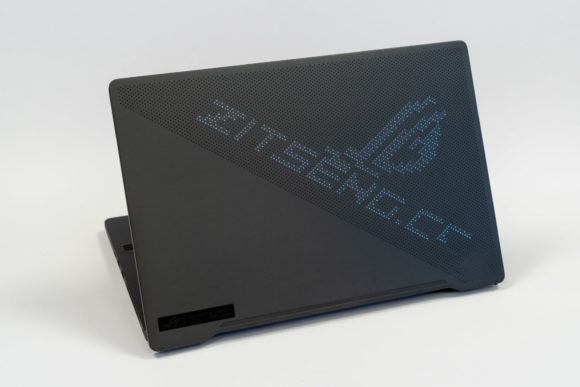 The ASUS ROG Zephyrus G14 has a 14-inch display with a matte anti-glare finish. The IPS panel has Full HD 1920×1080 display resolution and 120 Hz refresh rate.
In my own colour gamut tests with Spyder5PRO, the ROG Zephyrus G14 netted 95%, 65% and 71% coverage for sRGB, NTSC, and AdobeRGB respectively. The display doesn't get very bright, maxing out at 310 nits, though this will work sufficiently well in indoor environments.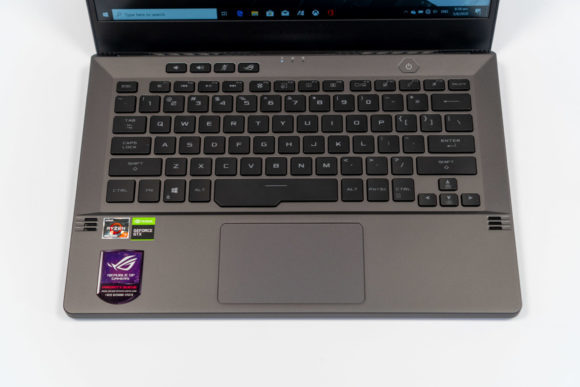 The keyboard and trackpad are well designed. The chicklet keys, which have RGB backlighting, have good travel and are comfortable to type on.
It's good to see that the ROG Zephyrus G14 have dedicated volume keys, microphone mute, and a shortcut key to activate ASUS' Armoury Crate app which serves control, configure, and manage a plethora of ROG-specific settings. This includes performance profiles and customisation of the AniMe Matrix.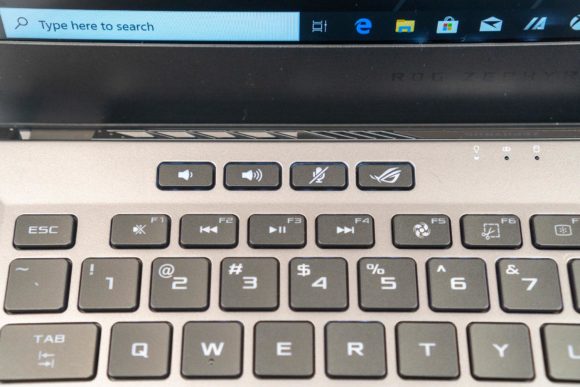 There is no integrated webcam in this laptop. While this might sometimes not be unusual in the past, it's 2020 now, it's not uncommon for gamers to want to livestream their gameplay, and if not, at least want to occasionally do videocalls, so the missing webcam seems a little disappointing. Furthermore, it doesn't seem like there are clear challenges to incorporate a webcam into the display.
While Windows Hello facial recognition is out of the question, the ROG Zephyrus G14 does offer a Windows Hello fingerprint sensor conveniently integrated into the power button. The same press of the power button to wake up the laptop also logs you in or unlocks the lock screen.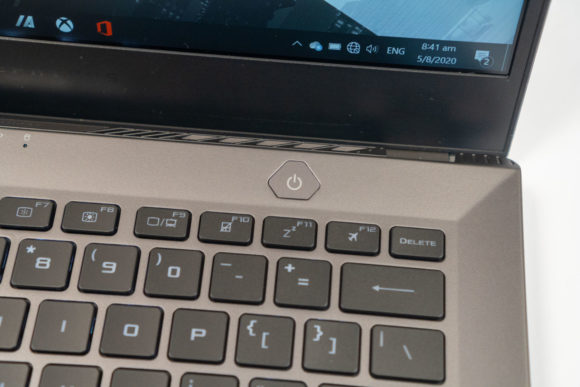 The ROG Zephyrus G14 comes with Wi-Fi 6 support, with 2×2 antennas and RangeBoost.
As aforementioned, ASUS went with Team Red on this ROG Zephyrus G14, packing in a Ryzen 7 4800HS processor. This is an 8-core processor clocked at 2.9 GHz, with turbo up to 4.2 GHz, and supports SMT / hyperthreading (16 threads). It is manufactured on a 7 nm process. Intel's latest processor are still manufactured on a 10 nm process, with 7 nm chips delayed significantly till late 2022.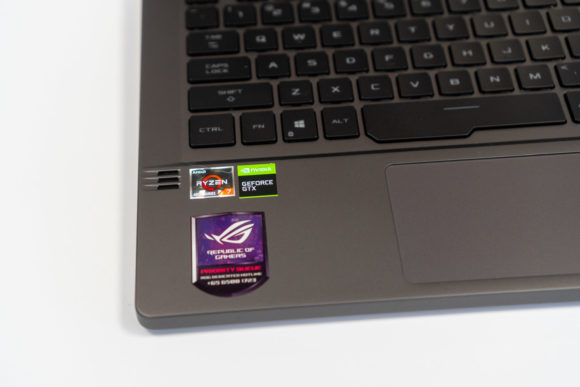 The Ryzen 7 4800HS also incorporates Radeon RX Vega 7 integrated graphics with 7 CUs. This compares favourably to the same-era Intel 10th Generation processors with integrated Iris Plus graphics, which we'll see later when I reveal some benchmark scores.
This review unit is configured with 16 GB of DDR4-3200 RAM, and 1 TB of NVMe storage.
Graphics prowess on this ASUS ROG Zephyrus G14 comes from the NVIDIA GeForce GTX1650Ti.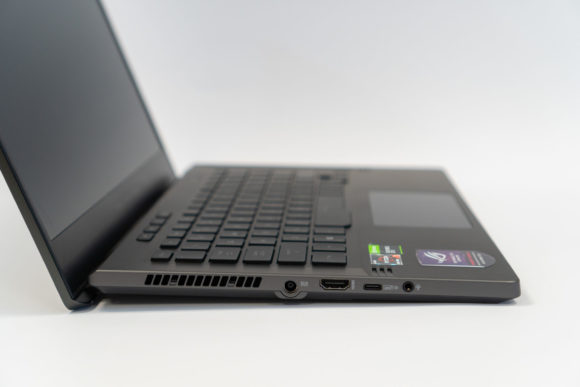 The laptop has a decent offering of ports. On the left side, you'll find a DC power barrel jack, HDMI 2.0b oprt, USB 3.2 Gen 2 Type-C port, and a 3.5 mm combo audio jack.
The USB Type-C port supports Power Delivery and can power the ROG Zephyrus G14 in a cinch, but you'll need the barrel jack, along with the provided power adapter, to provide full power for the laptop and operate it in its most performant mode. This arrangement is quite convenient, since if you only anticipate to use the laptop for light productivity work or casual web browsing, then you could simply rely on a Type-C Power Delivery charger that might be more conveniently available. Displayport and G-Sync is also supported on this USB Type-C port.
On the other side, you'll find one more USB 3.2 Gen 2 Type-C port (only for USB data), and 2x USB 3.2 Gen 1 Type-A ports.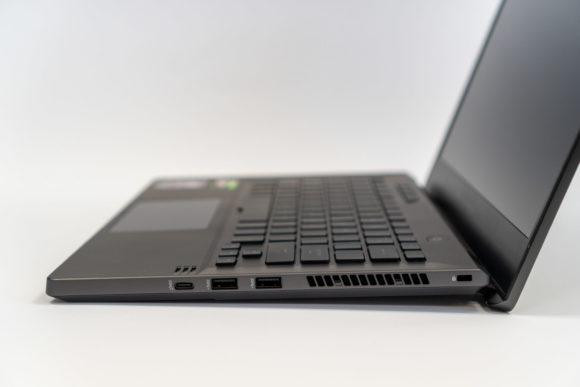 PCMark 10 Extended benchmark scores are as follows:
OVerall: 6107
Essentials: 8926
Productivity: 7532
Digital Content Creation: 6998
Gaming: 7990
Geekbench 5 scores are as follows:
Single-core: 1200
Multi-core: 7731
Compute: 13182 (46680 with GTX 1650 Ti)
So let's dive a little into the performance scores. First, the easy one. The 10th Generation Intel Core i7-1065G7's Iris Plus graphics (on the Dell XPS 13 7390 2-in-1) picks up a Geekbench 5 compute score of 10653. The AMD Ryzen 7 4800HS' Radeon RX Vega 7 is about 24% ahead.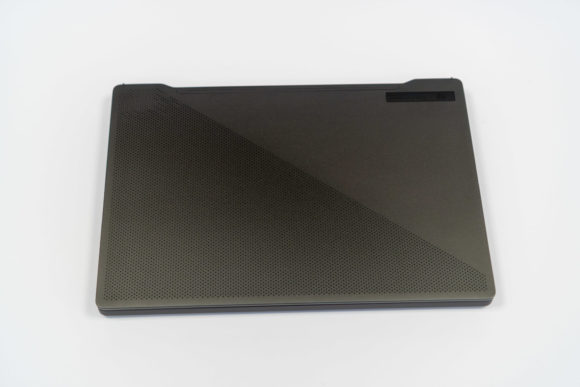 Looking purely at synthetic CPU performance from Geekbench 5, the ROG Zephyrus G14 may not have the single-core muscle to outdo Intel 10th Generation i7-1065G7 processors, but when it comes to multi-core performance, the Ryzen 7 4800HS easily pulls ahead of everything I've tested this year, except for powerhouses like the Core i7-10875H in the ROG Zephyrus S15 GX502.
The overall score from PCMark 10 Extended is influenced by the dedicated NVIDIA graphics, so while we can say that the ROG Zephyrus G14's overall package is very performant and capable, it is hard to attribute that to CPU or dedicate GPU.
In the PCMark 10 battery benchmark under the Modern Office workload, the ROG Zephyrus G14 lasted an impressive 456 minutes, quite awesome for a gaming laptop. If you only need to take the Zephyrus G14 out to get some office work done, it seems like you needn't worry too much about needing a power plug.
There are newer, faster, NVIDIA GPUs in the latest 2020 laptops. But the NVIDIA GTX 1650 Ti isn't a slow coach by any measure. The ROG Zephyrus G14 remains an excellent performer that will handle any triple-A game title you throw at it.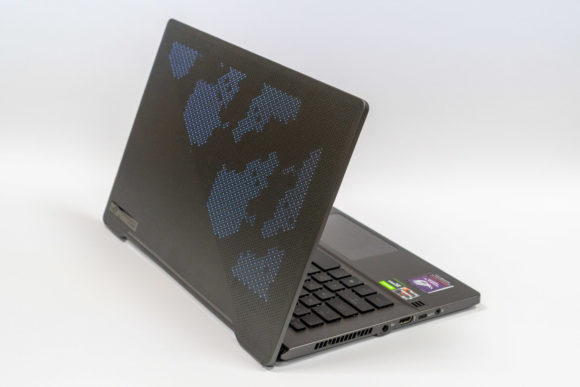 AniMe Matrix is fun. This is a triangular section on the back of the lid filled with 1,215 tiny LED pixels with 256 levels of brightness that can be customised to do a bunch of things. You can load your own pictures and create your own animation with them. You can scroll text in them. You can use AniMe Matrix to display a variety of system information or status indications. You can also make it animate according to audio produced in the laptop.
I had a bit of fun using AniMe Matrix to advertise this blog. It's a pity that there's no colour, and the kind of graphics you get is hardly high-res. You can configure it to keep running even when the laptop has its lid closed and thus in standby/sleep mode. It's also going to consume more battery, but it's definitely going to easily make this laptop most easily identifiable from afar.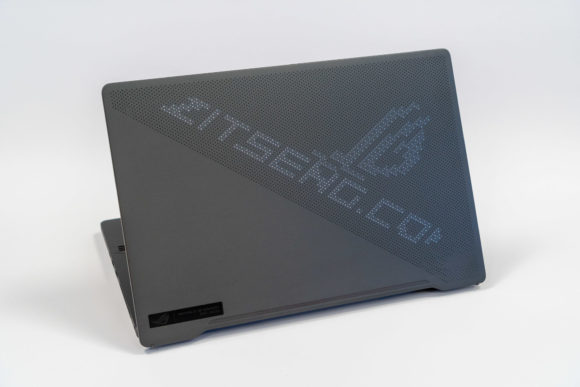 I don't think AniMe Matrix is a standout feature on its own that will sell the ROG Zephyrus G14. It is a bonus, that is for sure, but not likely something anyone would buy just for this feature.
The more remarkable highlight is about Team Red powering this laptop. The Ryzen 7 4800HS proves to be a capable performer. The integrated graphics performs better than Intel 10th Generation Iris Plus integrated graphics. The dedicated NVIDIA GTX 1650Ti provides the oomph for heavier graphics demands.
The ROG Zephyrus G14 measures 324 x 220 x 199 mm and weights 1.7 kg.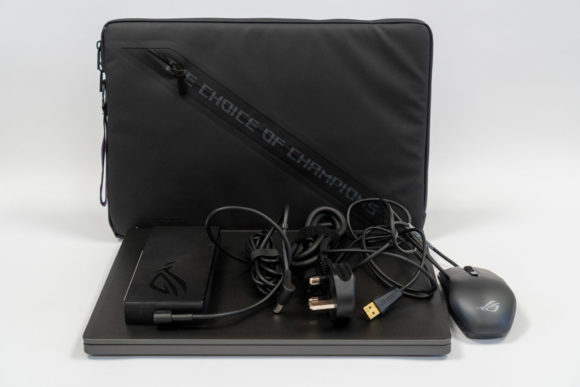 The retail box includes a mouse, power brick, and ROG laptop sleeve.
This ASUS ROG Zephyrus G14 (GA401II-GTX1650T1), as configured in this review with 16 GB RAM and 1 TB storage, retails at S$2,498, and comes with 2 years international warranty.
Summary
ASUS pick of the AMD Ryzen 7 4800HS, paired with a GTX 1650Ti, makes the ROG Zephyrus G14 a well-balanced gaming laptop with good battery life.
Pros:
AMD Ryzen 7 has excellent performance
Dedicated GPU handles triple-A games well
AniMe Matrix is cool and fun to have
Very good battery life for a gaming laptop
Cons: