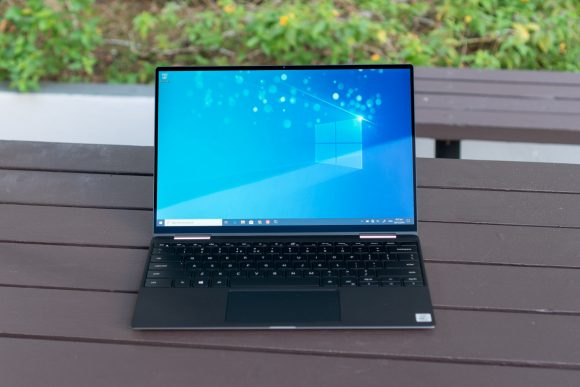 If you're looking for a notebook that you can use as a tablet from time to time, you're in luck. These days, 2-in-1 convertible don't ask you to make a lot of compromises, and the 2019 Dell XPS 13 7390 2-in-1 is one that is really good.
Dell's 13-inch XPS notebooks keep getting better and better every year. The XPS 13 9380 I reviewed last year has finally gotten so good that one had to nitpick to find something to complain about. The 13-inch lineup of XPS notebooks also included one 2-in-1 convertible back in 2017. The present XPS 13 7390 2-in-1 not only addresses the problems in the older device, but also brings several much welcomed enhancements.
As with recent XPS 13 devices, the XPS 13 7390 2-in-1 is a thin, svelte, and well-built device. It occupies less space than an A4 sheet of paper, measuring 296 mm in width and 207 mm in depth. It's just 7 mm thick at the front, increasing to 13 mm at the back. This convertible notebook is light, weighing in at 1.33 kg, though perhaps a little dense considering its small stature.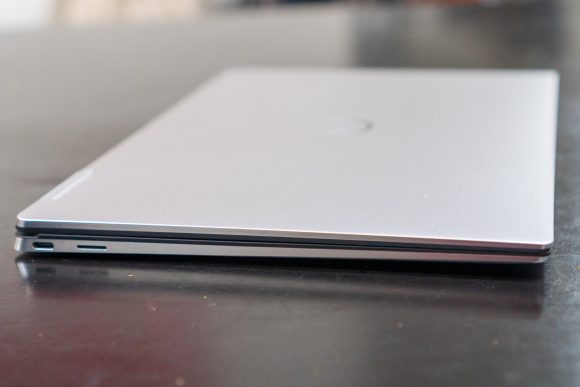 The CNC machined aluminium chassis offers excellent rigidity. The keyboard deck sports a carbon fibre composite finish. Unfortunately, the arctic white woven glass fibre finish which is available as an option in the U.S. is not offered here.
Dell has refined its InfinityEdge display on the XPS 13 7390 2-in-1. There's more screen than ever, now 7% larger than before with a new 13.4-inch diagonal size, with minimal bezels all around, including on the bottom edge. The screen also has a new 16:10 aspect ratio, which means it's taller than the typical 16:9 ones on most notebooks. The extra screen height might not sound a lot, but it does make a difference in productivity. As a side effect, there's now no space for the Dell logo in the bottom bezel, which I think is a good thing. I don't really need to be reminded every time I use this convertible notebook that it is a Dell product.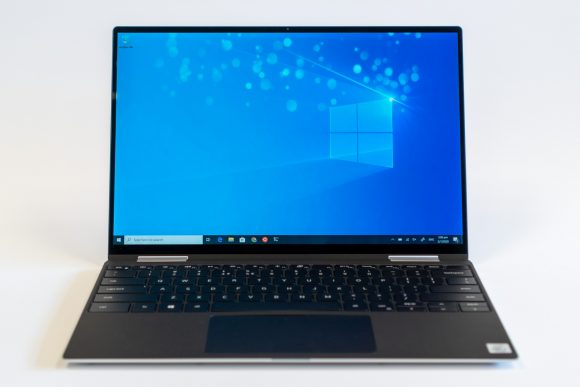 You can get the screen with either Full HD+ 1920×1200 pixel resolution, or Ultra HD+ 3840×2400 pixel resolution. Both are touch enabled with pen support. The screen is glossy, but an anti-glare coating on the Corning Gorilla Glass 5 helps make the screen usable in brightly-lit environments. It also helps that the screen is very, very, bright. The Full HD+ version, which I'm using for this review, reaches a very impressive 522 nits, according to measurements with my Spyder5PRO. On the flip side, this screen can't get very dim, still putting out 25 nits at minimum brightness.
Colours on the display are good, though nothing outstanding. My Spyder5PRO tests found colour gamut coverage at 97% sRGB, 69% NTSC, and 74% AdobeRGB. The display is also HDR 400 certified. Dell's Eyesafe display technology combines hardware and software adjustments to reduce blue light while still maintaining vivid colour integrity. I can't see Eyesafe working, which is good because it means colours aren't affected.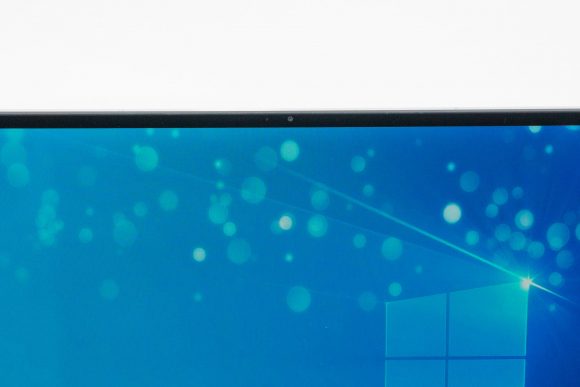 There's a tiny webcam properly located centered above the screen. This is something worth pointing out because Dell has been experimenting with various odd webcam locations below the screen for many iterations of their notebook. The XPS 13 9380, after many years, finally put the webcam in the right place, and I'm happy to see the same on the XPS 13 7390 2-in-1. The 720p webcam doesn't have great image quality, but will suffice for the occasional Skype video call. There is also a dual array digital microphone with far-field Cortana support on the top edge of the lid.
Unfortunately, this time, Dell did not use an IR-enabled Windows Hello camera. I'm not a big fan of Windows Hello facial recognition login, so it's not an issue for me, but I know many people like it and want it on their notebooks.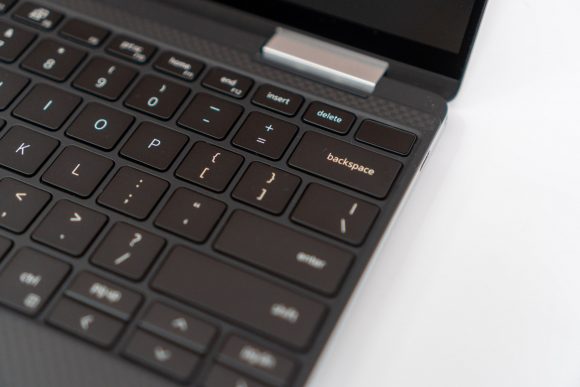 Windows Hello login is supported with a fingerprint reader integrated into the power button that has been designed to blend into the keyboard. Located in the top right corner, this button looks almost like another key on the keyboard.
The large, full-size, edge-to-edge keyboard looks really good, especially how the bezels are so small, like that around the InfinityEdge display. The keyboard, despite fitted in a smaller chassis, is more spacious than those on some larger notebooks.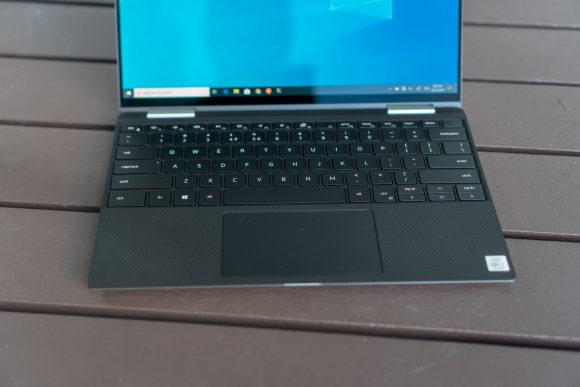 The XPS 13 7390 2-in-1 doesn't just look good on the outside, but I think it also looks beautiful with the lid open: it's all screen, all keyboard, and a relatively touchpad that's 19% larger than before. (It also helps to not see the Dell logo, and fortunately the Intel sticker on the keyboard deck can be easily removed.)
The new generation MagLev keys, however, could be a problem for some people. The keys feel like the butterfly ones used in MacBook Pro from 2016 to 2019, though these are more springy, similar to how I described the previous general MagLev keys in the XPS 13 9575. The specs say there's 1.3 mm of key travel, but I seem to feel there's less.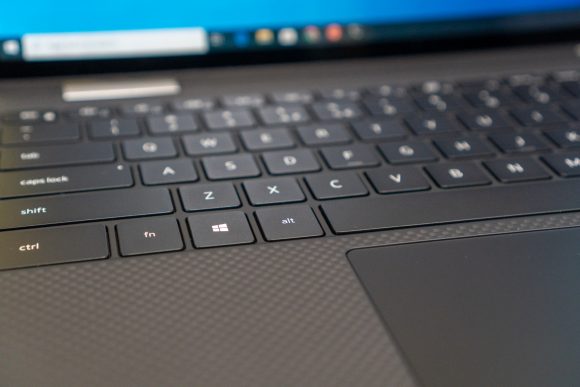 If you've a problem with those Macbook Pro keys, then you might not like these too. I'm cool with them, apart from how they kept getting stuck, and to me, these are better because they have more tactile feel, giving an overall better typing experience.
Worth noting also is that the keyboard layout is very standard, arrow keys logically are positioned, and there are dedicated Page Up and Page Down keys. There are no surprises with misplaced keys, wrongly-sized keys, or other oddities that will mess up your typing experience.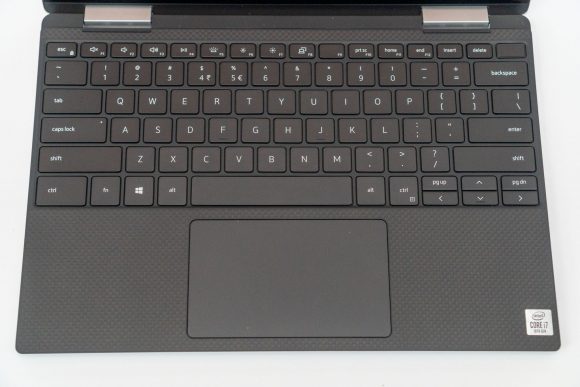 The keys have two levels of white backlighting (three, if you included "off"), so you can type in the dark. The backlight can auto-shutoff after some idle time to save power.
The glass touchpad now uses Windows Precision drivers. Though it may be larger than before, at just over 5-inch diagonal, it is only barely adequate in my books.
On ultra thin and light devices like the XPS 13 7390 2-in-1, the availability of ports tend to be quite limited. Be prepared to carry dongles.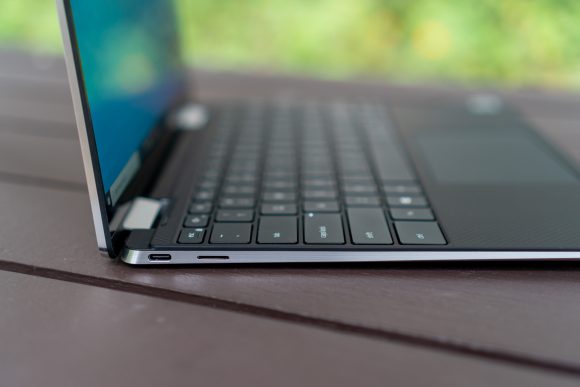 There is one Thunderbolt 3 port with Power Delivery and DisplayPort support on each side. These support PCIe Gen 3 x4, which means you should be able to connect an external GPU if you so require. These ports are also used to charge the XPS 13 7390 2-in-1, so with one on each side, you can choose which side to run your power cable.
There is a 3.5 mm audio jack on the right side, and the final port is a microSD card slot on the left side. I know most people who would need to connect a memory card will probably be using full-sized SD cards. It seems superfluous to have microSD card slots, something I'm puzzled with it appears in quite a lot of notebooks.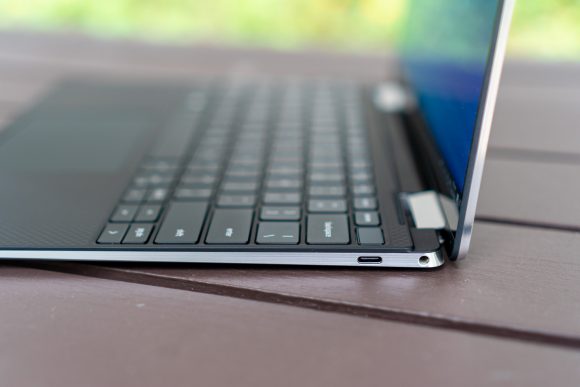 Now, the oft offered excuse for limited ports is that the size of the chassis simply can't accommodate more ports. We know that's never completely true, because someone will come up with a way to do that, although sometimes needing an innovative solution that not everyone will like. The 2019 HP Spectre x360 13-inch convertible, for example, uses a drop-jaw mechanism to accommodate a USB Type-A port.
Speakers are on the underside, but because of the angle at the side edges, you do get decent sound even when you place the XPS 13 7390 2-in-1 is placed on a table.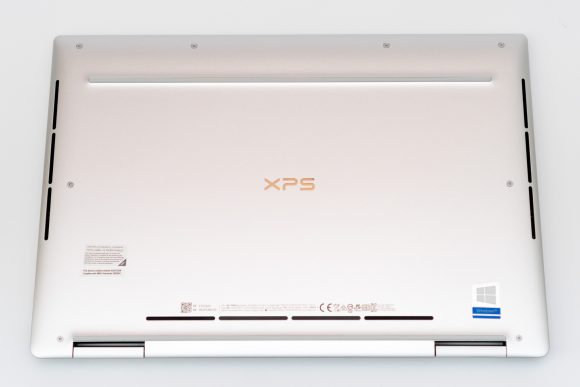 The variable torque hinge does a great job making it easy to open the lid, but yet stays rigid enough even in notebook mode to handle touch and pen interaction. While you can open the lid with one hand, it quickly becomes stiff enough before it reaches the optimal angle for notebook use.
The lid, when opened far enough, also just slightly lifts the back of the notebook up. It's like ASUS' ErgoLift hinges, but the one on the XPS 13 7390 2-in-1 is only ever so slight.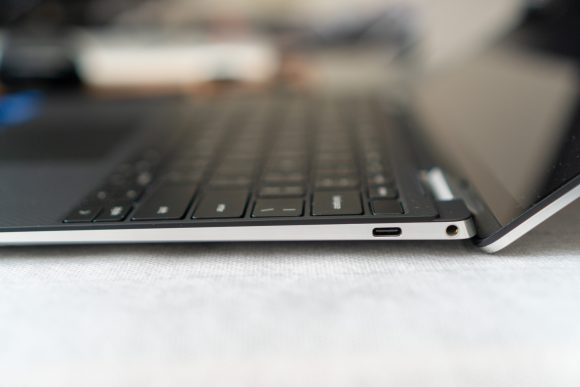 Dell includes a Premium Active Pen in the box. It's listed as "free", so I'm not sure how long it will stay that way, and it's worth noting that elsewhere, like in the U.S., this is a separate purchase.
The Premium Active Pen has 4096 levels of pressure sensitivity, tilt support, and 240 Hz report rate, allowing you you create a variety of pen strokes with minimum latency. I think artists will have great fun using this pen.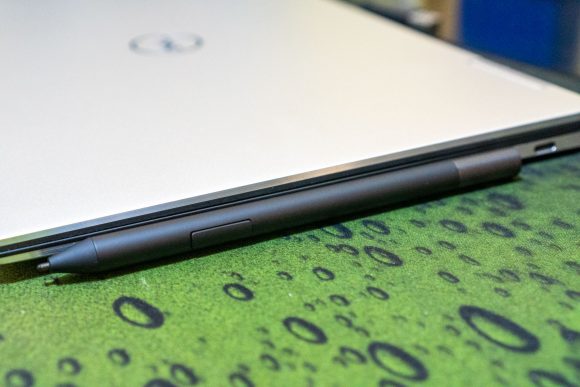 A really nice bonus with the Premium Active Pen is that it's a dual protocol pen, supporting both Wacom AES 1.0/2.0 and Microsoft's Pen Protocol (MPP) 1.51. I tested this stylus with both the Lenovo Yoga 920 (which uses AES) and Microsoft Surface Pro 7 (which uses MPP), so the dual protocol support works great with other devices.
There is no pen storage inside the XPS 13 7390 2-in-1, although it does attach magnetically to the side of the chassis. The magnetic force is quite strong, more than the Surface Pen on the Surface Pro 7, so it's not likely to lose the Dell Premium Active Pen easily.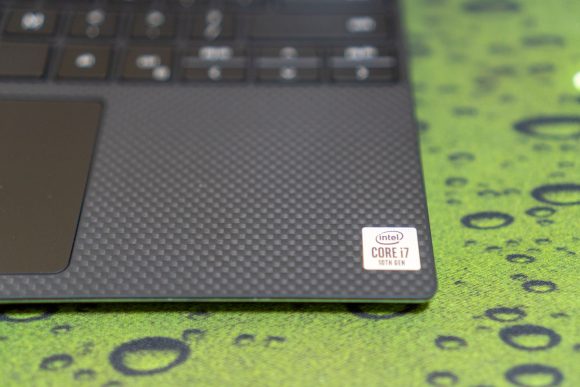 Under the hood, the XPS 13 7390 2-in-1 is powered by the new 10 nm Ice Lake-based 10th generation Intel Core processors. My particular unit sports the top-of-the-line i7-1065G7 processor, and it has integrated Intel Iris Plus Graphics with 64 execution units. There is 16 GB of 3733 MHz LPDDR4x memory and 512 GB of PCIe Gen 3 x4 NVMe storage. Sadly, everything is soldered on, and you cannot upgrade anything on your own. Make sure you get the config you really need, because you're going to be stuck with it.
For connectivity, this convertible notebook sports Killer Networking Wi-Fi 6 (802.11ax) and Bluetooth 5.0. The built-in 4-cell battery has 51 WHr capacity.
Performance with the Core i7-1065G7 is impressive, and particularly that the Intel Iris Plus Graphics can outperform NVIDIA GeForce MX250 dedicated graphics, at least in some benchmark tests.
The following table compares PCMark 10 scores for the XPS 13 7390 2-in-1 with the ASUS ZenBook Duo, which sports a Core i7-10510U with MX250:
PCMark 10
Dell XPS 13 7390 2-in-1
(i7-1065G7)
ASUS ZenBook Duo
(i7-10510U with MX250)
Overall
3648
3969
Essentials
9585
9784
Productivity
7224
7407
Digital Content Creation
3452
2802
Gaming
2005
1035
Do bear in mind that the i7-10510U has faster base and turbo clock frequencies than the i7-1065G7, hence the better scores in Essentials and Productivity components.
The following table shows Geekbench 5 scores of the same two notebooks:
Geekbench 5
Dell XPS 13 7390 2-in-1
(i7-1065G7)
ASUS ZenBook Duo
(i7-10510U with MX250)
Single-Core
1322
1302
Multi-Core
4707
4428
Compute (integrated)
10653
6097
Compute (dedicated)
n/a
9488
You can see in the Geekbench scores that the Intel's integrated GPU has a clear lead over the NVIDIA GeForce MX250.
Battery life is nothing short of awesome. Using PCMark 10's Battery Tests with the Modern Office workload, this convertible notebook ran an awesome 14 hours 12 minutes with a performance score of 6778. Under PCMark 8, the Home Conventional battery test ran for 4 hours 4 minutes while achieving a performance score of 3134.
[Note: I'm now making a point to report both the battery test run time and the performance score achieved. This will better show if some notebooks are lasting longer because they are significantly lowering performance. For my battery testing, I set the "Power mode" in Windows 10 to "Better battery", and screen brightness calibrated to approximately 150 nits.]
The Dell XPS 13 7390 2-in-1 is the first Intel Project Athena certified device. This is a new Intel initiative that sets standards to define modern advanced notebooks. It's like a remake of the Ultrabook specifications launched in 2011. There isn't much marketing around Project Athena, but in principle, it is supposed to help users identify so-called "engineered for mobile performance" notebooks.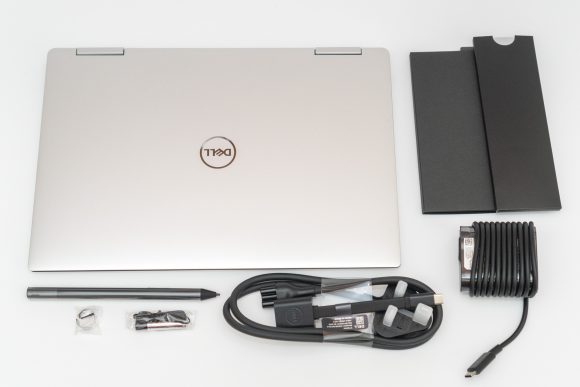 Dell ships a very small, compact, 45 Watt USB Type-C power adapter with the XPS 13 7390 2-in-1. A USB Type-A to Type-C adapter is also included in the box. As aforementioned, the Premium Active Pen pictured above is listed as "free".
The online price of the Dell XPS 13 7390 2-in-1 in my configuration (i7-1065G7, 16 GB RAM, 512 GB storage, Full HD+) is presently listed as $2,898,99. However, you can often get discounts, so the actual price you pay may be less.
Conclusion
The Dell XPS 7390 2-in-1 is an all-round excellent convertible notebook. If you're looking for a new notebook that can also work well as a tablet, you'll be hard pressed to find anything better at this time.
Pros:
Excellent build quality
Super bright display
More productive 16:10 aspect ratio for display
Excellent performance from Ice Lake processor
Excellent battery life
Cons: