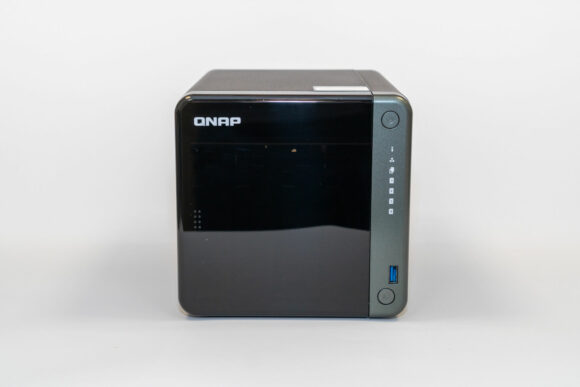 Network Attached Storage, or NAS, have become increasingly popular as prosumers become more concerned about their personal files and data. It's like the next thing to get after a broadband router in a home network setup. The QNAP TS-453D in this review can be a good start for prosumers looking to get their first NAS.
A NAS these days does a whole lot more than just being a networked storage that you access like a Windows shared folder. Beyond a variety of cloud storage features and other advanced data storage capabilities, you'd commonly find built-in solutions for management and consumption of multimedia content. One thing I really like in modern NAS is the ability to run virtual machines and containers.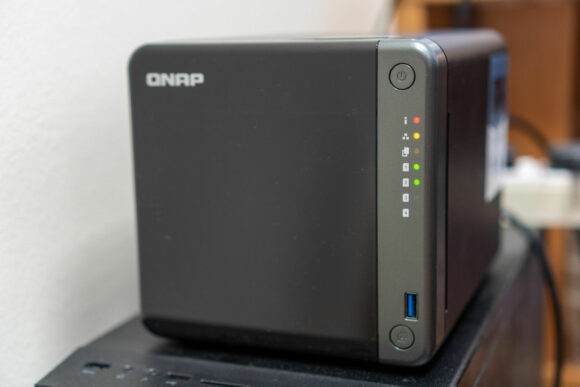 The QNAP TS-453D has just about everything any prosumer would expect in a NAS. This model comes with four drive bays that accommodate both 3.5-inch and 2.5-inch SATA drives. It has an optional M.2 slot to accommodate a SSD for cache acceleration. In case you feel that Gigabit Ethernet might not be fast enough some day, the TS-453D already comes with two RJ45 ports that support 2.5 Gigabit Ethernet, also known as mGig (multi-Gigabit).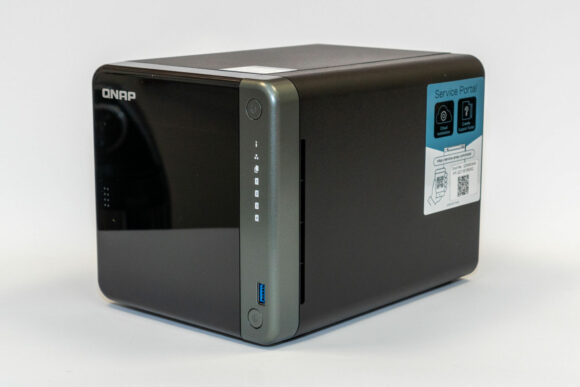 Physically, the QNAP TS-453D is not unlike other comparable NAS. Nevertheless, it is still worth noting some of the little features that come together to make the whole NAS easier to use.
The front of the QNAP TS-453D has an easy slide-out plastic cover that conceals the front-accessible drive bays. Installing and replacing hard disks is a very simple exercise, particularly with 3.5-inch drives.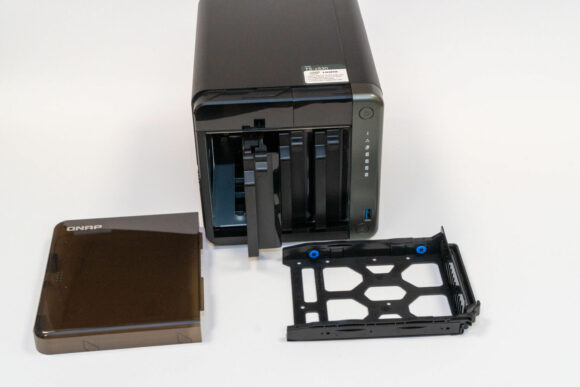 The drive trays are easy to slide out, and you can install and remove 3.5-inch drives into the tray without needing any tools. No screws are needed, so this is extremely convenient. Unfortunately, you'd need screws to secure 2.5-inch drives.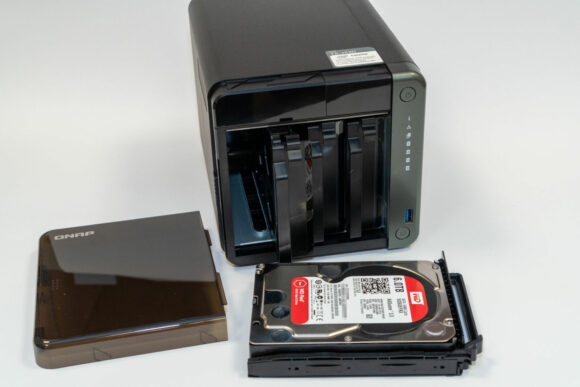 In the most common cases, if you use your NAS for mass storage, you'd probably use 3.5-inch hard disk drives which offer larger, and more value-for-money, storage capacities. However, if speed is more important to you, you can opt to use 2.5-inch SATA SSDs. You can also use both types of drives, and together with QNAP's amazing Qtier feature, create a single storage volume that automatically moves frequently accessed data to faster storage, and infrequently accessed data to slower storage.
There is one USB 3.2 Gen 1 port on the front for attaching peripherals such as removable storage. There is an additional USB 3.2 Gen 1 port on the back, along with three more USB 2.0 ports.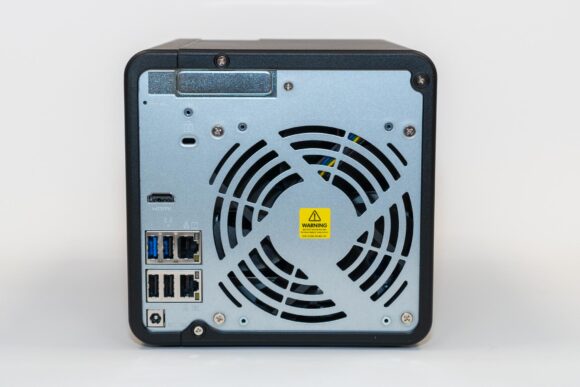 The other ports on the back are the two 2.5 Gigabit Ethernet ports, DC power barrel jack, and a HDMI 2.0 port.
That HDMI port there is what allows you to turn the QNAP TS-453D into a multimedia entertainment station. It supports 4K UHD (3840×2160) resolution video at 60 fps, pretty sweet for any videos that you may want to watch.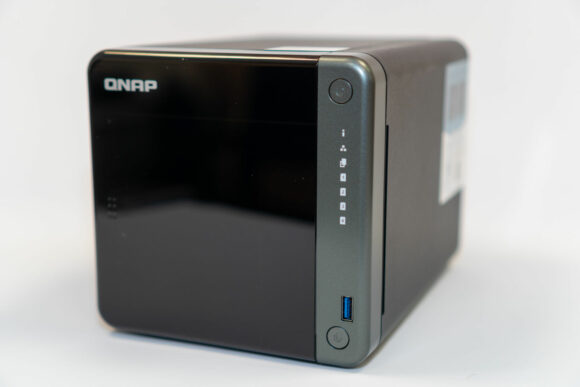 QNAP has designed the TS-453D with some expansibility and upgrade options. For example, there is a PCIe expansion port built-in, with support for adding a 5x 5G/2.5G/1G mGig Ethernet port card, or a card with 10 Gigabit Ethernet port. The aforementioned M.2 SSD slot allows for adding cache acceleration. If you got the TS-453D model with 4 GB of RAM, you'll find a free RAM slot to top up another 4 GB of RAM.
Many people will probably think that a NAS surely allows expanding storage easily. Usually yes. But do note that an in-place hard disk drive capacity expansion of a RAID group is not something we should always assume is supported. I am referring to a RAID group capacity upgrade by swapping out and replacing existing disks with larger ones, without adding, even temporarily, hard disks to facilitate the data migration.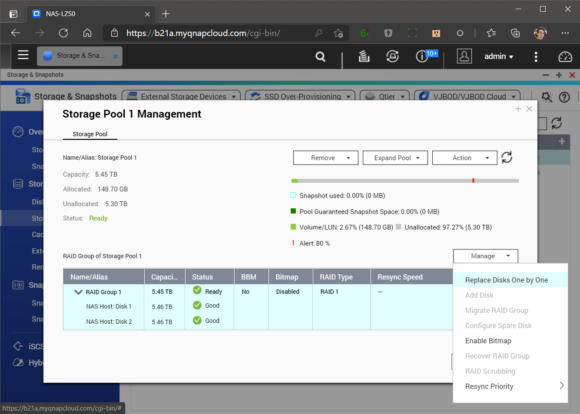 The QNAP TS-453D makes this capacity expansion easy by replacing disks one by one. It is really important to be able to grow, in-place, over time. It could be because you've run out of disk space, or you simply wanted to wait for larger capacity disks to reach a more palatable price point before upgrading to them.
QNAP supports a variety of RAID modes, including JBOD mode, RAID 0, RAID 1, RAID 5, RAID 6, RAID 10, RAID 50, and RAID 60. If you're familiar with RAID technologies, you probably know what you want, and if otherwise, just consult QNAP's help references.
Volumes can be thin-provisioned or thick-provisioned. The former means that space is allocated from a storage pool as and when it is required, while the latter means that space is reserved at volume creation time. Since terminology sometimes vary from manufacturer to manufacturer, in the case of the QNAP TS-453D, the storage pool is a logical collection of space formed by all the disks (and RAID group) assigned to it.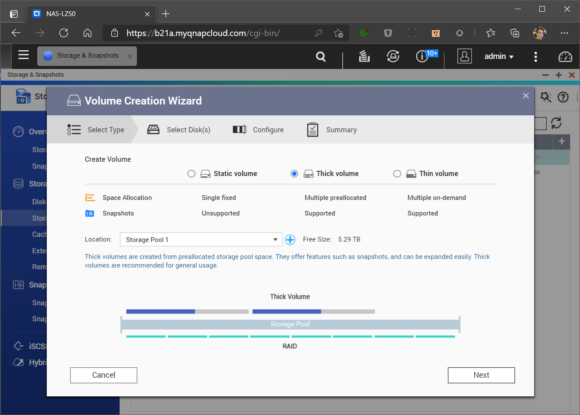 You can also create static volumes, which are simple, fixed, space from disks and RAID groups used to create the volume. Static volumes miss out on many advanced QNAP features such as snapshots and Qtier, but do offer slightly better performance.
I personally prefer going with thin-provisioned volumes for the greatest flexibility in space management and growth.
QNAP offers another way to expand storage. If you really wanted to add more than four hard disk drives to the TS-453D, you have some options to connect additional expansion enclosures. The TR-002 and TR-004 enclosures, for example, add additional two and four drive bays respectively. They connect via the USB 3.2 Gen 1 ports on the TS-453D, and you can have up to two of each. You can grow the four drive bays in the TS-453D to 12 drive bays with these expansion enclosures!
The last few screenshots give you a glimpse of how the QNAP admin web interface looks like. The main screen, like Synology DSM software, is designed to resemble an OS GUI desktop. It's functional, I get it, though I don't fancy it at all, but perhaps this is what other users might find familiar and easier to navigate.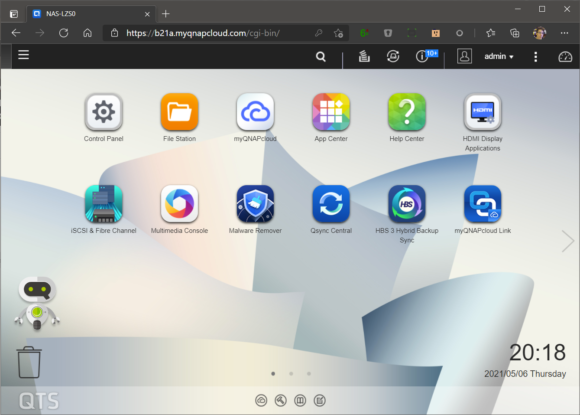 Perhaps if you came from a competitor product, like a Synology, you would find yourself completely comfortable with this admin user interface.
There is, for example, a familiar app store, like with Synology's DSM. You can find a whole bunch of useful software to run on the TS-453D. If you install WordPress, for example, your TS-453D can work as a web server for your blog.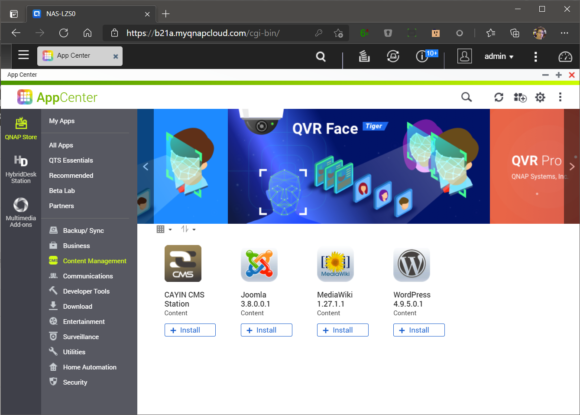 There's an awful wide variety of apps you can install. A category of interest to me is Surveillance apps, which allow the TS-453D to be used as a network video recorder. The Surveillance Station app, notably, offers pretty impressive capabilities you'd find in professional surveillance and video management systems. It's important to save your video recordings to the NAS instead of a local SD card on the camera itself, since if the camera is stolen, you'll still have the video footage.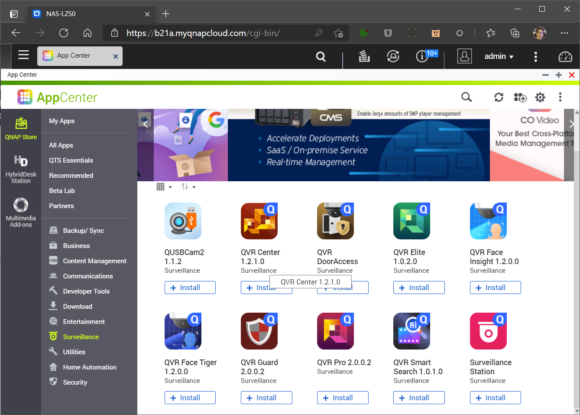 The apps in QNAP's app store are all cool and nice to have. But they aren't the same thing as full virtualisation. To that end, you need to install the Virtualization Station app to gain access to full virtualisation capabilities in the QNAP TS-453D.
Virtualization Station is easy to use, if you're at least familiar with some other mainstream hypervisor platform like VMware. You can basically supply an installation ISO to boot from, then install an operating system like Ubuntu. Virtual switches are supported, and GUI access to the operating system is provided via VNC.
QNAP provides a convenient way to download free Windows virtual machine images. These images are meant for uses to evaluate a variety of web browsers in different versions of Windows, including Microsoft Edge in Windows 10 1809. The virtual machine images come with a license valid for 90 days.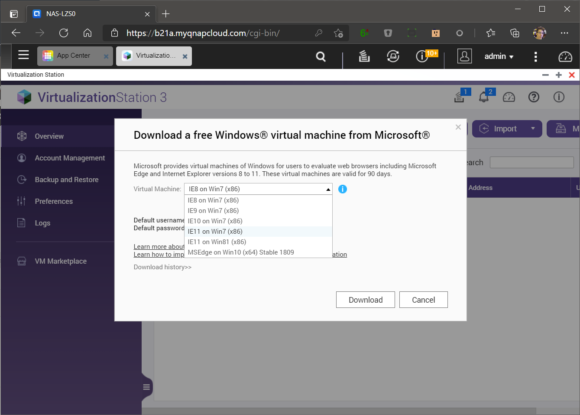 This Windows 10 installation may not be too exciting, but it serves as a cool demonstration of the virtualisation capabilities in the QNAP TS-453D.
Virtualization Station also offers another app store, VM Marketplace, which at this time offers a very limited set of VM images. I spied a nice one in the list, pfSense, an open-source firewall appliance which you can use to turn the TS-453D into a firewall device.
I'll be honest. Virtualisation on a the QNAP TS-453D with 4 GB or 8 GB of RAM is truly a challenge. It will work, and a lean installation of Ubuntu might even run quite well. However, the QNAP TS-453D is certainly not cut out to be a virtualisation host with heavy workload.
Let me just come back to the core functions of the QNAP TS-453D, i.e., network storage. The QNAP Hybrid Backup Sync (HBS) software offers a great solution to many backup scenarios that you may need to take care of. For example, HBS can backup data to/from QNAP NAS devices, remote servers, and popular cloud storage providers. You can copy files, move files, or keep folders in sync, and the backup jobs can be scheduled, sync real-time, or activated manually.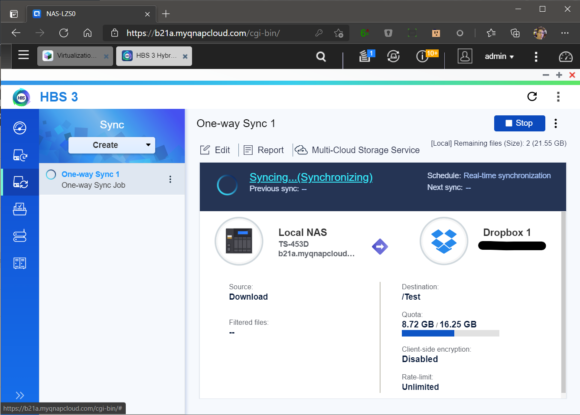 With HBS, you can create a comprehensive scheme of backups. This includes both backups of data in the TS-453D to somewhere else, as well as backups of data somewhere else into the TS-453D. The former is something very important, because despite redundancies provided by RAID, you still need to consider the scenario where a catastrophic failure takes out the entire TS-453D, so an off-site backup is always a necessity.
The QNAP TS-453D is a great starter for prosumers. The four bay configuration provides a decent RAID 5 build, and the in-place hard disk drive replacement enables easy capacity upgrades in future. There are plenty of features that make the QNAP TS-453D a pretty capable NAS.
Under the hood, the TS-453D is powered by an Intel Celeron J4125 quad-core 2.0 GHz processor (busts up to 2.7 GHz). This is a low-power processor with 10 Watt TDP. There are configuration options for either 4 GB or 8 GB or RAM.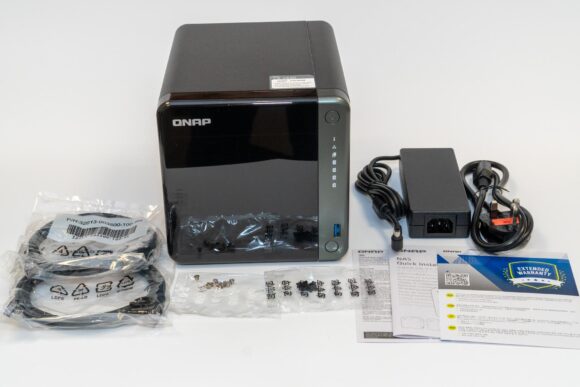 In the box, the QNAP TS-453D comes a power adapter, two UTP cables, and screws for the hard disk drive mounting.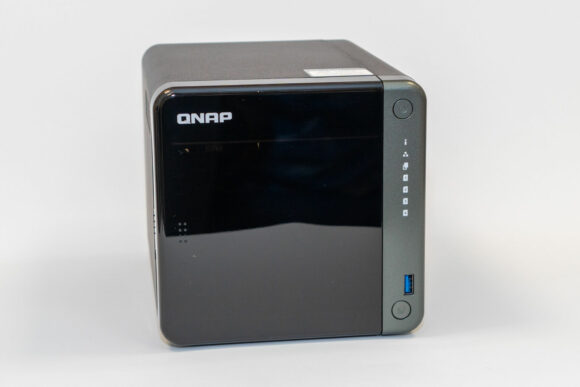 The QNAP TS-453D with 4 GB RAM retails at $899, and it is available from QNAP's store on Shopee, as well as their distributors and resellers. It comes with three years of warranty, which you can extend to five years.