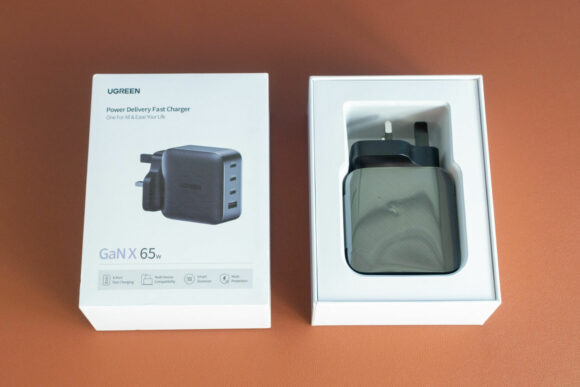 I've always said, you can never have enough chargers. Always good to have some spares around, especially capable ones like this 65W GaN charger from UGREEN. This one comes with 3x USB Type-C ports and one USB Type-A port, great for people who mostly use Type-C devices nowadays.
Times have certainly marched on. We used to have multi-port chargers that had 3x Type-A ports and just one Type-C port. It's the other way around now. Almost all my devices use USB Type-C. But it is always handy to have a legacy USB Type-A port available, so I'm quite happy to see this combination of ports on this UGREEN charger.
The use of Gallium-Nitride (GaN) is also not cutting edge anymore. I've reviewed many GaN chargers in the past. This is basically a more advanced material used for semiconductors in newer generation chargers, enabling them to run more efficiently, while being more compact.
This UGREEN 65W charger supports USB Type-C Power Delivery, of course. The top two Type-C ports each support up to 65W individually. The 3rd Type-C port maxes out at 18W. The last USB Type-A port supports 5V at up to 4.5A (total 22.5W), 9V at up to 2A, and 12V at up to 1.5A.
Using any combination of 2 or more ports limits the maximum output power on each port. I had no problems charging my Dell XPS 13 2-in-1 convertible and my Pixel 5 (rapid charging) simultaneously. You'll have no problem charging most higher-power gadgets, including laptops like MacBook Pro, MacBook Air, Microsoft Surface Pro 7, and Microsoft Surface GO.
This charger comes with a fixed UK 3-pin plug that is not swappable. This is probably not an issue presently since COVID-19 is limiting travel opportunities. However, if you are looking at travel use in the future, this could be less convenient than chargers with swappable plug heads.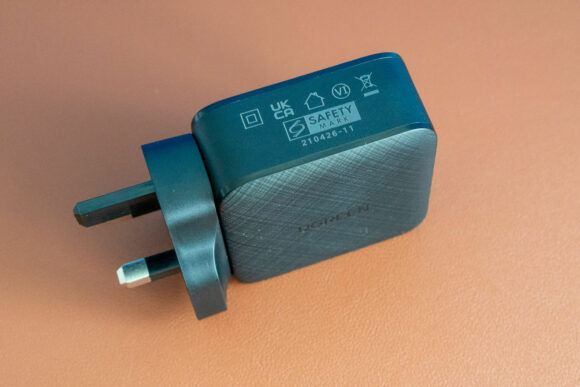 For those who have doubts about the product safety, UGREEN has taken the step to get this 65W GaN charger certified with the Safety Mark in Singapore. This is a safe charger, but if you need some assurance from a certification body, here is the "stamp of approval" from a Singapore authority.
You can also get this 65W GaN charger with a very nice braided USB-C cable which supports 65W Power Delivery. There's a choice of 1 or 2 metre lengths available.
It's always convenient to have a compact multi-port charger around, especially one that has enough USB Type-C powers with Power Delivery. This UGREEN charger is capable, efficiently, and runs cool. It's easy to carry around in your bag so you can use it anywhere you go.
This UGREEN 65W UK Plug GaN Charger Quick Charge 4.0 3.0 Type C Fast Charger Usb C Charger is available from Shopee at S$39.99 (charger alone), or S$46.99 with a 1 metre cable, or S$47.99 with a 2 metre cable.