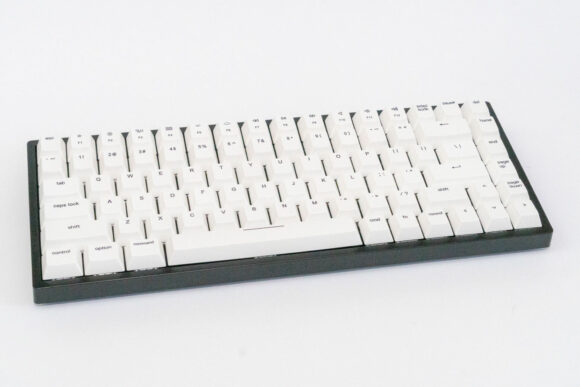 Anyone who spends lots of time typing at their computer are going to mind their keyboard very much. Like me. I've used many keyboards, and interestingly enough, the Vissles V84 Wireless Mechanical Keyboard had not struck me as something I'd like. I changed my mind after a few days using it.
Let me tell you something about my keyboard preferences. I like keys with subtle tactile feedback. Yes, think Cherry MX Brown switches. I used a Keychron K1 v4 for some time. I'm not the kind that absolutely need to have to use mechanical keys. For example, I currently use and absolutely love the Logitech MX Keys. There are also cheap keyboards that I like, such as Logitech's MK850 combo. Sadly the keyboard from the MK850 is not sold on its own.
My point here is that I'm quite open about keyboards. This is going to be important, because I didn't expect to be impressed with the Vissles V84 at the outset. You see, it has linear switches.
It's not a problem for people who love Cherry MX Reds. But I'm the Cherry MX Brown kind of person. I want that distinct, even if subtle, tactile bump when I press down on the keys.
The Vissles V84's own brand linear switches aren't the kind that I expect to like. But I was truly surprised by how their switches changed my mind that quickly. As soon as I typed my first sentence using the Vissles V84, I felt these were, in fact, something I would enjoy typing on. The keys were light, yet sturdy. There's 4 mm of travel, and an actuation force of 45 +/- 5 grams. The keys bottom out with a soft thud, not loud enough to annoy anyone who has to work in close-quarters with you.
I found myself typing away effortlessly on the Vissles V84. In fact, after less than an hour of use, I found myself able to type quite productively, and possibly even faster than I do on the Logitech MX Keys that I currently use most actively.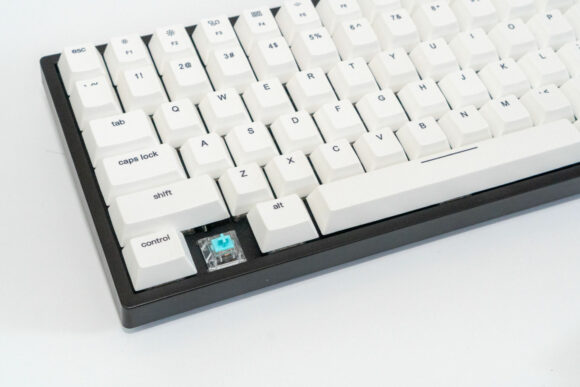 I do mind a little bit that the PBT keycaps seem to be a little narrower at the top than usual. This seems to create more space between the keys, and would mean that I'd have to aim my fingers more accurately. I think one could get used to it.
The Vissles V84 is a 75% TenKeyLess layout keyboard. This means there's no dedicated number pad, and no dedicated navigation cluster. However, you still get navigation keys lined up on the right edge, as well as an inverted-T cursor keys at the bottom.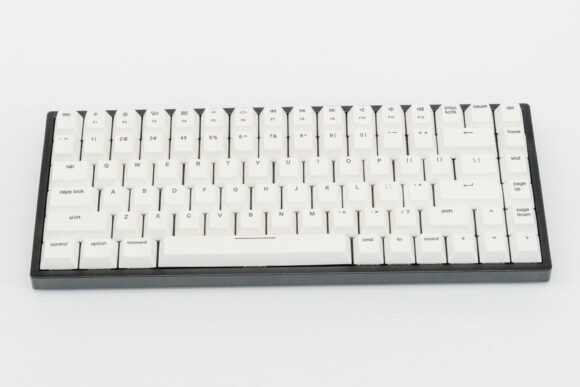 For many people, this is good layout, because the keyboard takes up less space, while still preserving usable navigation keys. The main less is the number pad, which mostly matters only to people who need to do lots of number entry.
While compact in form factor, the Vissles V84 is a little thick on its side profile. It's mostly not an issue, since they also provide a wrist rest, and even a magnetic feet to prop up the keyboard at a steeper angle if that's what you like.
Let me quickly list a couple of features: RGB backlighting, Bluetooth 5.1 support, has a 3750 mAh lithium battery, and is charged via USB Type-C. The keyboard weighs 824 grams, and has dimenions of 316 x 126 x 39 mm.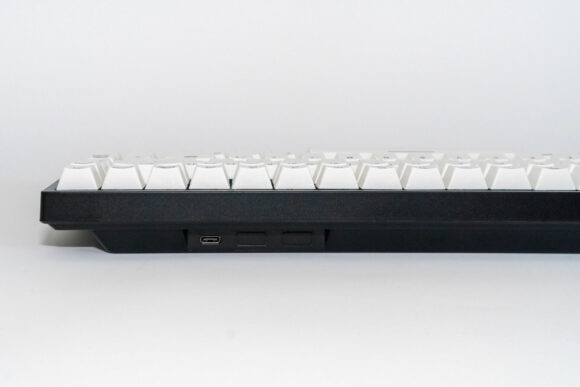 The RGB lighting options include 19 dynamic patterns and 9 monochrome types. I personally don't fancy the RGB lighting, so the simple monochrome options are enough bling for me. You can adjust the brightness of the lights. The lights mostly show up around the keys, though a small bit can be visible through the keys.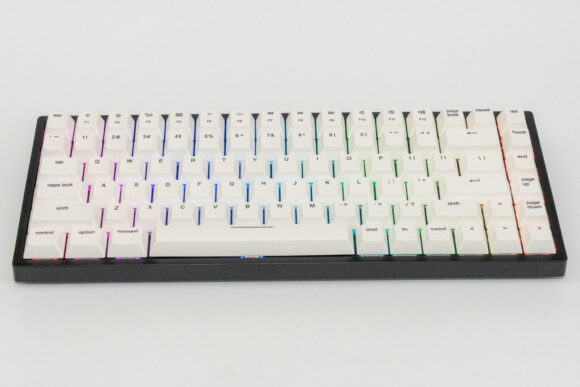 While some multi-device Bluetooth keyboards can pair with up to three devices, the Vissles V84 pairs with up to an impressive number of five devices. You can quickly switch between any of five devices easily by pressing the Fn key with Q, W, E, R, T or Y keys.
The Vissles V84 is compatible with both Mac and Windows computers. The default keycaps on the keyboard are for Mac keys, but extras are included for Windows users. A keycap puller is provided in the box. In fact, a switch puller is also included, because the switches are hot-swappable.
If macros are a thing for you, then you might be happy to know the Vissles V84 supports them. You can program up to 15 characters per key. Switching between modes to use the macros may be a little cumbersome though.
Finally, but not the least, Vissles V84 comes with a simple app to help customise the keyboard. Memorising the key sequences to get various things done can be quite difficult, so the app is a welcome relief.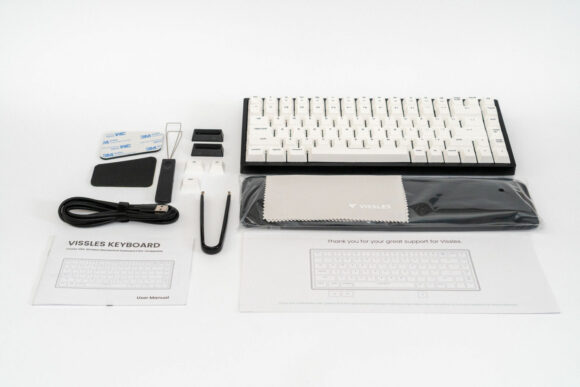 Apart from the extra keycaps, keycap puller, switch puller, magnetic stand, and wrist rest earlier mentioned, the Vissles V84 also comes with a USB Type-C cable, non-slip mat (for the wrist rest), cleaning cloth, a quick user guide and a user manual. Basically, you get everything you'd ever need to use the keyboard.
The Vissles V84 Wireless Mechanical Keyboard retails at US$99. You can purchase directly from Vissles online store.
Summary
The Vissles V84 keyboard is absolutely a joy to use. I didn't expect to like the linear switches as much as I did. The lightness, yet sturdiness of the keys, really helps me to type faster than I've ever had before. The multi-device pairing is really useful for people who need to use the keyboard with multiple computers.
My only gripe is that I really would like a full-sized keyboard, and I'm disappointed that such an option is not available.