If you're looking to upgrade your bedside clock, Lenovo has something for you. Their new Lenovo Smart Clock 2 with Wireless Charging Dock does quite a couple of things, including features such as an always-listening Google Assistant speaker, night light, and charging for your smart gadgets.
The Lenovo Smart Clock 2 is an update of the original Lenovo Smart Clock. It still spots a nice fabric material which gives the device a more homey-feel, not unlike how fabric is also used in the Google Nest Mini and Nest Hub. Whether you place it on a bedside table, study desk, or wall shelf, the Lenovo Smart Clock 2 will blend in nicely and not look out of place.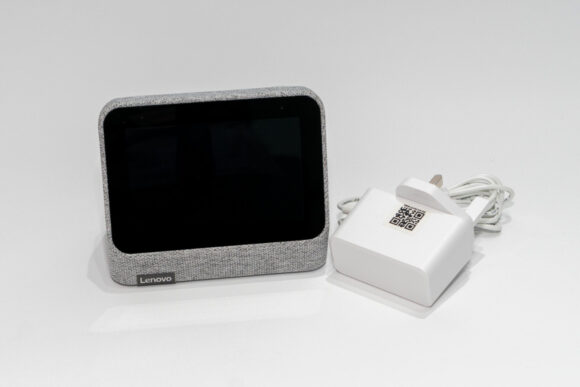 The 4-inch touch-enabled IPS LCD panel is not something that will wow in terms of display quality, colour, and vibrancy. This is probably alright, since the Lenovo Smart Clock 2 is not designed for media consumption. You cannot view videos on this device. That's why it is a "clock", and Lenovo doesn't call it a display. For purpose of displaying time, as well as various settings and controls, the display is functional and works adequately.
There is little point, anyway, to try to watch videos on a 4-inch display. Your smartphone most likely has a larger screen.
The display can tell you what's coming up on your calendar, let you check the weather, control music, and show home automation controls, among others. So, no, this is not just a clock.
The 1.5-inch 3W front-firing speakers do a decent job playing music and sounding your alarm. Just bear in mind that the Lenovo Smart Clock 2 is designed for bedside table or study desk use, so it won't get you anywhere near having party music filling a room.
Power to the Lenovo Smart Clock 2 is supplied via a DC barrel jack on the back. A physical microphone mute switch is located beside it. Volume controls are located along the top of the clock.
A key upgrade from the original Smart Clock is the new Wireless Charging Dock. This, as the name implies, lets you charge your wireless devices. It supports up to 10W fast charging, and it is MagSafe compatible (for new iPhones).
A USB Type-A port is located on the back of the port, so you can use it to charge a wired device. This means the dock can charge two devices at once: one wirelessly and one with a wired USB cable.
The dock also has a nightlight function, putting out 11 lumens of brightness, enough to find your away around at night.
As an always-on Google Assistant speaker, the Lenovo Smart Clock 2 can respond to your voice commands just like the Google Nest Mini or Nest Hub. You can ask about your daily schedule, set an alarm, play music, or trigger Google Assistant routines. You can cast audio from other devices to this clock.
The Lenovo Smart Clock also supports Bluetooth 4.2, so you can also stream music directly from any Bluetooth music source.
Under the hood, the Lenovo Smart Clock 2 is powered by a MediaTek MT8167S processor with 1 GB of RAM and 8 GB of flash storage. The device supports only 2.4 GHz 802.11 b/g/n Wi-Fi.
The Lenovo Smart Clock 2 with Wireless Charging Dock retails at $129.
The Google Nest Hub may cost only $10 more. However, considering the wireless/wired charging and nightlight capabilities, the Lenovo Smart Clock 2 with Wireless Charging Dock may be more suited for use at your bedside.