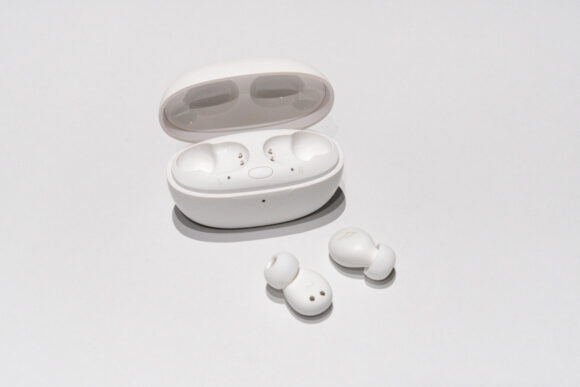 There are so many true wireless earphones on the market, so when 1More came up with one more (ya, pun intended) such earbuds, I was a bit dubious about how they can stand out. They said their new ComfoBuds Z is engineered to help you sleep better. Okay, let's see about that.
How can earbuds help you sleep better? For 1More, there are two parts to it. One part of it has got to do with the physical design of the product. The ComfoBuds Z are so tiny, you can go to bed with them in your ears.
The ComfoBuds Z are like Airpods Pro without the stem. The dimensions given in the specifications state 24 x 9.2 x 14.2 mm. The main body of the earbud basically fits entirely within your outer ear. You could lie down with your head on the side without feeling discomfort from a gadget stuck in your ear.
Weighing only 2.7 grams for each earbud, the 1More ComfoBuds Z are so light you practically won't feel them at all. This, and its tiny size, come together to make these earbuds practical to wear to sleep.
I tried them, and I'm convinced you can indeed fall asleep without these earbuds bothering you.
The second part of the sleep-better engineering is about the 1More mobile app. The app basically contains a bunch of nice, soothing, sounds to help lull you to sleep. Soothing sounds like, you know, breeze, drizzle, medium fire, spring water, summer rain, and thunderstorm. Pick what works for you.
I find that part, of course, a little gimmicky because, after all, you could also find all these white noise sounds on YouTube and elsewhere. Of course, having 1More putting them together for you makes it slightly more convenient.
Plus, the app can be set to play the sounds for 30, 60, 90, 120, or 150 minutes. These time periods are fixed, unfortunately. You cannot pick an arbitrary interval, which seems to be shame since it would be so easy to do that in the app.
The sound quality from the 1More ComfoBuds Z is good. To be clear, it is not spectacular, but it does produce all-around decent sound, given its price point. The bass is well represented, the mids are clear, and the highs sound sweet. These are easy and soothing to listen to, exactly what you'll want if you're going to be listening to them in bed.
From the 1More app, you get two EQ adjustments: one for a more "music" tuning and the other for a more "soothing" feel.
The 1More ComfoBuds Z has no buttons, touch or otherwise, no microphones, and no sensors of any sort. To play/pause, skip tracks, or adjust volume, you'll have to use your phone, or whichever the sound source is. 1More probably had to skip these features in order to make the earbuds as tiny as they are.
There's just 30 mAh of battery in each earbud, giving you just 2.5 hours of Bluetooth playtime (3.5 hours with BLE). The including charging case has 410 mAh of battery capacity, so in principle it'll fully recharge the earbuds 6 times. The case itself is has a USB Type-C port for charging. It tops up fully in 65 minutes.
The earbuds support Bluetooth 5.0, with A2DP, AVRCP, and BLE Bluetooth profiles. There is no support for HD sound.
Included in the retail box, the ComfoBuds Z comes with a charging cable, 4 pairs of silicon eartips, a user guide, a warranty guide, and a cloth pouch.
1More seems to have engineered the ComfoBuds Z with sleep being a key use case. The earbuds may be basic and light on features, but they are very comfortable to wear. I could sleep on my side, earbuds in my ear, pillow pushed against it, but not feel any discomfort. To this end, I think 1More has succeeded in creating earbuds that really work for sleeping.
The 1More ComfoBuds Z retails at $159, and is available from their Lazada store, AV One, Connect-IT, Challenger, Headphones.SG, Isetan Scotts L3, Isetan Tampines L2, KrisShop, MobyShop, Mobile Bash, Popular, Stereo Electronics, Takashimaya L3, Treoo, and XGear.