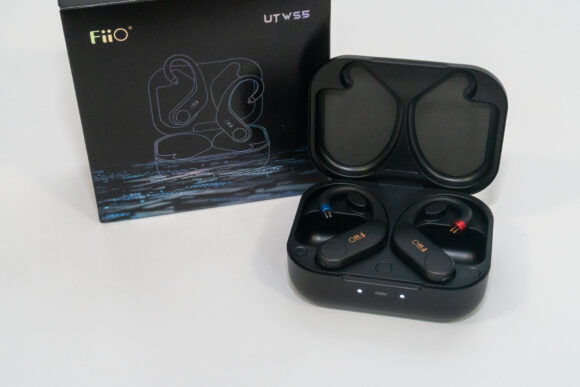 One of the things I've been wanting to do for a very long time was to turn my favourite pair of custom in-ear monitors (CIEM) into a pair of true wireless earphones. FiiO's UTWS5 finally lets me do just that, converting my trusty wired JH Audio JH16 into a truly wireless listening experience.
It's not my first time trying to modernise my JH16 by giving it Bluetooth capabilities. In fact, back in 2018, I've complained about the mess of Bluetooth dongles. Many failed to deliver satisfactory listening experiences. It was then that I found Radsone's EarStudio ES100 that was mostly good enough. It was not truly wireless, because wires were still needed between the Bluetooth adapter and the earpieces.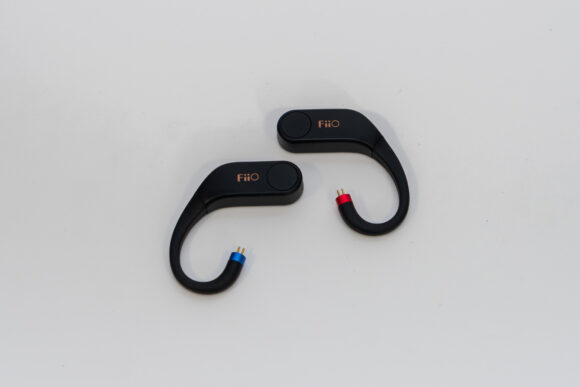 The FiiO UTWS5 comes as a two-piece gadget, one each attaching directly to the left and right IEM earpieces. There are no wires. Basically, you can convert any wired IEM into a true wireless earphones, with a smallish gadget that hooks from behind your ears to the earpieces.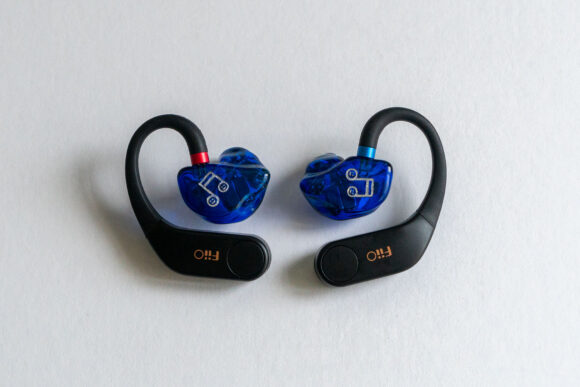 Just like that, any wired IEM becomes a truly wireless earphone. The UTWS5 originally launched in late 2021 with MMCX connectors, but since then, you can also order them with a 2-pin connector, thus extending its compatibility to many more types of IEMs. The 2-pin connector fits my JH16 just fine.
That adapter dangling behind your ear might look a bit fiddly, but in my experience, they are not a bother at all. Each adapter weighs just 8 grams, so it's hardly going to be noticeable. The ear hooks have a memory wire within, but the exterior soft silicon material feels comfortable.
There's a large physical button at the end of each adapter. They are easy to locate, though I did need to get used to find it behind my ear instead of, as is typically the case, being on the earpiece in the ear. There's no way the button can be accidentally engaged, not just because it requires a physical click, but also since it's not actually on the earpiece that you grab on to put on or take off from your ears.
The UTWS5's carrying case is impressively well-designed and robustly built. It seems large compared with cases of most true wireless earphones, but there's an excellent reason for that. This carry case accommodates the UTWS5 adapters with the IEM earpieces attached, so you don't have to worry about carrying the earpieces themselves separately. My JH16 fits in the case perfectly, and it's likely that most CIEMs will also fit just fine.
Magnets on the UTWS5 help keep the adapters in position inside the case. They are also useful to keep both adapters "stuck together" if for whatever reason you want them outside the case when you're not using them. The adapters are electrically connected with the case using pogo pins.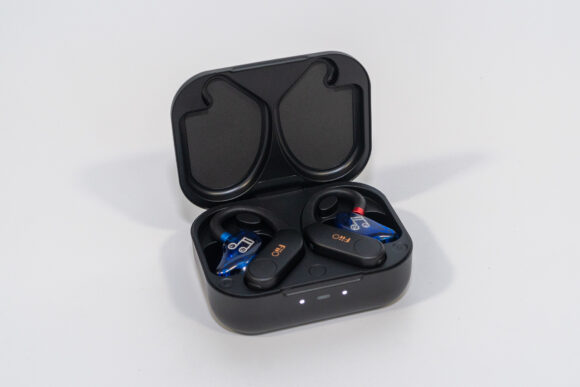 The lid of the case closes with a nice thump. LED indicates on the front show various charging status of the earpiece and the case itself. There's a USB Type-C port on the back for charging. The case also charges wirelessly.
The UTWS5 is quite a capable Bluetooth adapter. It has Bluetooth 5.2, and supports AAC, SBC, aptX and aptX Adaptive codecs. The AKM 4332 32-bit DAC in each earpiece supports 24-bit 96 kHz sample rate. The SNR is over 109 dB, with noise floor under 2uV. Output power is 54 mW at 16Ω. Each earpiece has a 60 mAh battery, and the carry case provides an additional 800 mAh capacity.
My JH16 is a sensitive IEM. In the past, many Bluetooth dongles disappointed me because of the noise floor; the noise is often quite noticeable. I'm happy to report that the UTWS5 has no discernible noise when used with the JH16.
Sound quality is a more difficult story to tell. I can only tell you about my experience with the UTWS5 driving my JH16. It may be different for other headphones.
With the JH16, the UTWS5 sounds slightly warm in the midrange. I would have preferred something flat. This can be adjusted with the FiiO Control mobile app, which I'll talk about a little more later. More importantly, sound from the UTWS5 remains detailed, and overall, the JH16 sounds mostly as good as I expect it to be. It is not much different from my last Bluetooth DAC, the EarStudio ES100.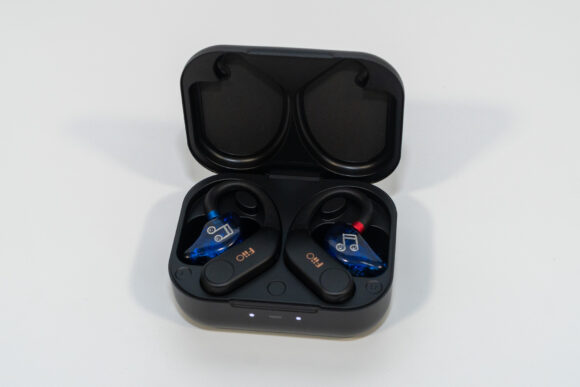 The UTWS5 can be used for calls. There are two microphones on each adapter. Unfortunately, with the adapter behind the ear, the microphones are now even further away from the mouth than it is with the usual true wireless earphones. The microphones work well in a quiet environment, but noise cancellation becomes a challenging problem when there is background noise.
FiiO has FiiO Control mobile app that lets you configure some settings like indicator lights, idle power off, game mode (low latency), and button functions. You also get a 10-band EQ, pre-defined EQs, options for low pass filter, and some controls over volume.
The UTWS5 supports ambient sound mode. This is where the UTWS5 uses its microphones to pick up ambient sounds and play it through the earphones, so that if you have a good noise isolating earphones (like CIEMs often are), you can clearly pick up sounds from your surroundings if you need to. If someone comes to you to have a conversation, you can turn on ambient mode to hear them without needing to take off your earphones.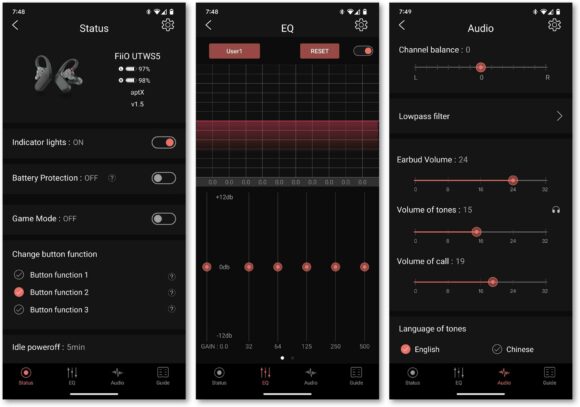 One of the things I had been impressed with about my old EarStudio ES100 was firmware upgrade support, and Radsone's ability to push out new functionality like Bluetooth 5.0 which was not originally available when the product launched (and shipped to me).
The Fiio UTWS5 also supports firmware updates, and Fiio has put out one firmware update with a feature that I wanted very much. This is support for Bluetooth multipoint. This is a feature that allows the UTWS5 to maintain simultaneous connection to two source devices, so that, for example, I can get audio from YouTube playing on my laptop, while also receiving audio notifications from my smartphone. I consider this a must-have feature.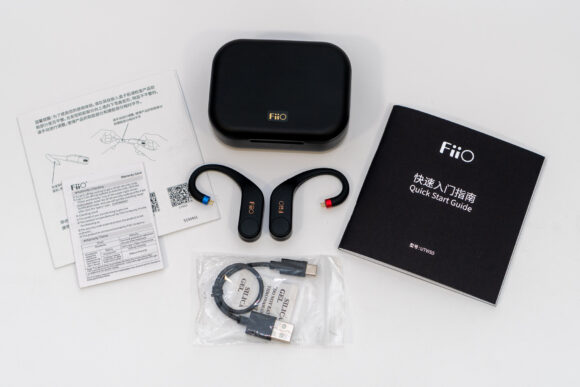 Along with the carrying case, the FiiO UTWS5 also ships with a USB Type-A to Type-C charging cable, and some pieces of documentation.
The FiiO UTWS5's MSRP is US$129. Street price in Singapore runs around S$200.
Conclusion
The FiiO UTWS5 turns any wired MMCX or 2-pin in-ear monitors into a capable and great-sounding Bluetooth true wireless earphones.
Pros:
Bluetooth 5.2 with multipoint support
Comfortable to wear
Great sound quality
Excellent carrying case with room for the IEM
Ambient sound mode and other features
Cons:
Sound comes across slightly warm