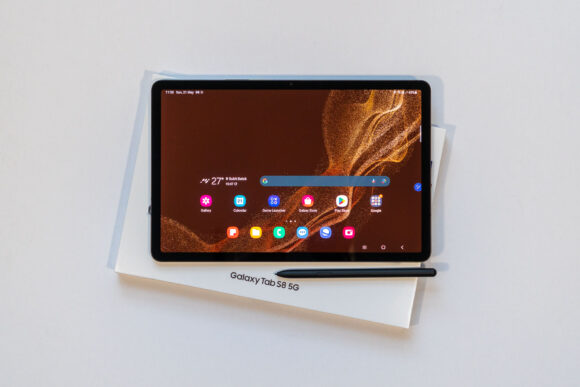 The Google Pixel Tablet is coming next month, and Samsung's 2023 flagship Galaxy Tab S9 is expected in a couple of months. But if you're looking for an Android tablet right now, I think the Samsung Galaxy Tab S8 remains a great option. Even more so with discounted prices now. Let's take a look.
The Samsung Galaxy Tab S8 series launched in early 2022 with three models: the Tab S8 with an 11-inch LCD, Tab S8 Plus with a 12.4-inch AMOLED display, and the ginormous 14.6-inch AMOLED display. This review is of the smallest one in the family, the Galaxy Tab S8.
It may be the smallest, but the Galaxy Tab S8's 11-inch display is, of course, not really that small. It is the right size, I think, for people who want a tablet that is reasonably portable, and one that is still easily held in their hands to use any time.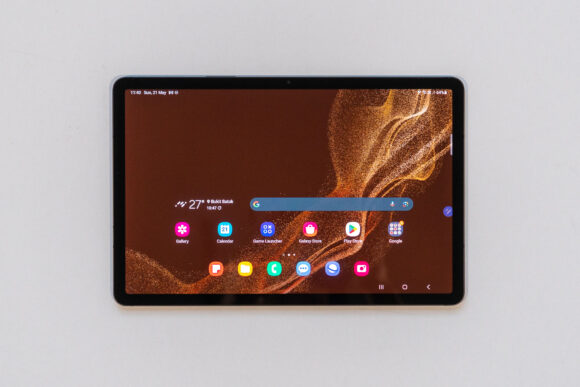 The Galaxy Tab S8 uses a LTPS TFT LCD display. Many people may be a little disappointed not to get AMOLED on a flagship-level tablet. The TFT LCD notwithstanding, the display is pretty good. With 1600 x 2560 pixel resolution (274 ppi density), images are sharp, and colours are vibrant. Sure, the blacks aren't black enough, but I think this isn't a showstopper.
The display supports 120 Hz adaptive refresh rate. This makes for buttery smooth UI interaction that feels very good. But at other times when high refresh rate is not needed, the Galaxy Tab S8's display can step back down to 60 Hz to save battery.
There is a smallish uniform bezel all around the display. It's about 8 mm, enough so that you can grab the tablet with your palms messing up the touch input, but not so much to be an eyesore. The screen is made of Corning Gorilla Glass 5.
The 12 MP, 120° FOV selfie camera is centred at the top edge when the tablet is held in landscape orientation. This is the most sensible location for a camera that is used for Zoom calls, not unlike how you expect webcams on laptops to be centred on the top edge.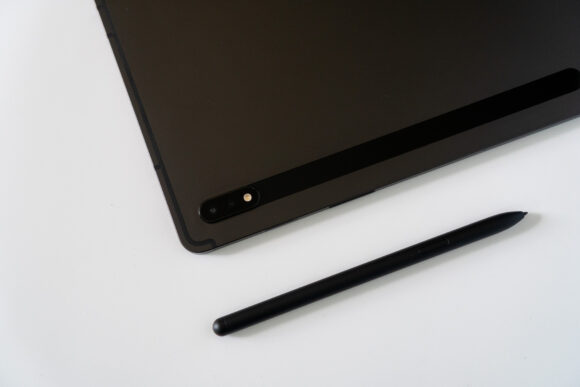 The main camera on the back is a dual-camera setup: a 13 MP wide and a 6 MP ultrawide. There's a flash too. Most people probably won't use a tablet for taking photos and videos. But in a pinch, both the selfie and main cameras can take 4K videos at 30/60 fps.
The selfie camera can also be used for face unlock. This is just normal facial recognition. There are no infrared sensors in there.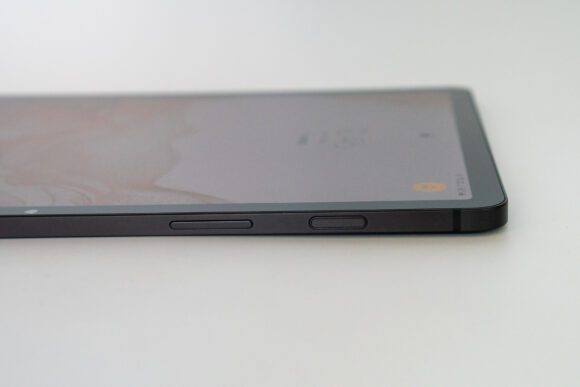 Alternatively, a better and more secure biometric is the fingerprint scanner that is baked into the power button on the side of the tablet. I do prefer this fingerprint scanner than an in-screen one that is used by the Galaxy Tab S8 Plus and Ultra. On a large screen device, it's much easier to figure out where the power button is without looking, compared with trying to locate the in-screen fingerprint reader.
The volume rocker is located below the power button, and further down, there is a microSD card slot. The Galaxy Tab S8 has a 5G option, and on those tablets, the microSD card tray also accommodates a nano-SIM card. Cellular connectivity is really nice to have if you plan to use the tablet on-the-go. No need to worry about Wi-Fi or tethering.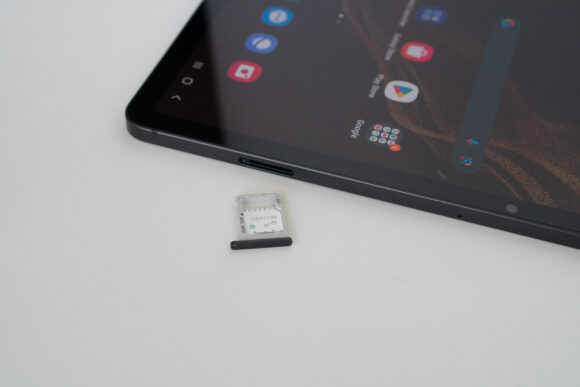 The Galaxy Tab S8 comes with the S Pen stylus included in the box, no separate purchase required. This is a great stylus. it's slightly skinnier than a regular ballpoint pen, but it is not too thin to become uncomfortable to grasp. The cylindrical stylus is flattened on one side, so it won't roll away when you set it down on a table. There's also a button near the bottom to activate various functions.
The writing experience with the S Pen is awesome. This is helped in part by the low 6.2 ms latency (i.e., time for the "ink" to appear on the tablet under the nib), and also that the use of a fully laminated screen makes it appear that the pen nib touches that ink. A laminated screen is one where the screen glass, the digitiser, and the actual display are made as one seamless piece, which in turn reduces the parallax caused by the distance between the pen nib, digitiser, and the display.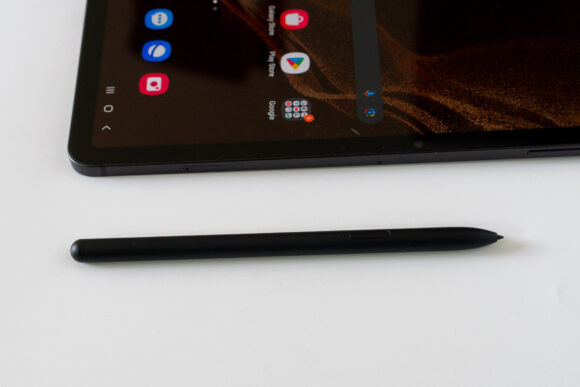 The S Pen inks flawlessly on the Galaxy Tab S8. The nib is made of rubber, which does two things nicely: it can be compressed slightly when pushed down, and it also provides a little bit of friction as it glides across the screen. This achieves a much better experience than a certain other competitor whose hard plastic against hard glass produces distracting noise when the nib hits the glass, and whose nib also glides too smoothly to feel natural.
I personally did not expect to like the S Pen that much when I first used it. But once I started, I found myself sometimes even preferring to use the stylus than my own finger.
The Galaxy Tab S8's S Pen is an active variant, which means it has a battery and uses Bluetooth to enable off-screen gestures. The basic on-screen and hover-over-the-screen usage does not use Bluetooth, and even if the battery is dead, those still work just fine.
The S Pen's off-screen gestures allows you to do things like control volume and media playback, as well as other actions that an app may have support for. These are nice to have, though not likely to be something you'd use often.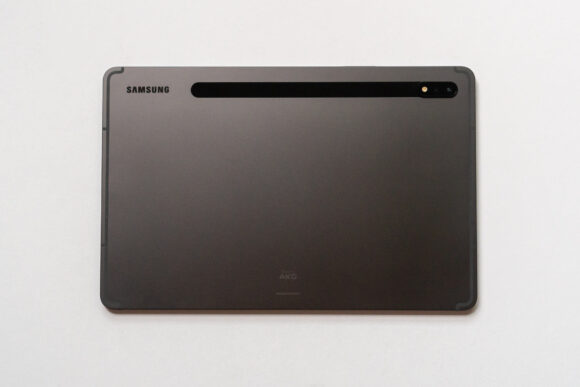 Charging the S Pen is simple. The magnetic attachment point on the black strip than extends down from the camera on the back of the tablet will charge the S Pen wirelessly. That is also where you attach the S Pen for the tablet to pair with the stylus. There's a second magnetic attachment point along the right side of the tablet, but this one does not support charging.
There are four speakers around the Galaxy Tab S8. They sound quite good, which Samsung wants you to think that AKG helped make a difference, and they can get decently loud. There's also support for Dolby Atmos.
On the subject of audio, no, there's no 3.5 mm audio jack. Not that much of a problem these days considering that most people are happy with various form of Bluetooth headphones.
The only port on the Galaxy Tab S8 is the USB 3.2 Type-C port at the bottom. This can be used for charging at up to 45 W, which according to Samsung will top up the battery from empty to full in 80 mins. This port also supports DisplayPort out, which enables you to connect an external monitor.
There're also three metallic contacts along the left side of the tablet, when positioned in portrait orientation, which is an interface for Samsung's keyboard case accessories for the Galaxy Tab S8. There are two types of keyboard cases available: one is a detachable keyboard with a second kickstand piece that attaches on the back of the tablet, and another that is a regular book cover style that includes a keyboard.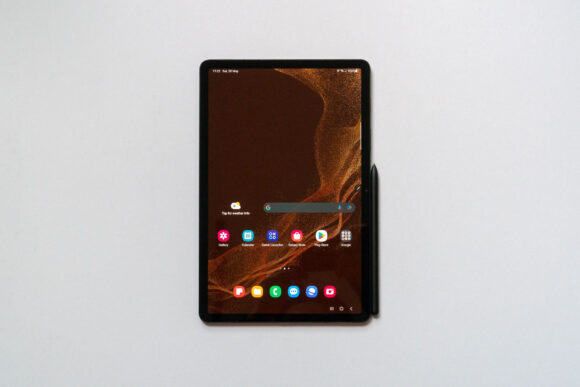 The Galaxy Tab S8 currently runs One UI 5.1, Samsung's software on top of Android 13. Even as a long-time (and still currently) fan of the pure Android experience with Google Pixel devices, I find that One UI is quite pleasant. It adds features that are useful, especially those relating to multitasking and managing split-screens. Multitasking with multi-window support is important on a larger screen device like a tablet, since the display is big enough to work with more than one app window open at the same time.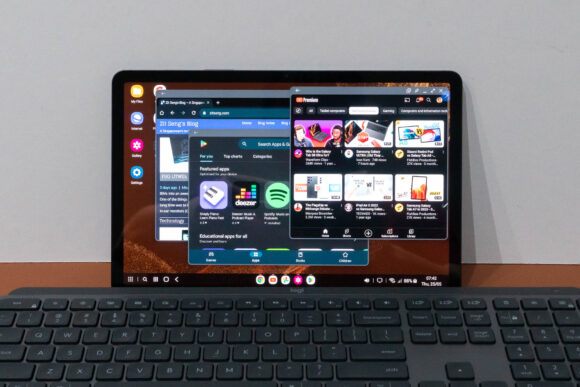 The biggest feature of One UI is Samsung DeX. DeX stands of Desktop Experience, and it changes the interface of the device into one that resembles a desktop-like environment. The display of the Galaxy Tab S8 is large enough that you can get a laptop-like experience. DeX mode supports multiple floating windows with fully adjustable sizes like on a Windows desktop. Notifications, quick settings, and various interface elements have been modified to reflect a desktop OS such as Windows.
If the Galaxy Tab S8's display isn't big enough, you can use an external monitor as the main display, and convert the tablet's touchscreen into a trackpad. Or, you can have DeX experience on the external monitor, while retaining the Android experience on the tablet. DeX mode deserves a whole post on its own to explain its features.
Another cool feature that the Galaxy Tab S8 supports is Second Screen. This allows the tablet to work as a secondary display to a Windows PC, much like macOS' sidecar with iPads. Second Screen does not support macOS, but there are other 3rd party apps available to help with that.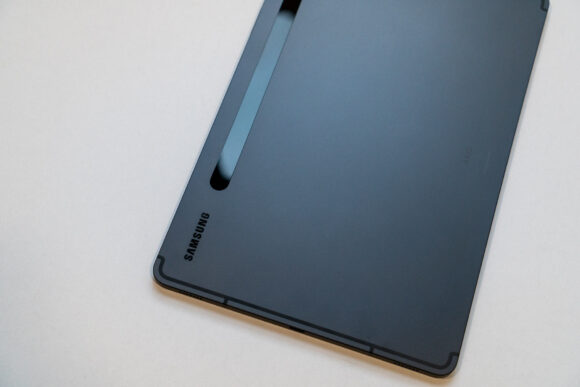 The Galaxy Tab S8 is powered by Qualcomm Snapdragon 8 Gen 1, which delivers enough performance for most tasks, including some moderate gaming. The 8000 mAh battery lasts quite long, clocking about 12.5 hours in continuous video playback. In most cases, casual to moderate real-world usage should last up to two days.
In Singapore, the Galaxy Tab S8 is only available with 256 GB storage and 8 GB LPDDR5 RAM. Both Wi-Fi-only and with 5G models are available.
Samsung has promised four years of major Android updates for the Galaxy Tab S8, and an additional year after that just for security updates. Since the tablet launched in 2022 with Android 12, this means we should expect support up Android 16.
The Samsung Galaxy Tab S8 is a very capable Android tablet that works well for casual use and entertainment. It easily steps up to moderate productivity duties, maybe even moderately heavy, mainly limited to the capabilities and features available in Android apps. The S Pen is a very capable stylus that works very well. Writing with it is a joy. Samsung DeX turns the Galaxy Tab S8 into a functional laptop, provided you bring a keyboard, and I think many people may find that they can finally ditch their actual laptop. This is an exceptional tablet for work and play.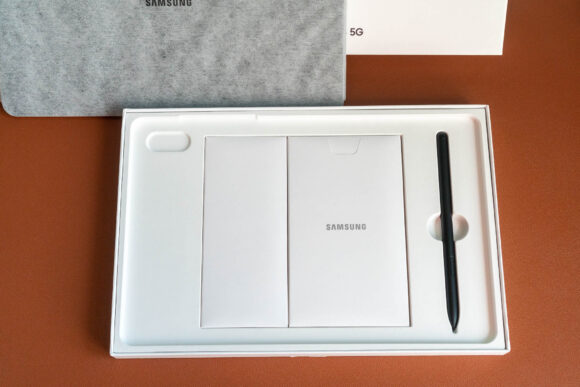 The Samsung Galaxy Tab S8 ships in a really thin retail box. There's no charging brick included, but the S Pen is included, as well as a USB Type-C charging capable and SIM eject tool.
Samsung currently retails the Galaxy Tab S8 with LTE at $1,048, while the Wi-Fi-only model retails at $848. The latter is available in graphite or pink gold colours, while the former is only available in graphite colour.