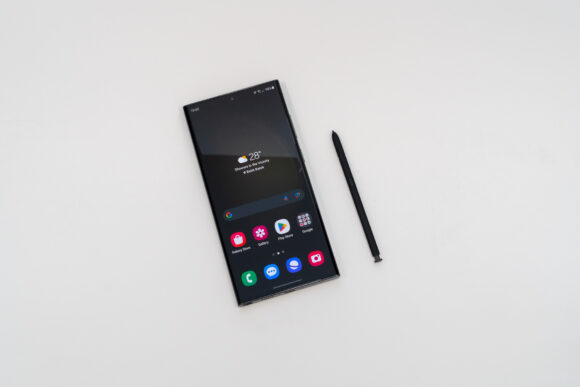 I'm a fairly loyal Google Pixel smartphone user. I think Samsung's flagship smartphone this year, the Galaxy S23 Ultra, is pretty dope. This probably says a lot about how impressed I am with the Samsung Galaxy S23 Ultra.
Just like they did with the Galaxy S22 last year, Samsung released three variants of the Galaxy S23 this year: the base Galaxy S23, the Galaxy S23 Plus, and the Galaxy S23 Ultra. This review is of the largest variant, the Galaxy S23 Ultra, which comes with S Pen built-in. The Galaxy S23 Ultra, as was the Galaxy S22 Ultra, basically succeeds the Galaxy Note line of devices.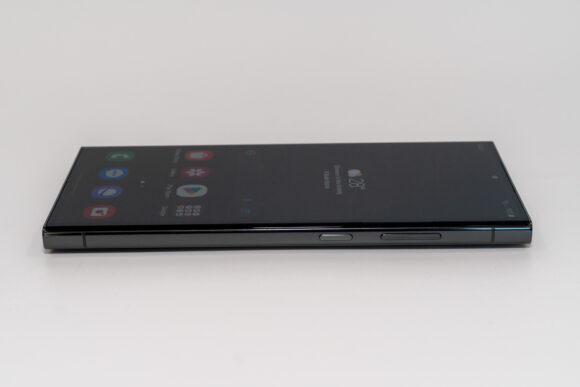 I expected the Samsung Galaxy S23 Ultra to be a delight. This is after all a premium flagship device. Yet, it still wowed me as I took it through its paces for this review.
The first thing about the Galaxy S23 Ultra is how well-built it is. The slab of metal and glass could not have been more refined. The device feels solid, and its construction looks like it has been precision engineered and precision manufactured.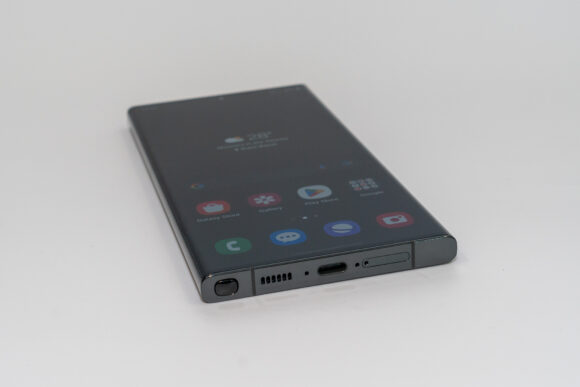 The design itself is also perfectly well-balanced: flatter sides and surfaces to make it easier to hold and use, yet with edges that are rounded off just the right amount, so the device remains comfortable to hold while also look pleasing with measured elegance.
The material looks and feels exquisite. The matt finish still shines, and the green hue on the back is awesome.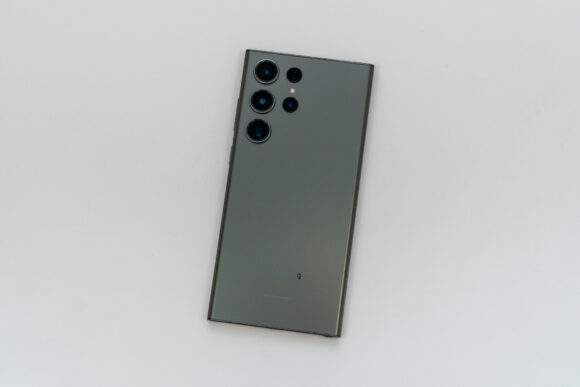 It's as if the Samsung Galaxy S23 Ultra wasn't just merely a slab of phone but, I'm embarrassed to say, like somewhat of a piece of jewellery and art piece that is meant to be admired and appreciated. That, is the essence of how beautiful the Galaxy S23 Ultra is.
Some people may be concerned about size. The Galaxy S23 Ultra has a 6.8-inch display, so it must inherently be a large smartphone. However, with dimensions of 163.4 x 78.1 x 8.9 mm, it is only just a tiny bit taller and wider than the Google Pixel 7 Pro which has a 6.7-inch display. (Photo below compares the Galaxy S23 Ultra with the Google Pixel 7 Pro on the right.)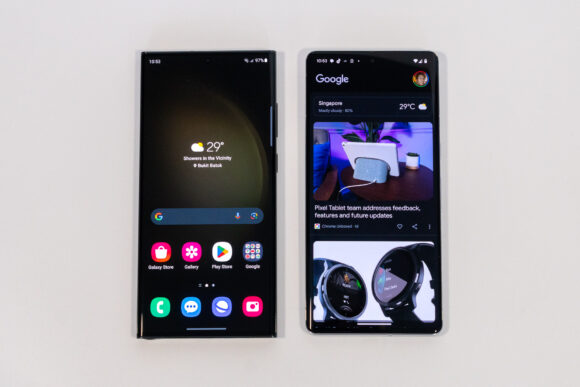 The Galaxy S23 Ultra does weigh a hefty 234 grams, something that you may have to get used to if you haven't carried large smartphones.
Being a premium flagship as it is, the Samsung Galaxy S23 Ultra has all the best hardware specifications you'd expect it to have. The 6.8-inch display uses Super AMOLED with 1440 x 3088 pixels and a peak brightness of 1750 nits. This is a slightly more elongated 19.3:9 aspect ratio than is more common with other smartphones. The display supports an adaptive refresh rate up to 120 Hz, which makes for very fluid scrolling and animations. The screen is covered with the latest Corning Gorilla Glass Victus 2.
The built-in S Pen stylus slots out from the bottom left of the device. It seems like a slightly awkward place. This is a smallish, skinny, stylus that won't feel as natural to use as an actual pen or pencil, or like Apple Pencil or indeed the more regular-sized S Pen for Samsung Galaxy tablets. That's to be expected if we wanted a stylus that can be docked into the smartphone, and I'll surely prefer a docked stylus than having to deal with some.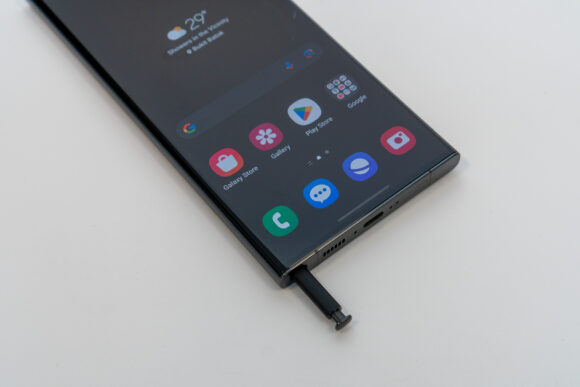 The smallish size aside, the S Pen works very well for taking notes and making on-screen annotations. I think a stylus would be far more useful on a larger device like a tablet, but the Galaxy S23 Ultra offers that option in case you needed to write, annotate, or draw something in a pinch.
The S Pen in the Galaxy S23 Ultra is an active stylus that uses Bluetooth for off-screen gestures support. It charges while docked, so you don't have to worry about batteries.
The camera system on the Samsung Galaxy S23 Ultra is top-notch. I'll just briefly mention the technical details. The back is adorned with four cameras: a 200 MP main camera, 10 MP 10x zoom camera, 10 MP 3x zoom camera, 12 MP 120° ultrawide camera. The front has a 12 MP wide camera.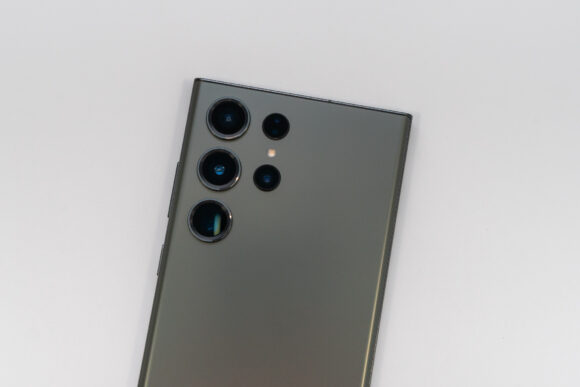 You can record video up to 8K at 24/30 fps from the back, and up to 4K at 30/60 fps on the front.
You can read about photo quality comparisons in other reviews for more detailed commentary on the photo and video capabilities. My overall impressions are that the Samsung Galaxy S23 Ultra is most certainly capable of capturing great photos and videos. Photos are vibrant, and they look so great that they sometimes feel unreal. Night mode shots, for example, can be so well-enhanced that they don't quite look like what your eyes see. I think casual users don't mind these enhancements at all, and in fact, probably even think this is fantastic.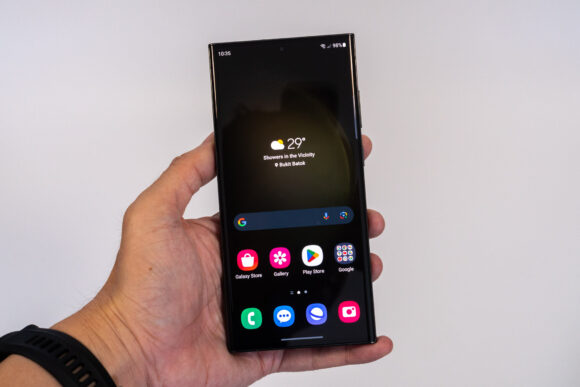 Under the hood, the Samsung Galaxy S23 Ultra is powered by the latest Qualcomm Snapdragon 8 Gen 2. For storage, the Galaxy S23 Ultra starts with 256 GB, with upgrade variants with 512 GB and 1 TB. The base 256 GB model has 8 GB of RAM, while models with upgraded storage have 12 GB of RAM.
The Snapdragon 8 Gen 2 offers fantastic performance and excellent battery efficiency. The Galaxy S23 Ultra ran everything I could throw at it without problems. Funny enough, some benchmarks would even complain that the device is too fast.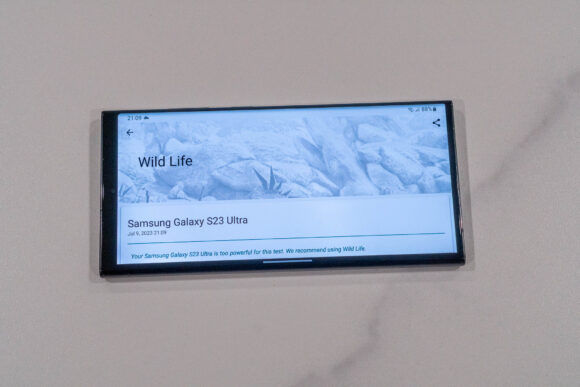 You get Android 13 with Samsung's One UI 5.1 out of the box, with Samsung promising four years of Android operating system updates, and a fifth year for security updates.
The Android updates promised by Samsung is even more than what Google promises for their own line of Pixel smartphones. This is quite awesome if you plan on using the Galaxy S23 Ultra for a long time. Even if you upgrade to another smartphone sooner, you can still pass on the Galaxy S23 Ultra to someone else and know that the device will continue to be supported with software updates.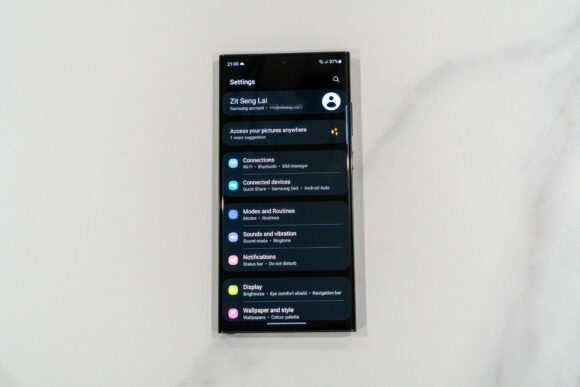 Samsung's Android skin, One UI 5.1, doesn't substantially detract from the overall Android experience. I do appreciate some of the additional capabilities that One UI offers.
The most substantial feature is Samsung DeX, a feature that turns the device into one with a desktop-like experience. Samsung DeX would usually be more practical on a tablet given the larger screen real estate, but even on a smartphone, you can tether to an external monitor, wired or wirelessly, to get the desktop on the larger display. Of course, that would also mean you need to hook up a keyboard; the Galaxy S23 Ultra itself can serve as a trackpad. The Galaxy S23 Ultra can also serve as an extended display (with touch support) for a Galaxy tablet. There's too much to be said about Samsung DeX than I can cover in this review, but suffice to say, this is one seriously big feature that Google is missing in stock Android.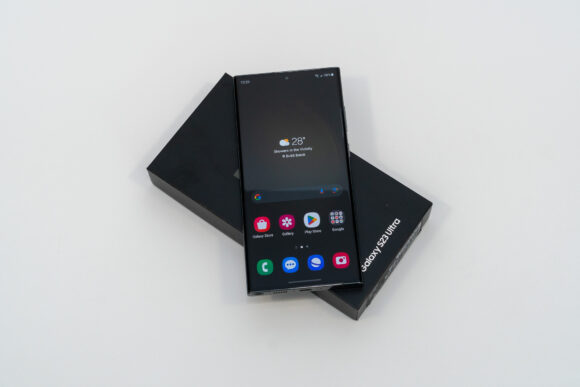 Samsung ships the Galaxy S23 Ultra in a size-reduced box, because as you can guess, there's no charger in there. The only accessory you're getting is a USB Type-C to Type-C cable, and a SIM eject tool.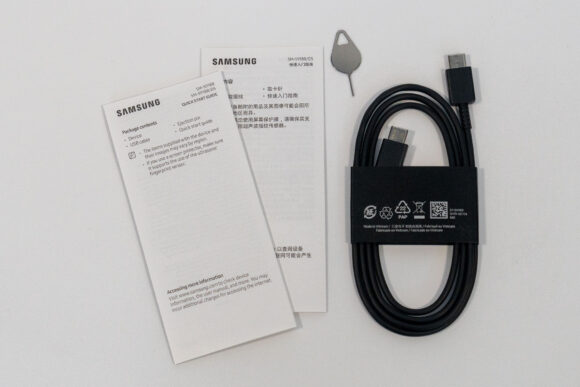 The Samsung Galaxy S23 Ultra supports wired charging up to 45 W with PD 3.0 support. It can charge to 65% in 30 mins. It also supports 15 W wireless charging, and 4.5 W reverse wireless charging.
I've been using Google Pixel smartphones for a long time as my primary device. I like the stock Android experience, and I'm generally good with Google's hardware.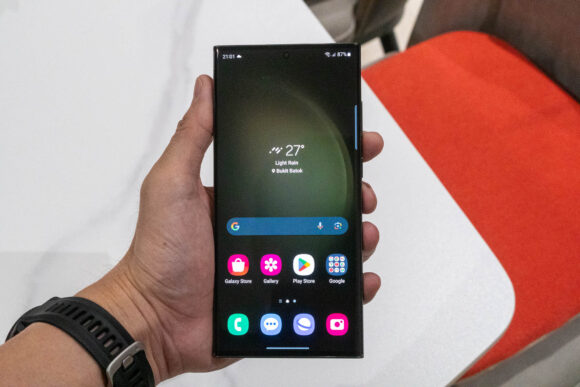 The Samsung Galaxy S23 Ultra could be something I'd consider. I'm quite awed by the physical device build quality and design. I do find it to be a tad heavier than I'd like, but this isn't a big niggle.
Samsung's software is not too much different from stock Android. One can easily switch out Bixby and Samsung Pay in favour of Google's services. The Galaxy S23 Ultra hardware is very capable, and there are some really awesome software features that are nice to have.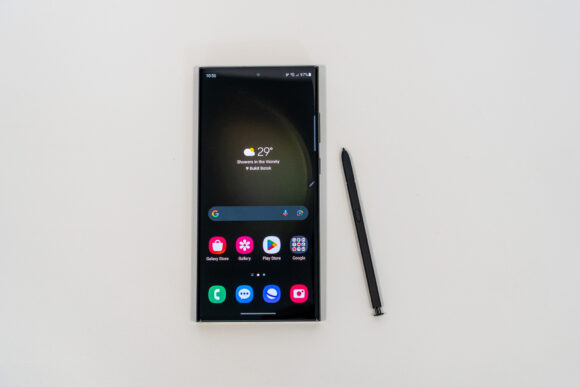 The official retail price of the Samsung Galaxy S23 Ultra at Samsung's online store starts at $1,737 for the base model with 256 GB storage, going up to $1,939 and $2,335 for the 512 GB and 1 TB storage models respectively.
There are a crazy number of colour options: green, phantom black, lavender, and cream are standard; graphite, sky blue, lime and red are available only via online order with home delivery option.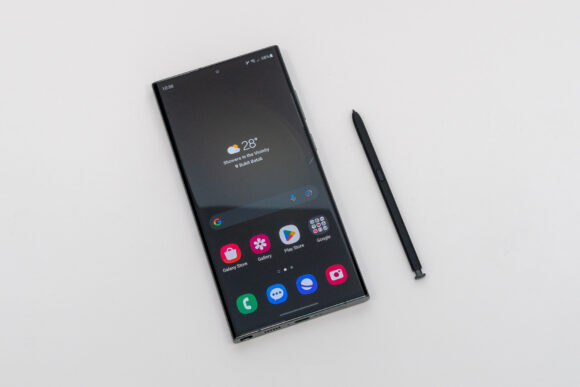 If you think the Samsung Galaxy S23 Ultra is a bit too pricey, the good news is that street prices can be somewhat lower. Even from a respectable retailer like iShopChangi, the base 256 GB model sells for just $1,369 (fulfilment by ME Nation).