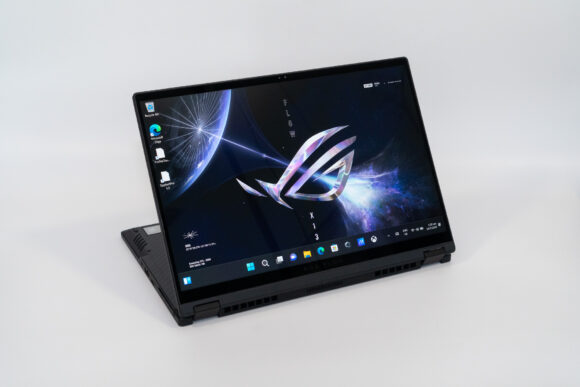 I've reviewed quite a lot of ASUS laptops here on this blog. This ROG Flow X13 (2023) catches my fancy in quite a few ways, mostly because of how it is a gaming laptop, yet being so subtle about it in its design. That it is also a convertible 2-in-1 device is awesome.
This review is of the 2023 edition of the ROG Flow X13. There's an older one from 2022, which could easily be mistaken for the latest version, even though there are some telltale visual differences.
The ASUS ROG Flow X13 is a modern ultracompact two-in-one device that can basically do just about everything you can throw at it. It's truly versatile. It's not just that you can switch between laptop and tablet mode, as well as various other styles you may care about. It supports touch and pen inputs. It even packs a decent NVIDIA RTX 4050, which though midrange even by laptop standards but at least is a current generation GPU. You can game on this device, or you can get creative work done.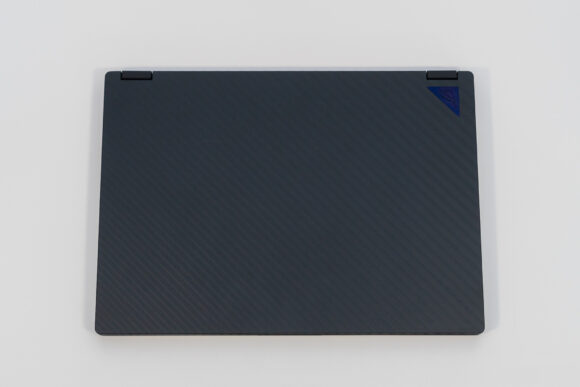 Let me talk about the ROG Flow X13's design for a bit, because this is something that really caught my fancy. First, the ROG Flow X13 sports a design that is perhaps quite the opposite of how you might expect a gaming laptop to have. The grooved lines on the back of the display looks intriguing, though more in a fancy business sense than anything at all that hints at gaming. This is not the first time that ASUS has gone with these linear patterns, but this time it is perhaps more plain than it had been before. Plain in an elegant way, not that it is boring.
A tiny triangle of glitter in one corner drops just a subtle hint that the ROG Flow X13 is a bit more than an ordinary laptop.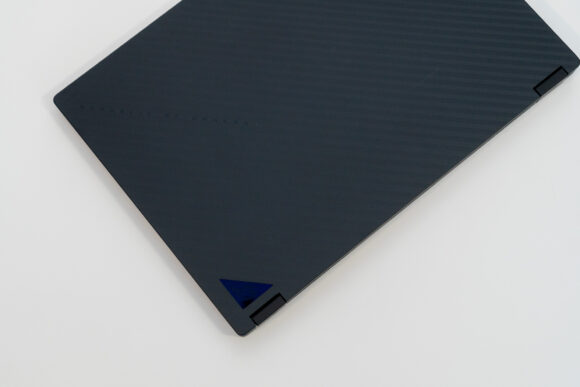 But it's really the very subtle etching of the words, REPUBLIC OF GAMERS, so subtle that it's only revealed when it catches light at the right angle, that tickled my fancy. It's a gaming laptop, hidden in plain sight.
That's not the only subtle clue about how this ROG Flow X13 is a gaming device. When you open up the lid, right there on the palm rest, there is the ROG logo embedded in that line pattern.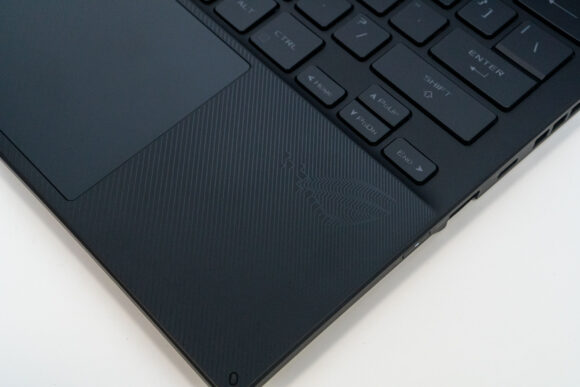 It's not all that obvious. I love how the ROG Flow X13 somehow manages to dial down the gaming look, while yet still clearly identifying itself as an ROG device.
The keyboard itself sports a style that is easily recognisable by those familiar with ROG laptops. The keyboard is large and spacious. The 1.7 mm key travel is generous, more than the average you'd find on laptops these days. The keys are comfortable to type on. The keys are a little soft for my liking, but they were otherwise sturdy.
The key layout is perfectly standard, something worth pointing out, and it has an inverted-T arrangement for the arrow keys. As is common with ROG laptops, there are four extra function keys at the top, extremely handy for controlling volume, microphone mute, and in ROG fashion, launching the ROG settings software.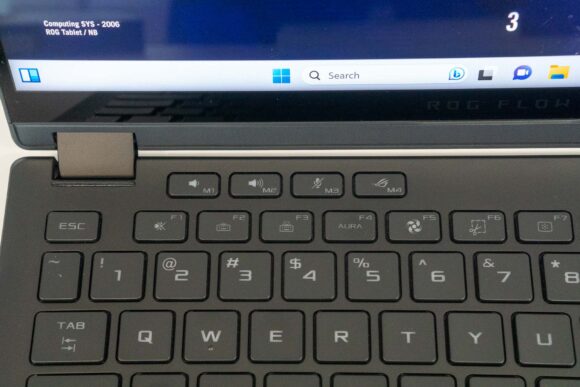 The trackpad is huge considering the size of this ultracompact convertible device. It's really comfortable to use, with swiping and gestures all working flawlessly.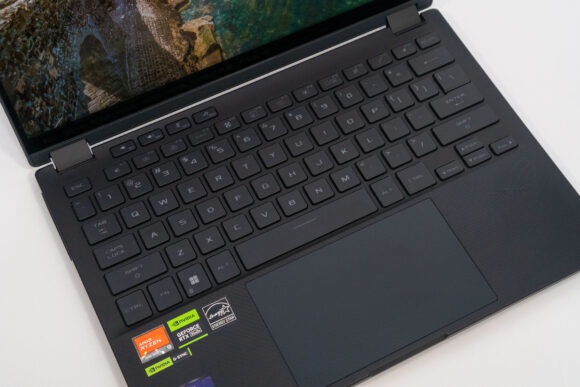 The line pattern that fills the keyboard deck also appears on the trackpad itself, but although the pattern is grooved on the keyboard deck, the trackpad is (of course) perfectly smooth.
The 13.4-inch IPS display on this ROG Flow X13 has 2560×1600 pixel resolution and really nice 165 Hz refresh rate. it supports G-Sync and is Pantone validated. My own colorimeter test with Spyder5PRO verifies the superb colour performance is really awesome: 100% sRGB, 85% NTSCC, 88% AdobeRGB, and 96% P3. Peak display brightness comes in at 416 nits in my test, which is amongst the best I've tested.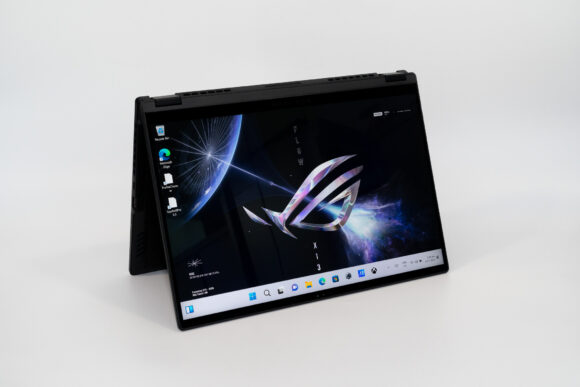 What this means is that the ASUS ROG Flow X13's excellent display isn't just someone for casual users to marvel at, but it will suit creative professionals who need the colour accuracy. You could also work outdoors without given the brightness of this display.
I don't miss that ASUS didn't go with an OLED panel with the ASUS ROG Flow X13. The IPS panel won't give you absolute blacks, though overall I don't think this should be a showstopper in anyway.
ASUS says this display has a brand-new Corning Gorilla Glass DXC coating that reduces surface reflections while increasing hardness for better scratch resistance.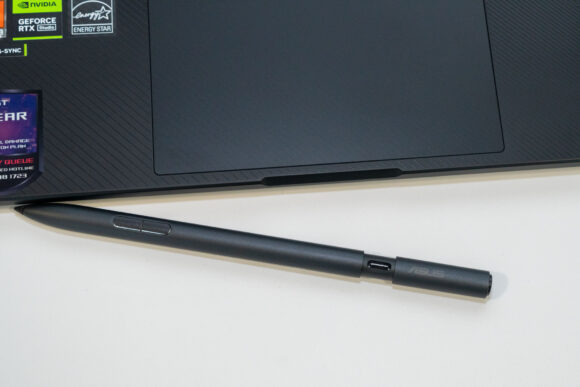 The display supports both touch and pen. A stylus is included in the box. It's a good-sized pen with a button on top and two more on the side and supports 4096 pressure levels. It's charged via a USB-C port that is hidden under a slide-out mechanism at the top of the stylus.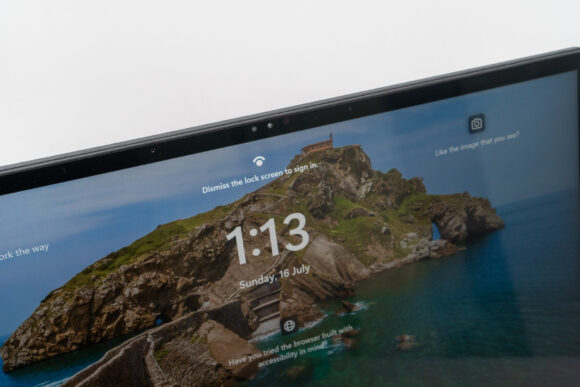 There's a 1080p Full HD webcam on the top of the display. It has IR capability, and will support Windows Hello facial recognition for login.
The ASUS ROG Flow X13 features a ROG XG Mobile Interface on the left side of the device. It's a proprietary PCIe interface that allows you to connect external GPUs. Power users may still need this despite the ROG Flow X13 having a decent GPU built-in, because the latter may be hampered by power and thermal limitations.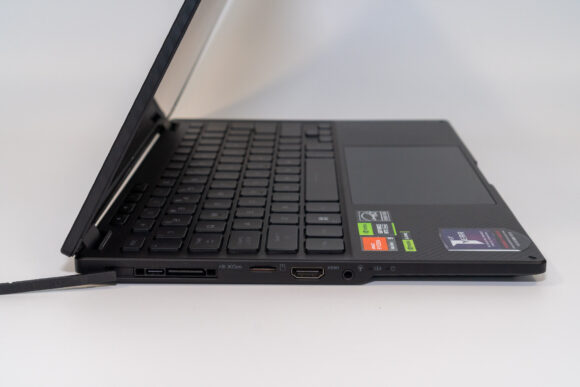 You may notice that the ROG XG Mobile Interface has a portion on the left that looks like a USB Type-C port. It is indeed a regular USB Type-C, supporting USB 3.2 Gen 2 and alternate mode DisplayPort 1.4. The left side also has a microSD card slot, a HDMI 2.1 port, and a 3.5 mm combo audio jack.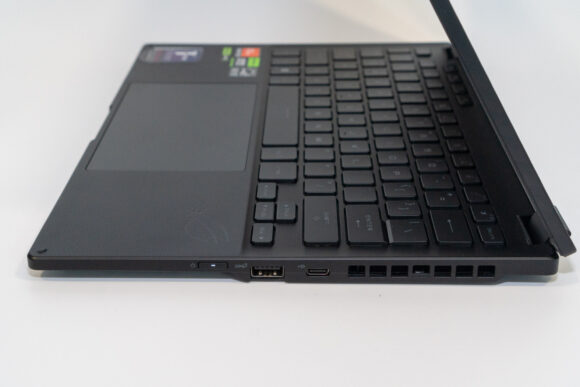 On the right side, there's a regular USB Type-A port with USB 3.2 Gen 2 support, and another USB Type-C with USB 3.2 Gen 2 and alternative mode DisplayPort.
Both USB Type-C ports support power delivery. There is no regular DC barrel jack for power. The ROG Flow X13 uses the USB Type-C port to power itself, and ASUS provides a 130-Watt USB Type-C power brick.
There are several SKUs of the ASUS ROG Flow X13. This review unit was has an AMD Ryzen 9 7940HS processor with 16 GB of LPDDR5 RAM, 1 TB of PCIe 4.0 NVMe storage, and NVIDIA RTX 4050 Laptop CPU.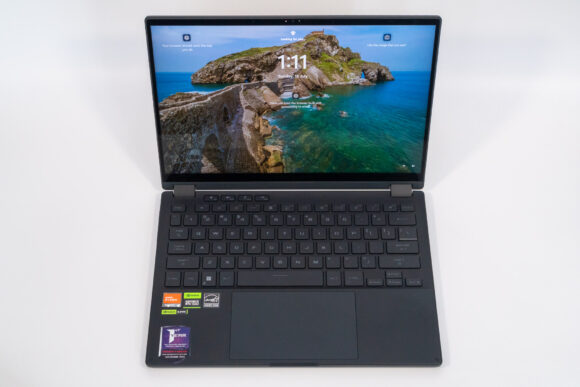 There are other SKUs with RTX 4060 and RTX 4070 available. (Other higher-end models are available in overseas markets.) The RTX 4050 in this review unit is, understandably, not the best performer. However, I'm learning from other reviews that the higher-end GPUs aren't really performing that great either because of thermals and power limitations. In fact, the input I'm hearing is that the RTX 4050 or RTX 4060 might be better value.
My GeekBench 6 benchmark tests produced these scores:
Single/Multi-Core performance: 2656, 11803
Compute: 70684 (RTX 4050), 33109 (integrated GPU)
The RTX 4050 is decent, surely better than any integrated graphics. But understandably, it is at the low-end of the current generation Ada Lovelace architecture.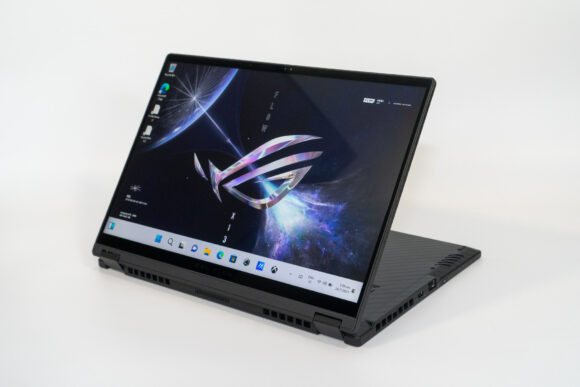 The 62 Wh battery in the ROG Flow X13 gets you about 8 to 9 hours of light productivity use. However, if you are doing full-on gaming, you won't get even 2 hours of runtime, so realistically you're going to want to be connected to AC power whenever you game.
The Procyon Video Playback Battery Life Benchmark ran for 8 hours and 47 mins. (Note: The Procyon professional benchmark suite is a successor to PCMark 10. You will see more reporting of Procyon benchmark scores in my reviews.)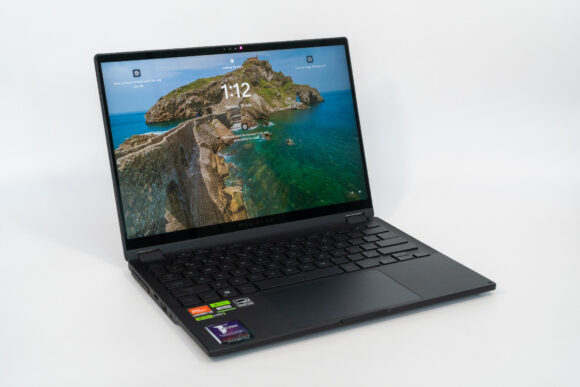 The ASUS ROG Flow X13 proves to be a versatile computing platform. As a two-in-one convertible, it transforms from laptop to tablet mode easily. It is compact enough, and with the included stylus, functions really well as a tablet. For entertainment purposes or light office work, the ROG Flow X13 runs off-grid long enough that you can use it anywhere untethered. Yet, at the same time, it packs a decent NVIDIA RTX 4050 Laptop GPU to provide enough power for proper gaming, though you would need to be plugged in to AC.
All of that versatility comes in a beautiful design that has elegance and serious business touch yet hides its gaming DNA in plain sight.
The ASUS ROG Flow X13 as configured in this review (AMD Ryzen 9 7940HS, 16 GB RAM, 1 TB storage, NVIDIA RTX 4050 Laptop GPU) retails at $3,098.