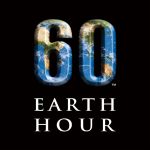 Earth Hour is coming up again. It will be from 8:30pm to 9:30pm this Saturday, 27th March 2010. Everyone's encouraged to participate and show their support by switching off their lights during this hour. Earth Hour is a call for everyone to be responsible for our future.
Okay, now the serious part of showing my support for Earth Hour is done, let's look at other things surrounding Earth Hour. This switching-off-the-lights business, do you think it makes any difference at all? It's really all about publicity. But could they not do something more meaningful? After all, we have been switching off ours lights for some years.
It's also interesting what Earth Hour means at workplaces. For example, at mine, a spam was circulated (electronically, so it is still earth-friendly) to everyone. An interesting paragraph read:
"<A long list that basically means all people…> … are encouraged to participate in Earth Hour by switching off their office and room lights on 27 March, Saturday, 8.30pm to 9.30pm."
I was just thinking. Now, on a day and time when no one is at work, people need to drive their cars back to work, switch off the lights, hang around to enjoy some air-con which now needs to be turned on, then one hour later switch back on the lights, before finally driving their cars back to wherever they want to be.
How earth-friendly is that? I wonder, how much manpower is expended and extra transport is incurred because of Earth Hour related activities at workplaces.