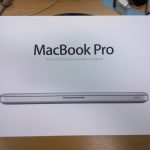 10 hours of battery life is practically good for the entire work day! Apple has just announced updates to the entire family of MacBook Pro notebooks, and the latest 13″ models claim to run for 10 hours on battery. The next best thing is the price. At the Apple Singapore store, the price has dropped across the board, by between S$100 to S$500. We're luckier than US customers, because in the US store, at least one model has become US$100 more expensive.
The Singapore prices haven't been "right" for some time considering the SGD-USD exchange rates. It has gotten to a point that the Apple notebooks were commanding too high a premium compared with other PC notebooks. So it's about time that they dropped the prices somewhat. I think S$1788 (was S$1988) for the entry level 13″ modem is a sweet deal, and S$1648 with education discount is really nice.
The catch, unfortunately, is that while all the 15″ and 17″ MacBook Pros now sport new Intel Core i5 and i7 processors, the 13″ models use the same Intel Core 2 Duo as before. The 13″ models do get a modest speed bump in the processor speed as well as new Nvidia GeForce 320M graphics.
Yet, despite no other obvious hardware changes that I can see, including no changes in physical size, the battery life has gone up from 7 hours to 10 hours. That's like a 42% improvement. Surely the Nvidia GeForce 320M doesn't make up the 42″ improvement. I wonder what battery changes they've done. Did the other components get smaller so Apple could now pack a bigger battery, or did they squeeze out more capacity in the battery space?
It's a bit sad that the 13″ models don't get new processors. New processors would be nice. But the price and 10 hours battery are simply amazing. You could last a work day without the power brick, without having to compromise with an underpowered ULV processor.
The now-not-so-new iPad is still the main feature on Apple's website. It shows where the marketing priority is right now. I suppose as a new product type, the iPad deserves some extra attention.