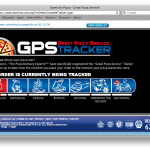 I decided to get my free pizza today. It's from Domino's. Basically, whenever they fail to deliver your pizza order within the promised 30 minutes, you get a free regular pizza. I've got two of these vouchers already. Time to claim my free pizzas. The only "catch" is that you've gotta purchase at least one regular pizza if you're ordering delivery (or any pizza or side order for take-away orders). It's a reasonable condition.
An interesting new feature on their website since I last ordered is their pizza tracking service… or what they refer to as "GPS Tracker". It's not quite GPS. It just tells you how far along your order is coming. The various states tracked for my pizza order:
18:15 – Order placed
18:16 – Preparing
18:18 – Baking
18:24 – Boxing
18:25 – Packing
18:26 – Preparing for delivery
18:26 – Delivering
Just 11 minutes from time of order till they are out of the door making the delivery. It looks like they will make it in 30 minutes today. I imagine it's not going to be too difficult to extend this service to provide GPS tracking of the delivery rider. After all, they claim to be "the pizza delivery experts".
The delivery man knocked on my door at 18:33. That's just 7 mins from Chun Tin Road to my home.
They are opening more stores, greatly expanding their limited delivery service areas. The first is at Chun Tin Road, serving the Upper Bukit Timah area where I live. Their subsequent stores are in Katong, Kovan and Killiney.