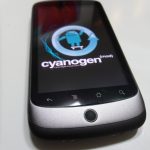 My Nexus One is over a year old now. My mobile contract is up for renewal. The Nexus One's hardware specifications are still pretty good, even considering the second Google flagship Nexus S. But there's always room for improvement, like faster CPU, more memory, longer battery life, more megapixels, etc. Perhaps, even more hardware like adding a front-facing camera or NFC, things that only became standard expectations on the Android platform much after the Nexus One was launched.
So with my mobile contract up for renewal, it is a good time to take stock of what the Android platform is offering in terms of the mobile phones available on the market. We have been quite lucky here in Singapore because many of the flagship Android phones have come to our shores pretty quickly: Desire HD, Nexus S, Incredible S, etc.
Before I start on the recent Android phones, I just want to look back at how the Android platform has developed. At the beginning, Android phones were not much more than proof-of-concept. They were geek toys, bought primarily by people who are developers or those who just needed to have the latest gizmos. The software was immature, and it was inexcusable that the hardware was also crappy. The same manufacturers that made Android phones made other types of phones with much superior hardware. I had remarked to friends and colleagues then that the Android platform needed a phone with decent hardware on par with the competition before it can be taken seriously.
Android phone hardware started to turn around with the Motorola Droid (which bravely pitched itself against the iPhone), and soon after the Nexus One became the Google flagship that represents the coolness of the Android platform.
It's very exciting that Android phones have, since mid-2010 I'd say, come to the forefront of the mobile phone battle, competing at the same level as Apple's iPhone. Let's not think that it's an unfair comparison for the reason that it's many manufacturer's versus one manufacturer. From a platform perspective, Android has not just gained traction with consumers, but positioned itself to win the same kind of consumers targeted by the iPhone.
Why do I say that? It's because nowadays people are buying Android phones simply for their good hardware spec and/or good hardware design. People are buying Android phones not because of Android per se. In fact, some people don't even care about the Android. It's important to know that you've got to get good phones into the hands of consumers first. Then, let the platform sell itself.
It's a win-win situation for everyone in the Android ecosystem. Manufacturers focus on building great hardware, and leverage Android for the software. Consumers get choice from the diversity of phone models, and benefit from (hopefully) consistent user experience. Application developers have access to a larger market (although admittedly the diversity of hardware could be challenging). Then, of course, Google is happiest to see the Android family flourish. (I always worry that one day Google will become evil.)
How does the landscape of Android mobile phones look now? They are plenty of new phones since the Nexus One. I've looked at several models and unfortunately, nothing stands out as hugely improved over the Nexus One. Let's look at them anyway.
HTC Desire: I've got to mention this for completeness. This is the Nexus One's sibling, almost identical in every way, except that the HTC Desire has physical buttons in place of the Nexus One's capacitive touch buttons, and lacks a 2nd microphone for background noise cancellation.
HTC Desire Z: It's main highlight is a slide out QWERTY keyboard, but otherwise, nothing spectacular. It does have a slower CPU than the Nexus One.
HTC Desire HD: This phone upgrades the main camera to 8MP, and sports a nice 4.3″ LCD screen. Still no front-facing camera though. It has a newer revision of the Nexus One's Snapdragon CPU (MSM8255). Personally, I do find 4.3″ screens a little too big.
HTC Desire S: This is a small evolution of the HTC Desire, adding a front-facing camera, and the newer MSM8255 CPU like the HTC Desire HD.
HTC Incredible S: Like the HTC Desire HD, but now adds a front-facing camera with 1.3MP, and has a slightly reduced screen size at 4.0″. 4.3″ is too big for me, 4.0″ works okay.
Samsung Galaxy S: This is probably one of the earliest Android phones sporting a front-facing camera. The main camera is 5MP, while the front-facing one is VGA resolution. Samsung uses their own Hummingbird ARM Cortex-A8 CPU running at 1GHz, and its PowerVR SGX540 GPU is arguably faster than any Android phone made by HTC.
Nexus S: Unlike the Nexus One which is made by HTC, Google chose to go with Samsung with their second flagship phone. It uses the same CPU/GPU like the Samsung Galaxy S. Camera-wise, still a 5MP main camera and VGA front-facing camera. It has a 4.0″ curved Super AMOLED screen. The Samsung camera is much better in quality than HTCs, even better than the 8MP on the HTC Desire HD. The Nexus S, unfortunately, doesn't have a MicroSD slot, although it does have 16GB of flash built-in.
Sony Ericsson Xperia Arc: Sony Ericsson has produced a variety of Android phones, including the Xperia X10, X10 mini and X10 mini pro. Their phones generally look pretty sleek. I'll just skip them all and fast-forward to the Arc. The Arc joins HTC phones in using the Snapdragon MSM8255 CPU clocked at 1GHz (the Xperia X10 series phones were underpowered, in my humble opinion). It has a 8MP main camera, which produces pretty good quality images (a strong point of Sony Ericsson's phone cameras), but doesn't have a front-facing camera.
So there you have it. For the clean, untainted Google experience, the Nexus S is the phone to go with. It is not a huge improvement over the Nexus One.
But hold on, there is a little issue with the Nexus S. There are apparently two, I just discovered, models of the Nexus S. One is the Google Nexus S phone we've all heard about. It's made by Samsung. The other, is the Samsung Nexus S. This is also made by Samsung. Apparently they are really different phones. The former has a Super AMOLED screen, while the latter has a Super LCD screen. The specifications on GSMArena.com says they are otherwise identical, but a HardwareZone.com review says the latter is slightly thicker, slightly heaver, and battery lasts somewhat less (due to higher power consumption of the Super LCD screen compared with the Super AMOLED).
Which phone is carried by our local telcos? StarHub and M1 clearly states Samsung Nexus S. SingTel is somewhat ambiguous, simply calling it "Nexus S". I think it's a good chance that it's te Samsung Nexus S. It's somewhat of a disappointment.
So… we're back to the start. No real successor to the Nexus One.