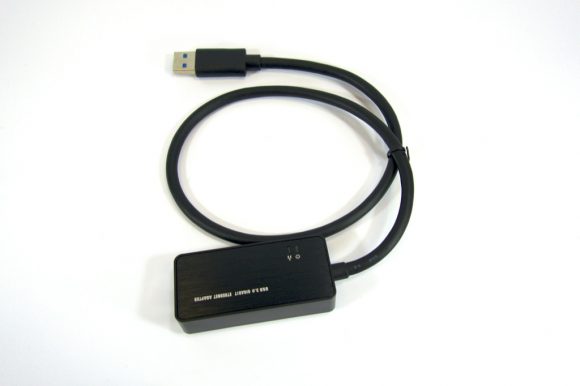 The MacBook Air was launched in 2008 without any wired LAN port built-in. Since then, many new ultrabooks have also left out wired LAN ports. While wireless networking options have become more ubiquitous and faster over the years, they still cannot compare with the reliability, stability, and superior performance of a wired Gigabit Ethernet connection. What do you do when you have a notebook without any wired LAN port?
That's right. There's a USB dongle for that. Apple originally offered a USB 2.0 to Fast Ethernet adapter when the MacBook Air was first launched. Later, as Gigabit Ethernet started to catch up big, Apple added a Thunderbolt to Gigabit Ethernet dongle. USB 2.0, with a theoretical 480 Mbps maximum data transfer rate, won't cut it for Gigabit Ethernet speeds. But what if you don't have or don't want to use a Thunderbolt port?
That's where USB 3.0 to Gigabit Ethernet dongles come in. This one from Rosewill is one such adapter. These USB dongles are more often used by Wintel notebook users, since their notebooks usually don't have Thunderbolt ports. Some Mac users, particular those with MacBook Airs and need their single Thunderbolt port for connecting to an external display, will also find these USB dongles useful.
This Rosewill does what it advertises. It's simple. It supports many operating systems, including Mac OS X and Linux. (Of course, Windows is there, and that includes Windows 8, Windows 7, Windows Vista, Windows XP, etc.)
Unlike a previous USB to Fast Ethernet dongle (not from Apple) I had that worked out-of-the-box without additional drivers, this Rosewill dongle will require a driver installation in OS X. It works, so other than the minor inconvenience of that one-time installation, this dongle works beautifully.
Performance-wise, this Rosewill USB 3.0 to Gigabit Ethernet dongle achieves good speed. I hesitate to overly praise its performance because, although I've read some Windows users report iPerf (a popular network bandwidth benchmark tool) speeds of 920 Mbps, I've only managed 865 Mbps on my Retina MacBook Pro. My old MacBook Pro, which still had a Gigabit Ethernet port built-in, also achieves around 920 Mbps in iPerf throughput. So I don't think a newer Retina MacBook Pro would lack the power to push gigabit speeds. Now, if you think the problem could still be with the Retina MacBook Pro, I don't think so, because I've read reviews that it will do north of 900 Mbps with Apple's Thunderbolt to Gigabit Ethernet dongle.
Of course, 865 Mbps is still plenty good. It could do better, but it's not much to complain about, and in real-world use, I don't think you would be that much bothered.
Conclusion
The Rosewill USB 3.0 to Gigabit Ethernet dongle gives you back wired LAN connection to your wired-less notebook. It's slightly cheaper than Apple's Thunderbolt adapter, and won't take up the single precious Thunderbolt port on MacBook Airs.
Pros:
USB 3.0 connection is more ubiquitous
Plug-and play
Cons:
Performance could be improved in Mac OS X
Ref: Amazon product link