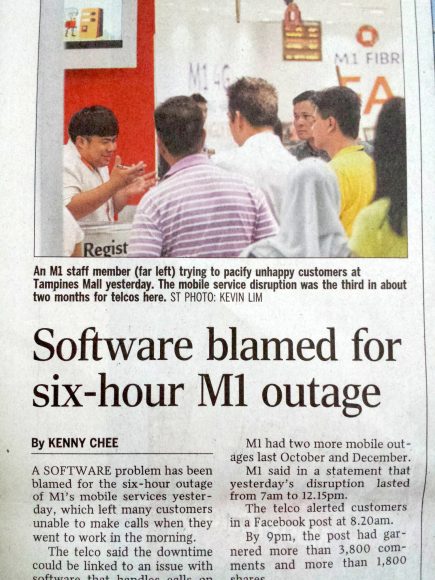 It's almost getting tiring to hear about all these mobile phone outages. Like our MRT breakdowns, mobile phone service breakdowns are becoming quite the norm. I wonder if Mr Yaacob Ibrahim, Minister for Communications and Information, will soon announce his disappointment at the state of affairs. But that aside, I think the orange camp really needs to do something to buck up on their service resiliency and robustness.
This is not going to be the first time we're hearing that software is being blamed for a big mobile phone service outage. Being in the IT industry, and particularly since computer networking is part of my day job, I can appreciate the difficulty of dealing with buggy software.
I didn't used to think that computer networks are reliable. They go down, often, for so many types of reasons. Glitches are not uncommon. Phone service, on the other hand, is something that you can count on to be always there, always ready. We used to refer to the "network dial tone" in aiming for computer network service availability to be as reliable as the dial tone you get from your (land line) phone.
The situation seems to be reversed, at least with the orange camp. Their phone service is pretty unreliable. I still cannot believe the incident that happened just a little over a year ago, where a single data centre accident led to a catastrophic crippling of much of M1's service.
Software problems can often be mitigated with sufficient testing, including pilot deployment in test labs and phased rollouts. I don't know how M1 works. But the frequency at which software is being blamed for their service outages leads me to wonder if they are a little too careless with their software deployments.
For the six hour service outage on a weekday, yesterday, M1 is planning to compensate with a free day of calls on the coming Sunday. It doesn't sound good enough. Perhaps better would be a free day of calls next Friday, Valentine's Day.
Update (5 Feb 2014 6:30pm): Well, it turns out that the Minister for MCI did share his dismay on his Facebook page. This is really turning into a standard template for our cabinet ministers to use? (Very Disappointed That You're Disappointed)