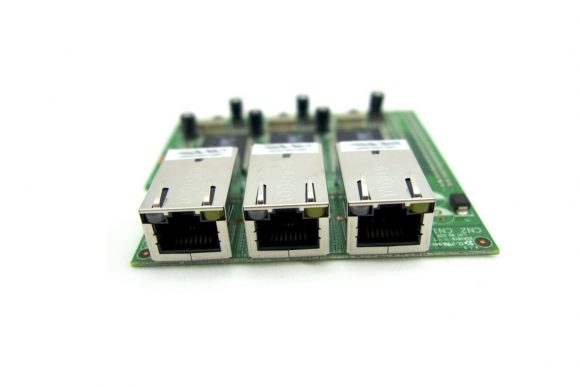 This is the Jetway AD3RTLANG, a daughterboard with three Gigabit Ethernet ports for supported types of Jetway motherboards. These are useful when you need to add more LAN ports to your project, such as when you want to build a multi-interface router or other network appliance.
The Gigabit Ethernet ports are based on RealTek RTL8110S chipset. This is supported out-of-the-box in FreeBSD for quite some time, and I'm using it in a pfSense (which is based on FreeBSD) box. Since RealTek is quite generic and the RTL8110S isn't new, I believe it should be pretty well supported in Linux too.
Some people might be concerned about using RealTek, and will choose to use only Intel-based LAN chipsets. Intel LAN is pretty much like the standard in server platforms. However, I don't see why RealTek can't be used in a consumer or SOHO environment. There is some suggestion that Intel-based LAN chipsets will have better throughput and lower CPU utilisation, the benchmarks don't show significant differences.
This daughterboard is the last component that goes into the pfSense box I'm building. Well, alright, there are actually two more items: 2 GB of DDR3 SO-DIMM and a USB flash drive I use for the boot disk, but these items are so generic you can easily pick up one from your favourite PC shop.
If you're interested, here are the post to the other components:
I'll do a follow-up post on the pfSense setup.
[AMAZONPRODUCTS asin="B005AACRQU"]