Fitness and health are some of the key applications of wearable technology gadgets, and I think Jabra has come up with something very interesting in their Jabra Sport Pulse. Launched last month, this is a Bluetooth headphone that builds in a heart rate monitoring function. If you've been procrastinating about going for that run or workout, perhaps some technology will provide the needed motivation?
A heart rate monitor baked into a Bluetooth headphone is a really clever idea. Some people find wearing chest straps and wrist straps uncomfortable. If you're already used to wearing some sort of Bluetooth headphones to listen to music while you work out, then the Jabra Sport Pulse can replace those headphones and give you the added function to monitor your pulse without carrying or wearing anything more.
In a nutshell, the Jabra Sport Pulse is a Bluetooth in-ear headphone, with inline remote controls and integrated microphone, and a clever heart rate monitor built into the earpiece. It's small and lightweight, and quite stylish too. You can use it just like how you'd expect any Bluetooth headphones to work. This one, of course, adds heart rate monitoring function, and comes with both Android and iOS apps to help you keep track of your fitness.
The Jabra Sport Pulse is IP55 certified. It has been drop, strength, dirt, temperature and humidity tested, qualifying it as a "sport" headphone. No worries about sweating it out or getting caught in a little rain while using the Jabra Sport Pulse.
To ensure the best possible fit, the Jabra Sport Pulse comes with a generous set of accessories, including four sizes of ear gels (silicon olives) and four sizes of ear wings. You should be able to find the right combination of ear gels and ear wings to pretty much fit your ears perfectly.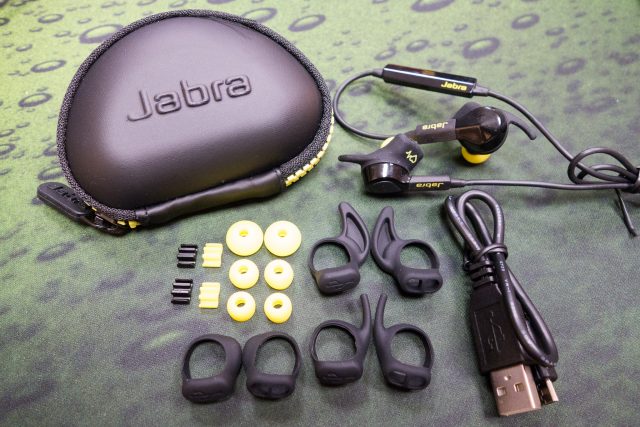 Jabra also includes two sets of wire clips, a Micro USB cable, and a nifty carry case for the Jabra Sport Pulse.
The Jabra Sport Wireless built-in lithium ion battery is rated to last for 4.5 hours of music/talk time. Charging is easy via the hidden Micro USB port under right earpiece.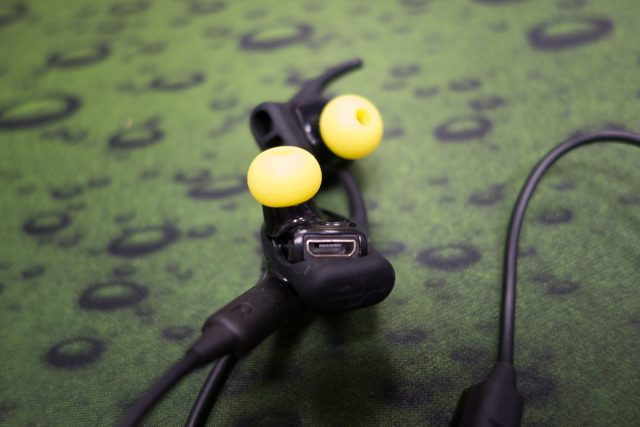 The battery life isn't long enough, in my opinion. Yes, it will last you through your typical workout, of course, unless you're into marathons or other sort of extended workout regimen. But with 4.5 hours of battery life, you'd better remember to recharge the headphone every three workout sessions or so.
Pairing with the Jabra Sport Pulse is easy. It supports NFC pairing too, just by tapping on the inline remote, although it's hardly necessary. Once paired with your smartphone, you can listen to music or take calls. The inline remote lets you adjust volume, pause/play the music, or skip tracks. The centre button is also used answers or rejects an incoming call, and hangs up an on-going call.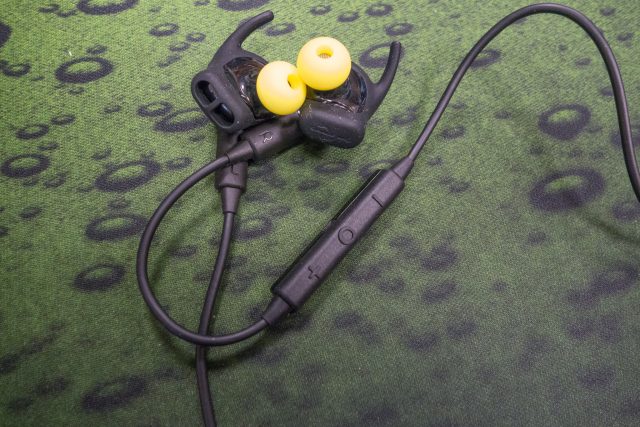 The 6mm drivers in the Jabra Sport Pulse produces good music that is rich and full. The bass packs good volume. If I had to be critical, the overall timbre sounded a little lacking in clarity and separation. In practice, this isn't something you'd readily notice if you were actually working out.
The most fascinating thing with the Jabra Sport Pulse, of course, is about the heart rate monitoring, and their smartphone apps. The heart rate monitor is built into the left earpiece. It just works, detecting my heart rate instantly, no need to fumble around or make adjustments. You'll need to pair to an Android or iOS device, of course, and install the Jabra Sport Life app.
Jabra Sport Life is the app that holds all your fitness data and tracks all your workouts.
The Jabra Sport Life app is free, and surprisingly can also be used on its own without the Jabra Sport Pulse headphone. Of course, you need the heart rate monitoring data from the Jabra Sport Pulse for the app to be truly useful. I'm pleased that the Jabra Sport Life app is indeed quite capable. It includes just about all the features you'd expect from a fitness tracking app.
The usual workout stats like average heart rate, maximum heart rate, distance, duration, pace, calorie burn, and GPS route are tracked. You can configure a target training zone, and receive voice prompts to keep you in your selected training zone. You can configure the real-time data displayed during the workout.
There are also some standard fitness tests that the Jabra Sport Life can help record. Apart from the usual Resting Heart Rate test, it can also do the Rockport test and Orthostatic Heart Rate test.
All your workout data and fitness test data is recorded and you can view the recorded history. The app doesn't graph data, but you can at least export them out in CSV format for processing on your computer.
Some little gadgets are complex enough to have their own firmware that can (or needs to) be updated. The Jabra Sport Pulse is one such gadget. Very fortunately Jabra has the good sense to include firmware updating support for Mac users. (Windows is also supported of course, I just thought to mention Mac because it often gets left out.)
The Jabra Sport Pulse retails for S$298 at Apple premium resellers, Challenger, Harvey Norman, Stereo Electronics and other authorised resellers.
Conclusion
The Jabra Sport Pulse is a Bluetooth sport headphone with built-in heart rate monitor and bundled smartphone app will make a great workout companion.
Pros:
Works and fits great for sports
Built-in heart rate monitor
Useful companion fitness app
Cons:
Battery life not long enough