Mr Bean Cafe, or the Teddy & Me Cafe as it's officially known, opened in Marina Square several months ago. I've passed by several times, thinking about having desserts, but I only got around to it today. I think it's a place we'll be coming back again, many more times.
I'd guess everyone knows who Mr Bean is. This cafe is themed around Mr Bean and his little teddy bear. The cafe is dotted with all manner of items from the Mr Bean show.
Apart from the big TV screen both outside and inside the cafe streaming episodes of the Mr Bean show, the cafe also offers iPads at the tables for you to view your Mr Bean shows on demand. Yes, pause, fast forward, and what not. If you or your kids enjoy watching Mr Bean, I think this alone could be a major attraction to keep you coming back.
How are the desserts? This cake looked really interesting in the display. I ordered it. Its' called the Beantastic Mille. It's layers of crepe, sort of like kueh lapis, but with cream in-between. The side shot looks really nice, unfortunately not adequately captured in this photo.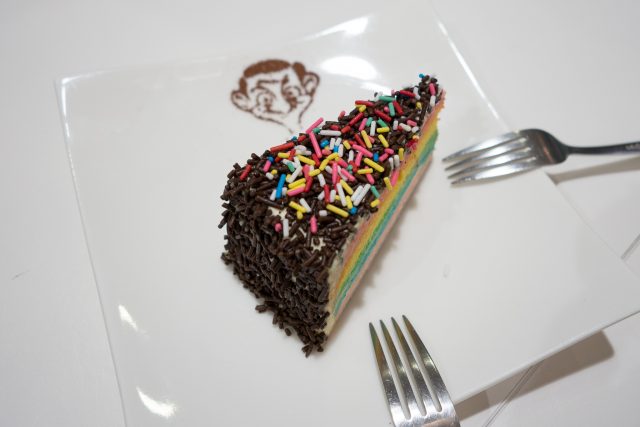 I took one bite, it was good. The daughter took one bite, and declared she wanted the whole cake, and she wasn't sharing it. Alright, of course we're sharing. I told her we'll order another one later. I suppose it was that good. This is for $8.80.
Next, we had the ice cream mini waffle.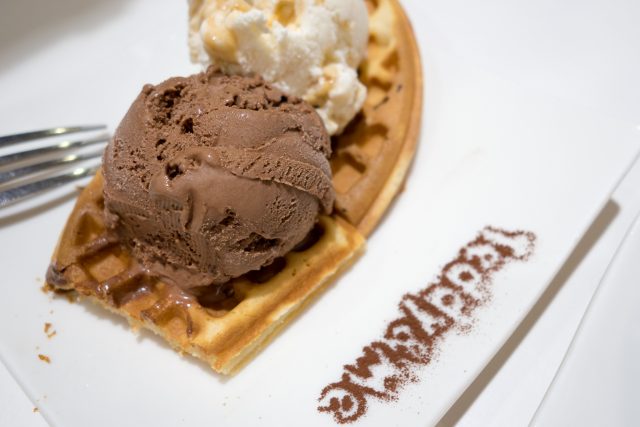 We had dark chocolate and macadamia caramel ice cream on top. This was a little more ordinary. Good, but not terribly outstanding. Although we (me and the daughter again) did quite enjoy the macadamia caramel ice cream. The mini waffle with two scoops of ice cream cost $6.
Now when it came time to re-order that wonderful cake again, the waiting staff suggested trying another flavour. Okay, we'll go with Teddy Cookie ($8), which is basically cookies and cream. Unfortunately, this was quite ordinary. The crepe is still nice. Perhaps the Beantastic Mille had our expectations set too high.
Teddy & Me serves mainly desserts, which apart from the ice cream and cake we had, also includes sundaes. There are other beverage options too, like ice blend coffee ($6), which I had, and while good, wasn't outstanding. I'd say can compete with Starbucks. They could perhaps tone down on the sugar a wee little bit.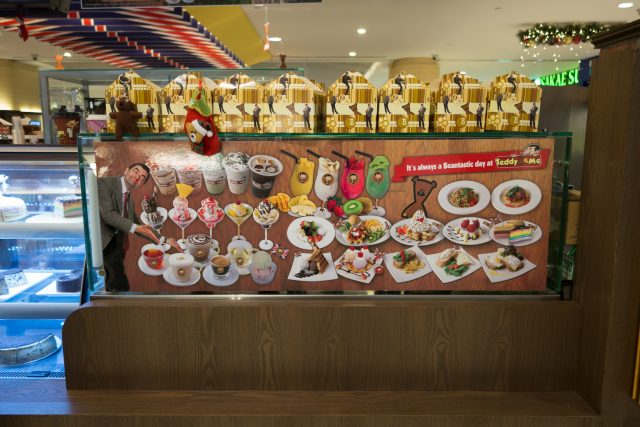 They do serve some food items too. Like pasta. We didn't try them. The food menu is severely limited. I don't expect you'd come here for dinner.
Some of the decor around the cafe includes Me Bean's infamous car.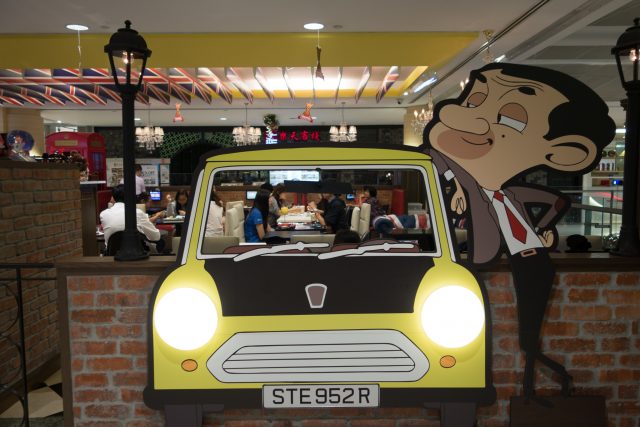 This is a place kids will love. Not least because of the iPads and streaming of Mr Bean shows. How good life it is, yah, ice cream, iPad, and TV shows. All at the same time.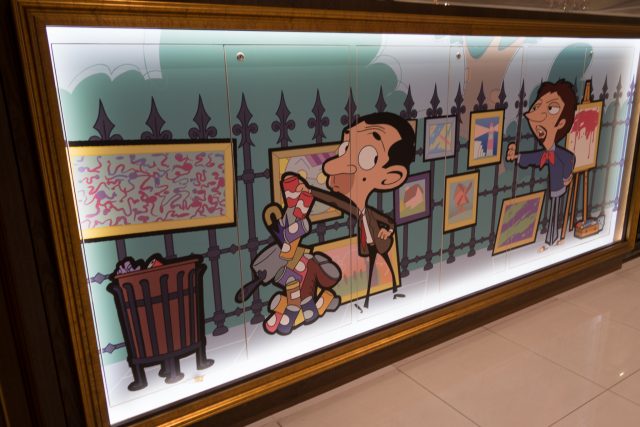 Teddy & Me is located on the 2nd floor of Marina Square, opposite the information counter. If the adults want to chit chat when their kids are with them, this is a great place. The kids will be completely occupied. Don't forget to try the Beantastic Mille.