Xiaomi has risen to become the 3rd largest smartphone manufacturer in the world. You've probably already heard of their Redmi smartphone and the Redmi Note phablet. Their Mi Power Bank is also particularly good value for money. What else are they up to? Meet the Mi Band, their new wearable fitness and sleep tracker.
The Mi Band sells for just S$19.99 in Singapore. Yes, no mistake there. Similar fitness and sleep trackers usually cost upward of S$100. This bargain low price tag is a distinguishing feature of many of Xiaomi's products.
For under S$20, the Mi Band is a very compelling reason to get started on fitness or sleep tracking. Even for people who are only mildly interested in such trackers, or perhaps only intend to use one of its function (e.g. just for sleep tracking), the Mi Band is still very affordable.
The Mi Band sports a simple minimalist design. Less is more, as they say. There's no visible branding on the surface, and you needn't worry about it being an eyesore on your wrist. I don't suppose it counts as a fashion accessory, but I think it won't easily clash with your dress style. The actual tracker gadget is encased in a plastic piece that is topped in aluminium, and this piece slips into a silicon-rubber wrist strap.
There are three multi-colour LED indicators cleverly hidden beneath the top of the tracker, not easily visible unless they are lit, or you know exactly what to look for. The two gold contacts, hidden within the rubber strap when the tracker is slotted in it, mates with the supplied charging dock to charge the battery. The underside of the tracker only has the Xiaomi logo embossed into the plastic.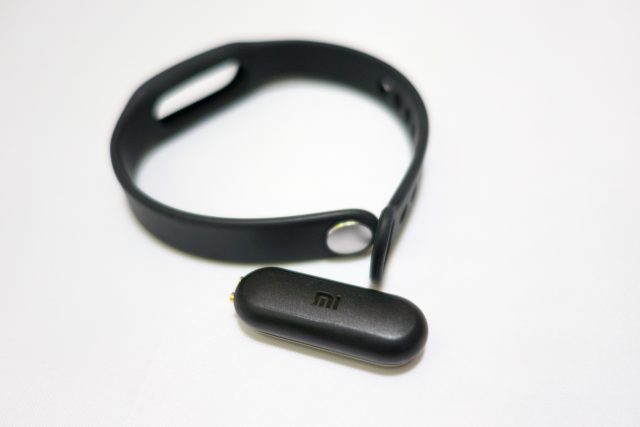 The wrist strap is made of Thermoplastic Silicone Vulcanizate (TPSiV), whose hypoallergenic properties make it suitable for even the most sensitive skin. As you can see from the photo above, the wrist strap is easily adjustable to a variety of sizes, from 157 mm to 205 mm.
The Mi Band seems comfortable to wear. I don't usually wear a watch, so I'm not very used to having something worn on my wrist. To be honest, after wearing the Mi Band for a day, I wasn't particularly excited about something strapped around my wrist. At just 13 g (both the tracker piece and rubber strap), the Mi Band should be hardly noticeable on their wrist for most people.
The charging dock accessory is simple and functional. You do have to remove the actual tracker gadget from the wrist strap in order to charge.
The Mi Band is IP67 rated. Officially, IP67 means you can submerge it in water up to 1m deep for up to 30 mins. That means you can take it for a swim, but don't take it on a dive.
Setting up the Mi Band is quite easy. You'll need to download the Mi Band app from the Google Play Store. No, unfortunately, there is no official iOS English version support yet, though it is said to be coming.
You'll need a Mi account to use the Mi Band. I don't like the idea of creating all these frivolous accounts. If you do use a Xiaomi smartphone, you probably already have a Mi account, so this might not be so bothersome.
There's no on-off switch on the Mi Band. I suppose it's always on, and has been on ever since it left the factory. The next step is to get the Mi Band app to pair with the gadget itself.
In my screenshots below, I already have some "history data", because I was already using the Mi Band before going back to re-setup and re-pair for capturing these screenshots. Pairing is straight-forward, though I'm surprised it does take longer than pairing, say, my Bluetooth headsets.
The Mi Band app will ask for a few details to setup your profile. This includes your age, height, and weight. You can optionally set a desired step goal, which defaults to 8,000.
You can get some feedback from the Mi Band gadget itself. Remember the three LEDs? They light up when you perform a gesture, which is described simply as lifting up your hand as in a manner as if to read time from a wrist watch. I found the gesture mighty tricky initially, but I eventually got the hang of it.
Here's my pro-tip: Start in a standing position with your arms and hands handing down by your side. It's difficult to get it to work while sitting. Then, what you're going to do is to bring your hands up into a position in-front of you as if you were going to read time off a wrist watch. Swing your hand slightly forward and upward. No need to be fast, but don't go too slow. Make sure the Mi Band stops slightly elevated at an angle facing you, not parallel to the ground. Then, hold it steady in that position for a few moments, about one to two second, and wait for the LEDs to light up.
The LEDs serve two purposes. The first is to indicate how far along you are on your daily step goal. One LED lit up means you're less than 1/3 way. One LED lit up with the next one blinking means you're somewhere between 1/3 and 2/3 of your goal. With two LEDs on and the third one blinking, it means you're at over 2/3 of your goal. When you reach your goal, the three LEDs blink cyclically. If all three LEDs are on, then you've exceeded your daily step goal. The LED colour is blue by default, but you can change the colour through the Mi Band app.
The other purpose of the LED is to indicate low battery status. When the three LEDs are red, you should probably recharge the battery soon. The 41 mAh battery, incidentally, is rated to last a whopping 30 days.
The Mi Band connects with an Android smartphone via Bluetooth 4.0. It doesn't need to be connected all the time. The Mi Band will still continue its tracking when your smartphone is out of range. Whenever your smartphone comes back within range, the Mi Band app on the phone will sync with the Mi Band.
As you can see in the screenshots above, the Mi Band app captures the steps, walking distance, walking time data. If you scroll the screen further down, it looks like running distance and running time is also captured. I'm not sure how the Mi Band decides what counts as running, but I suppose if your steps are happening too quickly, which I noticed even a slightly brisk walk qualifies, those steps would be considered as a run.
The pedometer function works reasonably well. I'm not expecting it to count my steps perfectly, but it gets it about right. It's possible, though, that even while sitting, the Mi Band might count a couple of steps as you move your hands or arms wildly around. For example, if you are a very animated with your hand gestures when you speak, that does count as a bunch of steps.
Wearing the Mi Band to sleep turns it into a sleep tracker. I'm quite curious to know about the quality of sleep I'm getting. It seems, at just 2 hrs 11 mins of deep sleep, not enough. There's no way for the Mi Band, as well as other typical pedometer gadgets, to distinguish between deep sleep and REM sleep, so the real deep sleep could be far less. The app doesn't keep historical data, unfortunately.
Apart from walking, the Mi Band has some activity-specific tracking functions baked into the app. At this time, the activities are skipping and sit-ups. The app also has a sort of running tracker too, with GPS tracking and such, but is really quite rudimentary. The Mi Band is, of course, a pedometer, not a heart rate monitor, so this isn't something you can use to check your training zone. Unlike the walking and sleep data, the Mi Band does keep a history of these running activities.
The app has a link for you to vote for your favourite sport, so that presumably Xiaomi will add relevant tracking functionality in future. The current list includes football, basketball, volleyball, badminton, tennis, ping pong, cycling, climbing, rollerblading, and skateboarding. I'm not quite sure how a pedometer would be terribly useful in these activities though.
The Mi Band, quite unusually, contains a vibration motor. It can be used to notify you of incoming calls, if you don't answer them within a configured time delay. It can also be configured to vibrate when you receive a notification on your phone. Furthermore, the app can help you locate your Mi Band by causing it to vibrate. The vibration strength, however, is rather weak. It might work when worn on your wrist, but if you're talking about trying to locate your missing Mi Band, I doubt the vibration has enough strength to be useful.
There's another cool trick with the Mi Band, but it requires a supported Xiaomi smartphone with the MIUI ROM. If your phone is normally setup to require a screen unlock code, now you can configure the phone to bypass it if the Mi Band is in close proximity. Just hold the phone in the same hand that you wear the Mi Band.
Xiaomi showcases other colour wrist straps on their website, although they don't seem to be available for order right now. I suppose at some point in future, you can accessorise your Mi Band with different coloured wrist straps to suit your preference and style.
Conclusion
The Mi Band is perfectly functional, and at S$19.99, it is a great bargain, even if all you're going to use it for is to count your steps or track your sleep.
Pros:
Simple neutral design unlikely to clash with your fashion
Excellent battery life
Doesn't need to be constantly connected to smartphone
Cons:
Gesture to activate the LED indicator is tricky
Related post: Pebble, Mi Band and Fitbit Zip