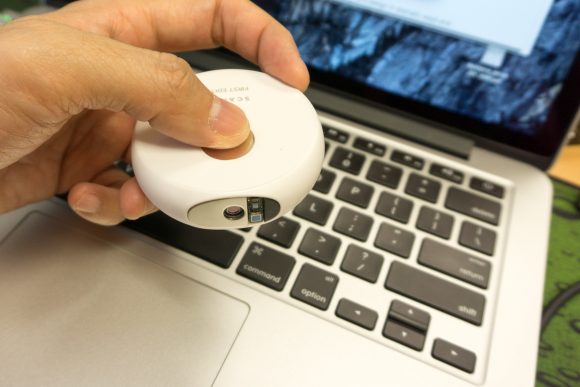 In mid 2013, I got to know about this amazing, futuristic, gadget. It's a medical scanner that scans your vital signs, including pulse rate, blood pressure and blood oxygen levels, then wirelessly transmits them to a smartphone. It almost sounds unreal, futuristic, like the medical tricorder gadget from Star Trek. It's called the Scanadu Scout.
To be honest, I was skeptical. Then, I came across an article from one of the tech publications. They had paid a visit to Scanadu Scout's office and declared there was a legit prototype. I was sold.
The Scanadu Scount Indiegogo project page had originally described that the device was capable of reading temperature, respiratory rate, ECG, blood pressure, oximetry levels and stress levels. I was impressed. You apparently just need to hold this gadget to your temple, and in ten seconds, it'll give you those vital sign readings. Now, temperature isn't all too unbelievable, since we already have those handheld thermal temperature scanners.
But, how do you do ECG? How do you take blood pressure without that puffy arm band thingy? What about the blood oxygen levels?
Well, the project was supposed to deliver in early 2014. They were late, and it finally arrived last month. Also, while I don't really care (or know) about stress level readings, the final gadget also doesn't do ECG. Still, we do have:
Temperature
Heart rate
Blood oxygen level
Blood pressure, both systolic and diastolic
Still pretty cool. ECG would have been really cool. But I suppose you'd need a doctor to make proper sense of an ECG chart.
The Scanadu Scout pairs with a companion smartphone app, with both Android and iOS supported. The gadget transmits its readings wirelessly over Bluetooth for display in the app, which also keeps records of old readings for trending.
Scanning turns out to be not as straight-forward as the simply 10 seconds that was suggested. You need to hold the gadget correctly with your fingers, and it needs to be held correctly against your temple. You've also got to keep still. Thankfully, with a little bit of practice, you should be able to figure out how to use the Scanadu Scout efficiently and effectively to take measurements.
You can add tags to your scans. This enables you to associate your scans with details such as your level of activity, food and beverage intake, or how you were feeling. You can even write any arbitrary notes to attach to the scan.
Apart from the trending graphs, you can also retrieve historical readings.
The Scanadu Scout device itself is pretty small, and fits in the palm of your hand. The top has a touch sensor to make contact with your finger. On the front, an infrared thermometer sits behind the circular window. The SpO2 sensor is the squarish thing on the right, nearer to the bottom.
On the back, from left to right, you'll find the power button, a Micro-USB port for charging, and a power indicator LED.
The Scanadu Scout is really useful and convenient, particularly when you consider that it takes four measurements in one gadget. I know some of you may think you can take pulse rate manually, or you have a smartphone app that can do that, and you may already have a thermometer or some sort of clinical temperature scanner, but how about blood pressure and blood oxygen level?
While some of us may already have a blood pressure monitor, it's probably not going to be as cool and convenient to use as the Scanadu Scout. The blood oxygen level probably isn't a very important vital sign to monitor, unless perhaps you have a medical or health condition that makes it relevant, but it can't hurt to have this extra data to monitor your well-being.