Hybrids are getting popular these days, thanks to demand for more capable tablets and more portable notebooks. This is exactly what the Acer Aspire Switch 10 aims to be. It's a hybrid tablet with a 10.1 inch screen and a detachable keyboard dock that can be angled in several ways, offering both a tablet experience and a decent notebook experience.
The Acer Aspire Switch 10 runs Windows 8.1, so we're talking about a truly PC notebook experience. Under the hood, it's powered by Intel's Atom Z3735F processor clocked at 1.33 GHz with 2GB of RAM. This review unit is the version with 32GB of flash, 500GB of conventional hard disk drive, and a screen resolution of 1280×800.
The Atom Z3735F is based on the Intel Bay Trail platform, which provides reasonably good performance (for a tablet anyway), yet with power consumption that approaches ARM-like levels. The Bay Trail platform is Intel's latest push into the tablet market, an area that they haven't been strong in, and it's their opportunity to demonstrate that they have a capable offering for mobile gadgets.
Many tablets have keyboard docks that communicate wirelessly over Bluetooth. In the case of the Acer Aspire Switch 10, the keyboard dock needs a physical connection to the tablet before it will work. The keyboard dock is relatively heavy, but that is probably not surprising considering that it needs to have enough heft to hold up the tablet portion without risk of toppling. Considering that any touchscreen interaction will cause additional force to be applied to the tablet, the whole setup needs to be particularly sturdy.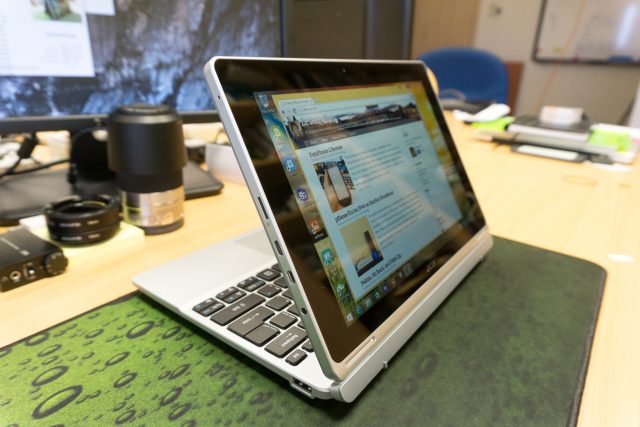 Instead of a switch or eject button to release the keyboard dock from the tablet portion, Acer has designed the Aspire Switch 10 to use strong magnets. Two metal inserts from the keyboard dock are drawn into the tablet portion to secure the two parts in place. You do require some force to tear the tablet away from its keyboard dock, so no worries about them detaching accidentally.
The tablet's attachment to the keyboard dock can be reversed. So essentially, you have four ways of using the keyboard dock.
Usual notebook style
Kiosk style (as in above photo)
Tent style (see photo below)
Tablet style (keyboard folded under tablet)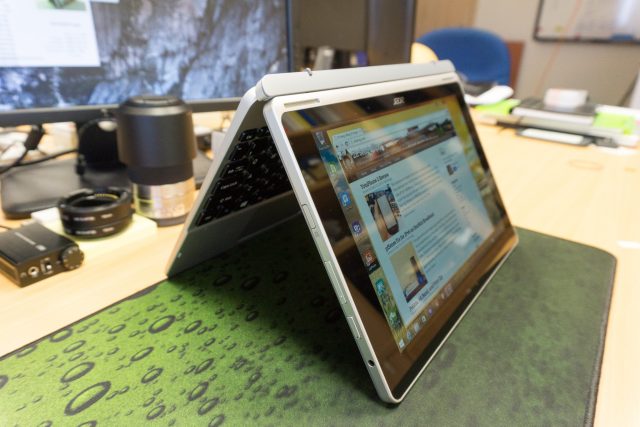 I'll post a follow-up review in due course when I've had some time to use the Acer Aspire Switch 10 for a while. In particular, I'm really keen to see how well the battery stands up in everyday use, as well as how well the tablet performance holds up. Stay tuned!