They are known by many names: car cameras, dashcams, and in-car digital video recorders. We'll just call them car cameras. They are getting really popular in Singapore, and they are important tools for capturing video evidence of any accidents, incidents or road altercations. This is my second car camera, the BlackVue DR750LW-2CH, which I'll review in this post.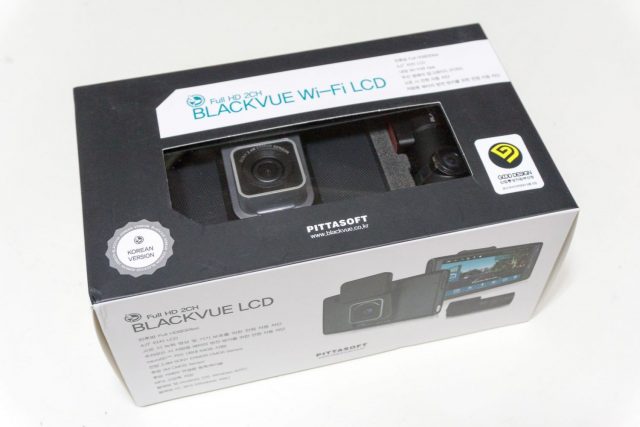 BlackVue is a popular brand of high quality car cameras. They are made by the Korean company, Pittasoft. My first car camera was also from BlackVue, the DR550GW-HD. It is a single camera system designed to record front video only. These days, dual camera systems are starting to get popular.
The DR750LW-2CH is that upgrade which brings two Full-HD (1080p at 30fps) video cameras, and a live-view LCD screen. As with other BlackVue car cameras, it also incorporates Wi-Fi  connectivity for monitoring and playback through a mobile app. A downgrade, however, is that GPS is now not included in the unit, but is supported through an additional accessory.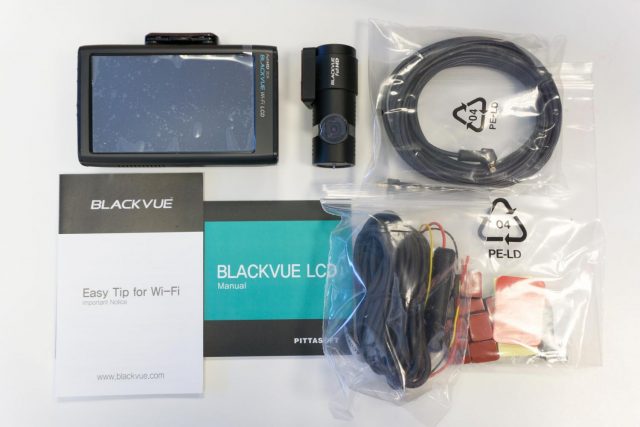 In the box, you get (clockwise from top-left):
Main unit with front-facing camera
Rear-facing camera unit
6 m video cable
Double-sided tape, hooks, and micro-SD card reader
Power cable for connecting to fusebox (not cigarette jack)
Manuals
Unlike my last BlackVue that came with a cigarette plug power cable, the power cable included this time around is designed to be hooked directly to your vehicle's fusebox.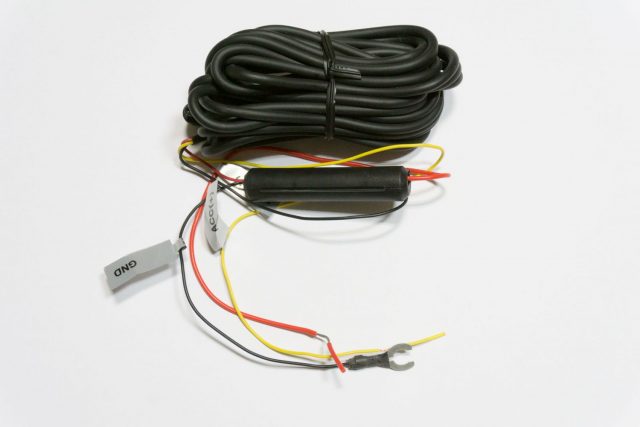 There are, of course, pros and cons with this cable, depending on whether or not you're comfortable hooking up cables into your vehicle's fusebox. If you prefer to use the cigarette jack, then you'll need to buy a separate cigarette plug power cable.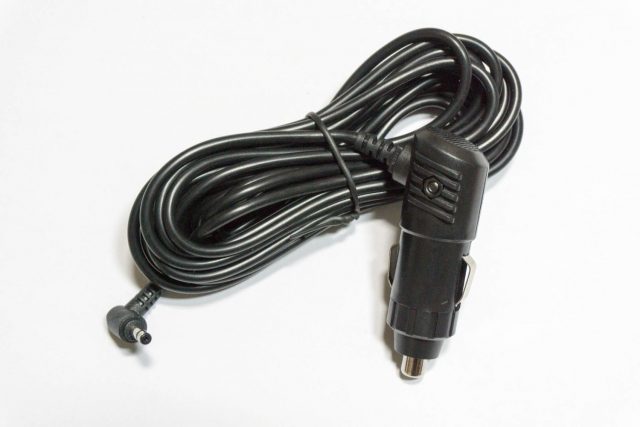 Unfortunately, the power cable for the DR750LW-2CH is different from older models, at least with the DR550GW-HD that I had. That means I had to rip out the old cable and reinstall the new one.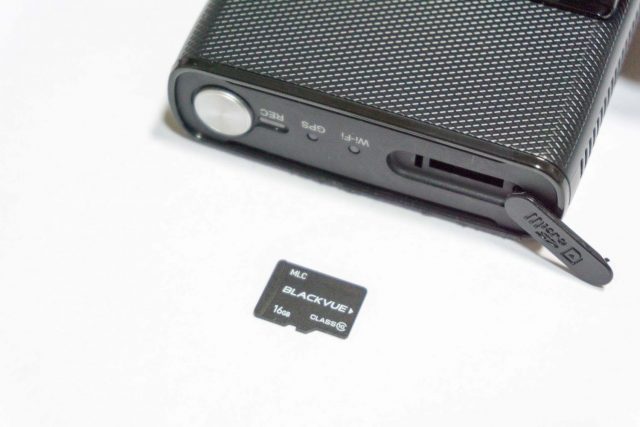 Setting up the DR750LW-2CH is really simple. An 8GB microSD memory card is pre-installed in the main unit, so you don't have to go hunt for one. All you have to do is to connect the two camera units together with the video cable, then connect the power cable, and start your engines, i.e. turn on power to the camera.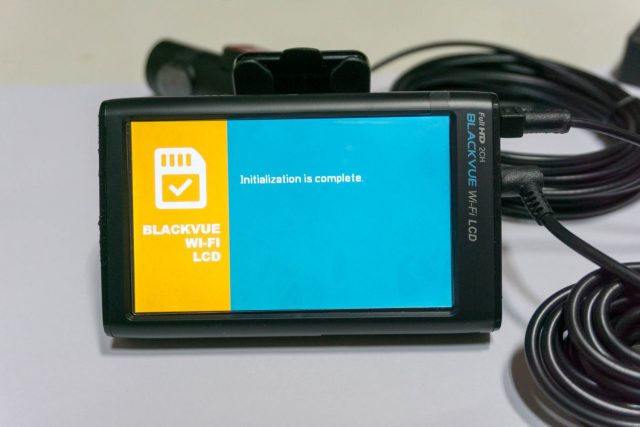 I did the initial setup at home, as in inside my house, powering up from a power bank that supplies 12 VDC. The first thing the DR750LW-2CH does is to format the memory card for use.
This is BlackVue's first car camera that features a LCD screen. This is a significant change. While in the past you'd have to connect to the car camera using the BlackVue mobile app (both iOS and Android supported) over Wi-Fi in order to perform any setup, camera adjustments, playback videos and such, you can now directly do all of that right from the 4″ LCD touchscreen. Yes, it's capacitive touch-enabled.
The inclusion of the 4″ display does make make the DR750LW-2CH the biggest in all of BlackVue's lineup of car cameras. In the past, it was preferred for car cameras to be discreet. Nowadays, some car owners do want their car cameras to be noticed. Sometimes, simply letting the other party know that a car camera is present to record the proceedings is good enough to prevent an incident from turning ugly. (Of course, there's also the flip side that your car may be specifically targeted by thieves for the camera. However, I think in Singapore, car break-ins are not too common to be particularly a serious concern.)
At 4″, the LCD touchscreen is just the right size to be usable, yet not too clunky. Videos are large enough to be checked casually. If you want to examine videos for details, you'd probably be downloading them to your computer for longterm safekeeping anyway.
If you buy the DR750LW-2CH online, like I did, chances are you'll have to do the installation yourself. The hooks and double-sided tapes provided in the box are handy, but in my opinion insufficient.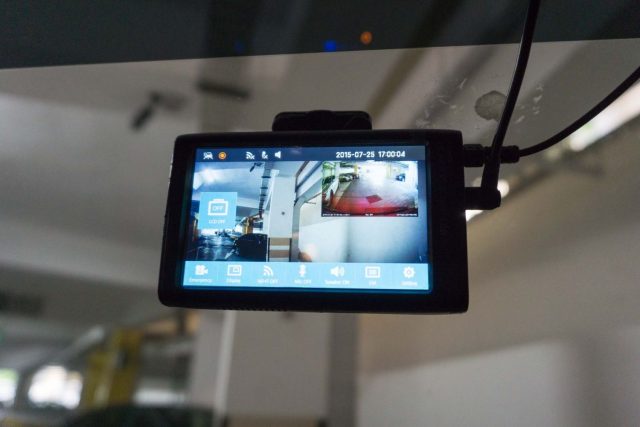 I did find a bit of a challenge hooking up the rear camera unit. The 6 m long, which seems like it's more than sufficiently long, turns out to be not quite enough for my car. I didn't measure if the cable was truly 6 m long. However, I can tell you that if the cable were to be routed properly around the sides of the windscreen and remain concealed as it runs to the back door of my small-sized MPV, it was about 50 cm short of reaching the rear camera unit.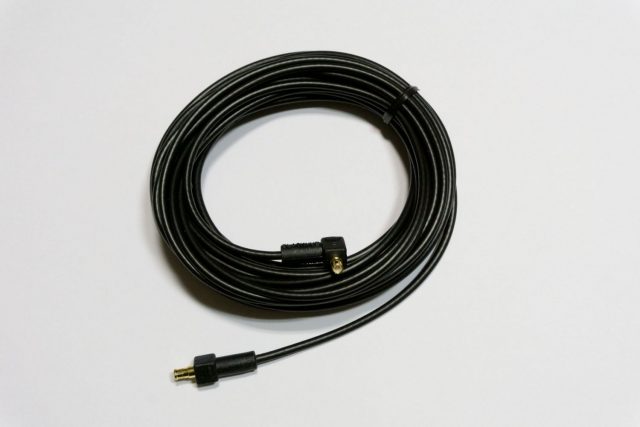 With a MPV, the back door will necessitate some cable slack to accommodate the opening of the door. The stock cable will probably work just fine in a standard sedan. I can buy a longer cable (which I did in the end), but the next longer cable is 15 m. There is no in-between like, say, 9 m.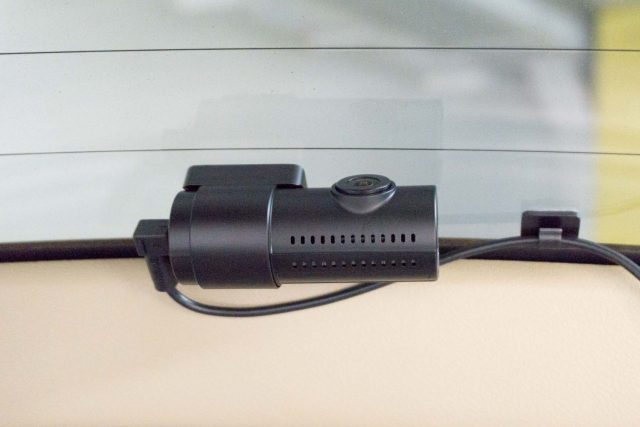 The rear camera unit is quite svelte, because it doesn't contain anything but the camera. All the brains is in the main unit.
Pittasoft somehow thought it made good sense to scrimp on the integrated GPS. If you want location and speed data in your recordings, you'll now have to buy the separate GPS accessory.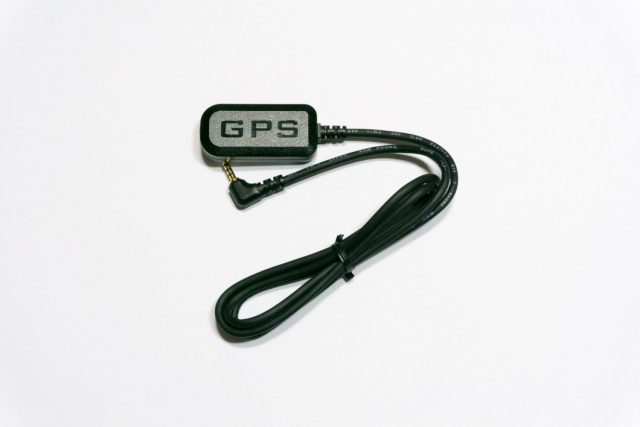 The GPS accessory plugs into the DR750LW-2CH main unit. There's nothing to setup. Once the GPS accessory is connected, and GPS tracking is up, location and speed data is recorded automatically. The live view display will also show the speed, according to GPS data. The GPS cable does need a small bit of effort to push in, until you hear a click, before it works. Initially I had some trouble because I thought I had pushed the cable in all the way.
The user interface on the LCD touchscreen is basic but completely functional. Date and time is set automatically when you have GPS, but you'll have to make sure you've configured the correct timezone. Without GPS, you'll have to set date and time manually, although you can "sync" the time from the BlackVue mobile app.
There are plenty of settings available, such as:
Sensitivity to switch to "event recording" during "normal recording" mode
Sensitivity to switch to "event recording" during "parking recording" mode
Video resolution (you can choose either 1080p or 720p)
Video brightness adjustment to compensate for tinted film covering the camera's view
Voltage range to accept, otherwise to shutdown (this is useful when your camera is directly connected to an always-on fusebox connection, so that you won't drain the car battery completely)
Wi-Fi settings (for connection from BlackVue mobile app)
The only physical button on the DR750LW-2CH is used to activate and deactivate audio recording. Holding the button a bit longer will power on or off the device.
Video quality from the DR750LW-2CH is pretty good. You can check out the samples I previously posted. The camera's field of view is pretty wide, and the 1080p resolution ensure that you don't lose too much detail.
BlackVue's desktop app, BlackVue Viewer, is available for both Mac OS X and Windows. I tested the OS X version. Take the microSD card from the DR750LW-2CH and put it in the Mac, using the included USB microSD adapter or any other adapter you have for reading microSD cards, and the BlackVue Viewer will do its thing.
The BlackVue Viewer app provides a more comprehensive way of browsing and searching through your recorded videos. The app lets you toggle between various camera views, speed up or slow down the playback, and view the G-sensor data.  You can take still snapshots, and if GPS data is available, follow the vehicle as it travels around on the Google Map inset.
The Android and iOS mobile apps are somewhat like a simplified version of their desktop counterparts. There are some extra features though, in the mobile app. Notably, there is the support for Wi-Fi connection to the BlackVue camera itself, so that you can directly browse and retrieve videos from the device. You can also configure the BlackVue camera. These are all necessary for other BlackVue cameras that do not have a LCD touchscreen, because then there would be no other practical way to interact with the camera.
Interestingly, the mobile app also offers an option to share your video directly to YouTube. I don't know, but I wondered if Pittasoft was perhaps thinking of this being a quick way to go public with a damning video before someone comes and snatches away your smartphone.
To be honest, I'm quite annoyed that the mobile app seems be unnecessary slow, at times, almost like as if the delay was put there on purpose. For example, there's a delay at startup before the app displays a safety message about not using the app while driving. I get it, don't drive while using your smartphone. But you don't have to annoy users this way?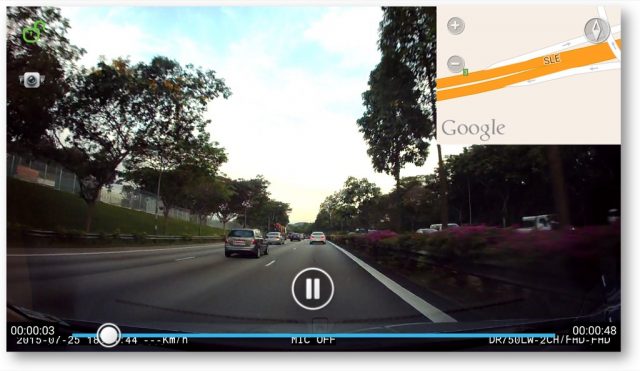 The BlackVue DR750LW-2CH doesn't seem to be officially sold through www.blackvue.com.sg, but it's available from online overseas retailers for S$275, plus another S$37 for the GPS accessory and S$15 for the cigarette plug power cable. This seems to be pretty good value for money. Installation is on my own, of course.
Conclusion
The BlackVue DR750LW-2CH is an excellent dual camera system. If you're up for self-installation, buying from online retailer seems to be pretty good value for money.
Pros:
High quality Full-HD 1080p at 30fps recording on both front and rear cameras
LCD touchscreen is bright, clear, and responsive
Wi-Fi with excellent Android and (untested) iOS mobile app
Excellent desktop app for Mac and (untested) Windows
Cons:
GPS not integrated
Included cable for rear camera may not be long enough