Jabra last month launched a new Bluetooth wireless headset, the Jabra Sport Coach, which has fitness features designed for cross-training. The new headset incorporates individual coaching, via voice prompts, to guide you along as you workout. The accompanying smartphone app allows you to customise your own workout routines.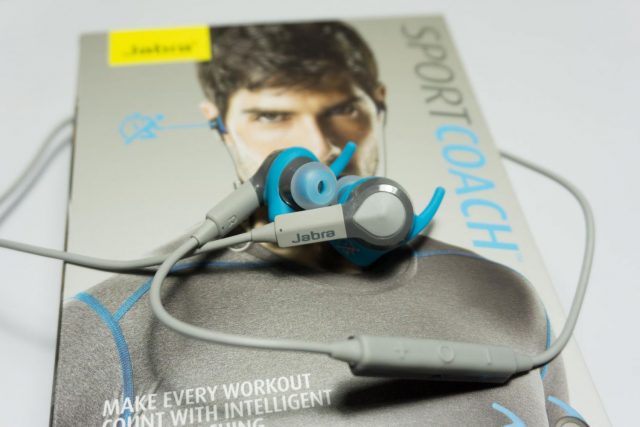 In most respects, the Jabra Sport Coach is pretty much the same as last year's Jabra Sport Pulse. They even look the same. The most notable difference is that the newer headset is missing a heart rate monitor. Instead, the Jabra Sport Coach includes a TrackFit™ motion sensor  to track pace, distance, step count, and cadence. The new Jabra Sport Coach is clearly designed to be used for different fitness workouts from the Jabra Sport Pulse.
Like the Jabra Sport Pulse, the Jabra Sport Coach is an in-ear headphone design, with inline remote controls and integrated microphone. It is Bluetooth-enabled for wireless communication. It has NFC to facilitate pairing, and it supports A2DP stereo music. It has the same companion smartphone apps for both Android and iOS platforms.
The inline remote controls are down from the right earbud, and it has the usual functions to control music and calls. This includes volume adjustments, track skipping, pause and play music. For call handing, you can accept or reject an incoming call, and redial the last number.
An important requirement for in-ear headphones is a good fit for the earbuds. To that end, Jabra provides a generous variety of fit options.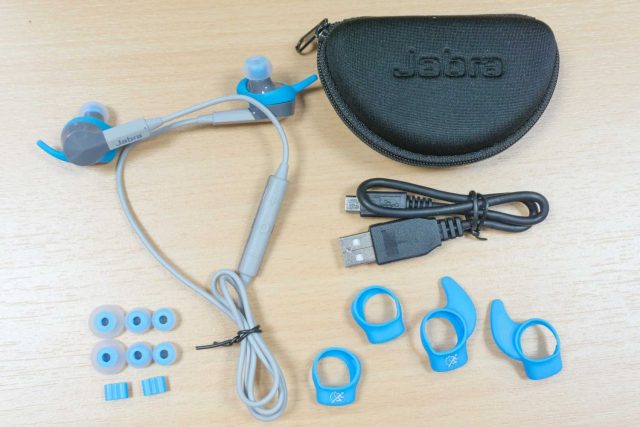 There are four sizes of silicon ear gels, and three sizes of ear wings. The latter help to ensure that the earbuds stay in your ear.
Jabra also includes to cable clips to help with managing excess cable length. Other accessories include a micro-USB cable for charging, and a carrying pouch.
The micro-USB charging port is located under the right earbud, cleverly covered and protected by the silicon ear wing. Jabra claims a battery life of 5.5 hours.
The headset is IP55 certified, and is what Jabra describes as US Military standard sweat, shock and dust resistant. It's also ultra-light, weighing only 16 g. It's perfectly suited for running and cross-training workouts. Despite vigorous movements, there is little risk of dislodging the earbuds.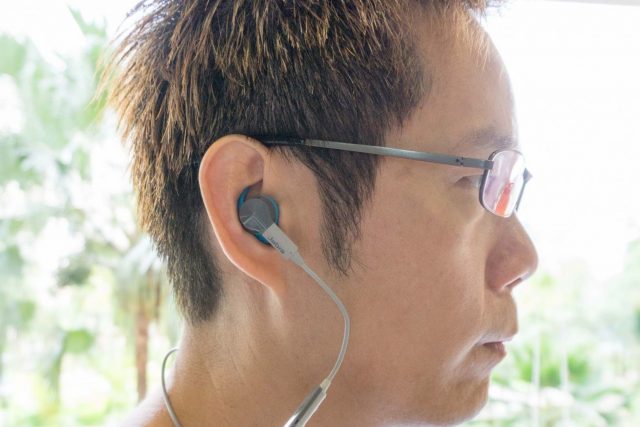 The companion smartphone app, Jabra Sport Life, is what drives the magic behind the coaching capabilities of the Jabra Sport Coach. At the very basic level, it will track your run, with GPS on the smartphone to map out the route, and the headset providing cadence information.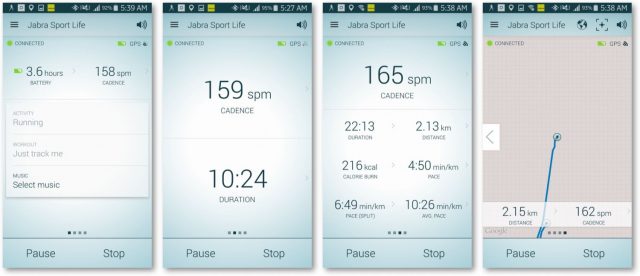 The Jabra Sport Coach will enunciate a couple of verbal prompts, such as the distance covered and speed. If you set a target, such as a pace target, the app will prompt you to speed up if you are falling behind. This is all nice, though perhaps nothing terribly exciting.
The true usefulness of the Jabra Sport Coach, with the Jabra Sport Life app, comes when you do cross-training workouts. First, you can pick from a selection of workout routines designed by Jabra. The app guides you along as you perform your workout. In the screenshots you see below, you'll find that I've selected a Cross-training activity, then a PushPerfection routine. In the routine, you can see the list of individual exercises.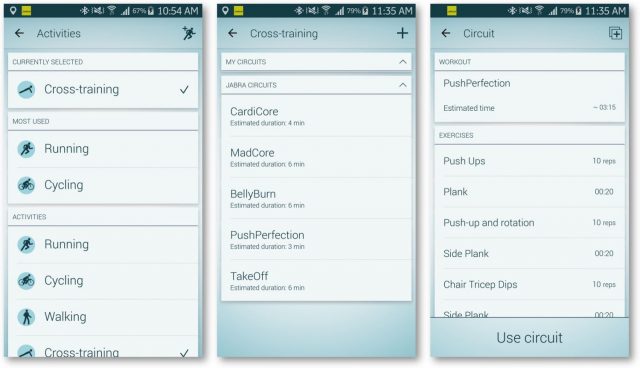 The Jabra Sport Life app allows you to design your own routine too, if nothing in their prebuilt list suits you. There are over 40 different exercises. I was disappointed that the 7-minute workout routine wasn't in the prebuilt list, but I can create that anyway.
Let's not forget that the Jabra Sport Coach is fundamentally still a music listening device. To that end, I'm quite happy that the earbuds deliver rich, powerful audio performance. The bass is strong, but not overpowering. There's an overall warmth in the tonality. This is not quite audiophile grade headphones, but for its price category, it's pretty good. I usually think sound quality is not something that will matter significantly while you're working out. The Jabra Sport Coach is better than that. It's just as good for casual use in office or on your daily commute.
The silicon ear gels accord good noise isolation. On the other hand, if you need to be aware of your surroundings, such as when you need to hear traffic during your runs, the noise isolation might be just a little too good.
I should mention that the Jabra Sport Coach can connect with two Bluetooth devices simultaneously. Jabra calls this Advanced Multiuse™. At the office, for example, you can have the Jabra Sport Coach play music and other audio from your notebook, but at the same time still hear notification sounds from your smartphone.
The Jabra Sport Coach is available online at www.gowireless.com.sg, and in stores (Apple premium resellers, Challenger, Stereo Electronics, Outdoor Sports Travel and other authorised resellers) at a suggested retail price of S$248. It is available in three colours, namely blue (in this review), red and yellow.
Conclusion
The Jabra Sport Coach is similar but serves a different purpose compared to last year's Jabra Sport Pulse. I personally would have preferred the heart rate monitoring feature in the latter, but I can see that cross-trainers may find the Jabra Sport Coach more suited for their workouts.
Pros:
Comfortable, secure fit
Good sound quality
Good app for cross-training coaching
Cons:
Lacking heart rate monitor