Google announced two Nexus smartphones in a press event last week. The much loved Nexus 5 of 2013, which did not have a successor last year, has returned in the form of the 5.2-inch Nexus 5X. For those looking for a phablet, last year's Nexus 6 is succeeded by a more svelte 5.7-inch Nexus 6P.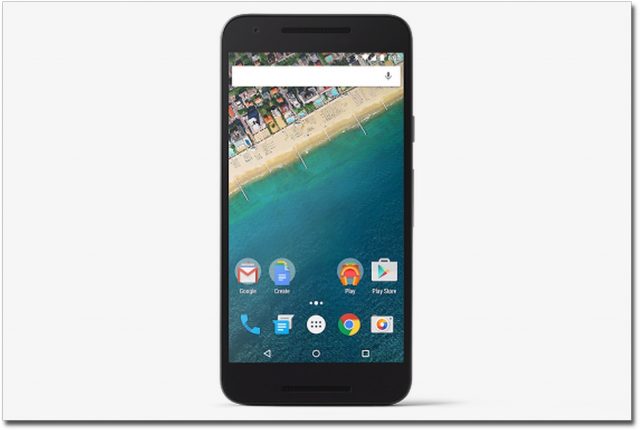 There are high expectations of the Nexus 5X, partly because the Nexus 5 of 2013 was such an great Android smartphone. Is the Nexus 5X a worthy representative of Android smartphones in 2015? Is the Nexus 6P a worthy update of the Nexus 6 phablet?
The two Nexus devices share some surprising similarities, but also enough important differences to appeal to different people.
The Nexus 5X is made by LG. It's the third time that they are working with Google to make a Nexus device. Huawei is making its maiden as a Nexus hardware partner with the 6P.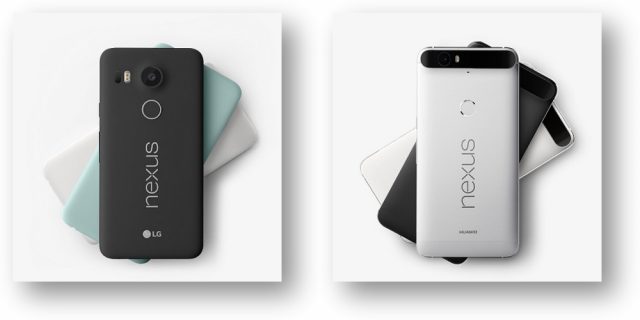 A big feature we're all looking forward to in Android Marshmallow this year is the support for fingerprint security. Both Nexus devices incorporate a fingerprint sensor, which Google calls Nexus Imprint, on the back of the device. It's designed to sit where your index finger naturally rests on when you hold the device. Just pick up the phone, and the Nexus 5X and 6P will unlock itself in 600 ms. It's nice that you don't have to separately put your finger or thumb on a front-side home button. Of course, unlocking the Nexus device while it lays on your desk may prove to be more troublesome.
Both Nexus devices also feature 12.3 MP main cameras with 1.55 µm pixel size, f/2.0 aperture, dual-tone flash, and laser auto-focus. The large sensor pixel size should help the camera perform better in low-light situations, making up for the lack of image-stabilisation, and the laser auto-focus should make for quick focusing times. They will both do 4K resolution video recording. The secondary, front-facing, camera is 5 MP on the 5X and 8 MP on the 6P.
Both Nexus 5X and 6P have converged closer in terms of display size. The 5X has grown from 5-inch to 5.2-inch, while the 6P has reduced from 6-inch to 5.7-inch. The former remains a FullHD 1080×1920 resolution IPS display, while the latter offers QHD 1440×2560 resolution AMOLED display.
Under the hood, the Nexus 5X is powered by an Qualcomm Snapdragon 808 processor with 2 GB of RAM, and the Nexus 6P has a Qualcomm Snapdragon 810 v2.1 processor with 3 GB of RAM. Note that the latter is the improved version of the Snapdragon 810 which ought to have cured its overheating problems.
The Nexus 5X has 16 and 32 GB internal flash storage options, while the 6P will offer 32, 64, and 128 GB. The measly 2 GB RAM on the Nexus 5X may prove to be a disappointment, since 3 GB has become quite commonplace amongst flagship smartphones, and indeed some already have 4 GB of RAM.
USB Type-C ports are included in both the Nexus 5X and 6P, with 15 W fast-charging support. The 5X has a 2,700 mAh battery, while the 6P has a larger 3,450 mAh battery.
The two Nexus devices have similar connectivity options, offering LTE cat 6, Wi-Fi 802.11 a/b/g/n/ac with 2×2 MIMO, Bluetooth 4.2, NFC, GPS + GLONASS.
The following table summarises the key features of the Nexus 5X and 6P, along with the older 5 and 6 models.
Nexus 5X
Nexus 5
Nexus 6P
Nexus 6
Display
5.2-inch
5-inch
5.7-inch
5.96-inch
Resolution
1920×1080
1920×1080
1440×2560
1440×2560
CPU
Snapdragon 808
Snapdragon 800
Snapdragon 810
Snapdragon 805
RAM
2 GB
2 GB
3 GB
3 GB
Camera (Main)
12.3 MP,
dual-tone flash,
laser auto-focus
8 MP, OIS, flash
12.3 MP,
dual-tone flash,
laser auto-focus
13 MP, OIS, flash
Camera (Front)
5 MP
1.5 MP
8 MP
2 MP
Bluetooth
4.2
4.0
4.2
4.1
Loudspeaker
Yes
Yes
Front stereo
Front stereo
Storage (GB)
16/32
16/32
32/64/128
32/64
Battery
2,700 mAh
2,300 mAh
3,450 mAh
3,220 mAh
Charging
Fast-charging
Wireless Qi
Fast-charging
Wireless Qi
Weight
136 g
130 g
178 g
184 g
Dimensions (mm)
147 x 72.6 x 7.9
137.9 x 69.2 x 8.6
159.3 x 77.8 x 7.3
159.3 x 83 x 10.1
Apart from the new Nexus Imprint (fingerprint) sensor, the Nexus 5X and 6P also feature a new Android Sensor Hub. This is a low-power secondary processor that connects directly to the phone's sensors. Data from the accelerometer, gyroscope, fingerprint scanner and others can be used by the dedicated processor to recognise activities and gestures, yet consuming very little power.
To some extent, the Nexus 5X is being differentiated from the 6P by being more budget-friendly. The 5X has a plasticky build, somewhat similar to the Nexus 5 of 2013. The new 6P, however, has a very refined premium aluminium build. Basically, the new Nexus devices are divided into two categories:
Average size, average specifications, plastic, budget-friendly
Large, flagship specifications, premium build, premium price
I personally could live with the plastic, and of course I'd be happy with the budget-friendliness of the Nexus 5X. FullHD is just fine with me, and so is the Snapdragon 808. The 2 GB of RAM, however, I feel could be an issue. It's not that 2 GB isn't enough. It may be good enough today, but I hardly think 2 GB RAM is future-proof. Last year's Nexus 6 already had 3 GB of RAM.
The Nexus 5X is better than the 5, but it is not hugely so, considering that the 5 is 2 years old and costs less at launch. I think the 5X could have been better.
The Nexus 6P is beautifully crafted. It's smaller than the Nexus 6, but it's still quite a handful to grapple.
Which Nexus would you get?